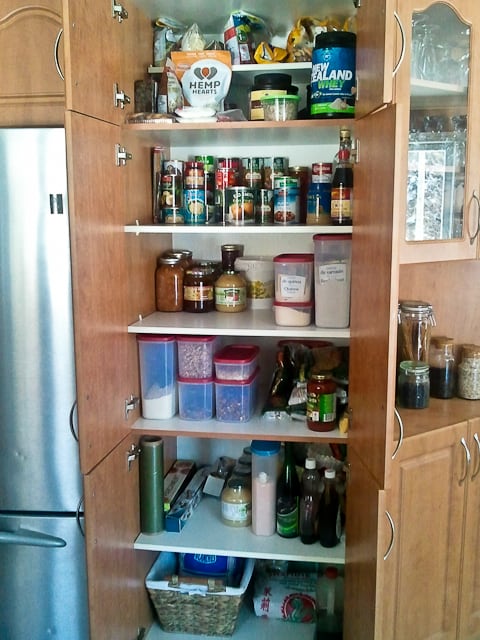 Note that since going Paleo, the contents of my fridge and pantry has changed some, but I decided to leave these posts intact for the time being. Just imagine that all the grains, pseudo-grains, legumes and dairy products have now disappeared!
I've been asked many times now about the contents of my pantry and fridge… I figured it was about time I opened them up to you guys. And I really mean, open them up!
I've made an extensive list of every item that you would be most likely to find if you came to my place and opened the cupboards at ANY GIVEN TIME.
Of course, there are other items that I haven't listed here… if I'd included every item that I buy on a more occasional basis, this post would just never end.
Even now, I've decided to split it into 2 and possibly even 3 different posts. Tonight, I give you the contents of my cupboards only; all the non perishable items.
Next time, I'll cover the fridge and possibly freezer.
Now, I would've loved to make this post all fancy shmancy with nice colors and patterns and pretty fonts, but unfortunately, I have no idea how to do that… maybe some day I can edit this page and make it more pleasing to the eye, but for now, I'm afraid this is the best I can do.
So here goes, without further ado, I give you the most intimate tour of my pantry anyone has ever had!
And by all means, if you have questions or comments, I would be more than happy to hear them!
PROTEIN
NUTS AND SEEDS
I like to keep a wide variety on hand at all times to use in various dishes as well as to make nut butters!  I strongly recommend that you purchase these in bulk, this will save you tons of money. I get most of mine at Costco and go to various "Bulk Food Stores" for those that I can't find there.

Of course, you want to buy the raw, unsalted variety. 
Almonds (whole and sliced) *I grind my own almond flour or meal from sliced almonds
Brazil nuts
Hazelnuts
Hemp seeds
Pecans
Pistachio
Pumpkin Seeds
Peanuts
Sunflower Seeds
Walnuts
WHEY PROTEIN POWDER
There are so many different protein powders out there, it's hard to decide which one to go with. Make sure you select the purest, cleanest protein powder you can find. Read the labels carefully and look for one that has no artificial flavors or sweeteners added. I myself have been using Ergogenics' New Zealand Whey exclusively for over 6 months now and couldn't be happier with it. 
Vanilla Flavored (sweetened with stevia)
Plain - Unflavored
NUT BUTTERS
Of course, all of my nut butters are home made and entirely natural. I like to keep at least these varieties on hand. Sometimes, I also mix a few different kinds of nuts to create delicious combinations.

Almond Butter
Hazelnut Butter
Tahini (sesame paste)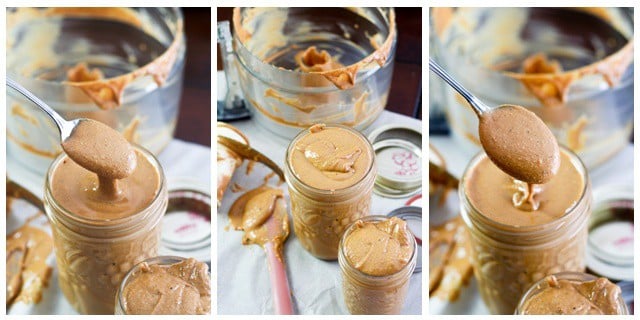 Home Made Peanut Butter
LEGUMES
At a minimum, I keep these varieties, but legumes never go bad, so feel free to stock up on them! And by all means, cook your own! Once you've gotten used to doing that, you'll never want to go back to canned! All it takes is a little planning ahead. And whenever I cook legumes, I always make some extra, that way I get to use them in all sorts of dishes, some of which might even surprise you…
Chickpeas
Kidney Beans
Lentils (du Puy, Brown and Red varieties)
Navy Beans
Oven Roasted Chickpeas
GRAINS – PSEUDO GRAINS – SEEDS – FLOURS
PSEUDO GRAINS
These are all seeds (that's right, seeds, NOT grains) that I like to use in my grain free recipes. All of these can be used whole or ground in a coffee grinder or food processor to be turned into flour or meal.
Amaranth
Black Chia Seeds
Buckwheat Groats
Flax Seeds (this one is used mostly to make flaxseed meal)
Kasha (that's toasted buckwheat groats)
Quinoa
 Grain Free Granola
RICE AND OTHER WHOLE GRAINS
I've really cut down on grains consumption, but I still do enjoy them from time to time. These are the ones that I like to keep handy, for when I get a sudden urge!
Barley
Brown Basmati Rice
Bulgur
Old Fashioned Rolled Oats and / or Steel Cut Oats
Wheat Berries
Wild Rice
FLOURS
Because, well, you can't bake without flour, can you?
Whole Grain Flours
Spelt Flour (that one is by far my favorite to work with)
Whole Wheat Bread Flour
Non-Grain Flours
Almond flour *(I always grind this one from sliced almonds when I need it – I use my food processor or coffee grinder)
Buckwheat Flour (my favorite non-grain flour!)
Chickpea Flour
Coconut Flour
Quinoa Flour
PASTA
For those nights when I just gotta have 'em. Better be prepared. Plus, they can be a real life saver, sometimes!
Whole wheat / whole grain pasta (I tend to keep 2-3 different shapes including long and short varieties)
Soba Noodles
CANNED GOODS
CANNED GOODS
This is something that I try and keep at a real minimum, but some products are just hard to find in a different container. Here are the few that you can be certain to find in my cupboards at any given time!
SEASONING
OILS
Coconut Oil
Extra Virgin Olive Oil
Toasted Sesame Oil
VINEGARS
Balsamic Vinegar (both White and Red varieties)
Cider Vinegar
Sherry Vinegar
Rice Vinegar
White Wine Vinegar
SEASONING
Black peppercorns
Cayenne Pepper
Cumin
Dried Basil
Dried Oregano
Dried Thyme
Hot Pepper Flakes
Smoked Paprika
Sumac
FRESH HERBS
I keep these on my window sill, so I always have fresh herbs on hand…
BAKING SUPPLIES AND SWEETENERS
DRIED FRUITS
Here's another thing that I recommend you buy in bulk to save tons of money. Again, Costco is a good source for some of them, but make sure you read the label and don't get the ones with added sugar or preservatives! Most "Bulk Food Stores" offer a good selection of all natural, unsweetened dried fruit. 

Dates (I like to keep a few different varieties)
Dried Apricots
Dried Cranberries (naturally sweetened with apple juice or unsweetened)
Dried Plums
Raisins (I like to use Thompson)
Unsweetened Shredded Coconut (fine shreds and large shavings)
SWEETENERS
One thing that you will never ever see me use is refined sugar. These are the ONLY sweeteners that I use and I try to use as little as possible when I do call upon them. Wondering what vanilla and almond extract are doing here? Well, they really help create an illusion of sweetness, you would be very surprised! I use them in my smoothies all the time. Oh, and cinnamon is very good for that, too… just sayin'! 
Liquid Honey – Unpasteurized
Pure Maple Syrup – Medium Grade
Pure Almond Extract
Pure Vanilla Extract (I make my own at home, it's so much better!)
Unsweetened Apple Juice (choose one that is all natural with no sugar added)
Unsweetened Applesauce (I use home made when I can)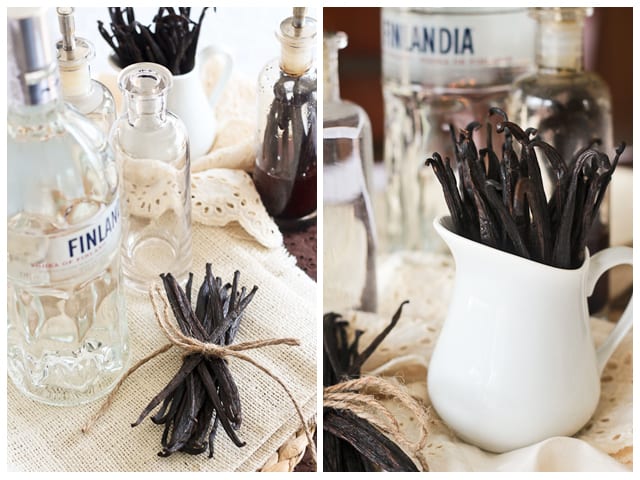 Home Made Pure Vanilla Extract
SPICES
These add TONS of flavor and really help create the illusion of sweetness, too! Don't be afraid to use them…
Allspice
Cardamom
Ground Cinnamon
Ground Clove
Whole Nutmeg
BAKING "POWDERS"
Arrowroot
Baking Powder*
Baking Soda
Cream of Tartar
*Did you know that baking powder contains corn starch? Make your own grain free version using one part baking soda, two parts cream of tartar and two parts arrowroot.
CHOCOLATE
Oh yeah! It does deserve its own category!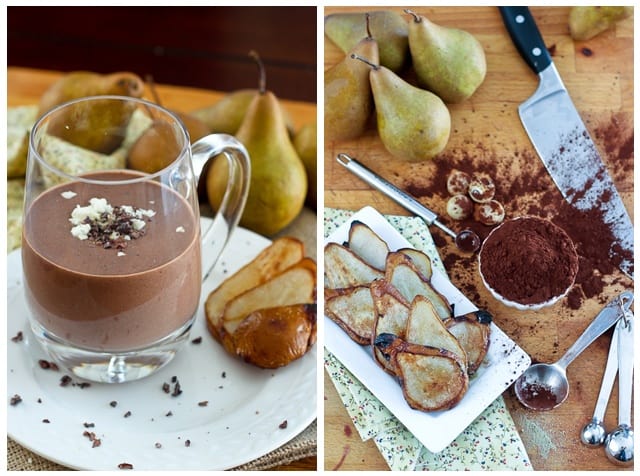 Caramelized Pear, Chocolate and Goat Cheese Smoothie
So here you are,guys…
I think that's it for pantry! Phew… Hope you liked!
Next, I'll tackle the fridge…
Just give me a couple of days, alright?