6 Years Down The Road – A Recap of My Journey Into Health
Let me start by saying that I am not very comfortable at all with this page. I sometimes can't even believe that I dared publish it.
The thing is, you see, I can barely stand to look at pictures of my former self myself, so having them appear on this page for the entire world to see is pretty much torture to me. Also, I'm not the kind of person who likes to expose much skin in real life, so being portrayed sorta half-naked here is really, really hard for me. The "skin" pictures that I posted on this page are snapshots that I had taken for my own benefit, to monitor my progress. I never imagined that I would actually share them with the world.
BUT… I feel I sort of owe this to you guys. After all, this site is about my journey to a fitter, healthier me, and about how making better food choices and getting physically active transformed me over the years.
I mean, it's one thing for me to tell you: this is what I do, this is what I eat, but if you never get to see what it actually did for me, I guess you're not going to be quite as inclined to give it a shot for yourself.
So, well, in the name of inspiration… here goes.
6 YEARS DOWN THE ROAD – THIS IS WHERE I'M AT
This did not happen overnight. And of course, it did not happen in the kitchen alone. I spent quite a bit of time working out, too, as you can very well imagine.
For 3 full years, I worked out exclusively from home, 6 times a week, with no one but myself to coax and motivate me. I can count on the fingers of one hand the number of times that I skipped a workout during all that time. And every time I did, I had a very good reason to.
Then, about 6 months ago, I felt that my self-motivation superpowers were slowly starting to fade, so I decided I needed exterior help and joined a local gym. Well, box, actually. I decided to give CrossFit a shot. Best move ever!
I won't be going into all the details, but I want to at least give you a general recap of what it is that I did over the course of these 6 years during which I traveled the path to this new healthier, fitter me.
Oh, and also too: I feel it's important to mention that none of the pictures on this page have been edited in the least, save for cropping and laying text over them.
YEAR 1 – 2008
I quit smoking.
That's it! That's all I did that year.
But what a great accomplishment this was. One of my biggest ever! I'd been smoking for over 20 years…
After I'd been smoke free for 2 months, my daughter made this little surprise drawing for me. It touched me so deeply, it gave me wings. I never picked up a cigarette ever again.
It's the little things that make a huge difference sometimes… I will forever hold on to this drawing.
YEAR 2 – 2009
My official resolution that year had been to quit drinking during the week: that meant no booze whatsoever from Monday through Thursday, but I could drink whatever I wanted on the week-ends. It wasn't long before the need to drink subsided and I started drinking less and less.
About mid-year, I also decided that I was going to lose some of that extra weight I'd been carrying by reducing portion size and making somewhat better food choices. My motto was: everything in moderation.
The pounds were also only coming off in moderation, too, as you can very well see!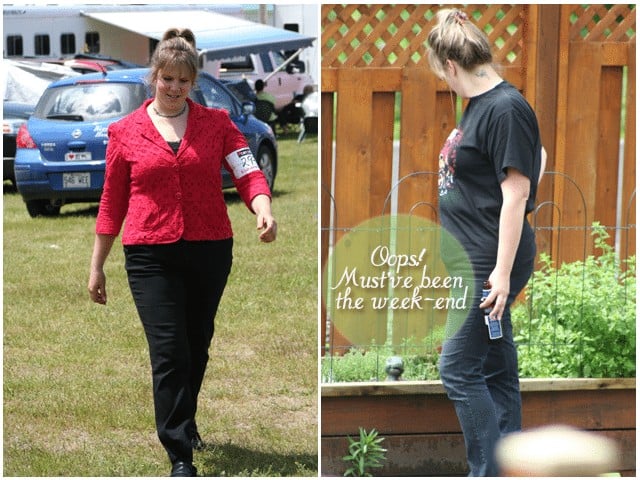 YEAR 3 – 2010
That was the year I started exercising: the official resolution had been to be active for a minimum of 30 minutes a day, no less than 6 times a week.
I initially invested in a Wii Fit as well as a not-so-great-Elliptical-Trainer and got my body movin'.
I also started reading on the subject of health and fitness and cleaned up my diet quite seriously this time. I became more and more interested in fueling my body with good food.
It wasn't long before Wii Fit didn't fit my needs anymore (pun definitely intended) so I started creating my own workouts and eventually moved on to P90X
When summer came, I got fed up with exercising indoors so I started running. My goal had been to run 10km straight. That year, I ran my first (and only) half marathon in 2:01:40!
Now I was really getting somewhere. The transformation had clearly begun!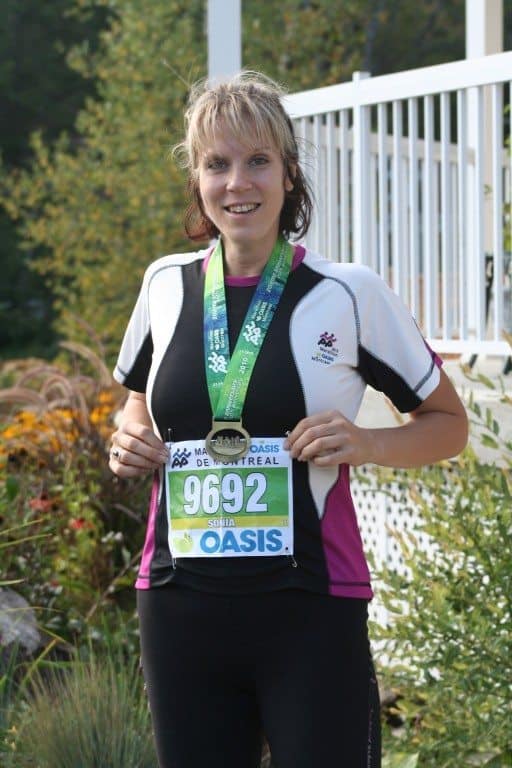 YEAR 4 – 2011
Still exercising 6 times a week (although that half hour rule had gone way up!)
P90X was still part of my regular routine but I started mixing with other resistance and cardio workouts.
Still working the heck out of my poor squeaky Elliptical machine, too (I abused the poor thing doing intense HIIT sessions 2-3 times a week)
That year, I came to the realization that I really didn't like running, so I barely ran at all. I had to think of another outdoor activity that I could do during the warmer summer months, but I spent most my summer exercising in the basement.
Oh, that was also the year when I decided to have that unsightly excess skin removed. (please don't judge… it was a very tough decision to make and I hated myself for doing it for a very long time… I can't even believe that I am actually talking about this, let alone showing it, but since it was a turning point in my journey, it had to be mentioned. I'll tell you more about this eventually, in another post… )
YEAR 5 – 2012
Still going strong about working out religiously 6 times a week.
Still doing P90X but lifting much heavier weights now. Left the "12 to 15 clan" (lean) to join the ranks of "8 to 10" (size). Also added / switched a lot of the exercises in the program.
Started doing Zumba on cardio days, for a bit of a change.
Oh, and I found an outdoor activity that I truly like for the warmer days of summer: CYCLING! I rode close to 2000 km last summer. Not bad considering I hadn't been on a bike in over 20 years!
I completed my first official challenge (the Laurentians Challenge : a very hilly 92.5km ride) and I also beat that distance in the same summer doing 104km on a single ride.
This is my awesome training partner, Vince! Together, him and I really go places!
YEAR 6 – 2013
After going through my first Whole30 challenge earlier this year, I decided to give the paleo lifestyle a serious shot.
So far, I'm LOVIN' it!
I also stopped P90X and started doing Body Beast instead. I still do a little bit of Zumba, Elliptical or Biking for cardio.
I dream of giving CrossFit a try. Maybe this summer? I NEED to fit that one into my schedule (and budget!) (EDIT: I did manage to start CrossFit at the beginning of September and I absolutely LOVE IT! Best move I ever did. Read more about it here)
FAST FORWARD TO 2016
Between 2013 and 2014, I managed to do CrossFit on a regular basis, but in February of 2014, I fell while performing a snatch (can you say bad landing?) and suffered a pretty serious knee injury that eventually required an operation. While I was waiting for that operation, it became really hard for me to follow along with the others at CrossFit — the WODs always had to be adapted to fit my reality!
I eventually decided to invest in a humble home gym and hired me with a private coach who created personalized programs for me, which included a combination of CrossFit and weightlifting.
For a couple of years, I worked out from home and enjoyed it thoroughly, but unfortunately, my knee never fully recovered; It would constantly hurt, even after the operation.
So, since the beginning of the summer, I've decided to give my knee a break and abandoned CrossFit and weightlifting in favor of my trusty rower and/or spinning, which I use 5 days a week, and then do a few ab exercises. My knee has been doing much better since, so sadly, I'm thinking that perhaps lifting heavy stuff is a thing of the past for me.
Time will tell, I guess. I'm planning on giving it another go soon!
And there you have it. That about sums it up, for now…
Of course, if you have any questions or comments, fire them away:  I'll be more than happy to discuss all this with you.