Bacon Wrapped Chicken Breasts
BACON!
And there you have it… see you next time, guys!
What? That says it all, doesn't it?
Surely I don't really need to add anything after having said BACON, do I?
HA! HA! You wish! You won't get rid of me that easily… I always have something else to say, bacon or no bacon!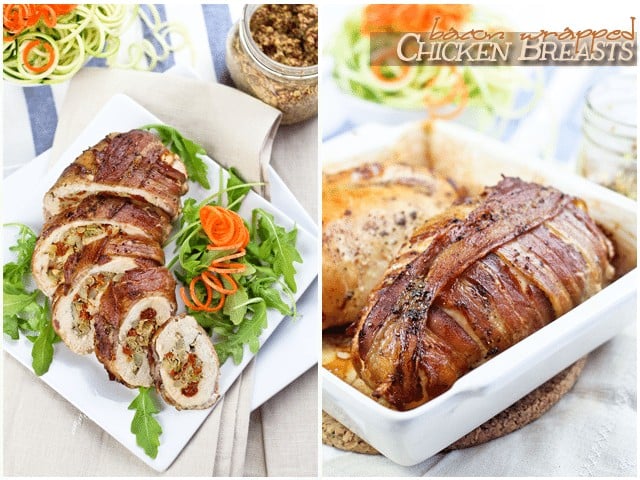 Frankly, I had forgotten just how good that stuff really is. How it just seems to make everything better.
And just how insanely good it smells as it cooks.
I wonder how many pounds of the stuff I will be getting out of a half pig?
Lots, I hope!
One thing I can guarantee is that it won't last very long. I already have quite a few ideas of how to use it up… some of which may or may not include chocolate and caramel!
OH! I can't wait to try that. Funny thing is it NEVER appealed to me before, until I saw this particular picture the other day. I've been dreaming about it since, even though I never even tasted it. I can just imagine what it'll taste like.
Yeah, my taste buds have a really good imagination! Hopefully, reality and their imagination will meet up in some very happy, yummy place!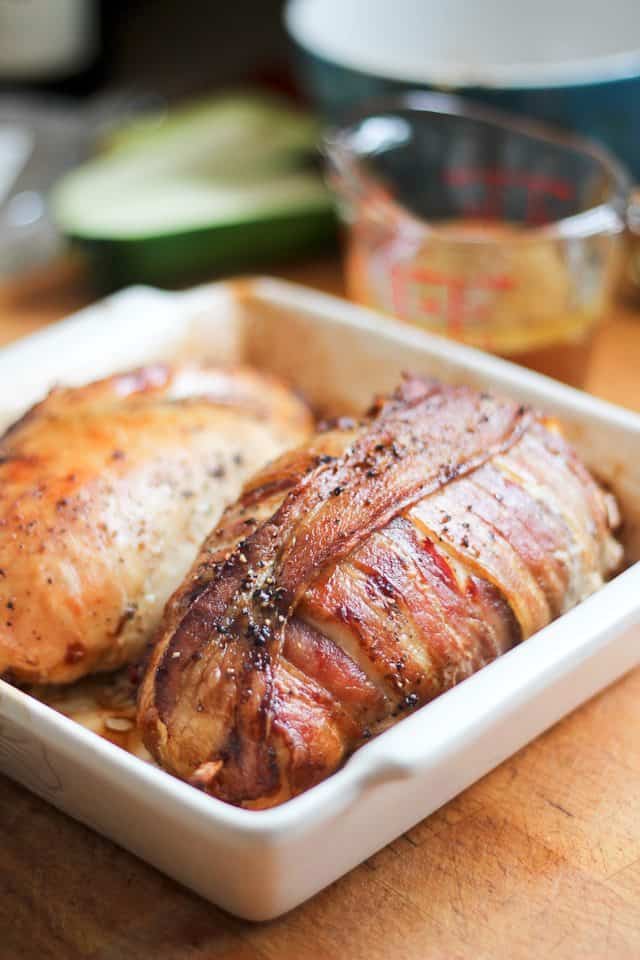 Alright, that's enough daydrooling for now… let's get back to this recipe, shall we?
As you can see in the pictures, when I made this, I sadly had only 5 strips of bacon left in the fridge, and there was no way I was driving 100km to get more, so I was kind of forced to keep one breast completely naked… shamelessly exposed!
Poor thing! It has no idea what it's been missing. Although, it did steal a lot of flavor from the beautifully dressed, totally bacon wrapped breast that was cooking right beside it!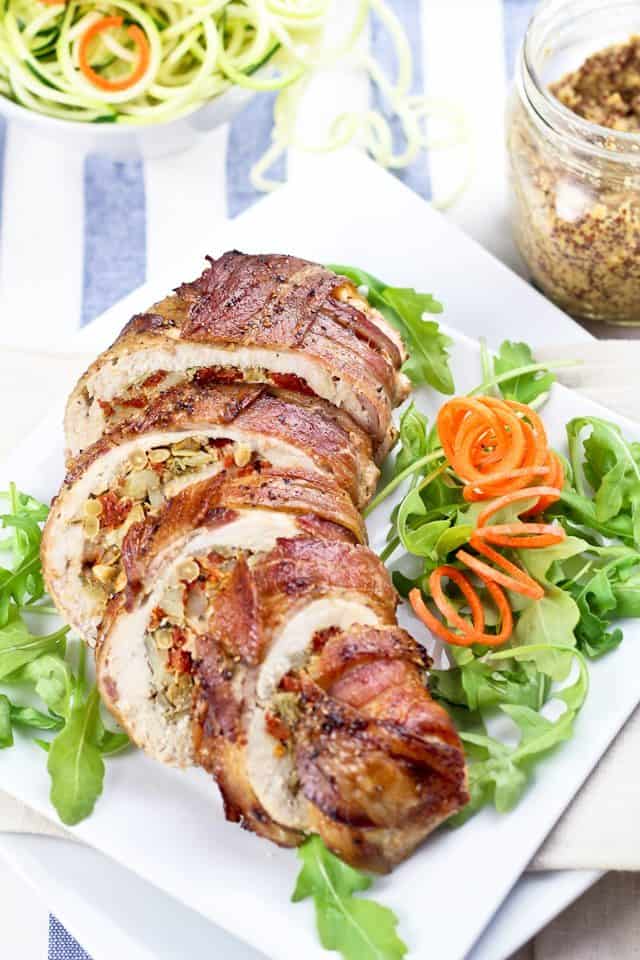 And you know what? This might even be something that I would do again, on purpose.
That way, I have options!
Oh and about that stuffing… although I think it went really well with the smokey flavor of the bacon, it seems like my brain kept demanding olives the whole time I was eating…
So next time, I think I'll leave the pine nuts out and add olives instead.
Oh, and a handful of hazelnuts, perhaps.
One thing I can guarantee though is that there will be a next time! And another one… and another…
I soooo can't wait to get my hands on that bacon!
Bacon Wrapped Chicken Breasts
Servings: 4
Ingredients
2 large skinless, boneless chicken breasts (450g each)
¼ tsp Himalayan or unrefined sea salt
10 slices organic, sugar free bacon
For the stuffing
½ can, 3-4 pieces artichoke hearts, chopped
½ cup sliced water chestnuts, chopped
50 g sundried tomatoes, finely chopped
¼ cup pine nuts
1 large clove garlic, minced
1 tsp fresh rosemary, finely chopped
1 tsp freshly cracked black pepper
½ tsp smoked paprika
Instructions
First, make the stuffing by mixing all the ingredients in a small mixing bowl. Set aside.

Preheat your oven to 375F.

Now slice your chicken breasts open. To do that, place the blade of your knife parallel to your cutting board, put your hand flat on top of the breast and carefully slice down the middle almost all the way to the end. You'll want to stop about ¾ of the way through.

Lay the chicken breasts open on a cutting board and, with a meat mallet or small saucepan, delicately pound them until they're about ½ inch thick.

Place your now flat chicken breasts on your cutting board, sprinkle with salt and deposit half the stuffing in the middle of each breast. Spread the stuffing as evenly as possible but don't go all the way to the edge; you want to leave about one inch all around.

Roll the breasts as tightly as you can then carefully wrap each one with the bacon strips. I like to put 4 around and 1 across.

Place the breasts seam side down in a baking dish, cover loosely with aluminum foil and bake at 375F for 40 minutes.

Remove foil, drain pan juices (do not discard, this is tasty stuff!) and return to the oven, uncovered, for 15-20 minutes or until bacon is crispy.

If you want your bacon really crispy, you can set your oven to broil for the final 5 minutes or so. Keep a close eye on the prize, though. You wouldn't want your precious bundles to burn!

Remove from oven, tent loosely and let the meat rest for 10-15 minutes before slicing.
If you've tried this recipe, please take a minute to rate the recipe and let me know how things went for you in the comments below. It's always such a pleasure to hear from you!
You can also FOLLOW ME on PINTEREST, FACEBOOK, INSTAGRAM and TWITTER for more delicious, healthy recipes!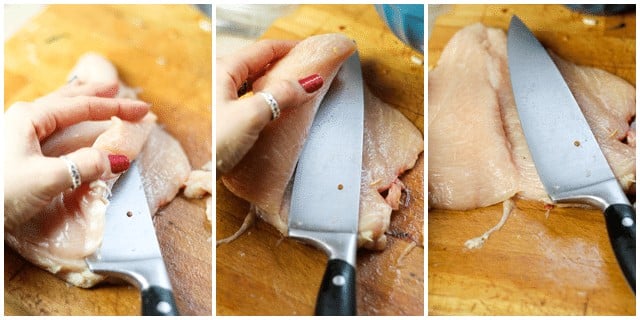 Slice the chicken breasts open: slice down the middle, parallel to the board, almost all the way to the end.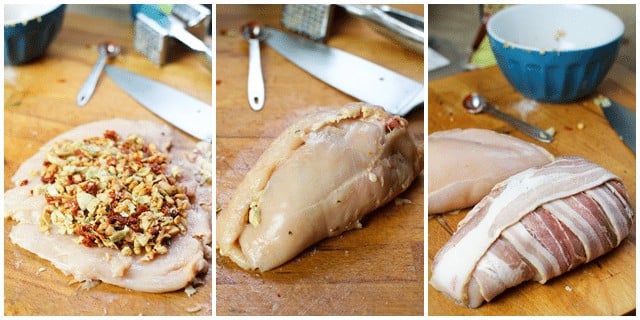 Spread the stuffing, roll the breasts and carefully wrap each one with the bacon strips.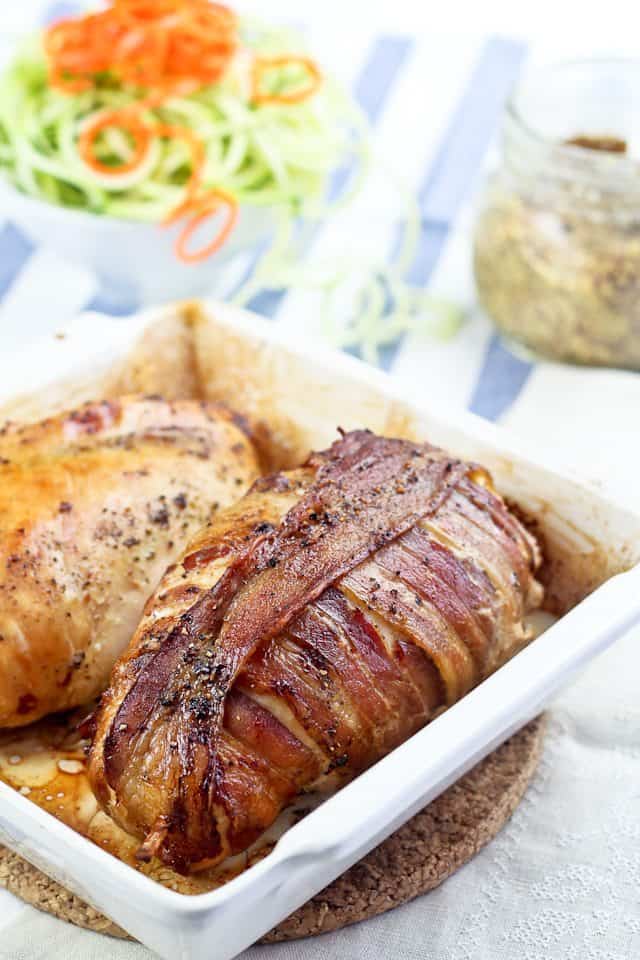 Let the meat rest before slicing…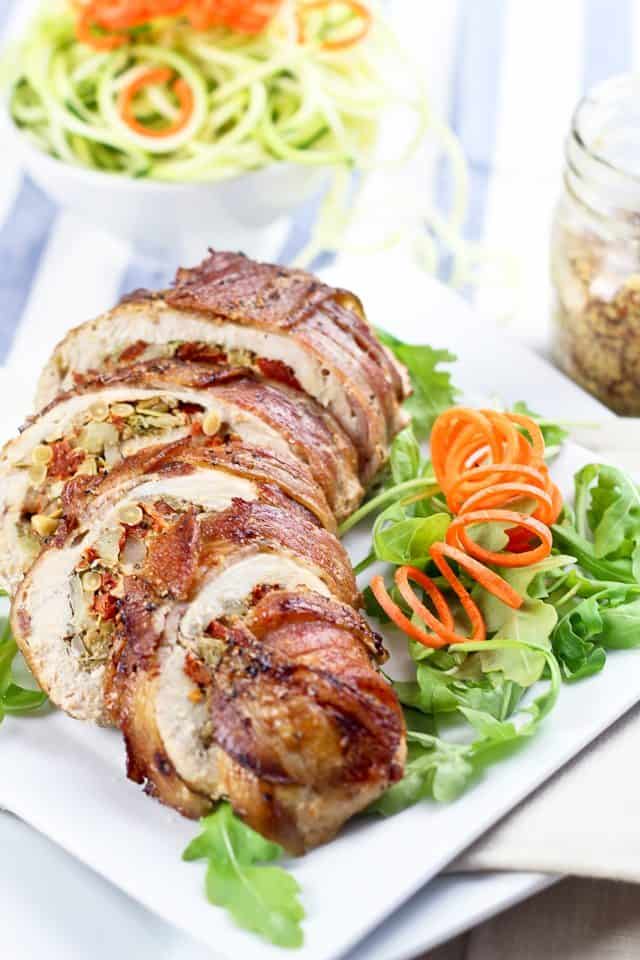 Slice on a diagonal to reveal the beautiful stuffing!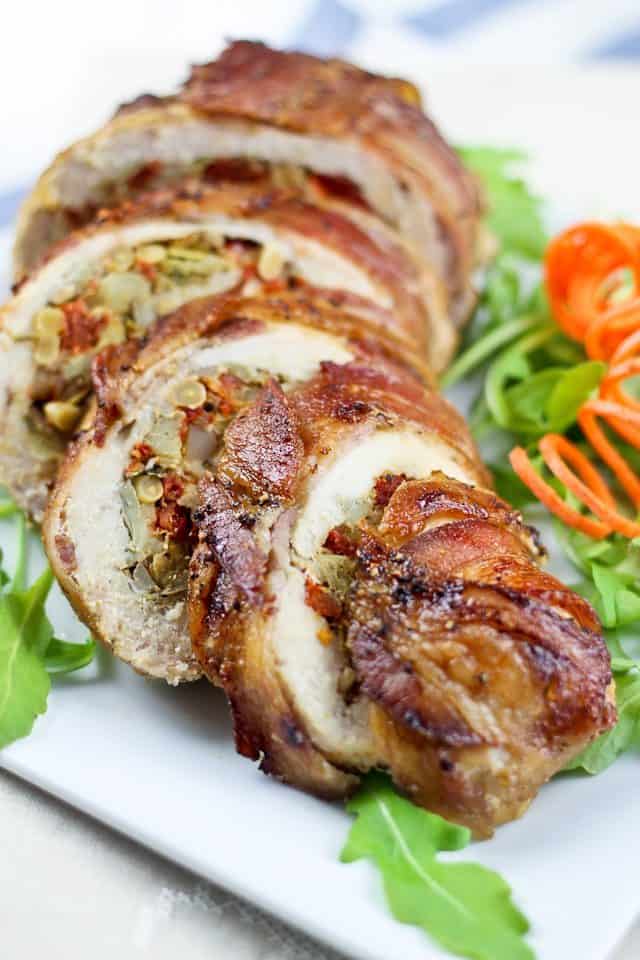 Does that bacon look crispy enough for you?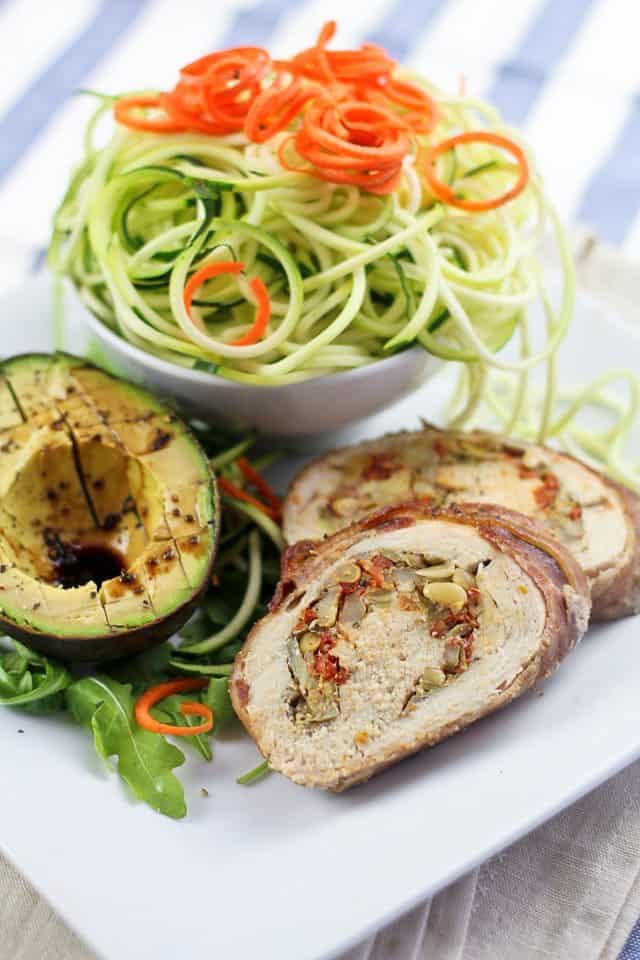 And this was my actual dinner that night…
Can you say YUM?