Some-Shade-of-Paleo Carrot Cake
I debated until the very last minute as to whether I was going to keep this Carrot Cake strictly paleo and go with an entirely dairy free icing or use the cream cheese that I'd bought a few weeks earlier with the very intention of turning it into some deliciously fluffy, sweet and tangy cream cheese frosting.
Looks like dairy took it this time. What can I say? I have a soft spot for cream cheese icing.
Or well, for cheese in general.
Besides, when I decided to give this paleo lifestyle a shot, it was also clear in my mind that I would be paying the "grey zone" a little visit from time to time and enjoy my precious dairy, in one form or another. And yes, that includes my beloved Whey Protein Powder.
Only, cheese will be handled sort of like a treat: it shall be consumed in moderation.
Make that occasionally.
I'm not a fan of the term MODERATION, you see? For really, what IS moderation, exactly? What seems very acceptable to me might very well be considered extreme by someone else…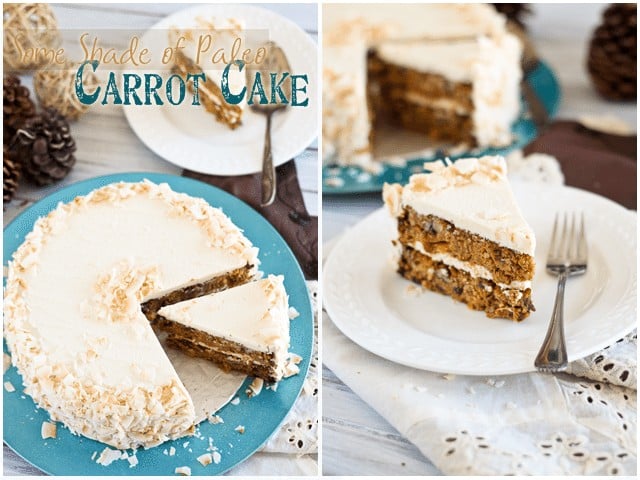 Please bear with me while I rant a little…
Despite being really passionate about health and food, I've never been one to challenge or question other people's eating habits. To each their own, you know; you do your thing, I do mine. Reversely, I feel the content (or non-content, rather) of my plate is constantly being scrutinized and criticized, like I have some sort of a disorder or something…
I sometimes get the feeling that it's socially acceptable to have dietary restrictions when your goal is to lose weight but once that weight is gone, you're expected to unwind, let loose a little, you know.
Having dietary restrictions solely based on the intent of keeping fit and healthy? You must be a freak!
So anyway, I was sitting in a restaurant the other day with a bunch of people when the conversation got to my "crazy dietary restrictions" once again. Funny thing is it started with them discussing the possibility of ordering a piece of carrot cake to share for dessert.
Of course, that brought up the almost inevitable, too often heard comment: "But you, Sonia, you're not ALLOWED having that, right?"
Although unintentionally, my eyes rolled.
Like yeah. If I dare touch that piece of cake, the police will come rushing right through that front door and take me away with unnecessary force!
Please, please let me get one thing straight, I said. I am ALLOWED eating ANYTHING I want. A.N.Y.T.H.I.N.G! Only I CHOOSE not to eat certain foods.

BIG difference.
Of course, someone then had to bring out the classic "Well, I strongly believe that everything is good, in moderation" argument.
Everything. In moderation.
Apparently, this works beautifully for them. And they make it feel like their vision would be right while mine is undoubtedly flawed. Abnormal. Unrealistic.
Yet, they seem to always have some health issue or another to talk about: poor digestion, regularity issues, frequent UTI, liver problems, difficulty getting out of bed in the morning, constant tiredness, lack of energy, diagnosed elevated blood sugar…
Oh, and of course, every now and then, they'll bring up the issue of that unsightly fat and how they're gonna need lipo someday, to get rid of it once and for all, you know.
But hey, everything in moderation IS good, right?
No thank you, not for me!
Here's what I choose to have in moderation: physical discomfort, health issues, body fat… and well, yeah… Some of that cake!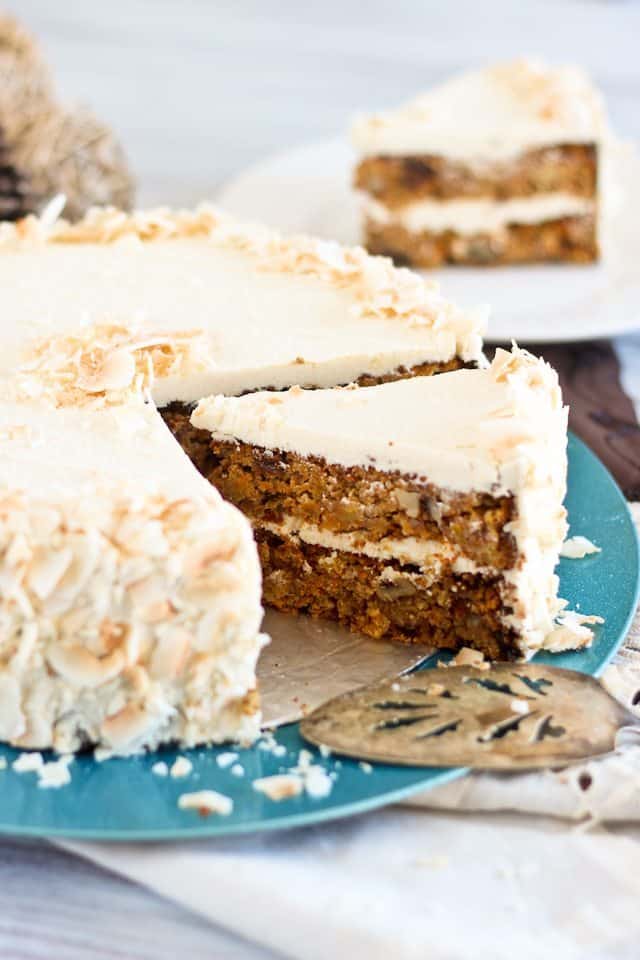 So, about that cake… let's get back to it, shall we?
I'm not going to bs you and tell you that this one was a piece of cake to make.
In fact, I came *this* close to chucking the whole darn thing.
For yeah, it was a wicked witch to make.
But you know what? In retrospect, I realize that most of my struggles were mainly due to my cutting corners and failing to line my cake pans with parchment paper.
This resulted in my cakes sticking to them BIG TIME. They clung to the pans like their very lives depended on it.
How I managed to save them and extract them from there in one piece is still a mystery. (well, ok, I'll be honest: it wasn't exactly one piece, but few enough pieces that I was able to put them back together and make it look all nice and beautiful and good as new.)
And I'm so glad I did! Chucking this puppy would have been such a disaster!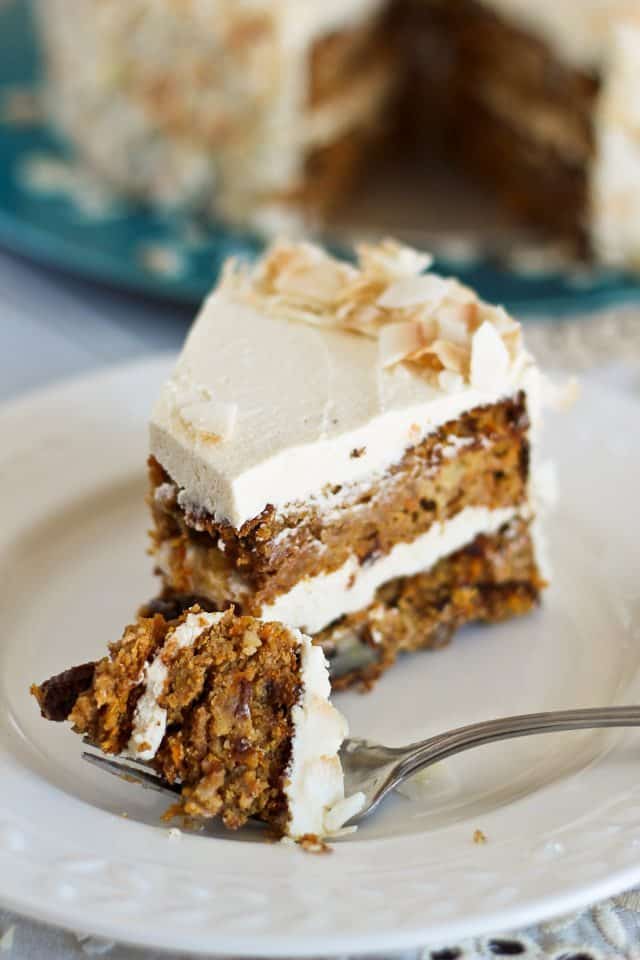 That cake is serious business! It has to be the richest tasting carrot cake I've ever had. You'd swear it was filled with loads of butter! Plus, it's insanely moist, tender and melt-in-your-mouth soft.
And despite containing no refined sugar whatsoever, it's unbelievably sweet and deliciously spicy. Seriously, you would NEVER guess that this one was nutritious if you didn't know.
How about that frosting? It plays its role to the absolute perfection:
It adds that little hint of creamy, a bit of tangy and just what it takes of salty.
It cements everything perfectly together.
It turns the ordinary into extraordinary.
It makes you want to close your eyes and lose yourself in the moment…
As for the toasted coconut, I think it's the absolute perfect complement for that cake. In fact, it's such a magical combination that I can't even begin to understand how come I never added it to my carrot cakes before now.
Final verdict? Carrot cake, cream cheese frosting and toasted coconut go absolutely perfectly well together…
Without moderation!
Some-Shade-of-Paleo Carrot Cake
Servings: 12
Ingredients
Wet ingredients
375 g carrots, finely grated
1 small can, 398ml crushed pineapple in unsweetened pineapple juice (or 1 cup fresh pineapple very finely chopped and ½ cup unsweetened natural pineapple juice)
45 g fresh ginger, minced
The juice and zest of 1 lemon
¾ cup unsweetened applesauce
1 cup full fat coconut milk
4 whole eggs, lightly beaten
Garnish
½ cup unsweetened coconut flakes
Instructions
To make the cake
Preheat your oven to 375F; grease two

9" round cake pans

with coconut oil and line the bottom with

parchment paper

. This step is absolutely crucial, trust me; do not skip it!

(unless your idea of fun is to spend hours trying to figure out how to get two very fragile cakes out of a pan without completely destroying them)

In a large bowl combine dry ingredients and mix well with a large whisk until fully incorporated. Set aside.

In a separate bowl, add wet ingredients and mix until well blended. Pour into dry ingredients and stir with a

rubber spatula

until well combined.

Divide mixture equally between the two prepared pans.

Bake for one hour or until the edges take a nice golden coloration and a toothpick inserted in the center comes out clean.

Leave cakes in the pans to cool on a

cooling rack

then transfer them to refrigerator until completely chilled, at least 4-6 hours, or overnight.
To make the frosting
Add coconut butter and cream cheese to the bowl of your

stand mixer

;

Using the paddle attachment, beat them together on medium speed until fully incorporated, about 2 minutes. You'll want to scrape the sides 2-3 times to get every last bit mixed in.

Add honey, coconut flour and vanilla and resume beating for about one minute.

Switch to the whip attachment and whip on high speed until the icing becomes smooth and fluffy, about 10 minutes. Again, scrape the sides every now and then to get everything well mixed in.
Assembly
Delicately run a knife or small spatula along the side of the cakes to help them detach from the pan.

Carefully unmold the cakes. As they are fairly fragile, make sure you offer them good support as you take them out of the pan. The best way to go about it is to put a rack or flat plate over the pan and flip it upside down.

Place one of the cakes, bottom side up, onto a cake board that's just a hair smaller than your cake (about 8½"). If you don't have a cake board, you can make your own by cutting out a piece of sturdy cardboard and covering it neatly with foil.

Spoon a mound of frosting, about 1/3 cup, on top of the bottom cake. Spread it evenly over the cake, all the way to the edge; Place the second cake (again, bottom side up) on top and cover the entire cake with the rest of the icing.

Press toasted coconut shavings all the way around the side of the cake. The easiest way to do this is to put the coconut in a large plate or bowl and, while holding the cake in one hand, press the coconut against the side of the cake with your other hand, letting the excess fall back into the bowl. Repeat while carefully turning the cake until side is completely coated.

Add a little mound of coconut right in the center and place cake onto a pretty, decorative cake plate.
If you've tried this recipe, please take a minute to rate the recipe and let me know how things went for you in the comments below. It's always such a pleasure to hear from you!
You can also FOLLOW ME on PINTEREST, FACEBOOK, INSTAGRAM and TWITTER for more delicious, healthy recipes!