Start Your Own WordPress Blog In 5 Easy Steps
So you've been toying with the idea of starting your own blog for a while, but you're not sure exactly how to go about doing it? If you're anything like me when I first started, you're probably thinking that it's super complicated and that you don't have the technological knowledge to tackle all that geeky Internet stuff.
Or maybe you think that blogging is only for people who intend to make a career out of it.
Not at all! Having a blog doesn't necessarily mean that you have to live from it… When I started blogging, all I wanted to do was keep a personal log of the foods that I'd eaten and have some kind of a place where I could catalog some of my favorite recipes and have them easily accessible from everywhere and anywhere.
Blogging can be such a fun and rewarding hobby, an amazing means for you to share your passion for a particular subject with like-minded individuals. Maybe you like to cook and want to share all your fabulous culinary creations; or maybe you're more into photography, sports, animals, scrapbooking, gardening, or even arts and crafts. Maybe you enjoy reading books and watching movies and like to share your opinion with others? Whatever your passion is, you could blog about it.
And the best part is you could be up and running and ready to share your first posts in just a few minutes. Well, maybe a bit longer if you haven't thought of a name for your blog yet, or what you want to blog about.
But if you have a fairly good idea of what it is that you want to do, then just follow the steps below and before you know it, you'll be set with your very own self-hosted WordPress blog, with your very own unique domain name, and your very own personalized look.
Why put this off any longer? Today is a very good day to get things started! 
#1- Choose a domain name for your site.
First, you have to think of a good name for your site. Choose one that is relevant, short, easy to type and to remember and that also translates well into a url — numbers, hyphens and special characters are best avoided.
Of course, you also need to make certain that the name you choose for your blog is available to use. GoDaddy has a very handy tool for that and will even suggest tons of alternate names using various extensions should the name you had chosen for your blog be already taken.
While the .com domain extension is still, and by far, the most popular, there's now an unbelievable selection of new generic top-level domains such as .health, .diet, .kitchen, and .recipe which offer a great opportunity to register short and highly relevant names.
To check the availability of your desired domain name, all you need to do is enter it in the box — it looks like the one below — and hit search.
Once you found the perfect domain name, it's time to decide on a web host.
You might want to hold off on purchasing that domain name though — if you sign up with Bluehost, you could get it entirely free for a full year! 
#2- Decide on a web host.
There are many hosting companies out there, but Bluehost is most definitely the first one that you should consider. I have personally been with them for years when I initially started blogging and can truly, strongly recommend them.
Here are a few reasons why:
Affordable – their shared hosting plans start at $3.95/month for 36 months, and that even comes with a free domain name for a year!
Stable and reliable hosting environment;
Easy set up – one-click WordPress install
Easy-to-use control panel
24/7 expert, in-house customer support.
30-day money back guarantee and the option to cancel at any time.
The first thing you'll need to do is choose which hosting package you want. I suggest you go with the basic plan and get the 36-month hosting term, which comes at the very affordable rate of $3.95/month. If you ever needed to upgrade (which means you blog will have grown YAY!) Bluehost now provides seamless upgrades to VPS or dedicated server hosting accounts right from within your control panel.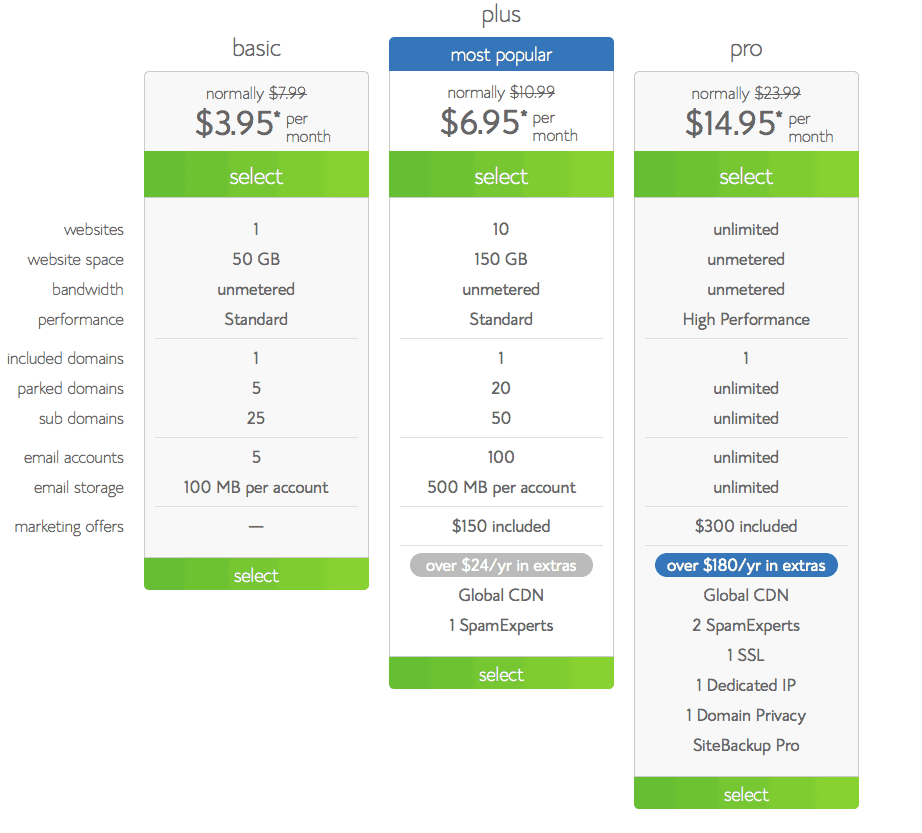 #3- Set up your account
 Enter the domain name you've chosen for your blog in step #1.
If you already own a domain name, you can enter it here. You will be required to go through a few extra steps to make sure that your DNS points to Bluehost. 

You will then be asked to fill out this form with your contact information.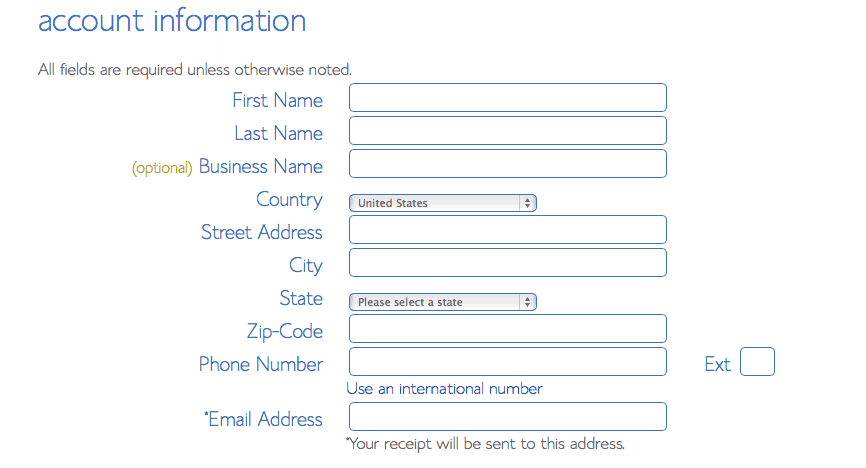 And to confirm the package that you wish to purchase.
There are also a few other options offered at this point; one that you might want to consider if you don't have a business address is Domain Privacy, a paid service that allows your personal information to be kept private on WHOIS database. If you don't click that option, your contact information will be made public, so anyone who queries the database will have access to it.
Next, you will be prompted for your billing information to complete your purchase. You will then be required to create a password for your account. Make sure that you choose a strong enough password to protect your account!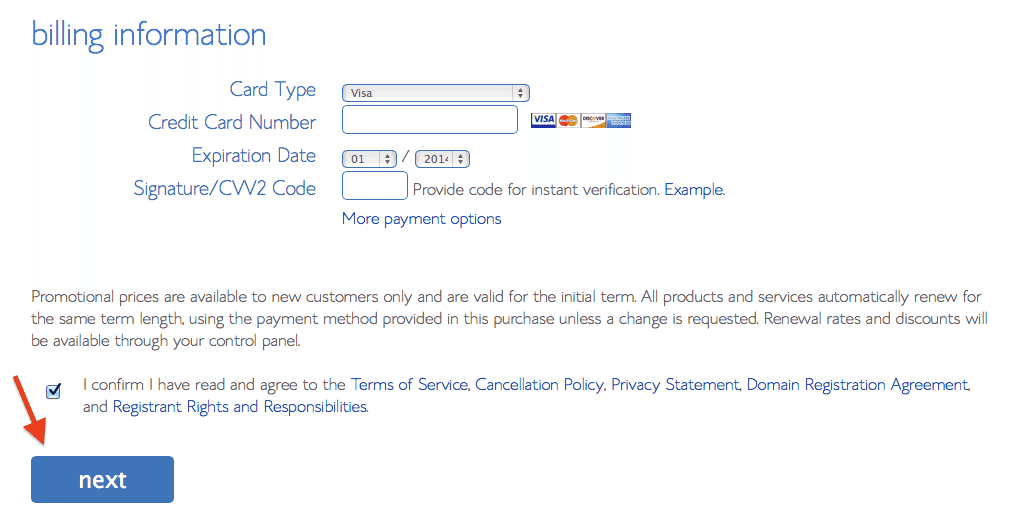 That's it! You're all signed up and can now log into your account. Now go ahead and install WordPress!
#4- Install WordPress
Log in to your Bluehost account and go to your cPanel. Click on "One-Click Installs, then on the WordPress icon.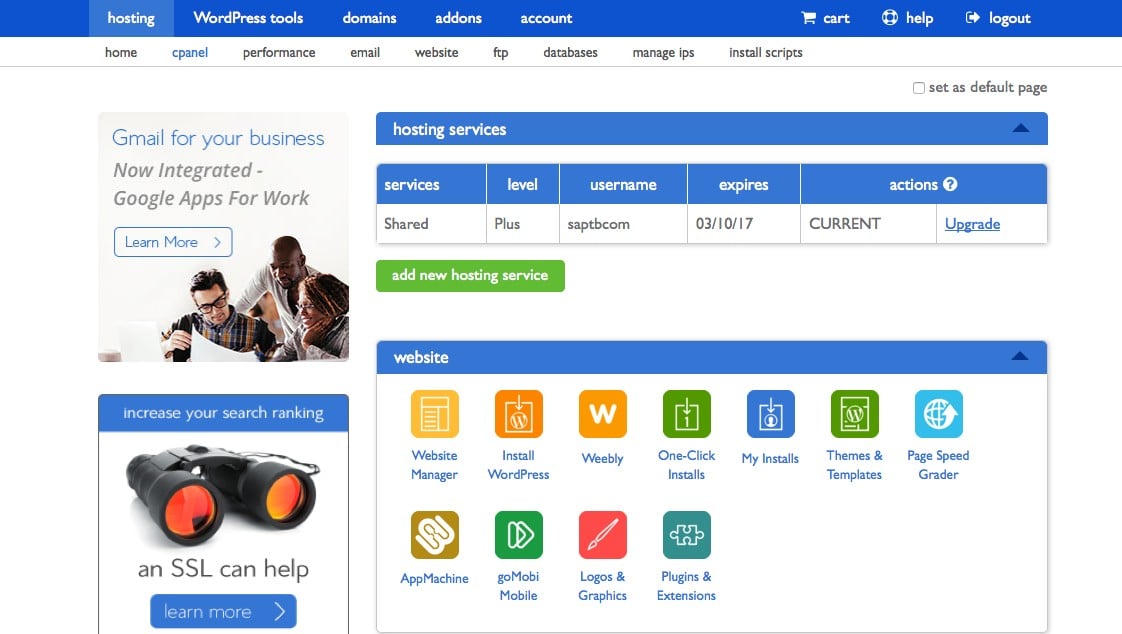 An installation window will open. Click on the green "Start" button, and the WordPress installation process will begin; You'll have a few easy steps to follow.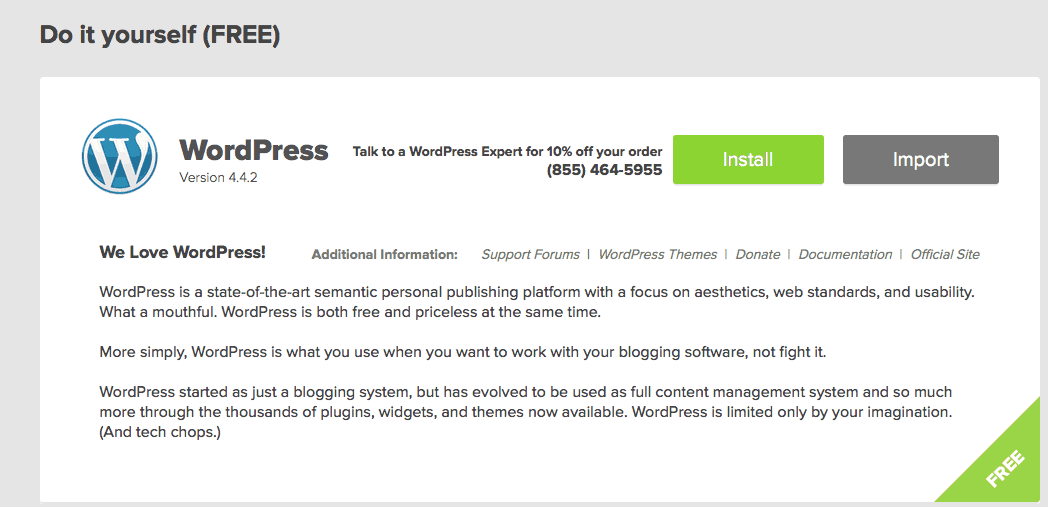 Step 1: Enter your domain name and click "Check Domain"

Step 2: Set up your own username and password for your WordPress install. For security reasons, choose a different username than "admin" — hackers use that one to try and brute force their way in — and a very strong password. Make sure that the "Automatically create a new database for this installation" box is checked, unless you have a database already set up that you want to use.
Agree to the terms and conditions then click "Install Now."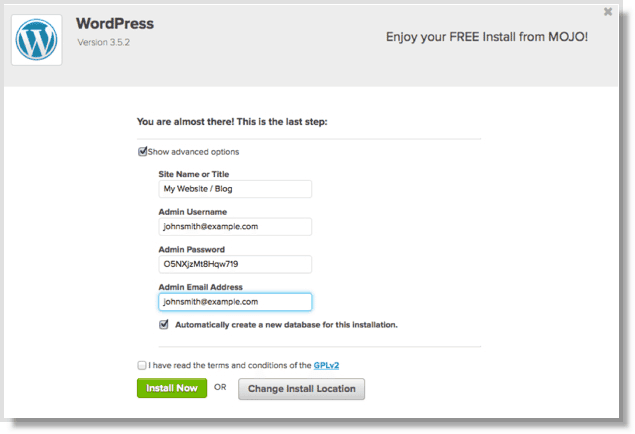 And that's it! Now you'll see the progress page, which will show you how far along the installation is. Once WordPress is fully installed, it will provide you with your site URL, the admin login URL, your username, and password. You will also receive a copy of this information, except your password, by email; make sure to keep it in a safe place!

Now you can log into your WordPress site by going to the admin login URL. Enter your username and password, then click "Log In." This will take you to your WordPress dashboard. From there, you will control everything to do with your WordPress site, such as creating pages, writing posts, and changing the appearance.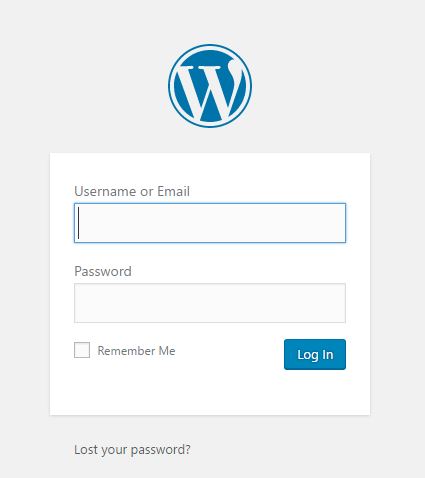 Need More Help?
If you need more help with your WordPress installation, check out this step-by-step instruction video.
#5- Make your blog beautiful and unique
Before you start publishing to the world, you will probably want to make your blog truly beautiful and unique! To do that, you need to choose and install a theme. There are many free themes available on WordPress that you can choose from, but if you're really serious about your new blog,
I strongly suggest that you head on over to StudioPress and treat yourself to a premium WordPress theme.

And if a Food Blog is what you have in mind, then by all means, you should definitely consider getting the Foodie Pro Theme. It is a fantastic StudioPress theme designed specifically with food bloggers in mind.
I currently use it on my other blog, My Evil Twin's Kitchen, and I honestly have nothing but good things to say about it. It's super easy to install and configure and gives you all the options that you could dream of, right out of the box!

And there you have it!
You're now officially all set and ready for action!