The Best Darn Chocolate Pancakes EVER! – Totally Guilt Free!
Have you checked out the nutritional information for these yet? (if you're anything like me, that's probably the first thing you do before you even start reading…)
If you haven't, I suggest you go do that right now and then come back.
You HAVE to take a look a those numbers!
Notice how low in fat and high in protein these are? Can you believe it?
Alright, now that that's how of the way, I can tell you all about how incredibly good they truly are.
Or not…
In fact, I think I can't. I just can't find the words. They were just too good. So moist, so tender, so light and fluffy and airy, so chocolatey, so sweet, so decadent, so truly heavenly…
So perfect in every way.
Yet, they are healthy as can be.
UNREAL!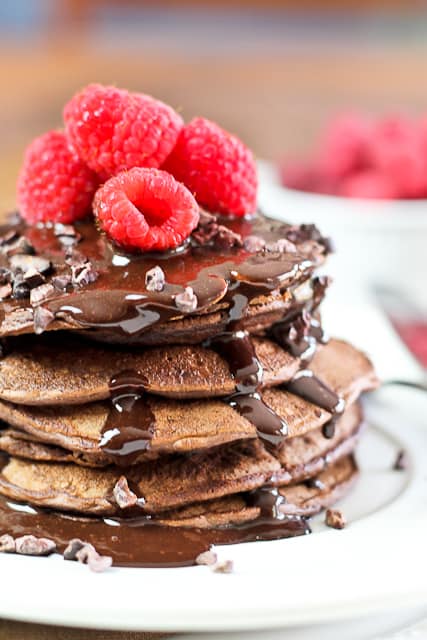 I'm telling you, the pancakes by themselves are so good, you hardly even need the sauce.
But you're gonna want that sauce. It just takes the experience to a whole 'nother level.
I say these pancakes are the ultimate post workout meal!
I know, I know. I can already hear you: What are you nuts? Pancakes they take forever to make! And if you're anything like me, when you're done working out, you want to eat NOW.
Well, shower first, then FOOD!
I don't always have the patience for pancakes.
But hear me out. These beauties, they reheat super well! Just put the leftover pancakes in a Ziploc bag and put them straight in the microwave for one minute when you are ready to eat. Of course, you will want to crack that bag open before you put it in the microwave…
As for the sauce, it keeps extremely well in the refrigerator for quite a few days. It even gets thicker and tastier with age (just don't let it grow too old…)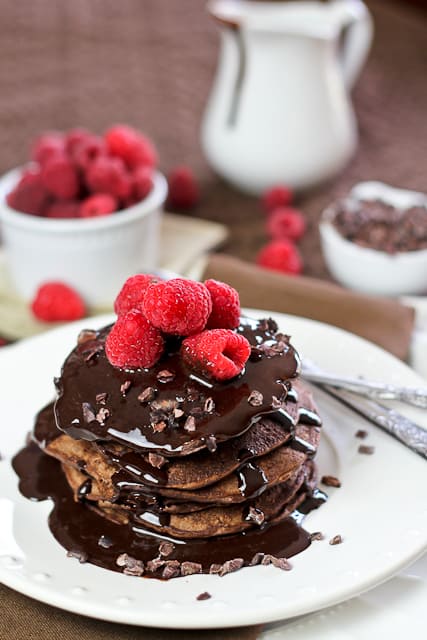 So you can make your pancakes ahead of time and have a super quick yet heavenly meal ready right after you're done working out.
Or before going to work… The workout thing isn't mandatory, you know. 😉
With a breakfast so insanely good, I say it's worth making a double batch on the week-end and have them ready for weekday mornings.
Oh, and for a little bit of variation, just omit the cocoa powder in the sauce… You'll end up with something like this. This was actually the original version. The stack that started it all. I was just in the mood for chocolate pancakes that morning and decided to throw a whole bunch of ingredients together.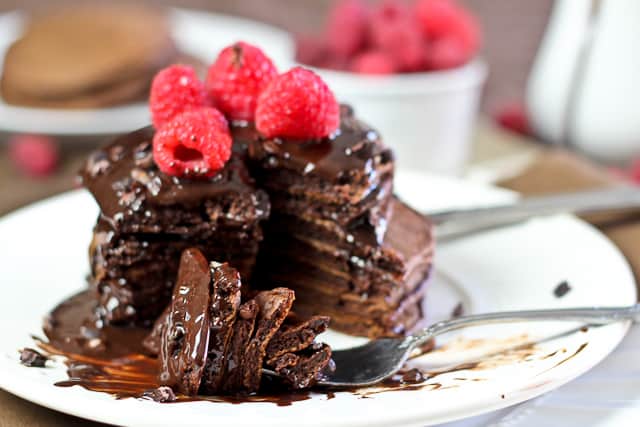 Little did I know that they would turn out so heavenly good!
Thank goodness I had noted the ingredients and took a snapshot on the corner of the dining room table as a reminder for me to make them again.
Seriously guys, do yourselves a favor and go whip up a batch right now.
I mean it!
Now go…
The Best Darn Chocolate Pancakes EVER!
Servings: 2
Ingredients
For the chocolate sauce
¼ cup Fat Free Plain Greek Yogurt
2 scoops vanilla flavored whey protein powder
3 tbsp buttermilk
3 tbsp cocoa powder
Garnish ideas
Raspberries
Strawberries
Bananas
Plain Greek yogurt
Unsweetened Carob Chips
I could just go on forever...
Instructions
For the pancakes
Combine all ingredients in a small food processor and process until well combined.

Coat a non stick pan with cooking spray and heat over high heat.

When pan is hot enough, pour a little less than ¼ of a cup per pancake and cook until tops are covered with bubbles and edges look cooked.

Flip pancakes over and continue cooking for about 30 seconds, then transfer the cooked pancakes to a low temp oven to keep them warm while you cook the remaining pancakes.
To make the sauce
Using a whisk, mix all the ingredients together in a medium size bowl. It might look like there is too much powder at first, but it will come together eventually, just keep stirring. Same goes for the "lumpy" feeling. Just let the sauce rest for about a minute after mixing then give it a quick stir and it will become nice and smooth.

Pour sauce over warm pancakes and garnish as desired.
If you've tried this recipe, please take a minute to rate the recipe and let me know how things went for you in the comments below. It's always such a pleasure to hear from you!
You can also FOLLOW ME on PINTEREST, FACEBOOK, INSTAGRAM and TWITTER for more delicious, healthy recipes!
I wish you could have seen the action when I poured that gorgeous, thick and silky chocolate sauce all over the hot, steamy pancakes. What a beautiful sight it was!
Let's see…
Maybe if you scroll down really really fast you can actually make this into a movie…
Are you ready?
SCROLL!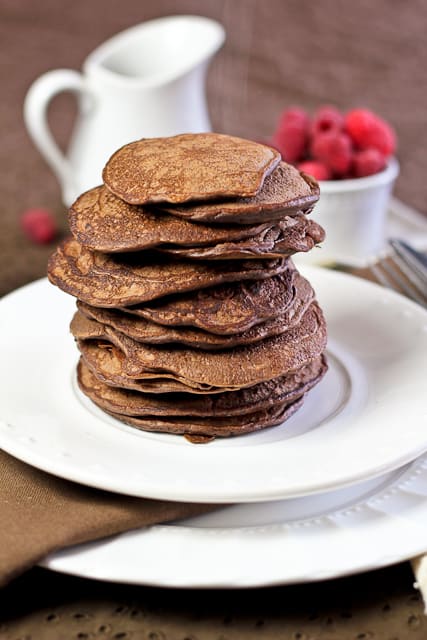 Start with a stack of hot, steamy pancakes…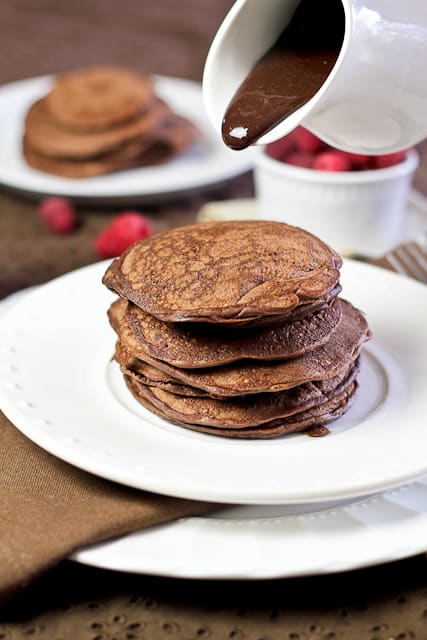 Save half the stack for later and start pouring that delicious chocolate sauce…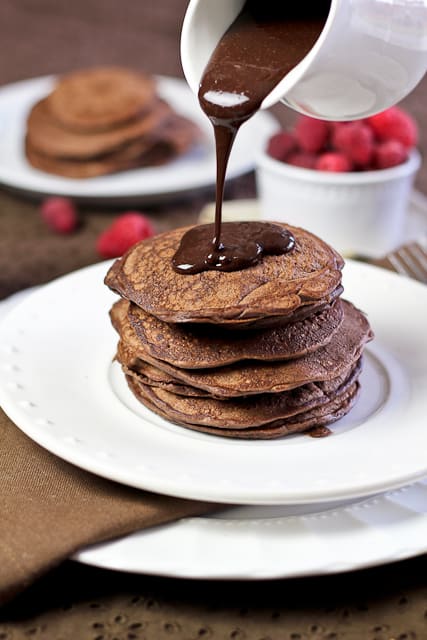 Keep pouring…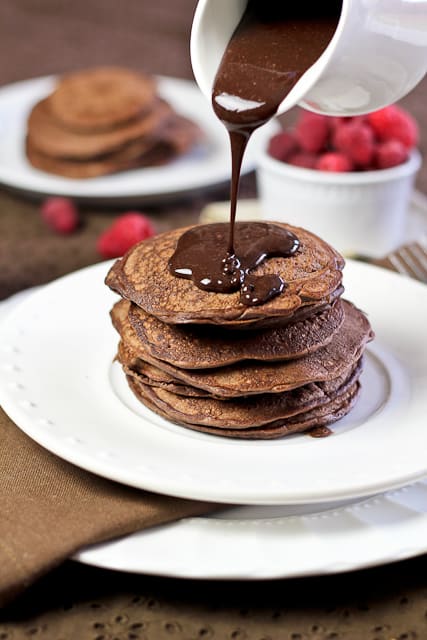 Pour… pour… pour…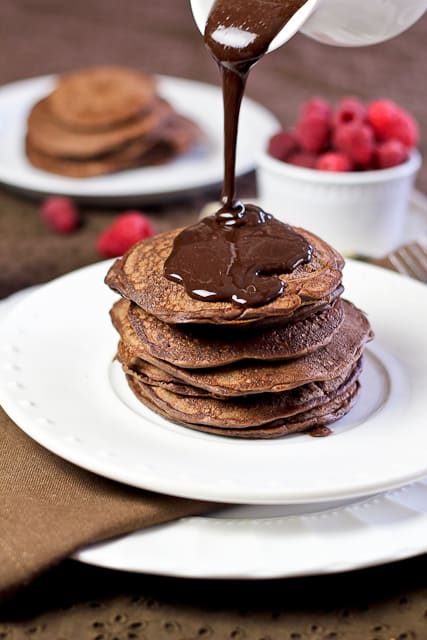 Pour some more…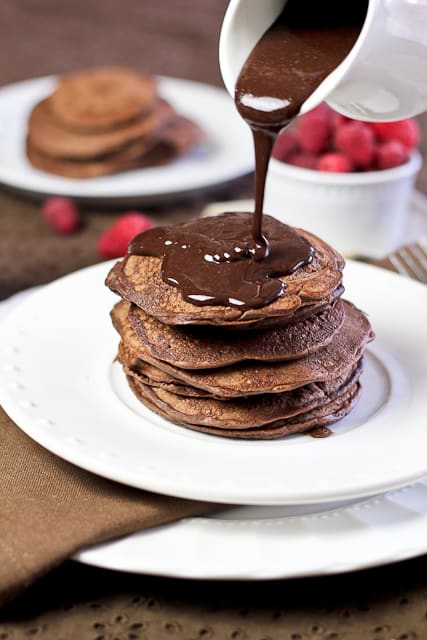 Go ahead, don't be shy…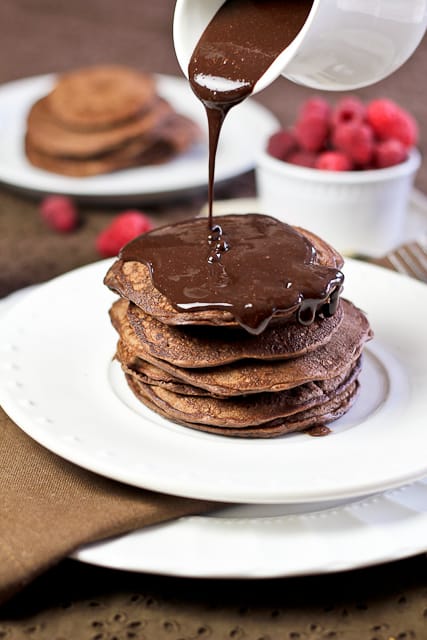 MORE!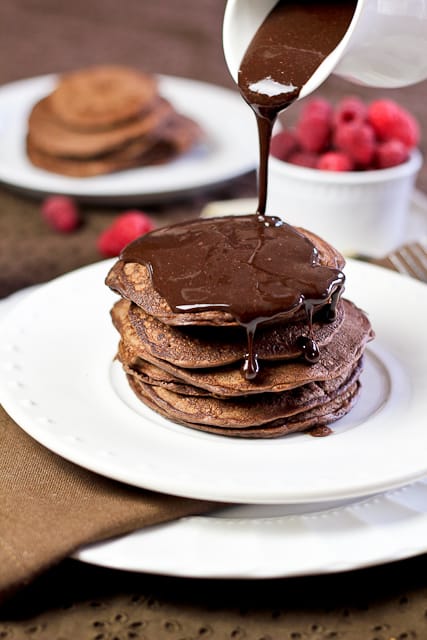 Oh yeah, now you're talking!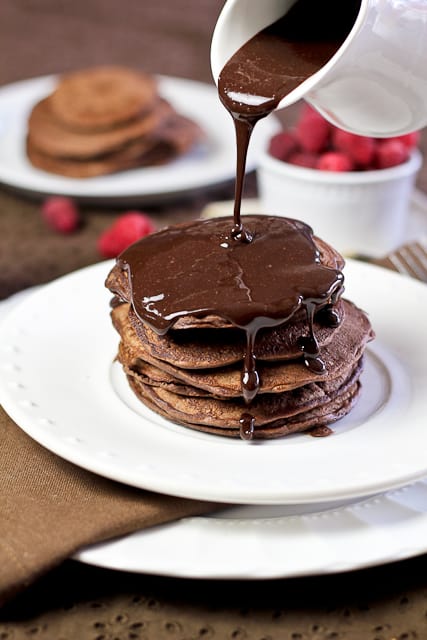 Little more still… beautiful!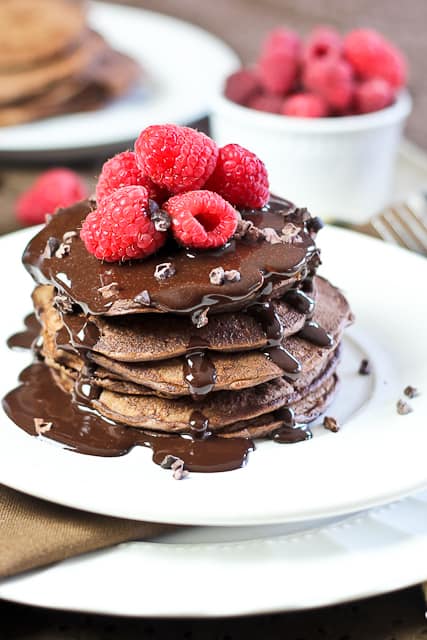 Now add a few raspberries and cocoa nibs.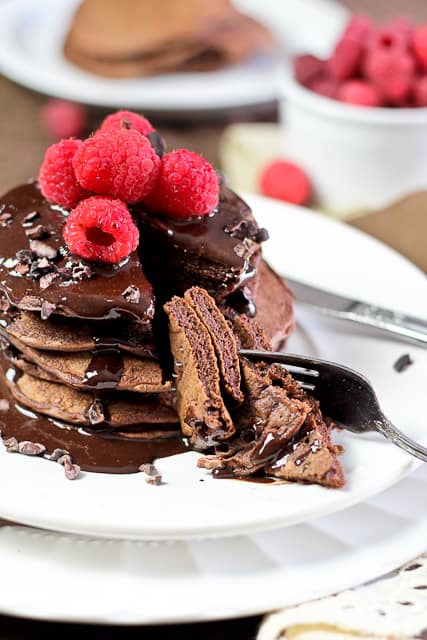 And dig in!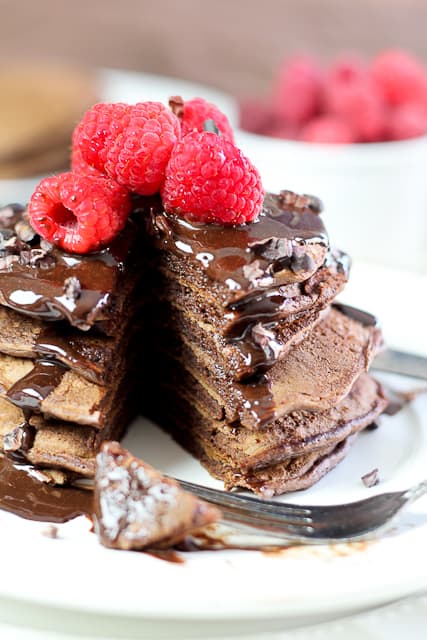 ENJOY! Take the time to truly savor every bite.
Totally guilt free!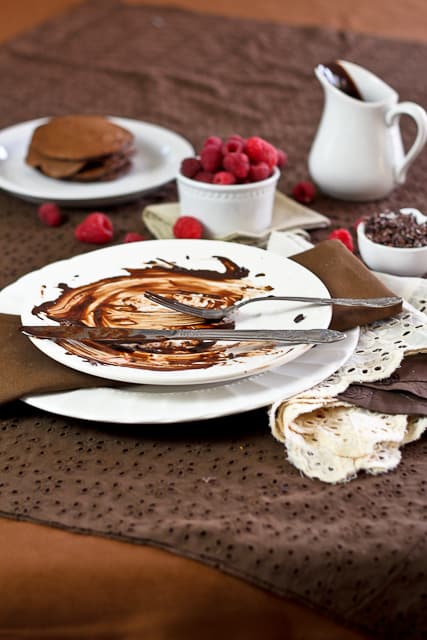 Oh yes… that actually happened.
I ate the whole stack right then and there.
They were that good.