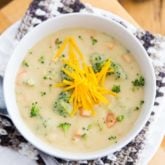 Print
Vegan Creamy Cheesy Broccoli and Carrot Soup
Made with nothing but wholesome ingredients, this Vegan Creamy Cheesy Broccoli and Carrot Soup is so filling and satisfying, so unbelievably thick and silky, you won't believe that it can actually be so crazy good for you!
Heat the olive oil in a large saucepan set over medium heat. Add the onion and garlic and cook until slightly softened, golden and fragrant, about 2 minutes.

Add the salt, pepper, oregano and onion powder, stir well and continue cooking for about a minute, then throw in the cauliflower and 2 cups of the vegetable stock; bring to a simmer, cover and cook until the cauliflower is tender and practically falls apart, about 10 minutes.

Meanwhile, chop the broccoli into tiny florets and dice the carrots.

When the cauliflower is tender, carefully transfer the content of the saucepan to a high-speed blender; add the canned white beans along with their liquid and process on high until super smooth and silky, about 2 minutes.

Return the saucepan to the heat source and to it, add the carrots and remaining cup of vegetable stock; bring to a simmer, cover and cook for a few minutes, until the carrots are cooked about half-way through.

Add the pureed cauliflower soup base to the saucepan, followed by the broccoli florets and non-dairy milk; bring to a slow simmer, cover and continue cooking until the broccoli is tender but still has a bit of a crunch to it, about 4-5 minutes.

Kill the heat and stir in nutritional yeast.

Serve without delay, garnished with a pinch of vegan cheddar cheese, if desired.
Calories:
306
kcal
|
Carbohydrates:
50
g
|
Protein:
19
g
|
Fat:
5
g
|
Sodium:
503
mg
|
Potassium:
1672
mg
|
Fiber:
15
g
|
Sugar:
8
g
|
Vitamin A:
6040
IU
|
Vitamin C:
209.1
mg
|
Calcium:
290
mg
|
Iron:
5.7
mg