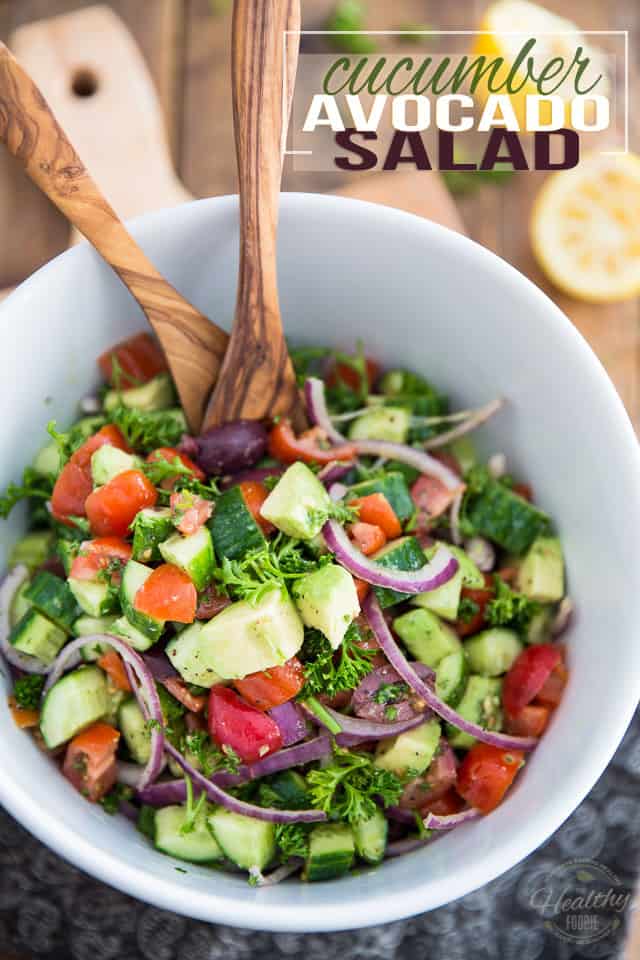 I know, you're probably thinking "Come on Sonia, are you serious? You're giving us a recipe for something so simple as a Cucumber Avocado Salad? But I must've made this exact same salad at least a hundred times before, I certainly don't need a recipe for that!" 
Well, I totally hear you…
You most definitely probably do not need a recipe to make this salad. And you most definitely do not need to follow the one I'm sharing here today either.
BUT, I thought that perhaps, you just needed some kind of a reminder that this beautiful salad existed and that it was just as easy to whip up in the dead of winter as it is smack in the middle of summer. And that it tastes just as fantastic this time of year as it does when it's nice and warm and sunny out.
And that it's a refreshing break from all the heavy sides that we tend to eat during the colder days of winter.
So go ahead, make one today… try my version or stick with yours. Speaking of which, I'm curious. What is it that usually goes in to your version of this great classic?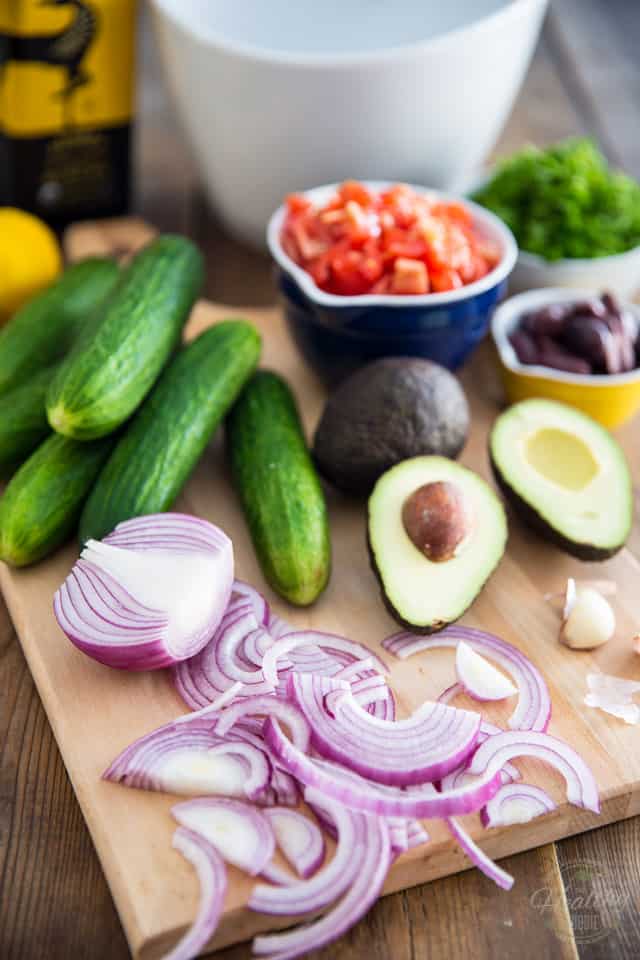 In my version, I like to include cucumbers and avocados, of course, and lots of them, too!
Then, I also throw in some thinly sliced red onions, cherry tomatoes, pitted kalamata olives, a generous amount of chopped parsley (for extra freshness, you know!), a little bit of garlic, some evoo, the juice of a lemon, as well as some salt and pepper.
That easy!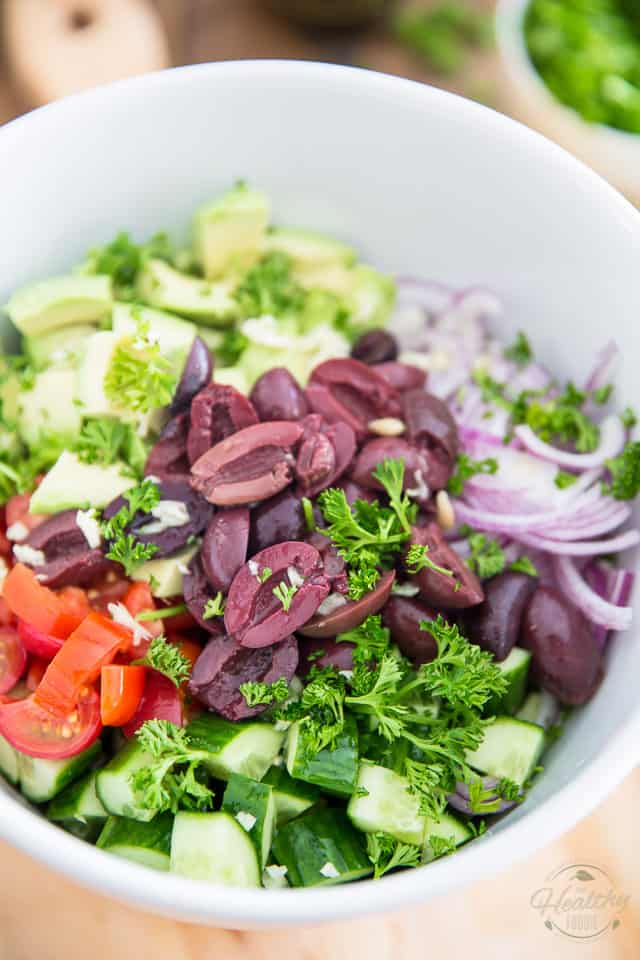 I simply throw everything into a large mixing bowl, then take a few seconds and stare at it for a moment or two and enjoy the beautiful view…
Does this not scream of freshness to you? I just want to dig right in!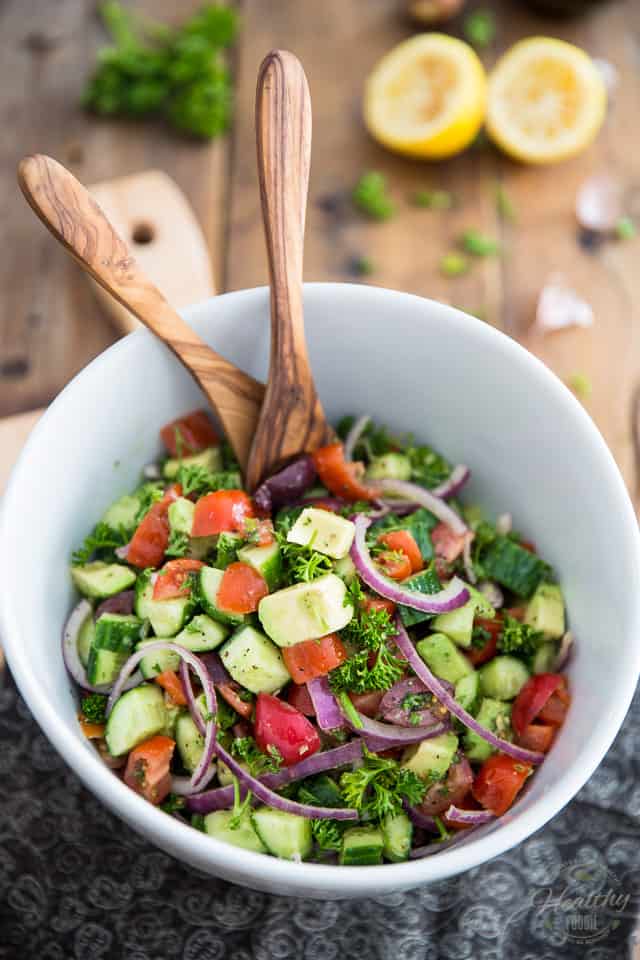 Nothing left to do but to give all those beautiful fresh ingredients a gentle stir, and serve.
This salad is best enjoyed when it's just been made, as it tends to wilt and starts to release all kinds of liquids very quickly.
It comes together so quickly though, I'm sure that making it at the very last minute will not be a problem!
And, it tastes so incredibly good that I highly doubt you'll be stuck with any leftovers…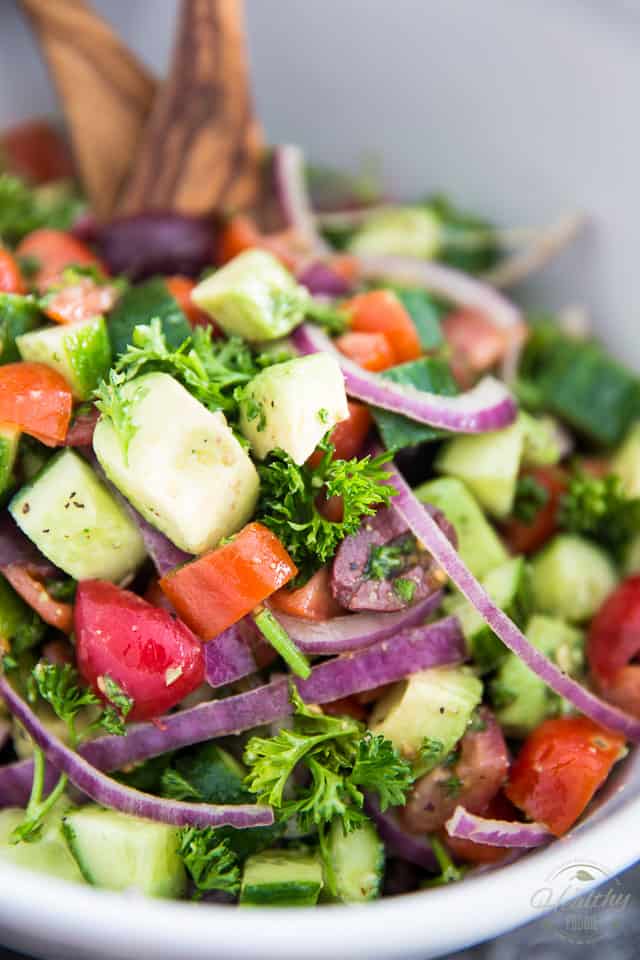 Cucumber Avocado Salad
Ingredients
6 mini cucumbers, diced
3 cups (300g | 10.5oz) cherry tomatoes, quartered
2 ripe avocados, diced
1 small red onion, thinly sliced
1 cup (30g | 1oz) fresh parsley, finely chopped
½ cup (85g | 3oz) pitted kalamata olives
¼ cup (60ml) extra-virgin olive oil
the juice of 1 lemon
1 clove garlic, minced
1 tsp salt (I use Himalayan salt)
½ tsp freshly ground black pepper
Instructions
Combine all the ingredients in a large mixing bowl. Toss delicately until well combined.
Serve immediately
Nutrition Information
Serving size:
NF based on 1 of 4 servings