Loaded with tons grilled vegetables such as eggplant, zucchini and roasted roasted bell peppers, topped with a generous amount of creamy goat cheese, this Grilled Vegetables and Goat Cheese Pasta Salad will be the star of your summer meals!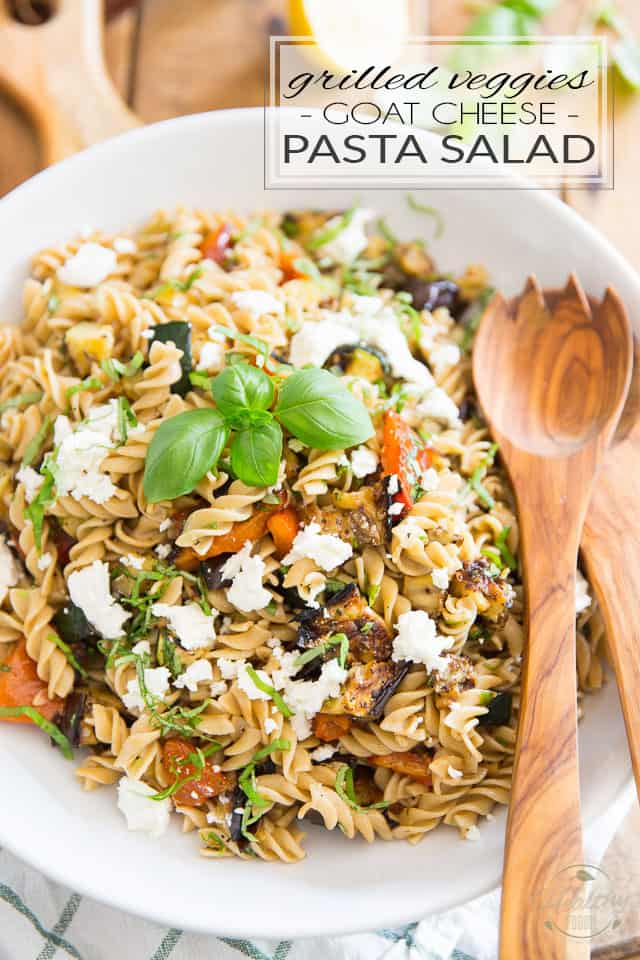 Sometimes, it's what's left in the fridge that dictates the direction that supper is going to take. This is pretty much what happened the day I initially created this recipe… I did it based on what little food I had left in the fridge that day, and needed to use up, too!
This was definitely a case when being forced to use certain ingredients turned out to be a beautiful thing!  It gave life to an incredibly delightful creation, one that's become a big favorite of mine and that I might never have come up with had it not been for the fact that I had to use those particular veggies that day.
The flavor profile of this salad is mild and subtle, slightly smokey and tangy, delicate and fresh, with a hint of peppery sunshine; the textures, for their part, are fairly uniform, but pleasantly soft and creamy in the mouth. The union of it all creates a dish that you just want to keep on eating…
To change things up, and to add a little bit of a crunch to each bite, I sometimes like to add a handful of walnuts or pumpkin seeds to the salad. Grilled mushrooms also make for a wonderful addition!
Also too, this salad is equally superb eaten warm or cold, so you can make it and eat it right away, or prepare it up to a day ahead of time.
Ultimately, you get to decide what you want to do, or what best suits your schedule!
view post about Grilled Vegetables and Goat Cheese Pasta Salad