Free of any added sugar, made with nothing but wholesome ingredients, these Healthy Oatmeal Cookies are so good for you, you could almost think of them as a bowl of oatmeal in a portable form… perfect for those busy mornings or for a quick snack on the go!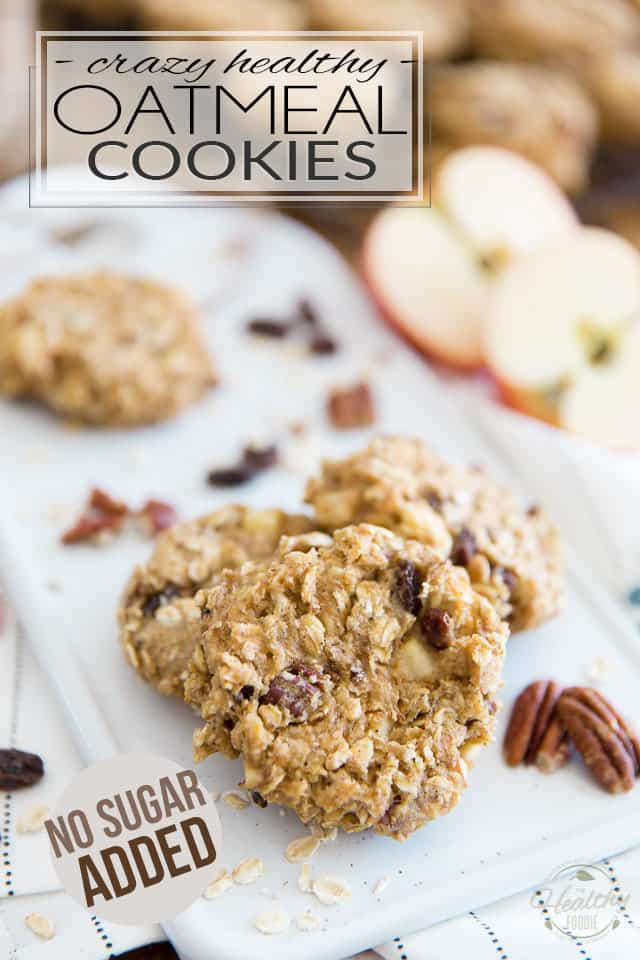 Here's another recipe that I'd initially come up with AGES ago, and that I decided was totally worthy of getting a second wind. Cuz these are not your ordinary oatmeal cookies! In fact, they are so healthy, I think you could very well refer to them as portable oatmeal! Not only that, but they also happen to taste absolutely fantastic. 
They contain no added sugar whatsoever, other than that which is naturally present in the apples and a handful of raisins. As such, they don't taste very sweet at all, but still, the fruits alone, combined with the addition cinnamon and nutmeg, are enough to confer just enough sweetness to the cookies to fool your brains into believing that they are indeed eating a treat!
Not only that, but the addition of fresh apple cubes helps in keeping the cookies extra soft, while the combination of whole wheat flour and old fashioned rolled oats gives the cookies a perfectly dense and chewy texture.
Seriously, these guys they make for such a great portable breakfast or snack!
I certainly hope that you will think so, too… 
view post about Crazy Healthy Oatmeal Cookies – No Sugar Added