Ready in just a few minutes, this is undoubtedly the Best Carrot Salad EVER! Try it once and I can guarantee that it will become your go-to carrot salad recipe! Just be sure not to leave the secret ingredient out…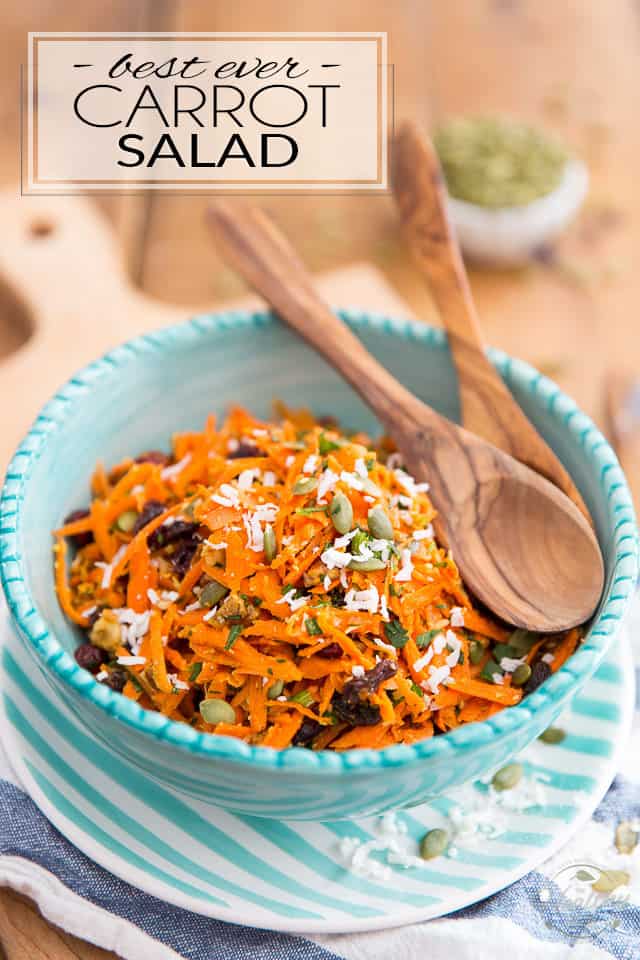 The recipe for this salad, I came up with years ago and I've made it countless times since…
I thought maybe it was about time I gave this post a little bit of a fresh coat of paint, and maybe put it back on the top of the pile, too… 'cuz really, no word of a lie, this is by far the best carrot salad I ever had.
When I initially created it, I think I'd gotten a little bit carried away… I'd been craving carrot salad all week and when I finally got to making it, I started adding all sorts of dried fruits and nuts, namely raisins, cranberries, pumpkin seeds, walnuts, pecans to my grated carrots.
And then, I had the craziest idea… I decided to throw in a couple of tablespoons of unsweetened shredded coconut to my salad. Oh yes, you read that one right! Unsweetened shredded coconut. It turned out to be THE one secret ingredient that totally MADE that salad. Don't give me that look, try it, you'll see! It adds SO MUCH mystery to the overall flavor of the dish, as well , especially when coupled with the fresh ginger, a very agreeable little hint of exoticism.
In your mouth, it feels like WOW-OH-MY-OH-YUM!
You have to try this. Have to! Here's the recipe. Trust me, you will need it. view post about The Best Carrot Salad Ever!