Loaded with nothing but good for you, wholesome ingredients, this White Bean Pomegranate Salad with Tangy Mustard Dressing is so delectable, you won't want to stop eating it!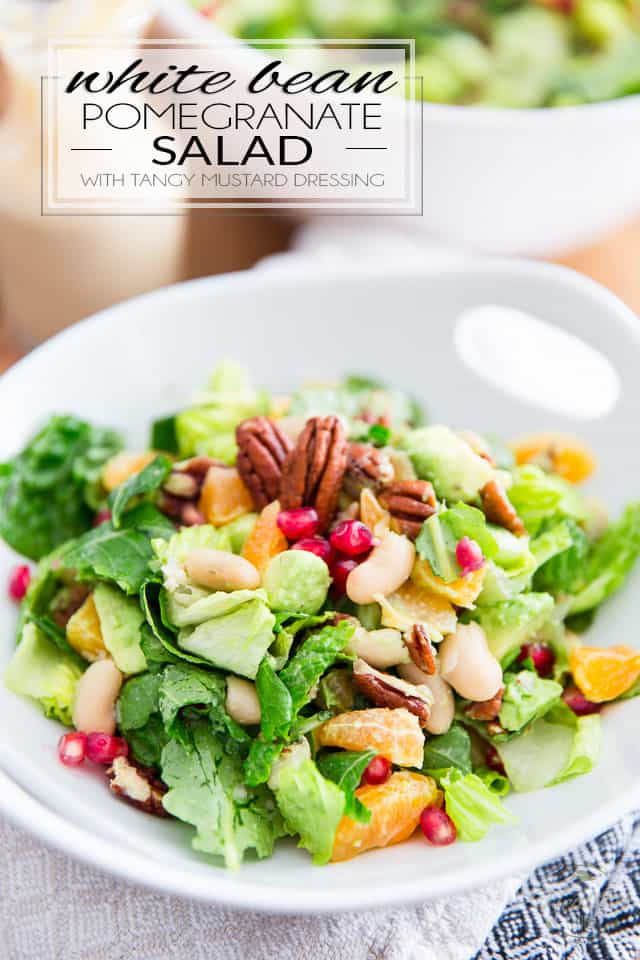 Well, that's it: I'm taking the plunge! At the beginning of this year, I've made a commitment to myself, which I am now making official by telling you all: I've finally decided to drastically reduce my consumption of meat and other animal products and transition to a plant-based diet.
This may sound kinda weird, coming from the mouth of someone who just only a few years ago, was signing high and loud the praises of the paleo diet!
Oh well. Only fools never change their mind, they say. Right? Right. And if that's true, then I must be a crazy wise woman, cuz my mind, I must've changed like a million times since I started this quest to a healthier me.
My reasons for making the switch are extremely selfless… Of course, I care about my own health, but mostly, I care about that of our mother Earth. And I care about the animals, too. Switching to a plant-based lifestyle is the fastest, most efficient way to reduce my environmental footprint, which is something I'm really wanting to do. And also, I'm having a real hard time dealing with the thought of an animal having to suffer and ultimately give up its life in order for me to feed my body. This much has always bothered me.
And recently, it started haunting me more and more. I can't keep my hand in the sand anymore. view post about White Bean Pomegranate Salad with Tangy Mustard Dressing – What The Health Book Giveaway