This no fuss vegan Warm Pasta Salad Perfect is meant to be eaten warm, but is just as tasty at room temperature or even right out of the fridge, making it a perfect choice for any season or any occasion!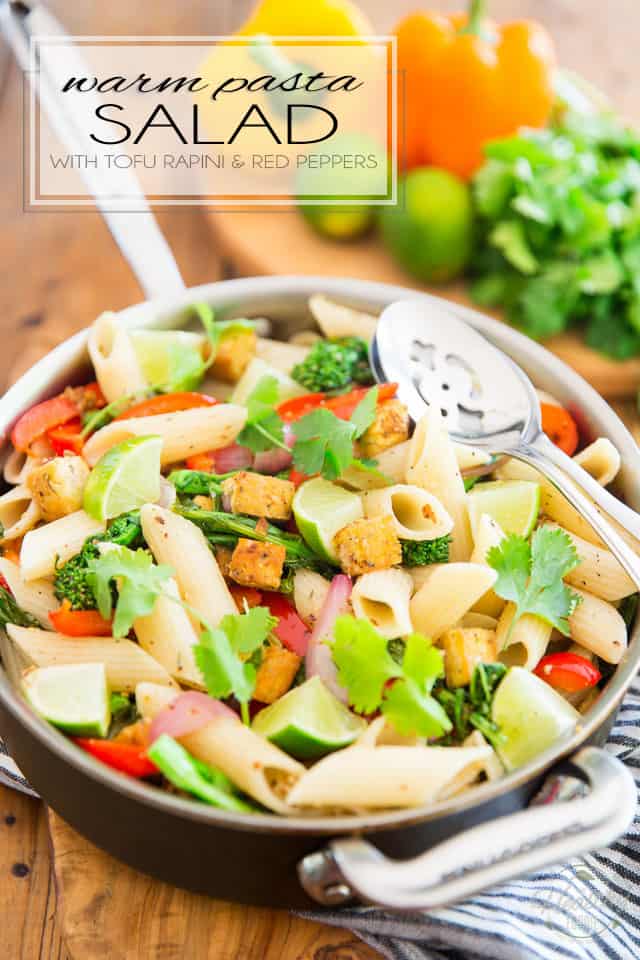 Here's another super quick, super easy, no fuss pasta recipe that I came up with yesterday.
It was 4:30 in the afternoon, I had ZERO inspiration, close to nothing in the fridge, yet I had to come up with a blog post for today, AND make supper for HubB2B and I. So I grabbed whatever I thought would work great together (down to my last tablespoon of Dijon mustard, that's how bad I need to hit the grocery store!) worked a little bit of magic and this is what came out at the other end.
You know what they say, right? Sometimes, the best recipes are created out of bare necessities. Well, this is definitely one of them! Man is this thing ever yummy! And the good thing is you can totally adapt it to whatever "necessities" you have available at the time, too. Use broccoli, kale, broccolini, spinach, collards, arugula, or whatever greens you happen to have on hand instead of the rapini. Likewise, you could totally replace the bell peppers with carrot sticks, mushrooms, zucchini, aubergines, tomatoes… feel free to add or sub! view post about Warm Pasta Salad with Tofu Rapini and Bell Peppers