Clafoutis is a traditional French dessert that's sort of a cross between a flan and a cake. Super refreshing and easy to make, this Gluten Free Almond Cherry Clafoutis not only is delicious, but it's filled with all kinds of good stuff that'll do your body good!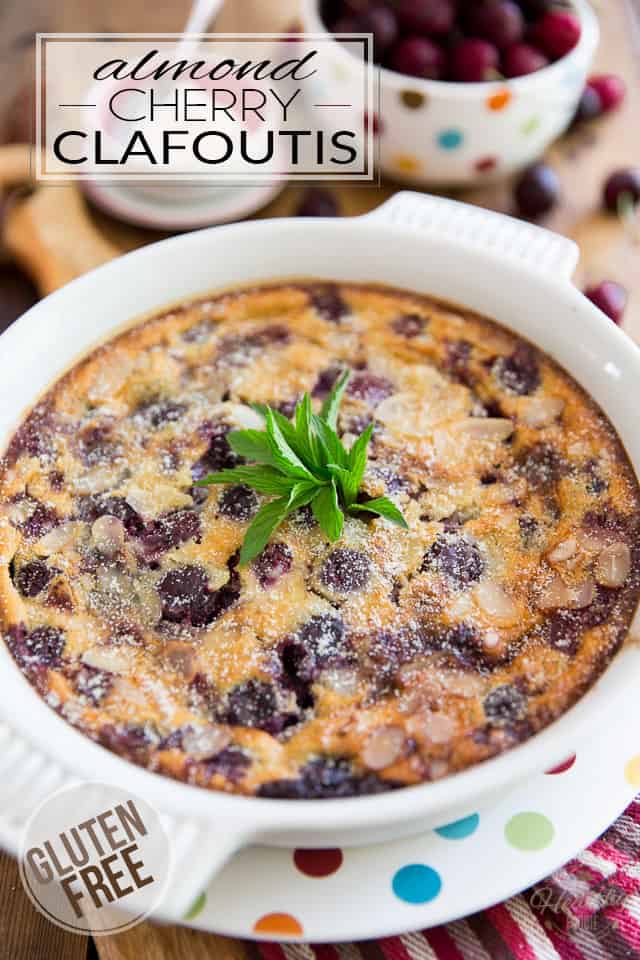 Here's another recipe that I'd originally created many many years ago and recently decided to give it a little bit of a face lift…
This time, though, I chose to make quite a few changes to the recipe itself and not just redo the photos… Firstly, I wanted to make the cake gluten free, and also too, get it to be much closer to the "real deal"… Indeed, I found the previous recipe to be a tad too cake-y and not quite flan-y enough; so I tweaked a couple of things, and the result was amazing! In fact, they far exceeded my expectations!
Not only is this Gluten Free Cherry Clafoutis very true to the original version of the dessert, but it's a damn delicious one at that! I even had my stepdad — who happens to be a former pastry chef and teacher at a well renowned culinary school  — taste it, and he said that it was fantastic! Light, creamy, soft and velvety… one would never guess that it contained no flour or added sugar. He said I could've fooled him anytime! HA! Music to my ears!
If you are a fan of cherries and are looking for a really light and refreshing dessert that you can serve on any occasion this summer, look no further. This is it right here!