Sweet and tangy with a bit of an Asian flair, this Kaleslaw features a tasty mix of red kale, red cabbage and Napa cabbage. It's the perfect companion for all your dishes, any time of day, any time of year!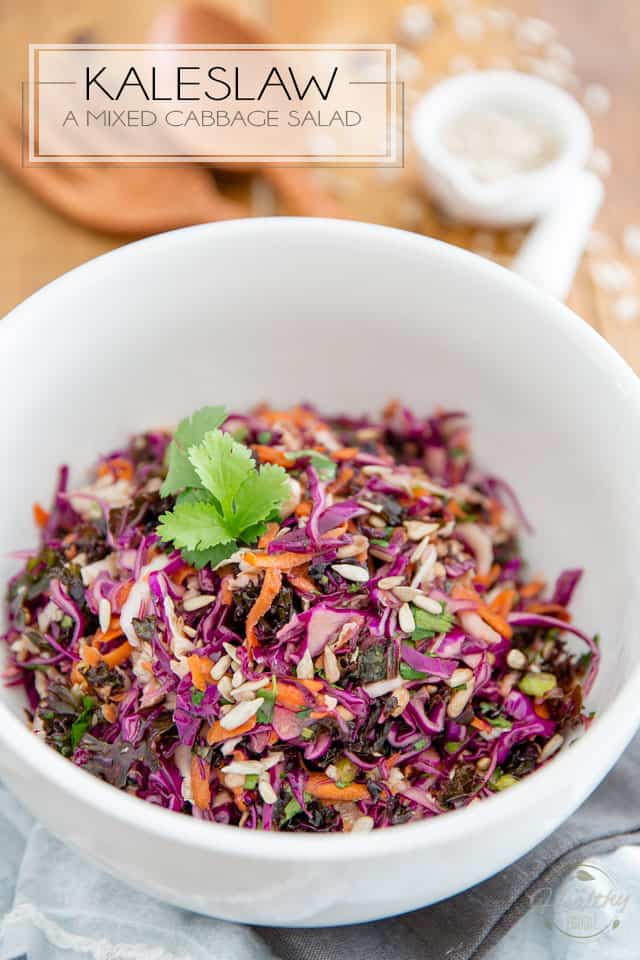 Here's a salad that you'll want to add to your plate on a regular basis, if only for its beautiful vibrant colors! Honestly, though, its explosive sweet and tangy flavor profile as well as its crazy nutritional density will give you two more reasons to make this beauty a part of your regular rotation.
To make this one, I chose to use 3 different kinds of cabbage: red cabbage (for its beautiful vibrant purple color) red kale (because whoa, what a nutrition powerhouse!) and Chinese Napa cabbage (for it's super fresh, crunchy texture and peppery flavor). To that, I added grated carrots, chopped cilantro, green onions and sunflower seeds, for even more added color and texture!
As for the vinaigrette, it is super simple and real easy to make, but it tastes so remarkably good, I feel it should come with a warning: you'll be really tempted do drink it straight from the jar!
Add to that the fact that this salad will taste just as good after spending a few days in the fridge, I say we got ourselves a definite winner!