This Homemade Oat Milk requires only 2 ingredients and about 5 minutes of your time to prepare. Incredibly easy, it costs nearly nothing to make, on top of generating absolutely zero waste. It's a no fuss, no mess and no straining needed recipe. Simply put: there's nothing not to love about it!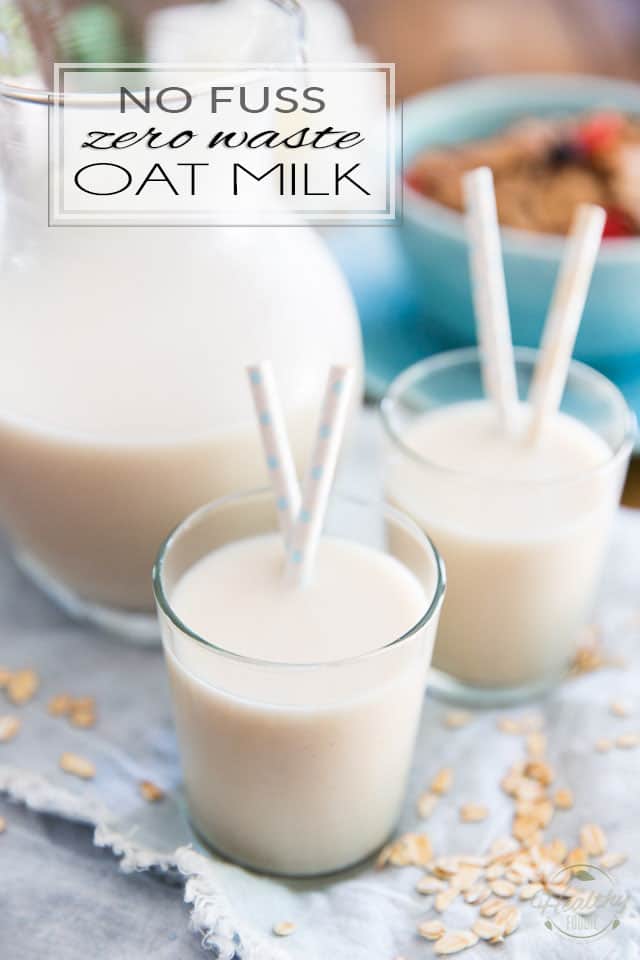 I don't know about you but in this household, we go through quite a few cartons of milk every week. Well, non-dairy milk, that is. Not only does it get fairly expensive, but it also produces a lot of waste… Lately, my favorite had been Kirkland's Organic Almond Milk, but, COSTCO being the king of over-packaging, their milk only comes in cartons of 1 liter, packed in boxes of six cartons. Every week, I'd buy a new box and felt a tinge of guilt as I'd think of all the waste I'd be generating.
I had to think of an alternate solution. Cue this Zero Waste, Homemade Oat Milk. Not only does this milk taste great, it's, ready in a blink of an eye, costs almost nothing to make and produces absolutely no waste! Well, save for a little bit of water, but that doesn't really count as waste, does it?
You're probably thinking yeah, but what about all the pulp that gets left behind. You HAVE to find a way to re-use that, else it qualifies as waste. Well, the beauty of this milk is that there is no pulp to leave behind. And that, in turns, means no straining necessary. So no wasted cheesecloth either.
And no, in case you're wondering, this oat milk is not unpleasantly thick and filled with all kinds of chewable particles. It's actually crazy smooth, thick, creamy and super silky.
Oh, and very yummy, too! It definitely is my new go-to! view post about Zero Waste Homemade Oat Milk