White Bean Pomegranate Salad with Tangy Mustard Dressing – What The Health
Loaded with nothing but good for you, wholesome ingredients, this White Bean Pomegranate Salad with Tangy Mustard Dressing is so delectable, you won't want to stop eating it!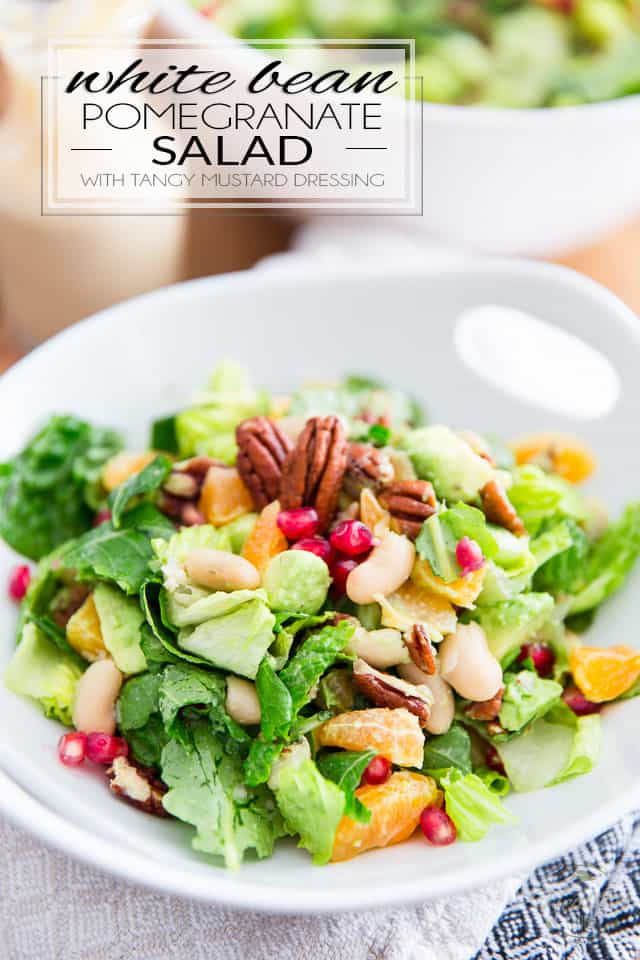 Well, that's it: I'm taking the plunge! At the beginning of this year, I've made a commitment to myself, which I am now making official by telling you all: I've finally decided to drastically reduce my consumption of meat and other animal products and transition to a plant-based diet.
This may sound kinda weird, coming from the mouth of someone who just only a few years ago, was signing high and loud the praises of the paleo diet!
Oh well. Only fools never change their mind, they say. Right? Right. And if that's true, then I must be a crazy wise woman, cuz my mind, I must've changed like a million times since I started this quest to a healthier me.
My reasons for making the switch are extremely selfless… Of course, I care about my own health, but mostly, I care about that of our mother Earth. And I care about the animals, too. Switching to a plant-based lifestyle is the fastest, most efficient way to reduce my environmental footprint, which is something I'm really wanting to do. And also, I'm having a real hard time dealing with the thought of an animal having to suffer and ultimately give up its life in order for me to feed my body. This much has always bothered me.
And recently, it started haunting me more and more. I can't keep my hand in the sand anymore.
Funny enough, not long after I'd made the decision to transition to a plant-based diet, I was offered a review copy of What the Health, a book based on the ground breaking documentary which you've most probably heard about, if not watched already (and if you haven't, you totally should!).
Of course, I accepted it with an immense pleasure! And reading it has helped me greatly in reinforcing my decision.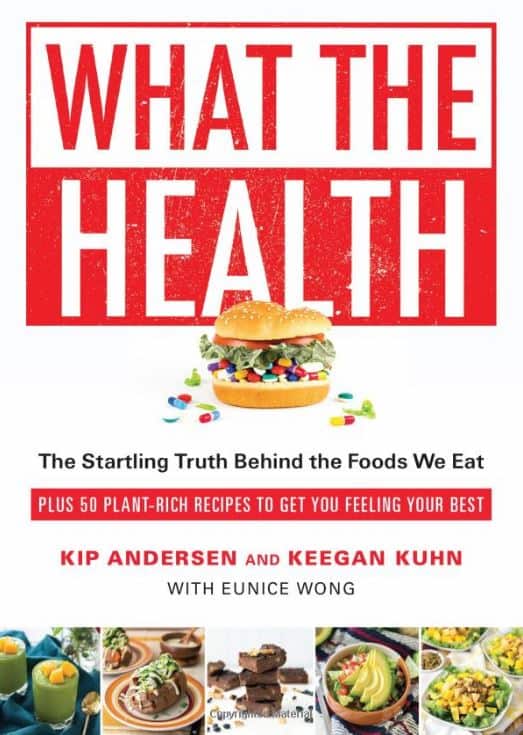 What the Health takes you on a science-based tour to help you better understand and see more clearly the dangers brought to our health by consuming animal products on a regular basis – and what happens when you stop and adopt a plant-based diet.
This book is an urgent call to change the way we feed our bodies, while exposing the lies and deceptions used by the food industries and big corporations to confuse the public and keep the people chronically — and profitably — ill.
If you've been hoping to change the way you eat, or even considering it, then What the Health is totally for you, and will definitely help you claim back your health and longevity.
It's even got a recipe section which offers 50 delicious plant-based recipes to help you get started and feel your best!
As you probably guessed, the following salad recipe was taken straight from the book. I rarely follow a recipe to the T but this time I did, and let me tell you, it won't be the last! This salad is so crazy delicious, I just wanted to keep on eating it. Good thing I had to share cuz I would've eaten the whole batch!
I know for sure that I'll be trying more recipes from that book…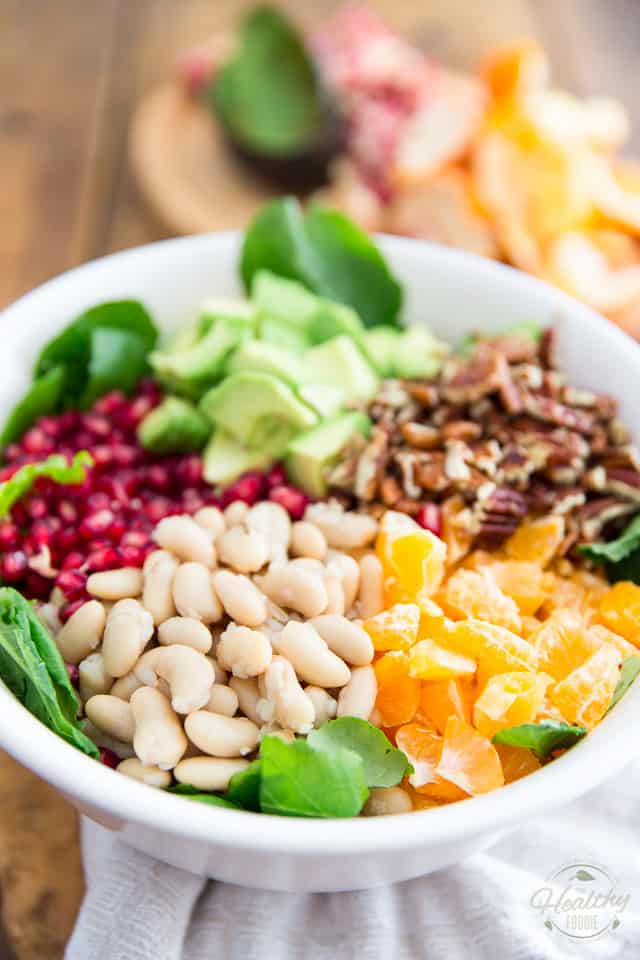 Like the majority of salad recipes, this one is pretty straight forward and easy to put together: simply combine all the ingredients for the salad in a large mixing bowl.
In this case, we're talking:
8 cups of romaine lettuce (I used half romaine lettuce, half baby kale leaves)
6 to 8 tangerines (I used 6)
2 small avocados
1 cup of pomegranate arils
1-1/2 to 2 cups of cooked lentils, or a 16oz can of cannellini beans, drained and rinsed (as you can see, I chose to go with the white beans option)
1/2 cup of chopped pecans
Interestingly, this salad is called Winter Lentil Pomegranate Salad in the book. Since I opted to go with their suggestion of using white beans instead of lentils, I thought it would make sense to also rename the dish…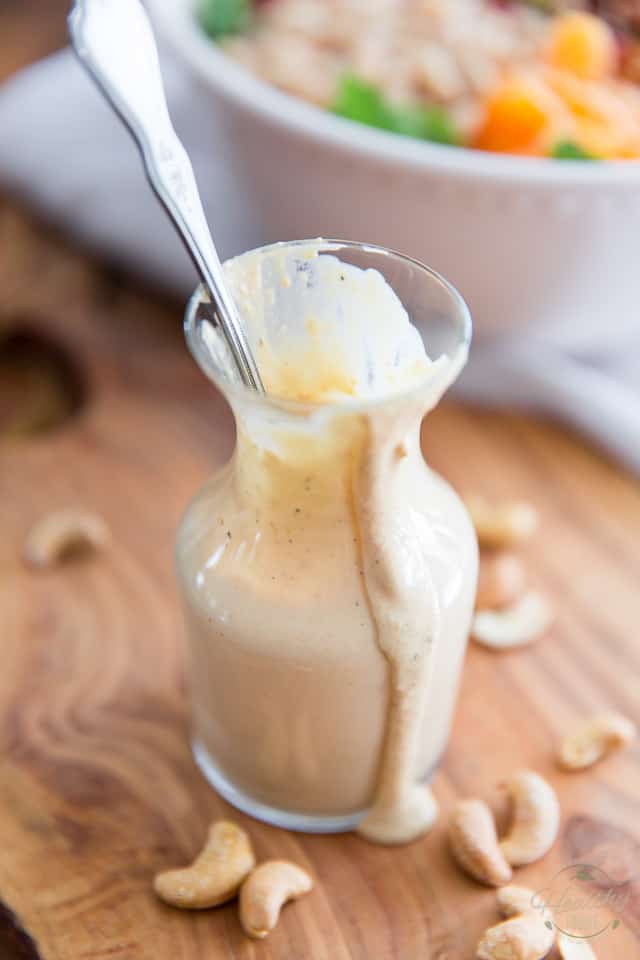 Now to make the dressing: combine the handful of ingredients that are needed in a high-speed blender and process on high until the desired consistency is reached.
Here's what you'll need:
1/2 cup of cashews (the recipe doesn't specify what kind; I used dry roasted, unsalted organic cashews)
1/2 cup water
2 tsp spicy brown mustard (I couldn't find that, so I used extra hot organic Dijon mustard)
1 tsp apple cider vinegar
pinch of salt and pepper
I was a bit skeptical at first that such a small handful of ingredients would turn into a truly interesting dressing, but honestly, this works! That totally makes for a super creamy and surprisingly tasty salad dressing! Man is this thing good… In fact, I strongly suggest that you make a double batch and keep some in the fridge, where it'll stay good for up to several days.
The only thing is I don't believe you would get such good results if using a regular blender; the final product would not be nearly as smooth and creamy. If all you had was a regular blender, consider soaking your cashews in the 1/2 cup of water for about a half hour before making the dressing.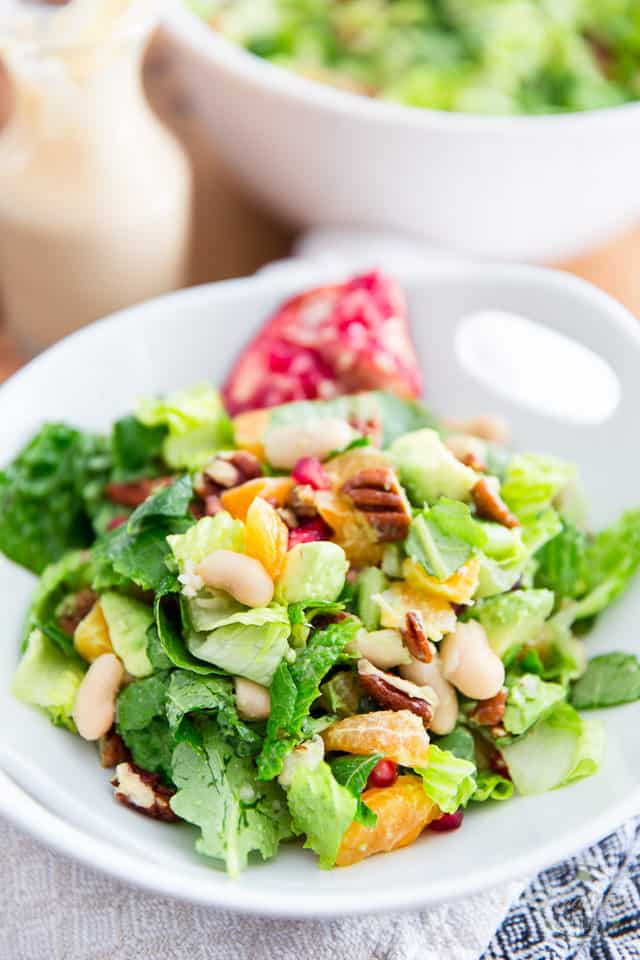 That's it! You are now ready to serve your salad; all that's left to do is give all those ingredients a gentle toss, to combine and distribute everything evenly.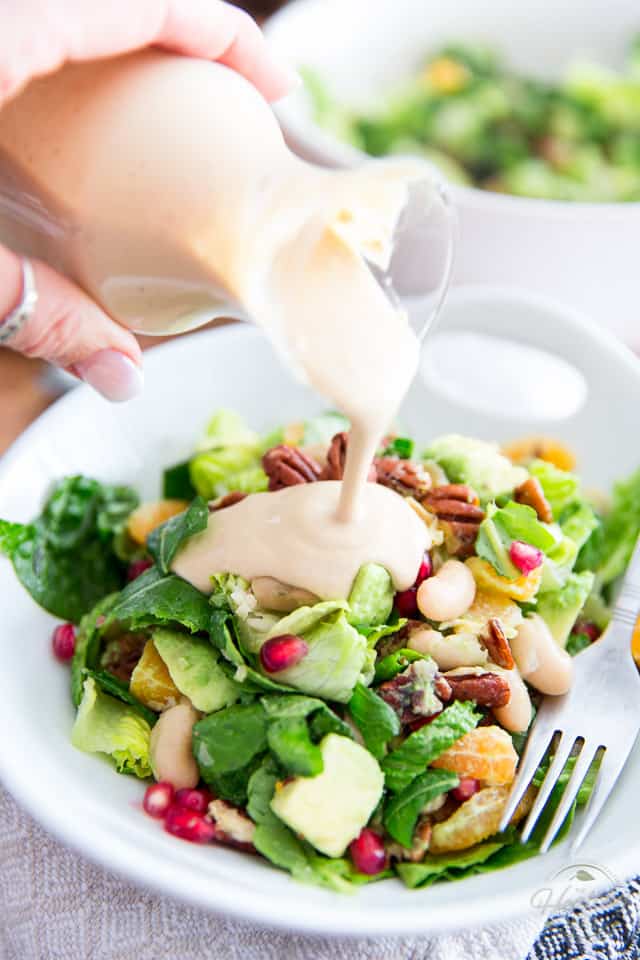 Drizzle as much or as little of that delicious creamy Tangy Mustard Dressing all over your salad… and ENJOY!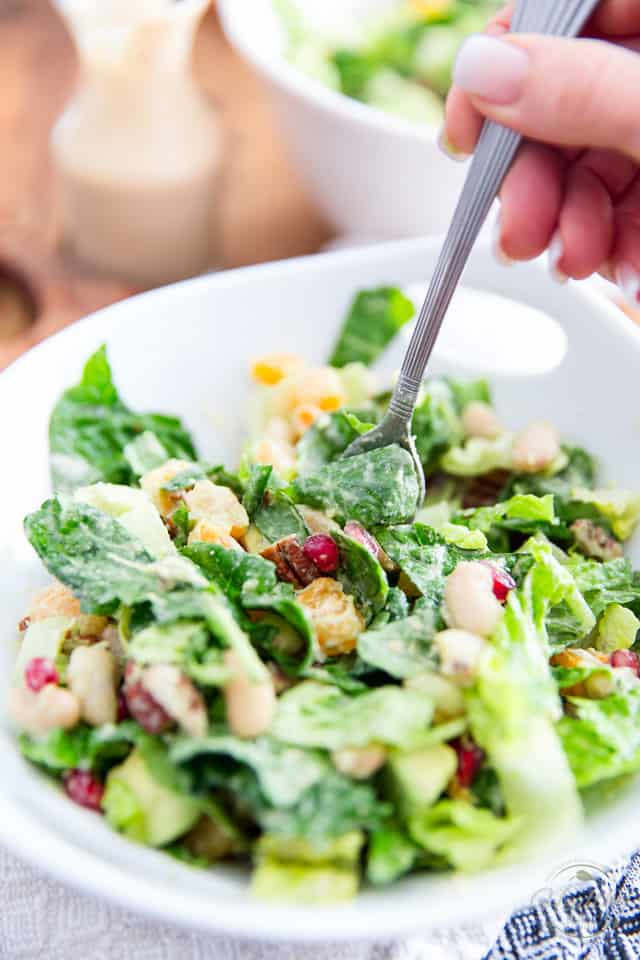 White Bean Pomegranate Salad with Tangy Mustard Dressing
Loaded with nothing but good for you, wholesome ingredients, this White Bean Pomegranate Salad with Tangy Mustard Dressing is so delectable, you won't want to stop eating it!
Servings: 4
Ingredients
For the salad
8 cups chopped romaine lettuce
6 to 8 tangerines, peeled and chopped
2 small avocados, peeled, pitted and chopped
1 cup pomegranate arils
1-1/2 to 2 cups cooked lentils, (or one 16-oz can cannellini beans drained and rinsed)
1/2 cup chopped pecans
For the tangy mustard dressing
Instructions
Combine all the ingredients for the dressing in a high speed blender and process until the desired consistency is reached.

In a large bowl, combine the lettuce, tangerines, avocados, pomegranate arils, lentils, and pecans. Drizzle with the dressing to taste.

Serve, and enjoy!
Nutrition
Calories: 581kcal, Carbohydrates: 63g, Protein: 18g, Fat: 33g, Saturated Fat: 4g, Sodium: 125mg, Potassium: 1563mg, Fiber: 22g, Sugar: 24g, Vitamin A: 9235IU, Vitamin C: 54.7mg, Calcium: 130mg, Iron: 6.5mg
If you've tried this recipe, please take a minute to rate the recipe and let me know how things went for you in the comments below. It's always such a pleasure to hear from you!
You can also FOLLOW ME on PINTEREST, FACEBOOK, INSTAGRAM and TWITTER for more delicious, healthy recipes!