Green Bean, Goat Cheese and Green Olives Salad
I feel I haven't been eating enough vegetables lately.
Looking back at my grocery shopping lists of the last few weeks, I can indeed see that the fruits and vegetables section has gotten shorter and shorter. I was blaming it on the fact that I had decided to take a break from my day in, day out, same old boring lunch salad, but I'm realizing that it's been more than that.
I think I've bee feeding on way too much grains lately and my body isn't really needing that much. It sort of started storing fat, and I, erm, don't care much for that at all, to say the least.
Time to hit reverse!
Soooooo, I guess you can expect to see a bit more recipes involving veggies in all sorts of shapes and forms in the next few weeks. The thing is, though, vegetables haven't really been turning me on lately. I don't get all excited because I get to eat a side of carrots, or broccoli!
I will have to think of ways to make them more appealing to me. Make me WANT to eat them. Fool my own brain!
This, right here, is just a perfect example of how I will get that done.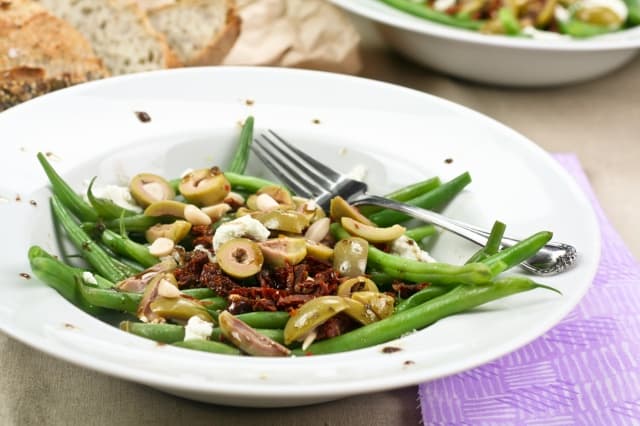 I recently saw this salad on Pinterest and immediately decided I HAD to make it. It also reminded me that I had not visited David's Salad Pride  in way too long and I intend to do that more often in the upcoming weeks / months. To me, David is the ultimate source of inspiration when it comes to salads! He makes them all look soooo good…
For sure, that'll help me get the "eat your vegetables" project going.
Just wondering though… Is it just me or do you get that too? Does anyone else lose interest in vegetables, sometimes?
Tell you what: I sure wish I could get bored with carbs, instead! 😉
Oh, and just for the record, my daughter said this salad is the best thing she's eaten in the past, like, year!
I think that says it all, right there! 😀
Green Bean, Goat Cheese and Green Olives Salad
Servings: 2
Ingredients
450 g green beans, ends trimmed
50 g sundried tomatoes, chopped
12 garlic stuffed green olives, sliced
60 g soft goat cheese, crumbled
Dressing
1 tbsp olive oil
½ tsp balsamic vinegar
¼ tsp fermented garlic flowers, or minced garlic
Pinch salt and pepper
Instructions
Bring about an inch of salted water to a boil in a pot into or on top of which your steamer basket or insert fits.

Put beans in the steamer basket, set over the boiling water, cover, and steam until tender to the bite, 3 to 5 minutes (depending on how crisp or tender you like your green beans)

As soon as beans are ready, divide them between two serving plates and top with chopped sun dried tomatoes, olives and crumbled goat cheese.

Drizzle a little bit of dressing on top and serve immediately.
Notes
*If you wanted to make this into a cold salad instead, simply plunge the green beans into a bath of icy cold water as soon as they're done to stop the cooking, then drain and towel dry to remove excess moisture.
Nutrition
Calories: 350kcal
If you've tried this recipe, please take a minute to rate the recipe and let me know how things went for you in the comments below. It's always such a pleasure to hear from you!
You can also FOLLOW ME on PINTEREST, FACEBOOK, INSTAGRAM and TWITTER for more delicious, healthy recipes!