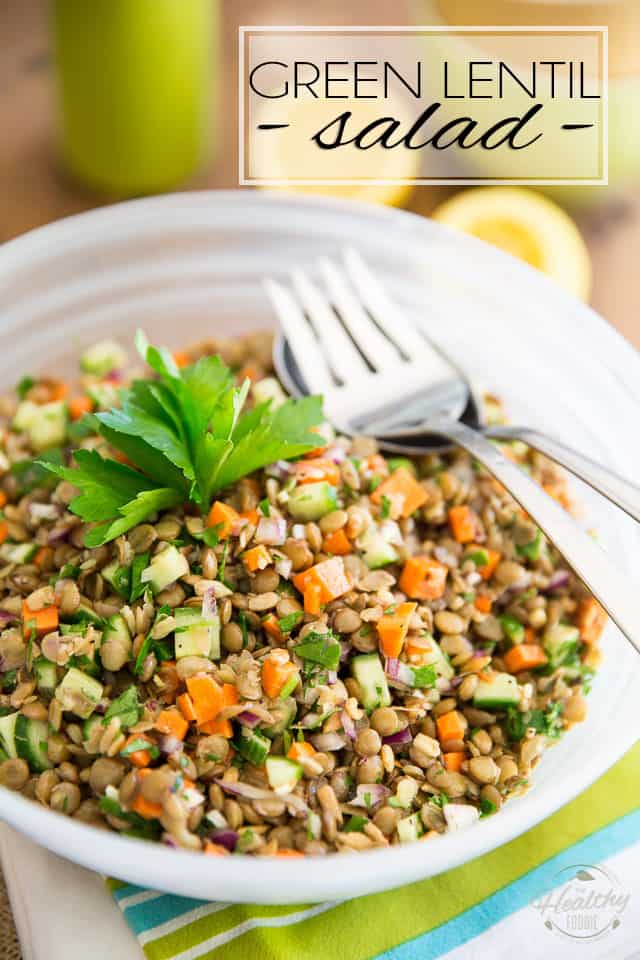 A Green Lentil Salad that'll have you come back for more? Yes, it actually exists, and you just found the recipe for it.
If you don't believe me, just make it, you'll see!
I'm not usually that big on lentils, but this salad, I could've eaten without end. I think the secret is in the addition of sunflower seeds and diced carrots. The pairing of these flavors and textures is just out of this world, I am telling you.
You need to taste it to believe it.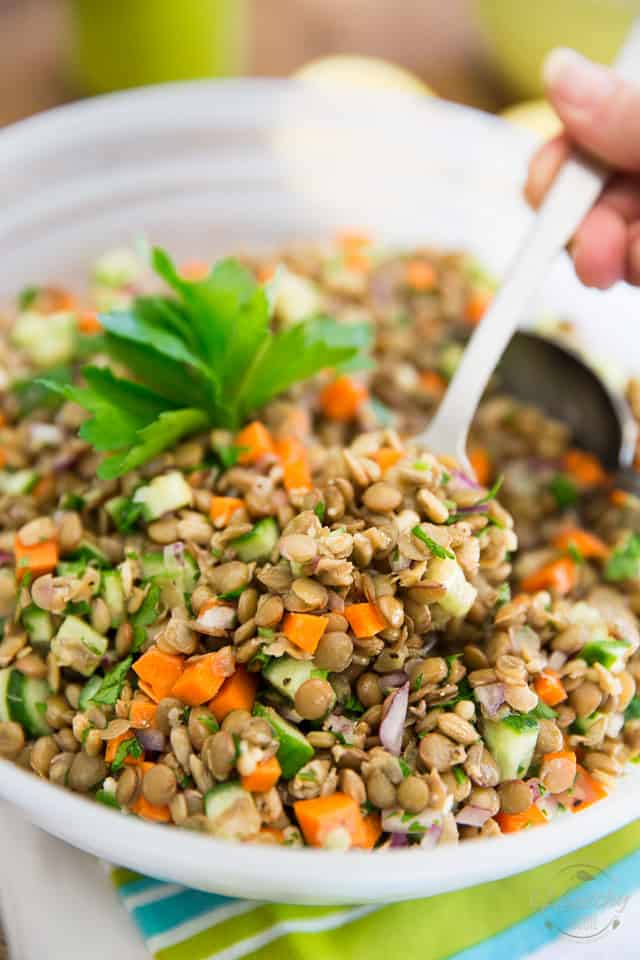 Now this dish takes a little bit of planning ahead as you will need to cook your lentils and let them cool entirely before you make the salad.
The good thing is, lentils they don't need to soak overnight. And they don't even take all that long to cook, either. About a half hour is pretty much all you need. And if you're in a pinch, you can rinse them under cold running water to speed up the cooling process. Not until they are fully chilled, but just give them a rinse to cool them down some and then throw them in the fridge for a couple of hours until they are fully chilled.
Of course, if you were in a real hurry, you could also use canned, but they're not as good… at least, I don't find.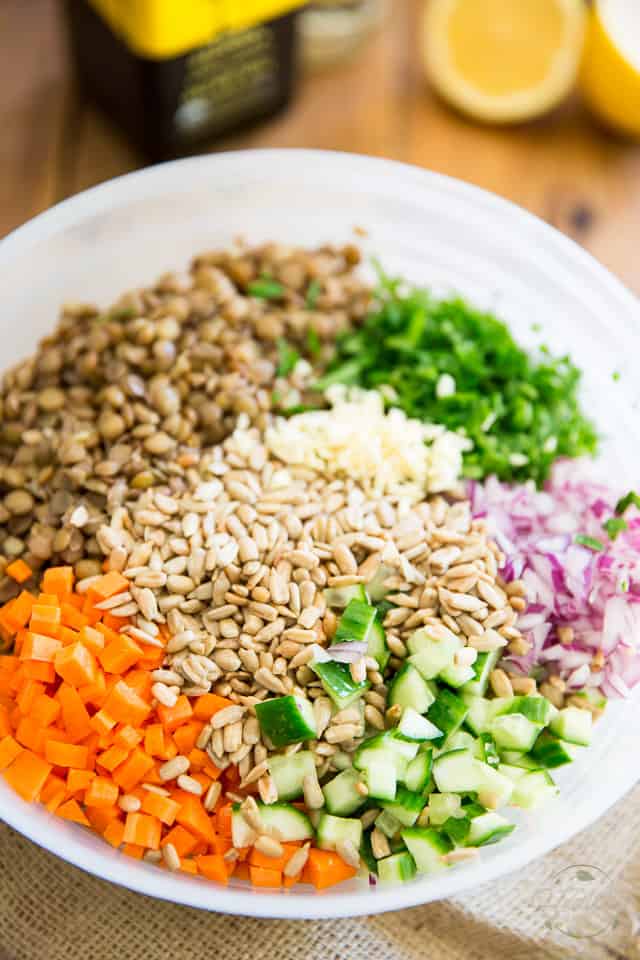 Once your lentils have been dealt with, the rest of the game is pretty easy, quick and straight forward!
Simply throw your cold lentils into a mixing bowl, along with half a cup of toasted sunflower seeds, a finely diced carrot, a couple of chopped Lebanese cucumbers, about one quarter of a red onion, finely chopped, a handful of chopped parsley, some minced garlic, lemon juice, evoo, salt and pepper.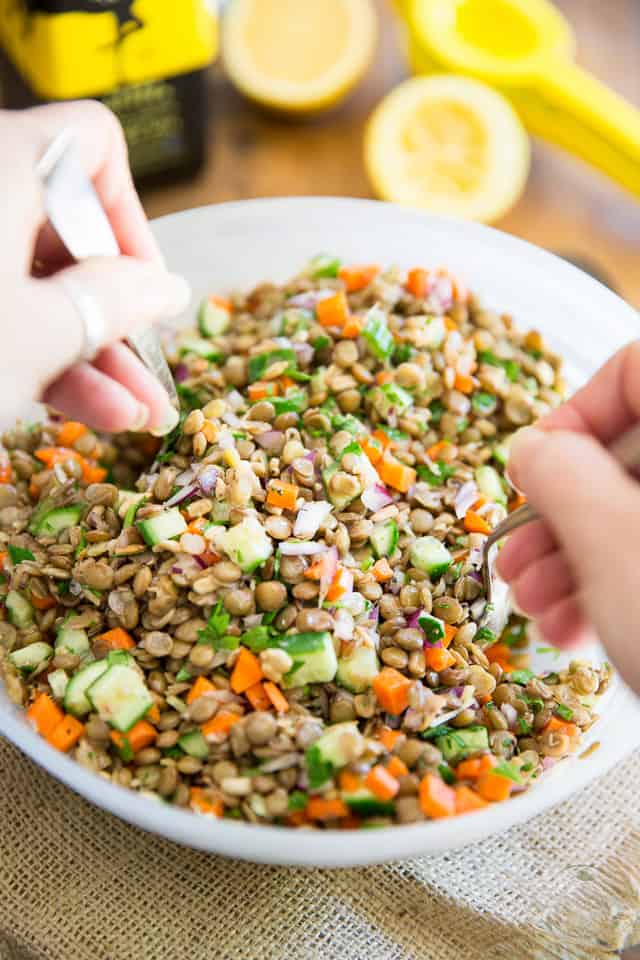 Give the whole thing a very thorough stir…
And then ideally give your salad a couple of hours to rest and allow all those delicious flavors to meld and mingle.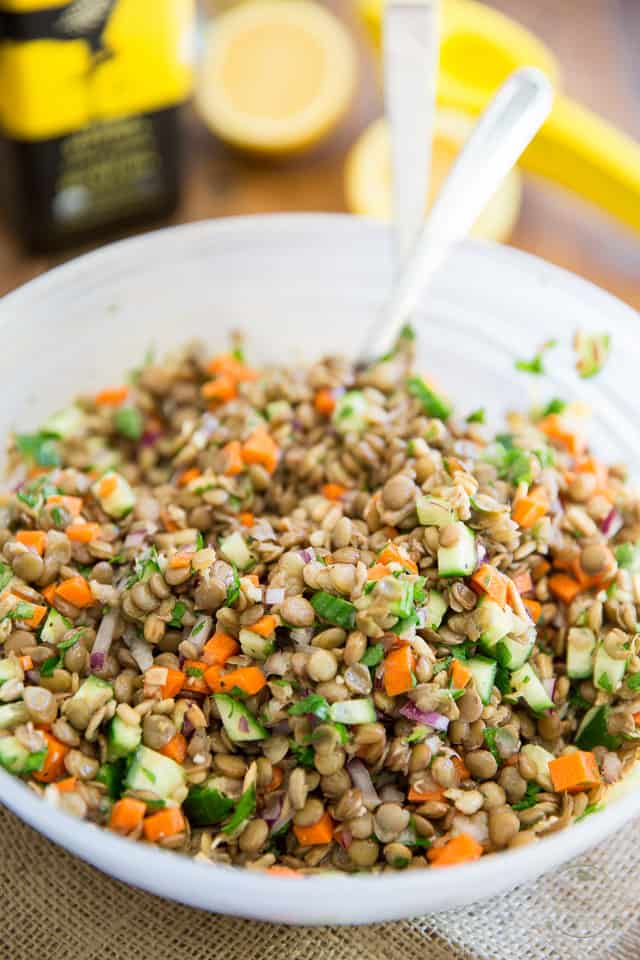 If you're in a hurry, though, or if you're just too hungry to wait, feel free to go straight to town. You will be amply pleased, I'm sure of it.
You will have plenty of salad to feed 6 to 8 individuals, as a side dish, so there's a very good chance that you'll end up generating leftovers. Lucky you! Throw them in the fridge, they will keep and get better as they age, for up to a week.
Honestly though, I doubt they make it that long…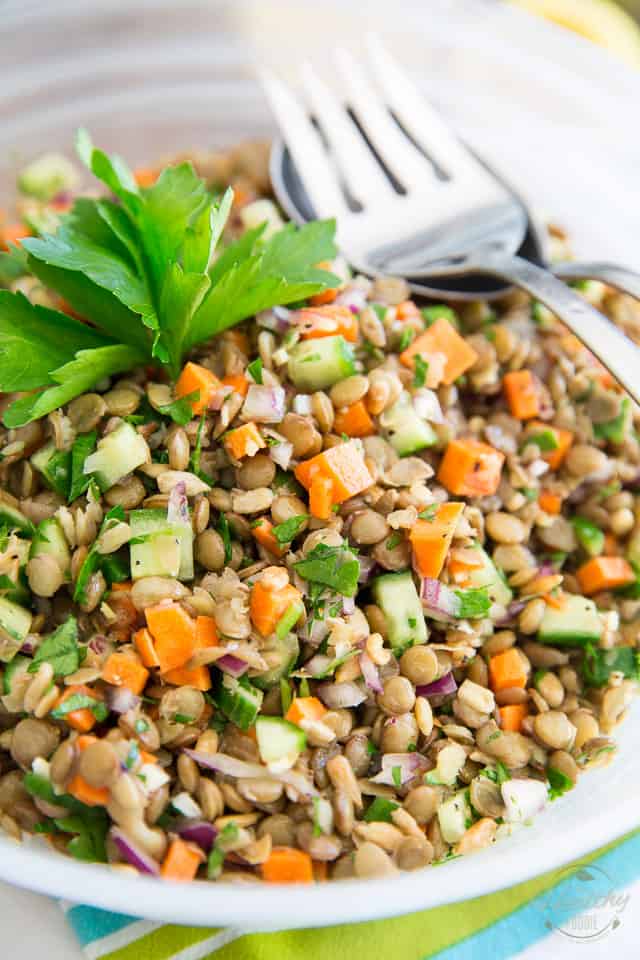 Green Lentil Salad - that'll have you want more
Ingredients
4 cups cooked and cooled green lentils* (you could also use canned lentils)
1 large carrot, finely diced
2 lebanese cucumbers, finely diced
¼ cup finely chopped parsley
¼ medium red onion, finely chopped
2 cloves garlic, minced
2 tbsp extra-virgin olive oil
the juice of ½ lemon
½ tsp salt (I use Himalayan salt)
½ tsp ground black pepper
Instructions
Add all the ingredients to a large bowl and toss gently to combine.
Serve immediately or place in the fridge for about an hour to allow flavors to meld.
This salad will keep for up to a week in the refrigerator.
Notes
*You will need 2 cups of dry lentils to get 4 cups cooked