Perfect Christmas Salad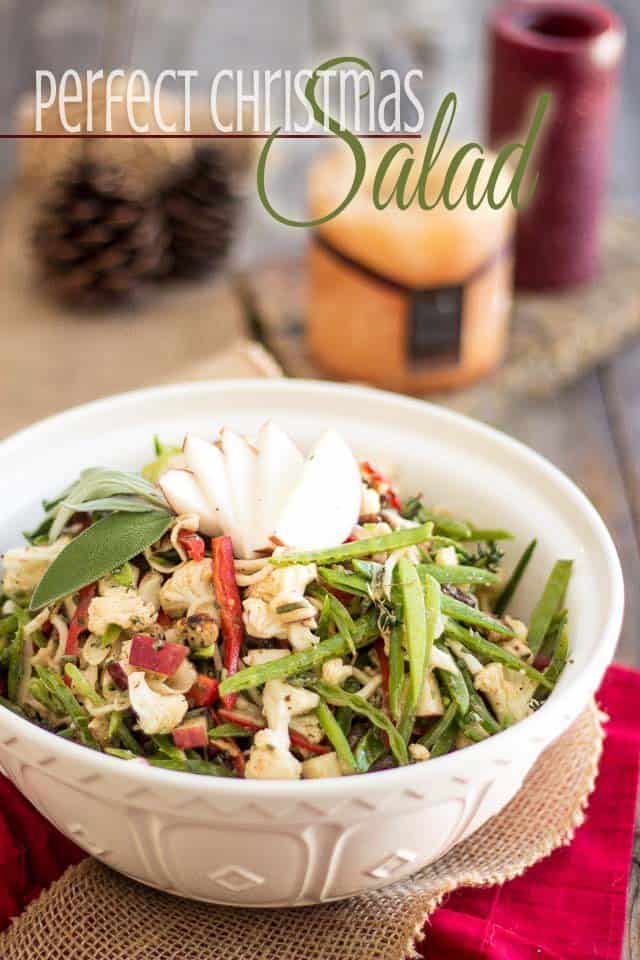 For our Christmas family reunion this year, I was asked to contribute a… salad. Yep, you read that one right: a salad!
At first, I was like "WHAT?" who in the world eats salad on Christmas day? It sure was never a part of *my* traditional Holiday Menu. But then I started thinking. My mind slowly began drawing the picture of the Perfect Christmas Salad, all dressed up in the colors of the Season: snowy whites, vibrant greens and bright candy apple reds.
The way I imagined it, its flavor profile would have to be a bit on the tangy side, with a hint of sweetness and of course, a touch of the Holiday classics that are cinnamon, ginger and nutmeg. The texture, for its part, would have to be super crisp and refreshing, so to counterbalance the "heavier" components of the celebratory meal.
I was suddenly very excited and couldn't wait to start making tests prior to the big day.
But then, a very grave family decision was made… my daughter, my son and myself decided not to attend the sacrosanct family reunion this year. You see, the thing is, my daughter is due to give birth to my first grand-daughter any day now. (oh yeah, about that… there's a slight chance that I might suddenly vanish for a few days…when that happens, you'll know why!)
Just take a look at the picture below. Isn't she absolutely beautiful?
Of course, we're extremely excited by the arrival of little Matilde and would absolutely LOVE to go and introduce her to all the family members, but this would also mean setting out for a very long drive in less than optimal winter conditions with a tiny little baby that's barely a few days old and a brand new mother who will undoubtedly still be extremely tired from the recent birth of her child.
So we decided that it would be wiser for us to make our own small family gathering at home instead. That way no one needs to drive much at all to get to the party and at the end of the night, all can crash at my place so there will be no need to drive at all.
I feel like I'm still trying to justify our decision, but I think that it's the best thing to do.
So, in light of this new turn of events, I had sort of put that Perfect Christmas Salad idea on the back burner…
But then, one day that I was feeling particularly uninspired, I opened up a particularly empty fridge, only to be faced with ALL the perfect ingredients that I needed to make my vision come to life.
First off… SNOW PEAS. Snow + Green. So very Christmas-y!
Then, my eyes shifted to a large head of cauliflower: white, crisp, looks like little flowers. Definitely a contender!
I then checked the produce drawer and found a super refreshing and very white fennel bulb, a crunchy kohlrabi, some bright red mini sweet peppers, a giant red apple and a bunch of beautiful fresh herbs.
I figured I'd throw in a handful of raisins and toasted pecans and whip up some kind of creamy, sweet and spicy dressing. Ha! It looked like that Christmas Salad was gonna come to life after all.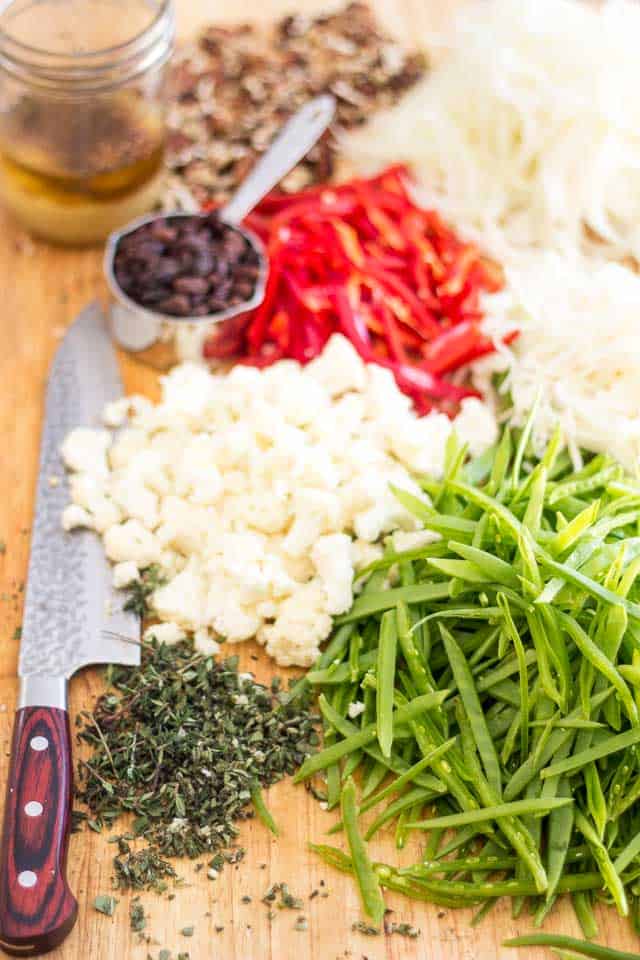 I started by prepping all my ingredients, except for the apple which I figured I would chop only at the last minute to make sure it didn't turn brown on me.
My vision of the Perfect Christmas Salad didn't call for the color brown…
Oh, by the way, if you own a mandolin, I strongly suggest that you take it out now so you can slice that fennel really paper thin and julienne the kohlrabi as finely as can be.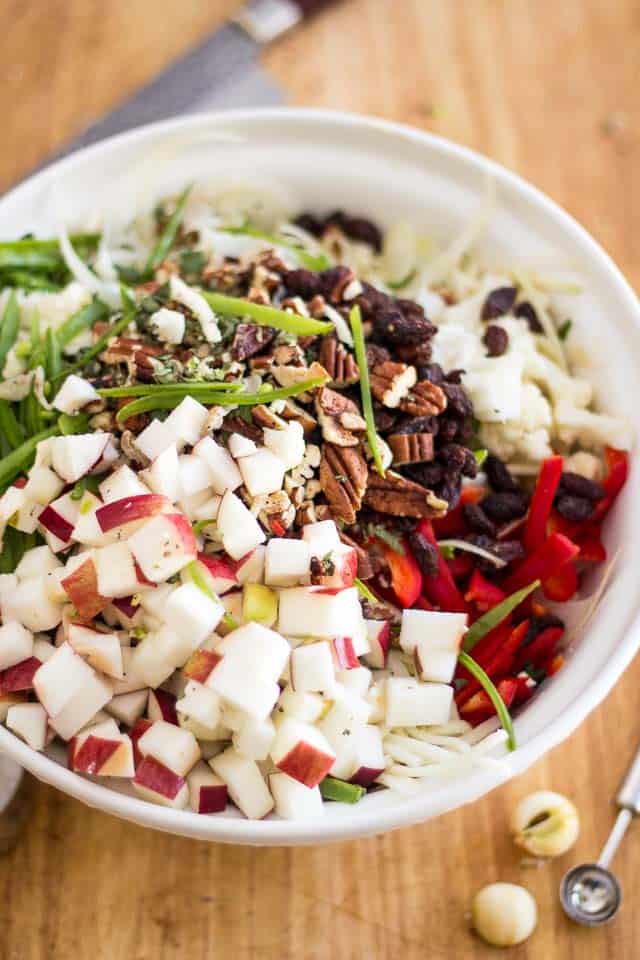 Once all my ingredients had been prepped, I diced my apple and threw everything in a giant mixing bowl.
As you can see, I once again turned to my trusty melon baller to core my apples. Works magically well every single time!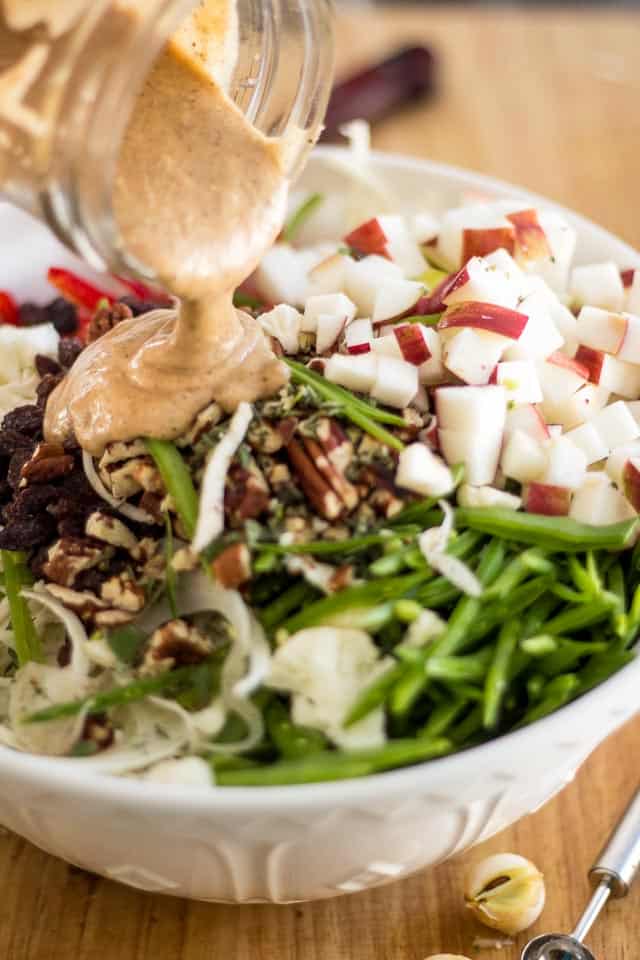 To make the dressing, I simply put all the ingredients into a 1 pint wide mouth glass jar and blitzed everything with my immersion blender until smooth and creamy, about 30 seconds.
You could also do this with a small food processor, if you preferred.
Then, the vinaigrette got poured over the reserved salad and the whole thing got mixed by hand until thoroughly combined.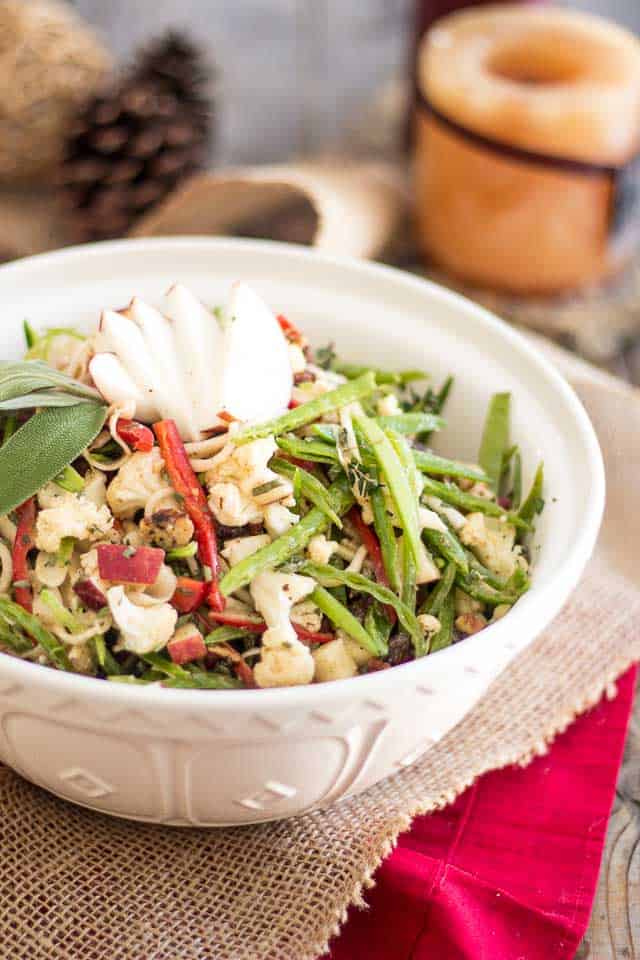 The results far exceeded my expectations! The salad was simply splendid!
The colors came out beautiful, a perfect balance between the official colors of the Holiday Season. The flavor profile has just what it takes of the essence of Christmas, and the crisp and refreshing texture that I'd been after was just plain bang on.
In fact, I liked it so much that I think I'll be making it again for our intimate little family gathering at home. Even though salad on the Christmas menu still sounds a little weird to me…
Hey, everything in life is bound to change at one point, right… even Christmas traditions!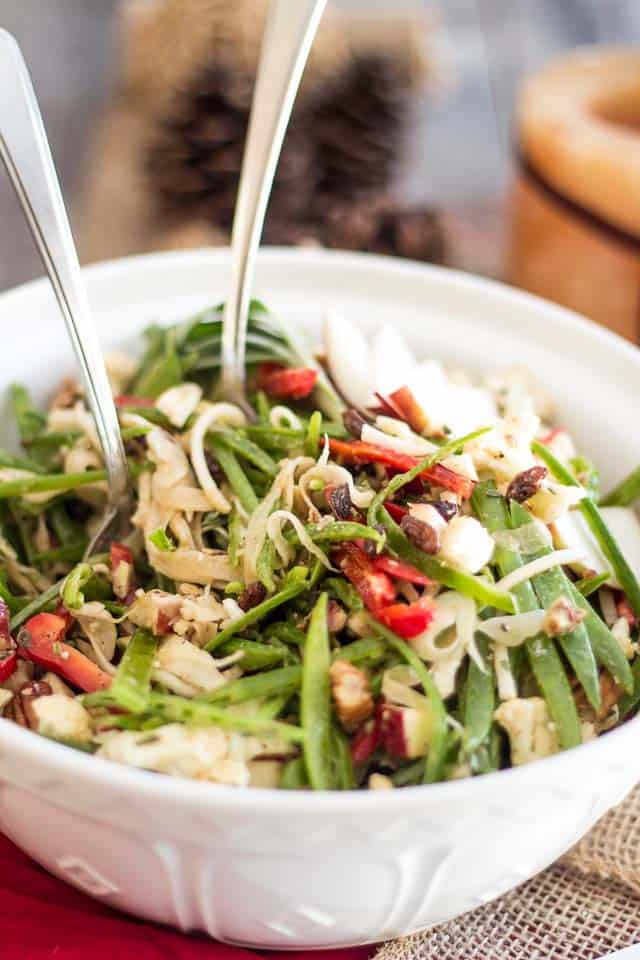 Now, this colorful and tasty salad can be served immediately or left in the fridge for a couple of hours to allow the flavors to meld.
Also, it will keep in the fridge for a couple of days in an airtight container but it won't look quite AS good on day three as it did on day one.
If you were in a real pinch, though, I suppose you could always get away with making it a day ahead of time. Free you up some time on Christmas day, you know… 'cuz we all could use a little bit more of that on D day!
Personally, this year, I think I'll need all the time I can get to hug and kiss and cuddle my precious little bundle of joy…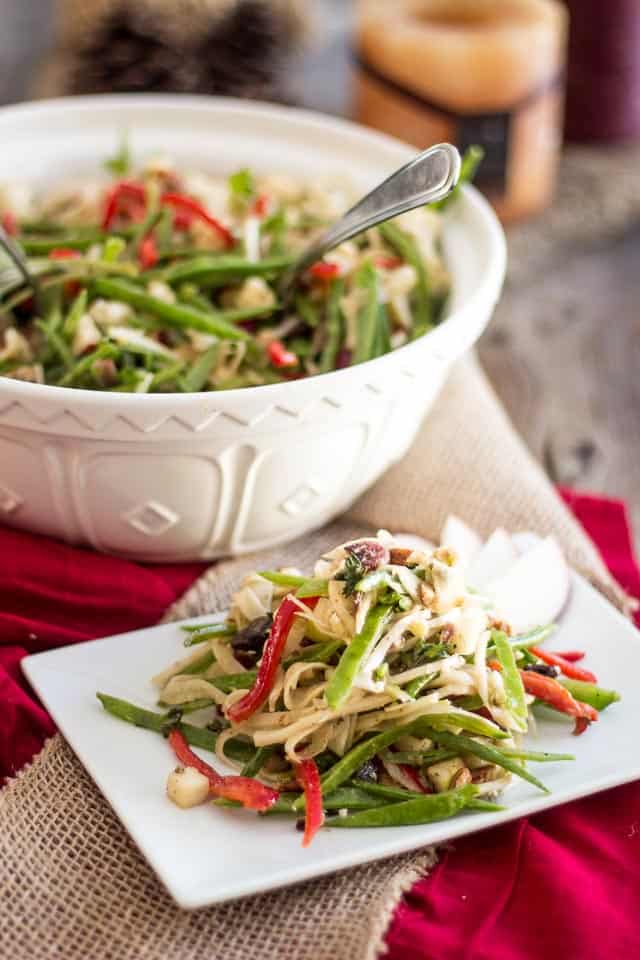 Perfect Christmas Salad
Bright Christmas-y colors, subtly flavored with the very essence of Christmas, crisp and refreshing in texture: that's the Perfect Christmas Salad for you!
Servings: 8
Ingredients
Salad
12 oz snow peas, julienned
1 fennel bulb, shaved paper thin*
1 small kohlrabi, julienned*
4 mini sweet red peppers, julienned
1 cup small cauliflower florets
1 large red apple, skin on, finely diced
1/2 cup raisins
1/2 cup raw pecans, toasted
1 tbsp fresh thyme, chopped
1 tbsp fresh sage, chopped
Instructions
Start by prepping all your veggies (save for the apple which you should only prep at the last minute so it doesn't go brown on you) and put them in a very large mixing bowl; set aside.

Pour the vinaigrette over the reserved veggies, (don't forget to add the apple!) and mix until thoroughly combined.

Serve immediately or leave in the fridge for a couple of hours to allow flavors to meld. This salad keeps well in the fridge for 2 to 3 days in an airtight container.
Notes
*The use of a mandolin is strongly recommended
Nutrition
Calories: 253kcal, Carbohydrates: 22g, Protein: 3g, Fat: 18g, Saturated Fat: 2g, Sodium: 466mg, Potassium: 471mg, Fiber: 5g, Sugar: 7g, Vitamin A: 652IU, Vitamin C: 58mg, Calcium: 59mg, Iron: 2mg
If you've tried this recipe, please take a minute to rate the recipe and let me know how things went for you in the comments below. It's always such a pleasure to hear from you!
You can also FOLLOW ME on PINTEREST, FACEBOOK, INSTAGRAM and TWITTER for more delicious, healthy recipes!