I've been loving like mad on this Spicy Mango and Bell Pepper Salsa over the last few weeks. I actually made two batches back to back and ate both batches all by myself. And now that my second batch is gone, I'm kinda wanting to make a third one.
Sadly, I'm all out of mangoes…
Seriously, though, I think I'm totally addicted to this thing; I mean, not only does it taste awesome, it's also super easy to make (the second batch I actually made while standing on crutches) and it keeps for several days in the refrigerator. It's super refreshing, it's spicy, it's sweet, it's crunchy and creamy and tangy… it goes good with just about everything: grilled chicken, pork, fish, leftover roastbeef…
And yes, it even goes good with steak and eggs in the morning!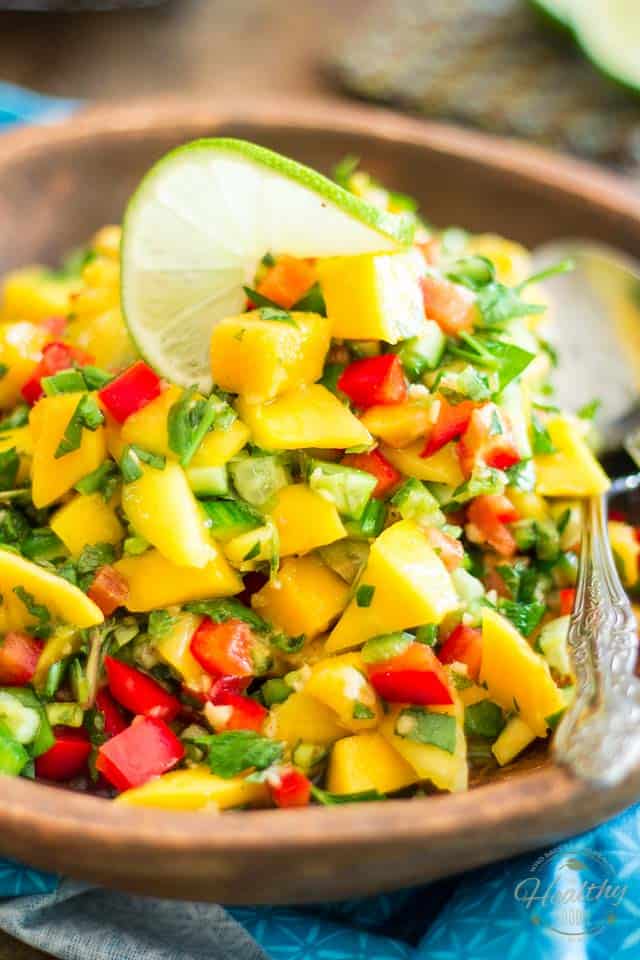 I say that because, believe it or not, some guy was giving me a hard time on Facebook over the fact that I chose to have this mango salsa with eggs.
According to this breakfast law officer, firstly, 723 calories was too much to have for breakfast, and secondly, fried eggs and mango salsa just do not mix and should never be seen together on the same plate. *I*, as the flavor guru that I set myself up to be (really? flavor guru? me? since when?), should have a better sense of what makes good food and flavor combinations. So steak and salsa works fine, apparently, but the eggs didn't cut it. Haha! Too bad the guy eventually took down his comments, I was really getting a kick out of this whole conversation.
So anyway, I say this is just the ideal salad to have lying around in the fridge this time of year. It's so insanely delicious, you'll probably want to eat it with absolutely EVERYTHING, including eggs!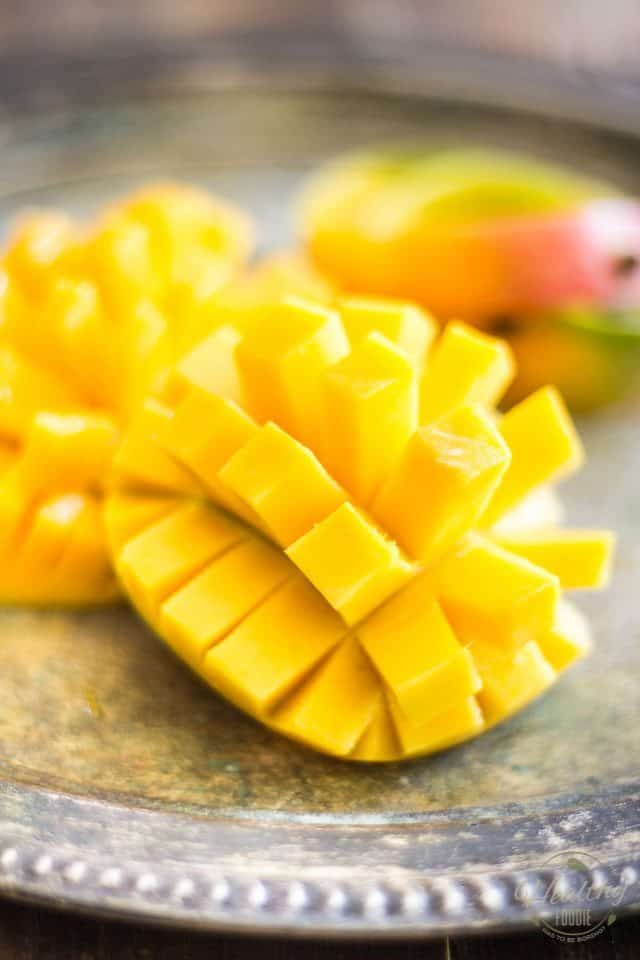 The only "little" difficulty you might encounter, if there is one, is that mangoes can be a little tricky to cut… but fear not, once you get the hang of it, it gets real easy.
To this day, my favorite way of doing it consists of slicing off both sides of the fruit, aka the cheeks, following right along the pit. Then with a sharp paring knife, you make lengthwise and crosswise cuts in each of the halves, without going through the peel. Next, all you need to do is invert the cheeks so that the segments stick out, making your mango look like a cute little hedgehog, and trim off those segments with your knife.
Oh, and don't forget to get the flesh that's still around the pit. There isn't that much left, but it would be a shame to leave it behind.
If you want to see exactly how it's done, check out this video for detailed instructions.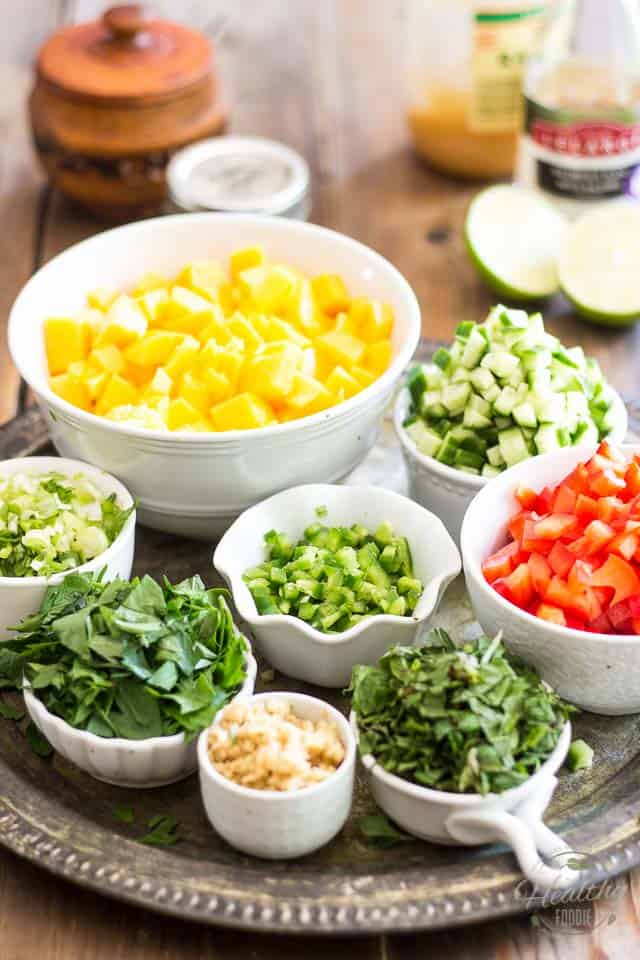 When your mango is all diced up and ready to go, prep all the remaining ingredients and then throw everything into a large mixing bowl.
You don't need to get so fancy and dirty that many dishes, you know… I just wanted everyone to look nice for the family portrait. Even the vinaigrette doesn't need to be premixed: you can just shove all the ingredients into one single bowl.
All that's left to do then is give your ingredients a delicate toss, and you're ready to enjoy your beautiful salsa.
However, if time permits, send it for a little trip to the fridge and leave it in there for a couple of hours so all the flavors get a chance to mingle and mature. Your salad will only taste that much better. And like I said, you can keep it in the fridge for quite a few days, too.
IF you can manage to keep it that long…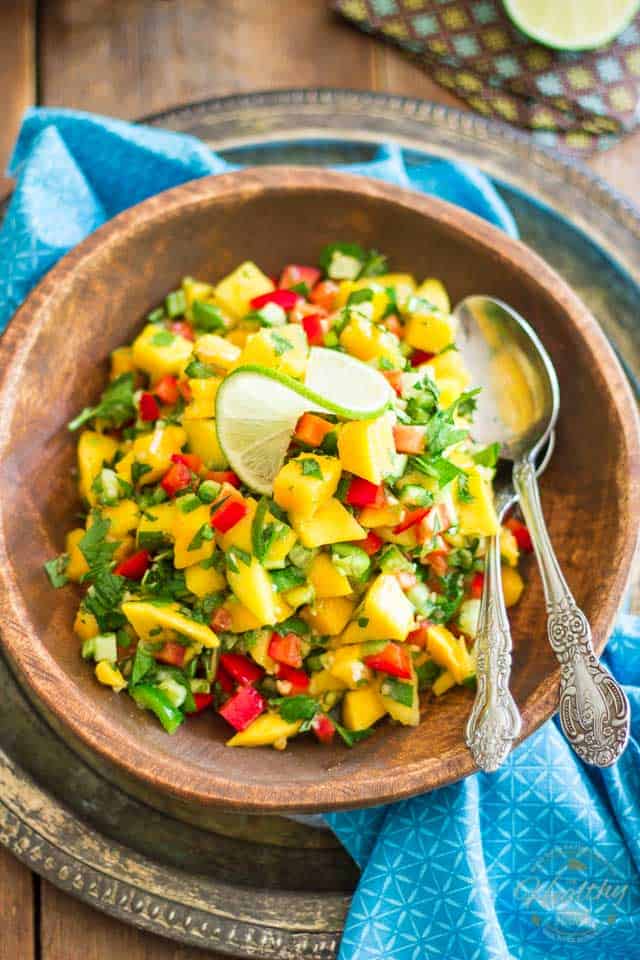 Spicy Mango and Bell Pepper Salsa
Ingredients
3 ripe mangoes, diced
1 red bell pepper, finely diced
2 mini seedless cucumbers, finely diced
3 green onions, finely chopped
1 jalapeno pepper, finely chopped
¼ cup finely chopped mint
¼ cup finely chopped parsley
2 tbsp minced fresh ginger
the juice of 1 lime
2 tbsp white balsamic vinegar
1 tbsp raw honey, melted
¾ tsp Himalayan salt
¼ tsp ground white pepper
Instructions
Place all the ingredients in a large mixing bowl and toss delicately until well combined.
Serve immediately, or place in the fridge for a few hours to allow the flavors to meld.
This salsa will keep well for about 4-5 days if kept refrigerated in an airtight container.

Nutrition Information
Serving size:
NF based on 1 of 4 servings