Veggie Overload Chickpea Salad… The Story of Many Cravings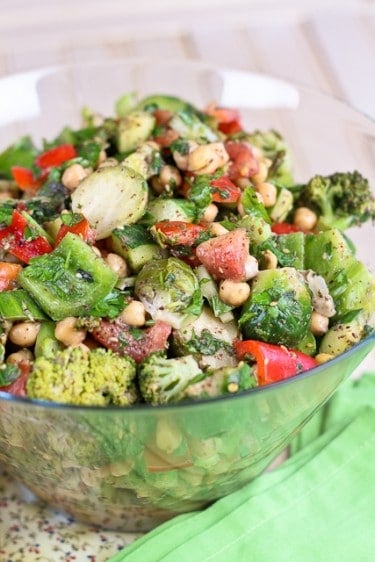 The night this one came to life, I had a major craving for a crazy refreshing salad, loaded with big chunks of crispy, fresh bell peppers, thick pieces of crunchy cucumbers and TONS of creamy, nutty chickpeas.
It felt like it had been AGES since I'd had chickpeas. Well, at least months. And I don't usually go that long without eating chickpeas.
Call me weird, but I happen to LOVE them. I always have a hard time controlling myself when I'm around freshly cooked chickpeas. You can be certain that, whenever I make a batch, you'll catch me more than once grabbing a handful right out of the pot while they are cooling down.
I just can't resist. They're worse than potato chips!
So anyway, the chickpeas had been cooked and cooled and the recipe for the salad I'd been imagining was pretty much complete in my mind. I had painted a perfect picture and was good and ready to have it come to life.
But then, something happened. I got a sudden, irresistible craving for Brussel sprouts.
You read that right.
Brussel sprouts.
The main problem was, there were none to be found in my refrigerator… and I'd already made plans to eat that chickpea salad for dinner…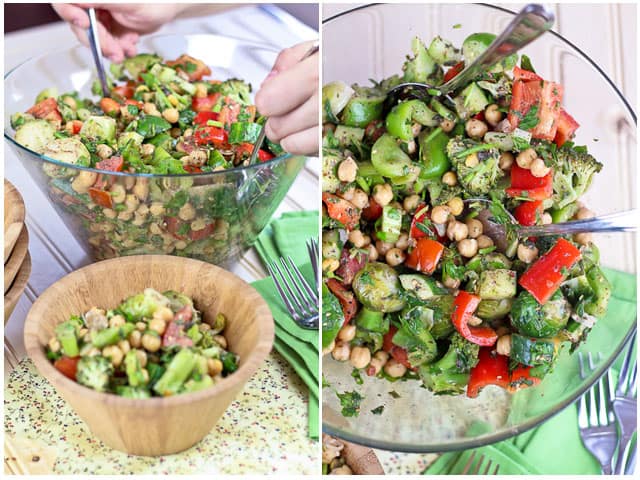 Pffft. No biggie. I was not going to be defeated that easily.
Brussel sprouts I wanted, Brussel sprouts I was gonna have.
I jumped in my car and went to not one, not two, but THREE different stores until I finally found one that carried some. And now that I had them they were going to be in the picture, trust me. The other ingredients had better be nice and make room for them.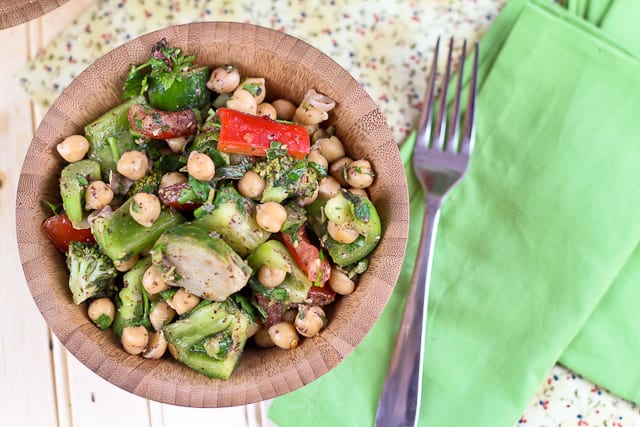 To create a diversion, I also decided to extend an invitation to a bunch of broccoli florets. I figured their cute little curly heads would draw the attention away from the poor disesteemed cabbage buds.
My plan worked perfectly. Everybody got along just fine. The tiny cabbages went completely unnoticed, as though they'd belonged all along. The painting turned out perfect!
Even better than I had originally planned!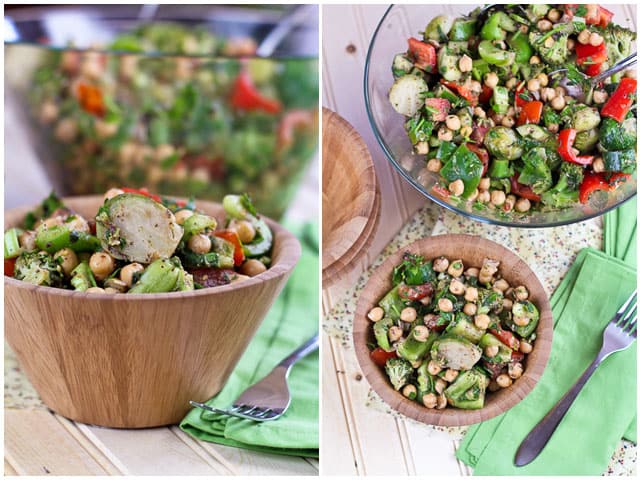 You know what I just got a sudden craving for now?
RADISHES!
Oh, they would be so glorious in that salad. I would definitely add some if I was to redo it now!
Yep, even if this means I'd have to hit the store(s)!
So, I have a question for you guys…
Do you also get crazy, sudden cravings like that? Cravings so strong that you HAVE to satisfy them right then and there? What do you normally crave when that happens?
Veggie Overload Chickpea Salad
Servings: 6
Ingredients
5 cups cooked chickpeas, cooled (you will need 2 cups dry)
1 red bell pepper, chopped
1 green bell pepper, chopped
2 celery stalks, chopped
250 g broccoli heads, steamed and cooled
300 g brussel sprouts, cut in half, steamed and cooled
1 medium cucumber, skin on, cut into roughly 1" chunks
2 to matoes, cut into roughly 1" chunks
1 cup fresh parsley, chopped
1 cup fresh mint, chopped
The juice of 2 limes
1 tsp Himalayan salt
1 tsp freshly cracked black pepper
2 tbsp sumac
2 tbsp za'atar
2 tbsp Dijon Mustard
2 tbsp Sherry vinegar
1 tspp Sambal Oelek
Instructions
Start by cutting the broccoli into little bite size florets and the Brussel sprouts in half. Cook them over a steam bath for 2-3 minutes, just to make them a little bit more tender and bring out their beautiful green color.

Quickly stop the cooking by plunging them in a bowl of icy cold water. Drain and set aside.

Prep the rest of the vegetables and add to a large mixing bowl, along with the cooked chickpeas.

In a separate bowl, mix the salt, pepper, lime juice, sumac, za'atar, sherry vinegar and Sambal Oelek. Whisk until well incorporated and pour over reserved salad.

Add broccoli and Brussel sprouts and toss delicately until well combined.

Serve immediately.

This salad will keep in the refrigerator for one or two days.
If you've tried this recipe, please take a minute to rate the recipe and let me know how things went for you in the comments below. It's always such a pleasure to hear from you!
You can also FOLLOW ME on PINTEREST, FACEBOOK, INSTAGRAM and TWITTER for more delicious, healthy recipes!