Hey guys, I'm back!
Wow do I have a lot of catching up to do!
For starters, I will have to fill up the fridge! As you can very well imagine, it's pretty empty for the moment… I still managed to feed myself today, though, so it's not so bad. It will have to wait a bit, for I have way more important things to do, like read all my emails as well as all the lovely comments that you guys left me while I was away, then of course, I will have to  take some time to reply…
But of course, before I get to that, I have to do THE most important thing at the moment, which is upload, sort and edit all my pictures, so that I can fill you in on the details of my FANTASTIC trip!
I've done a good part, but I'm not done just yet, sorry… Thank goodness I was a good girl and only took like 550 pictures! 😉
In the meantime, I'll give you a little teaser, just to keep you waiting! 😀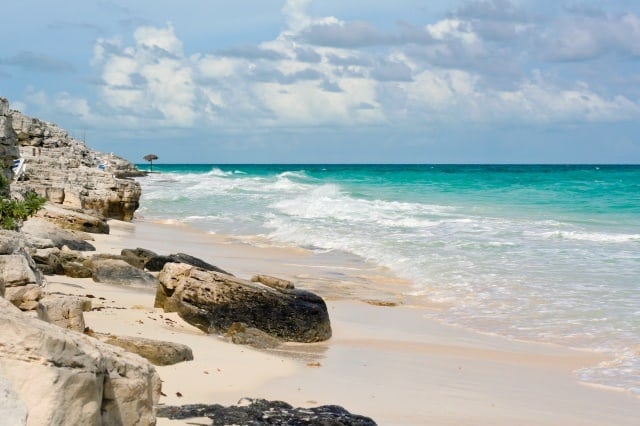 TA-DAH! I give you a very tiny part of the Carribean Sea, the part in which I swam for the last 7 days, the part which consists in the beach over at the Playa Blanca Hotel, in Cayo Largo, Cuba.
Ain't that gorgeous? I tell you, it was unbelievable. Never in my life had I seen water this beautiful! It was all sorts of gorgeous shades of light blue and turquoise, and it was so clear that you could see your feet even when you had water up to your nose!
Oh, how I wish I was still there… I so badly want to go back!
But this will have to wait a bit! At least a few months, I guess.
Alright, how's about I share a recipe with you, while you wait for my trip report? Since, of course, none of what I ate today is ready for sharing, I will give you the recipe to one of the last breakfasts I had before I left.
Banana Buttermilk Pancakes.
If you like buttermilk pancakes, then you will love these banana buttermilk pancakes. I tell you, they are just as good as the originals, only, these ones, you can eat without feeling guilty in the least.
Even if you're not big on bananas, by all means, do give them a try. They don't really taste like bananas at all. More like banana bread, only a little more on the sour side, thanks to the addition of buttermilk.
Honestly, I never thought pancakes could come in a moister version than buttermilk, but seriously, the combination of bananas and buttermilk makes for an unbelievably moist and tender pancake.
You have to try these, I swear. They will knock your socks right off!
INGREDIENTS
Makes 12 small pancakes (serves 2-3)
Adapted from Food Network
1 cup whole wheat pastry flour
1½ tsp baking powder
½ tsp baking soda
¼ tsp salt
1 cup buttermilk
¾ cup egg whites (6)
½ tsp pure vanilla extract
2 very ripe bananas (about 1 cup)
30g pecans, toasted lightly and chopped
INSTRUCTIONS
In a bowl whisk together the flour, baking powder, baking soda and salt. In another bowl, mash bananas and whisk in the buttermilk, egg whites and vanilla. Whisk the dry ingredients into the liquid until well combined. Fold in the toasted pecans.
Heat a non-stick pan over moderate heat. Working in batches, drop ¼ cup measures of batter onto pan to form pancakes and cook until bubbles appear on surface and undersides are golden brown, about 1 minute. Flip pancakes with a non-metal spatula and cook until undersides are golden brown and pancakes are cooked through, about 1 minute.
Garnish with 0% fat Greek yogurt or low fat cottage cheese, chopped pecans and a drizzle of honey or maple syrup.