Banana Coconut Walnut Butter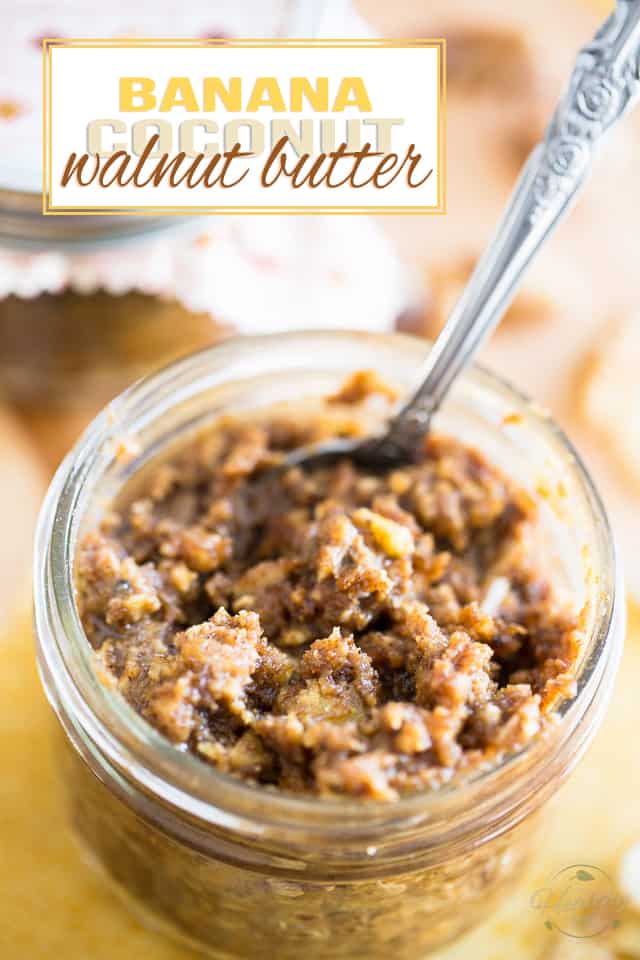 Did you have time to make a batch of my Crunchy Walnut Pecan Butter yet?
If you haven't, I strongly suggest that you go whip up a batch at once… I told you I had some pretty awesome plans with that one, and these plans just became a very tasty reality. A tasty reality that goes by the name of Banana Walnut Coconut Butter, but that I may just as well have called Banana Bread in a jar.
Whether you choose to spread this baby on a piece of buttered toast for a tasty snack, or to just plain eat it by the spoonful… it's guaranteed to satisfy!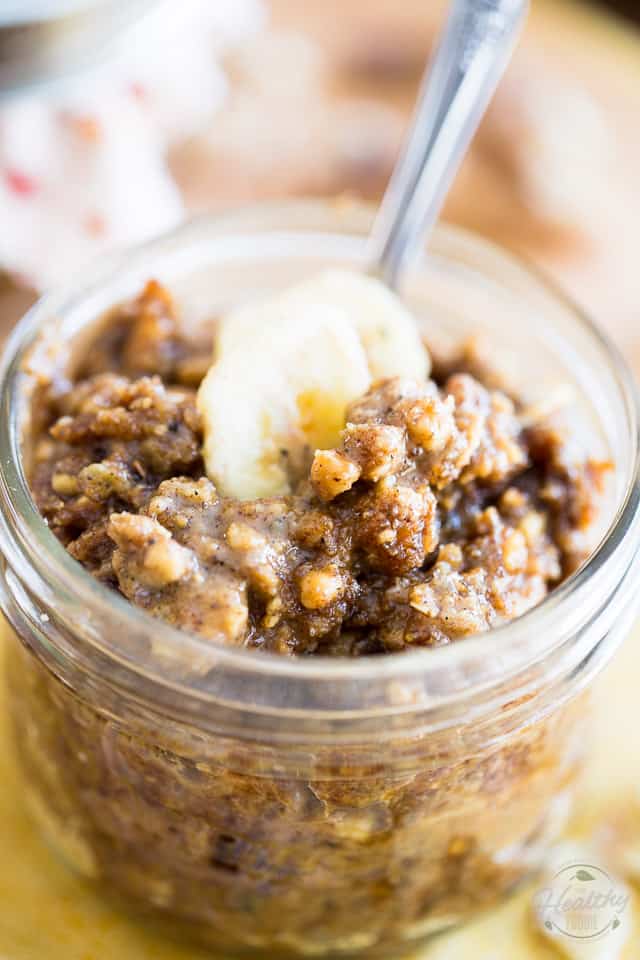 And the best part is, just like the walnut pecan butter used as a base, this fancy gourmet variation is extremely easy and quick to make.
If you're looking for little Holiday gift ideas to give to your co-workers, kids' teachers, baby-sitter, or even hostess presents I'm telling you, you've got a very strong contender right here.
Not only is this nut butter super tasty, but it's loaded with all kinds of crazy textures. It's creamy and crispy and crunchy and soft and everything in between. It simply bombards you with countless different flavors and consistencies.
Its only drawback, if there is one, is that it's VERY hard to stop yourself from eating the whole jar once you've had a taste of it…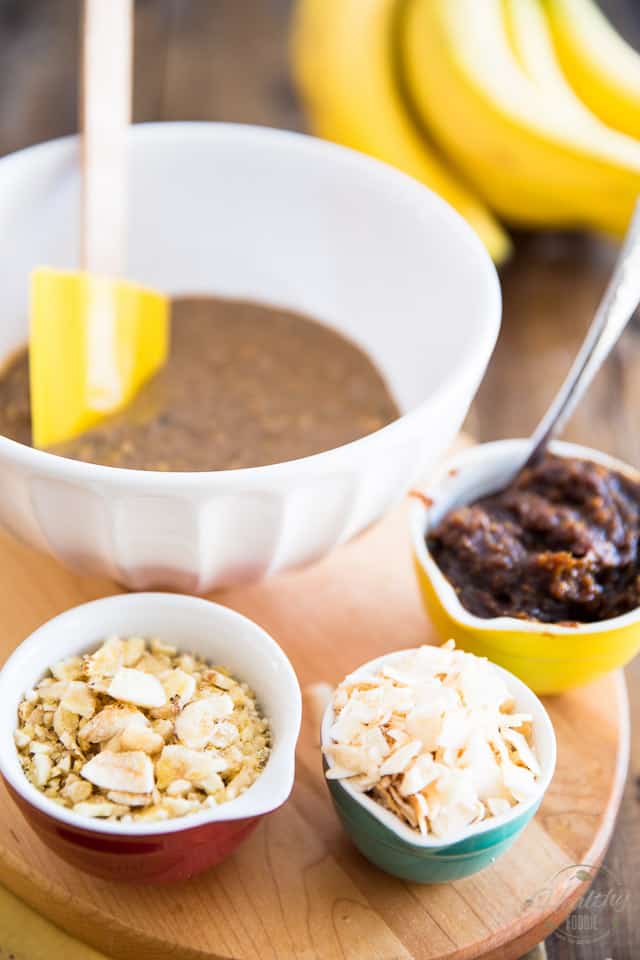 The first thing you'll need to do is make a batch of Crunchy Walnut Pecan Butter. Don't you worry, though, that base nut butter is one of the easiest nut butters I've ever made and comes together in no time at all.
When it's good and ready to go, you'll want to transfer it to a mixing bowl and prep the rest of your ingredients. There isn't much prep needed here at all, though.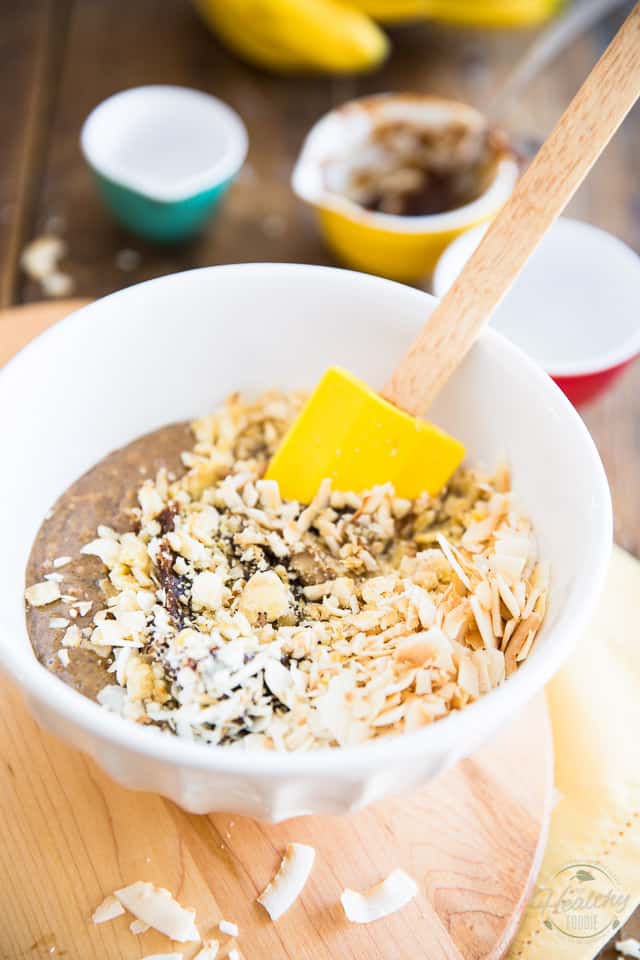 You'll need to measure half a cup of date paste, preferably at room temperature because it's more pliable that way and will incorporate better with the soft nut butter. If you're taking your date paste straight out of the fridge (which is where you should be storing it), just pop it in the microwave for a few seconds to warm it up a bit.
Then you'll need to crush half a cup of banana chips — a rolling pin works wonders for that, just roll it over the banana chips — as well as a quarter of a cup of toasted coconut flakes. These guys you can just crush with your fingers.
Now, if you can't get your hands on the toasted coconut flakes, don't sweat it. You could either toast your own (you can do that in a small, dry pan set over medium heat) or just plain use the regular coconut flakes. Or whatever kind of dried coconut you happen to have on hand.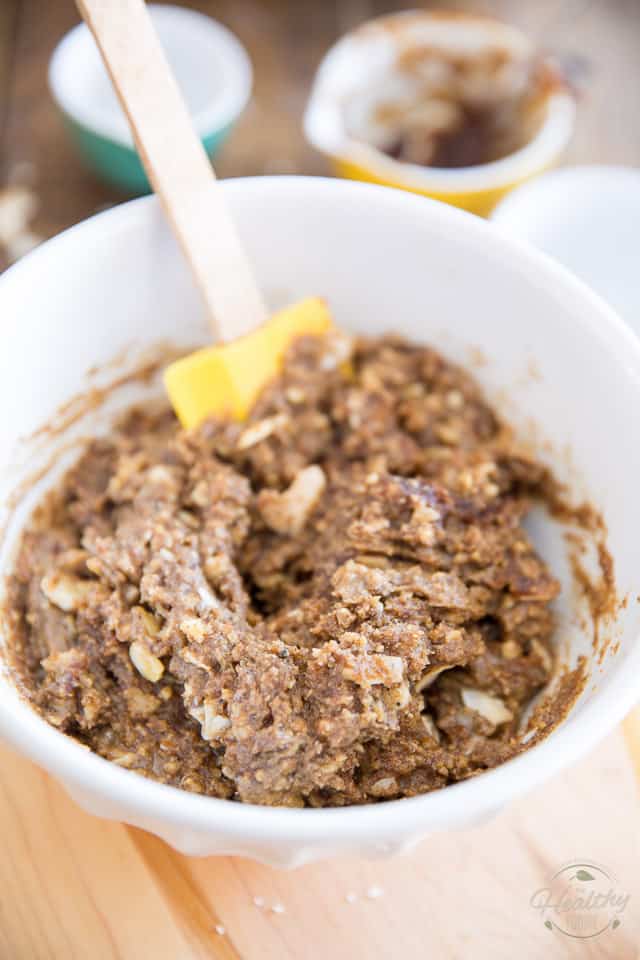 Now all that's left to do is throw all those ingredients in the bowl with the walnut pecan butter and then mix everything delicately with a large spoon or rubber spatula until the nut butter comes together but isn't quite completely combined. You should still be able to see streaks of unmixed date paste in the mixture.
You'll also notice that the texture of the nut butter will change quite considerably — that reaction is because of the moisture contained in the date paste. Don't ask me to explain the science behind it, I wouldn't know how. All I can tell you is that oil and water do not mix, and that adding water to nut butters is always very risky business! And that it will almost invariably cause nut butters to thicken up, and sometimes even separate if not added the right way or at the right time.
In this case, just be sure not to over-mix or your butter and you'll be fine.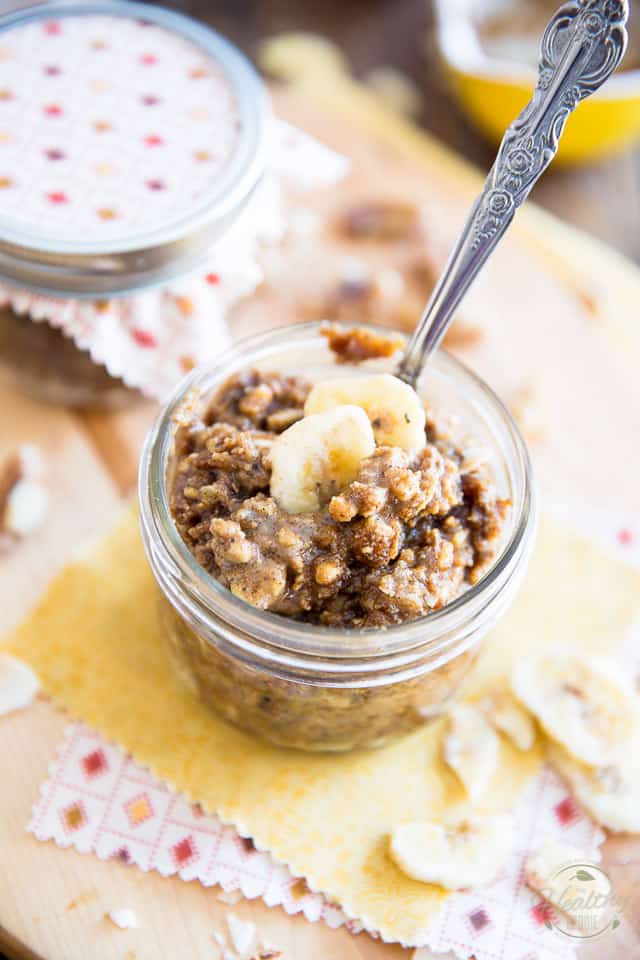 Lastly, if you're worried about those banana chips becoming all soggy because of their prolonged contact with the moisture of the nut butter, let me reassure you. Those crispy banana bits, although they do soften up slightly, not only retain their highly desirable crunch, but they also infuse the nut butter with their very sweet and distinct aroma.
Transfer your finished nut butter to clean glass jars — If you're gonna be gifting it, I find these cute little 8oz jars are just the perfect size.
I almost want to say it's the perfect "single-serving" size… but that wouldn't be reasonable, now would it?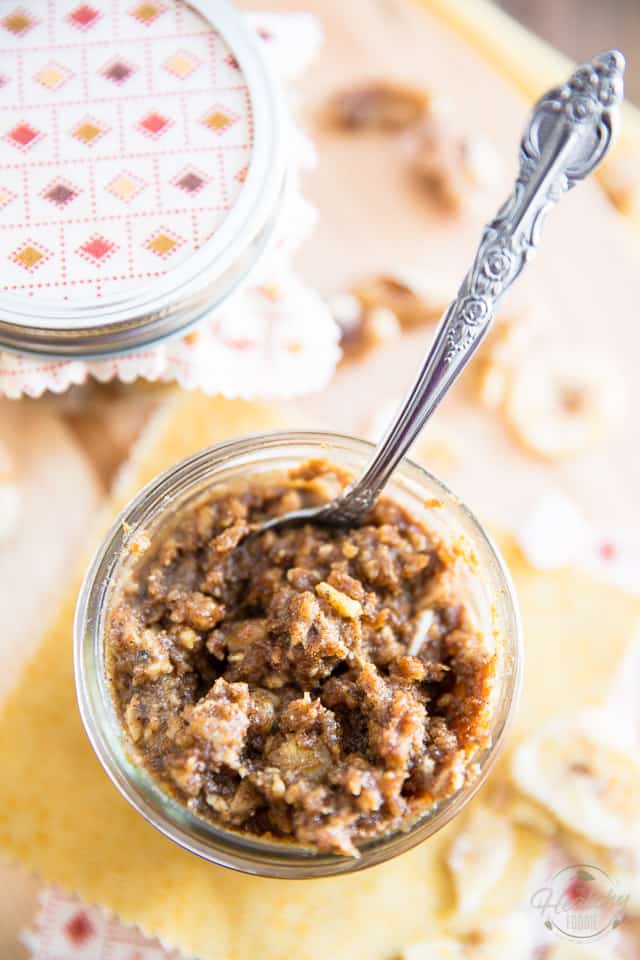 Banana Coconut Walnut Butter
Spread this Banana Coconut Walnut Butter on a piece of buttered toast for a tasty snack, or just eat it by the spoonful... it's like Banana Bread in a jar!
Servings: 48 ±3 cups
Instructions
Place all the ingredients together in a mixing bowl and mix delicately with a large spoon or rubber spatula until not quite completely combined. You should still be able to see streaks of unmixed date paste in the mixture. Do not over-mix or your butter might come to separate.

Transfer to clean glass jars and store in a cool dry place for up to a few weeks.
Nutrition
Serving: 1tbsp, Calories: 73kcal, Carbohydrates: 3g, Protein: 1g, Fat: 7g, Saturated Fat: 1g, Sodium: 12mg, Potassium: 58mg, Fiber: 1g, Sugar: 2g, Vitamin A: 5IU, Vitamin C: 1mg, Calcium: 9mg, Iron: 1mg
If you've tried this recipe, please take a minute to rate the recipe and let me know how things went for you in the comments below. It's always such a pleasure to hear from you!
You can also FOLLOW ME on PINTEREST, FACEBOOK, INSTAGRAM and TWITTER for more delicious, healthy recipes!