Beet Mango Salad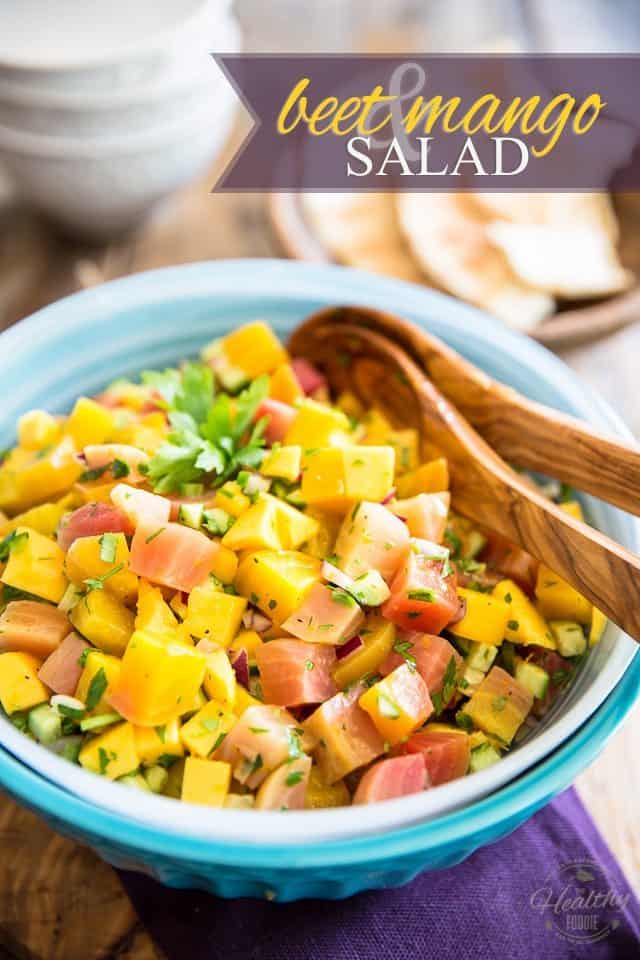 Beet and mango, together, in a salad? You're probably thinking "strange combo", right?
Well, trust me when I say that this Beet Mango Salad totally, positively, absolutely WORKS! It's like Autumn and Summer are taking a nice stroll in the park, holding hands, on a beautiful sunny afternoon in early September.
Oddly enough, the distinctive earthy, autumnal flavor of the beets goes brilliantly well with the sweet, sunny and tropical flavor of the mango. And the marriage of their respective textures, aided by the presence of all kinds of little crunchy bits, translates into a moment of pure pleasure for your teeth and palate.
I guess that it probably helps that I happen to have such a big thing for beets; I'm a huge fan of their soft, buttery but slightly crunchy texture, but mostly of their sweet, delicate and very unique earthy flavor.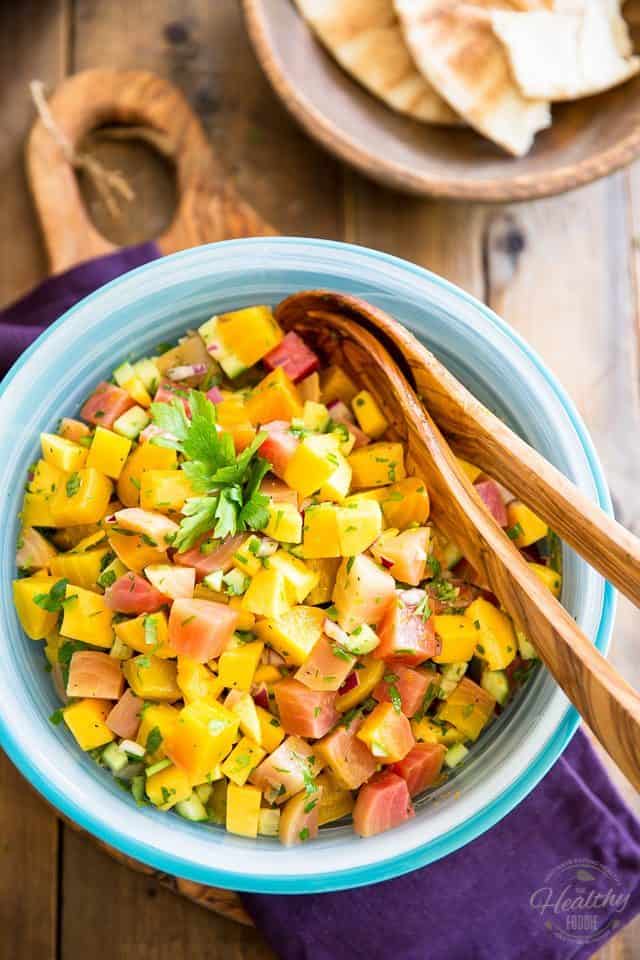 The one thing that prevents me from eating them more often is the fact that their characteristic deep and intense purple color tends to wash off and stain absolutely everything they come in contact with — counters, cutting boards, clothes, hands — you name it. Even after they've been cooked, they still insist on passing on their [albeit beautiful] color to the other inhabitants of your plate. Add them to any dish and the whole thing turns purple!
Good thing is, there exists different varieties of beets, which harbor more subtle colors, and those are becoming more and more available, popular and affordable. Just a few years ago, one had to search long and hard to find golden, yellow, white or even striped beets. At least in my part of the world, they did. But now, they can be found in just about any regular grocery store. Now THAT makes me a happy camper!
For this particular salad, I chose to go with a combination of yellow and Chioggia beets. I thought that the yellow would complement the mango well in making the salad look super bright and sunny, while the Chioggia would still bring a touch of color without trying to make the whole thing go purple…
You can make your salad with whatever kind of beets you want, though — they all pretty much taste the same. It just a question of which color you prefer, or which variety you can get your hands on.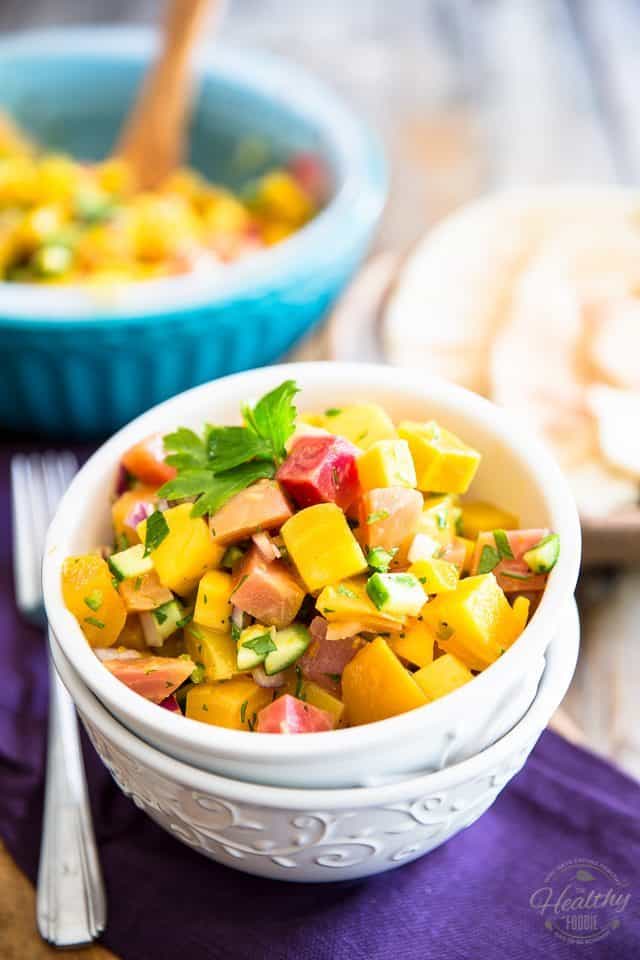 Whatever variety you chose to go with, beets are extremely easy to cook, too: simply place them whole in a large stockpot and add cold water to it until they're covered by a good inch of water.
Bring the water to a boil over high heat and then turn the heat down to medium; allow the beets to simmer for 35 to 50 minutes depending on the size of your beets. To test your beets for doneness, poke them with the tip of a sharp paring knife; if the blade goes through without much resistance, the beets are done. Drain the hot water and fill the pot with cold water – you may need to replace the cold water once or twice as it becomes warm again – and let the beets cool for 5 to 10 minutes.
Once the beets are completely cooled, rub the peel firmly with your thumbs – it will come right off. Beets are even easier to peel if you do it while holding them underwater or under a steady stream of running water.
Give your peeled beets a final rinse and let them air dry for a few minutes – they're now good and ready to use.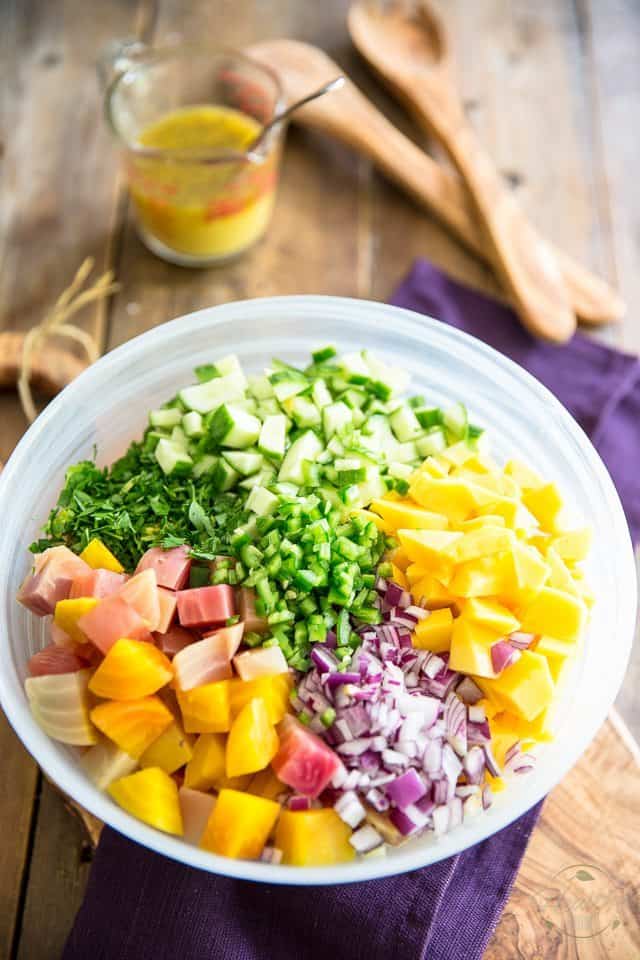 Now that your beets are cooked and ready to go, cut 8 of them into bite size pieces.
Place them into a large mixing bowl, along with a diced mango, a couple of diced mini seedless cucumbers, half a finely chopped red onion, one finely chopped jalapeño pepper and about a quarter cup of chopped parsley.
Don't worry about that jalapeño pepper being too spicy: it just gives a very little, barely noticeable kick to the salad. If you really can't handle the heat at all, though, feel free to just leave it out entirely.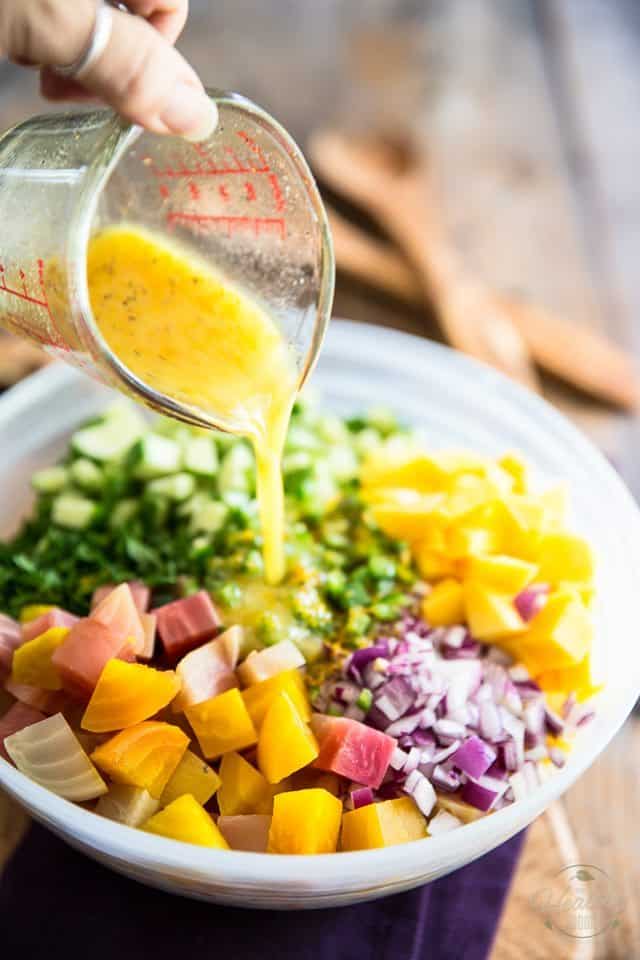 Next, make the vinaigrette by combining the juice and zest of an orange, the juice of a lime, 3 tablespoons of extra-virgin olive oil, 2 tablespoons of white balsamic vinegar, 1 tablespoon of liquid honey, a teaspoon of Dijon and a generous pinch of salt and pepper into a separate bowl or measuring cup.
Whisk until well combined and pour this vinaigrette right over the salad.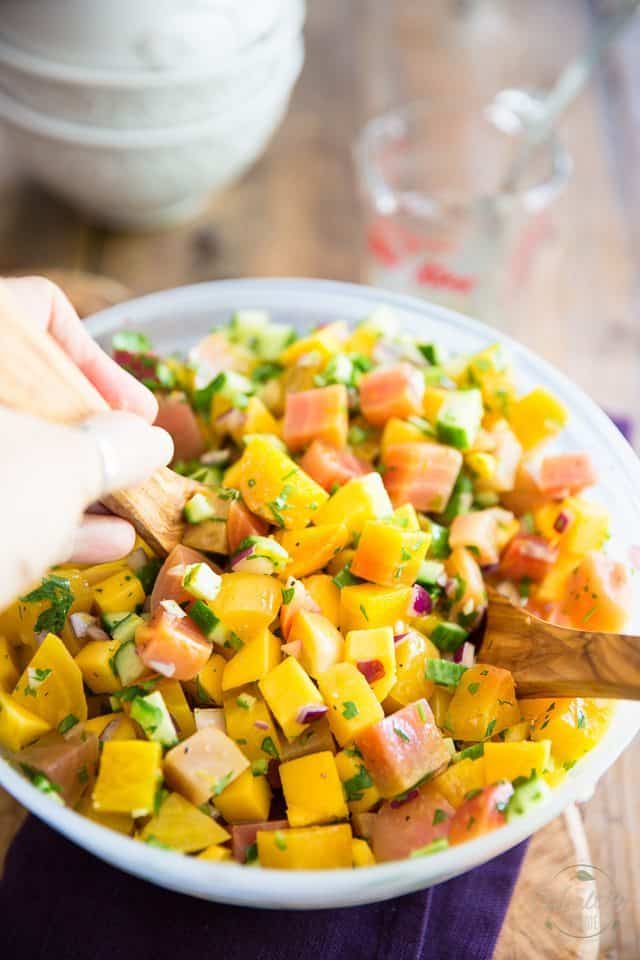 Toss your salad gently until all the ingredients are well distributed and coated with the vinaigrette.
Although technically, your salad would be good to serve now, I strongly suggest that you place it in the fridge for at least an hour to allow flavors to meld and develop.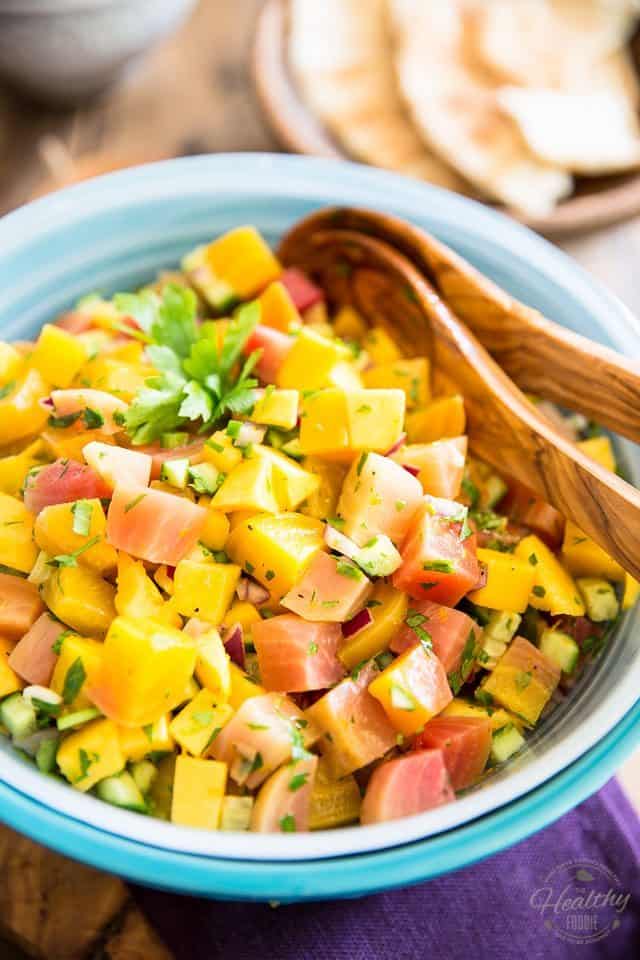 After you take it out of the fridge, you may want to let it sit on the counter for about 15 minutes before serving it, though; this will give the olive oil some time to relax and get back to its much more palatable fluid state.
Any leftovers will keep well for about 4 to 5 days in the refrigerator.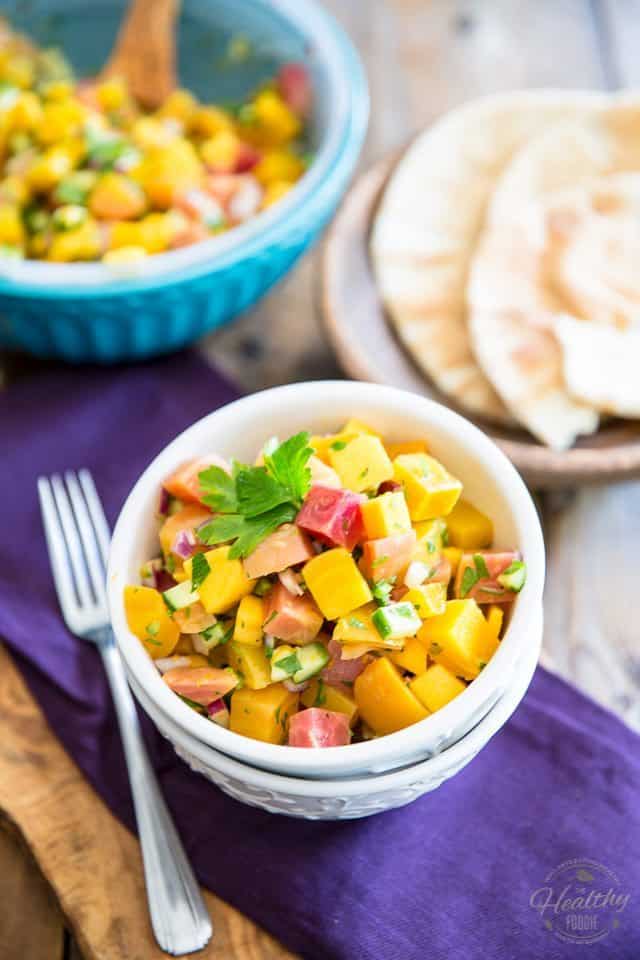 Beet Mango Salad
Summer meets fall in this surprising but insanely delicious Beet Mango Salad. Dare give it a try: you won't believe how good the combination!
Servings: 6
Ingredients
8 medium beets, cooked, peeled and cooled, cut into bite size pieces
1 ripe mango, peeled and diced
2 mini seedless cucumbers, finely diced
1/2 small red onion, finely chopped
1 jalapeño pepper, seeded and finely chopped
1/4 cup finely chopped parsley
Instructions
Place the beets, mango, cucumbers, red onion, jalapeño pepper and chopped parsley in a large mixing bowl.

Combine all the ingredients for the vinaigrette in a separate bowl or measuring cup and whisk until well combined. Pour over the salad and toss gently to combine.

Refrigerate for at least an hour to allow flavors to meld and serve.

This salad will keep well for 4-5 days in the refrigerator.
Notes
*prep time does not include cooking/cooling/peeling the beets
Nutrition
Calories: 170kcal, Carbohydrates: 25g, Protein: 3g, Fat: 8g, Saturated Fat: 1g, Sodium: 392mg, Potassium: 621mg, Fiber: 5g, Sugar: 18g, Vitamin A: 742IU, Vitamin C: 37mg, Calcium: 53mg, Iron: 1mg
If you've tried this recipe, please take a minute to rate the recipe and let me know how things went for you in the comments below. It's always such a pleasure to hear from you!
You can also FOLLOW ME on PINTEREST, FACEBOOK, INSTAGRAM and TWITTER for more delicious, healthy recipes!