Asian Shredded Chicken Salad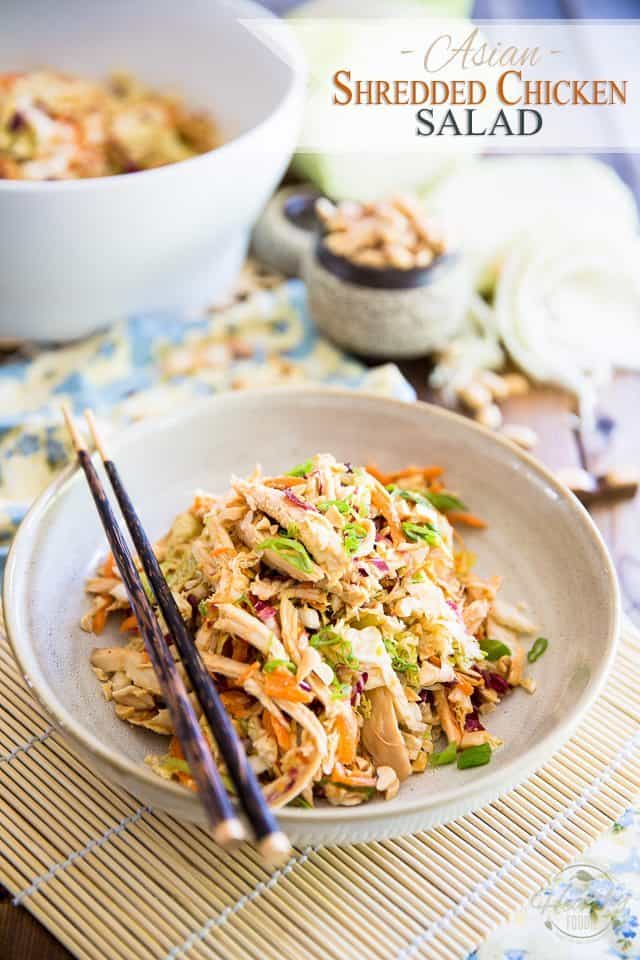 If there's one thing I can tell you about this Asian Shredded Chicken Salad, it's that it will NOT leave you feeling like you're actually eating salad…
And even though it's made with TONS of shredded cabbage, you won't feel as though you're grazing on a mouthful of hay, either. In fact, you'll hardly be able to tell that you're even eating cabbage at all. Better yet, you probably won't even feel like you're eating a meal that's considered healthy.
This salad, it has SERIOUS substance! It's what I would call a salad with an attitude, a salad with TONS of flavor, a salad that's truly filling and satisfying: a man's salad! You know, the kind of salad that you wouldn't even mind ordering at a restaurant, not even if it was sitting right next to a whole bunch of less-than-optimal-but-oh-so-deliciously-tasty options.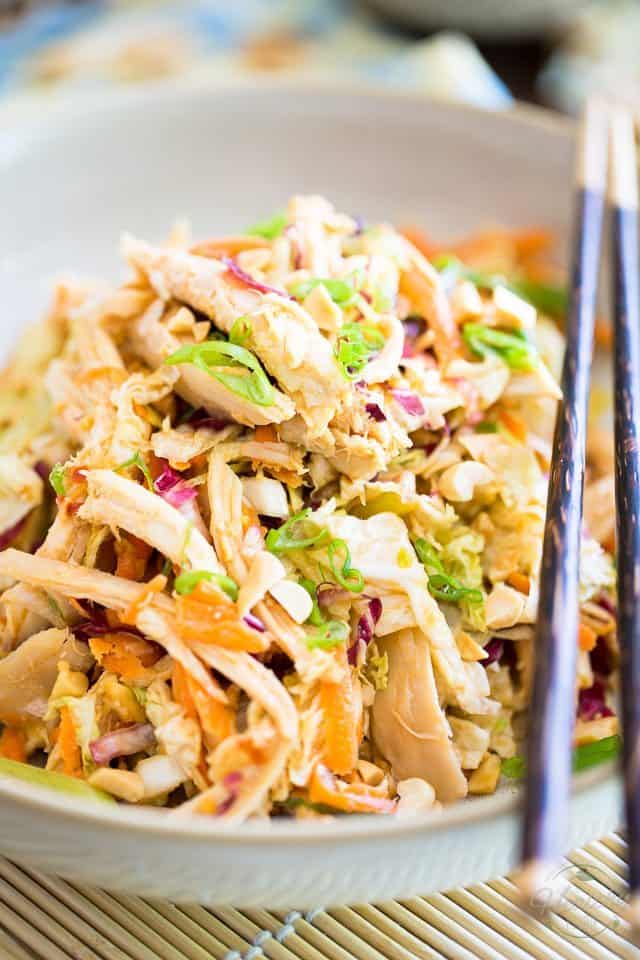 But the thing is, it's so super crazy easy to make, you won't need to be relying on someone else to make it for you. Providing that you have some leftover cooked chicken in the fridge, this salad will be ready for you in mere minutes. And if you don't have any leftover chicken, well, then there's only one thing left to do: make one of my famous Dutch Oven Roasted Chicken (I haven't roasted a chicken any other way since I discovered that brilliant method), have some for dinner tonight and make sure you keep some to make this salad tomorrow…
You'll want to use the meat from the breasts, preferably, but really, just any leftover cooked chicken meat will do. The reason why I prefer the breast meat is simply because I find it's easier to shred. If you yourself happen to prefer dark meat, then by all means, use the thighs!
Besides, it's not because it's called SHREDDED Chicken Salad that you absolutely have to shred that chicken. Feel free to turn this into a CHOPPED Chicken Salad, if that works better for you!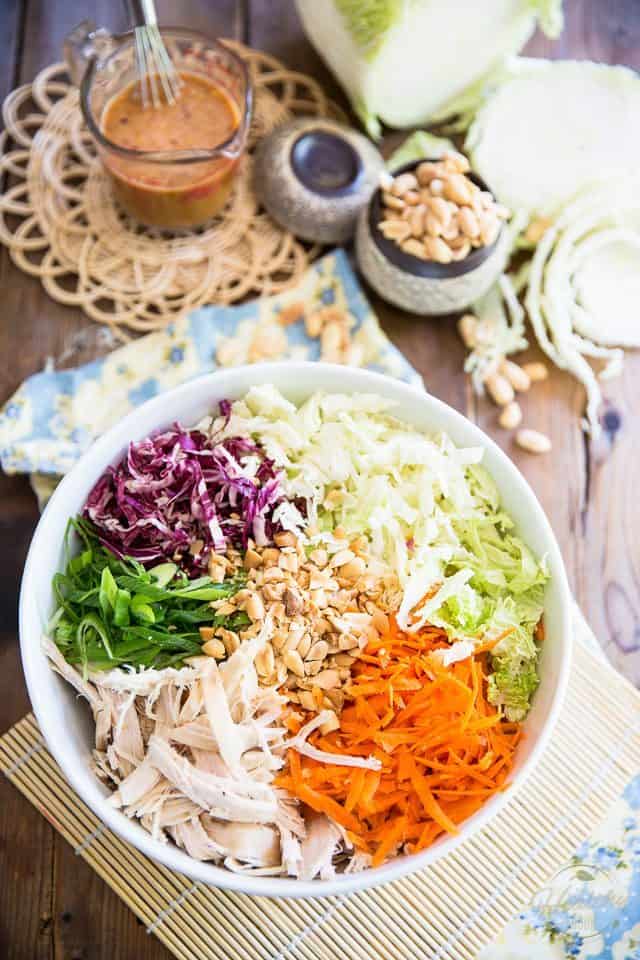 Once your chicken has been dealt with, simply place it in a large mixing bowl, along with LOTS of shredded Napa cabbage, a bit of shredded radicchio (it adds so much color!), a couple of grated carrots, a couple of sliced green onions and a handful of chopped roasted peanuts.
For the record, I'm not a huge fan of Napa cabbage, yet I'm really happy that I elected to use that particular variety for this salad. It has an agreeably soft and supple texture, as far as cabbage goes, and its slightly peppery flavor, although practically indiscernible once it's mixed in with the rest of the ingredients, still adds a little bit of a kick, an enjoyable zing that you can't quite put your finger on the source…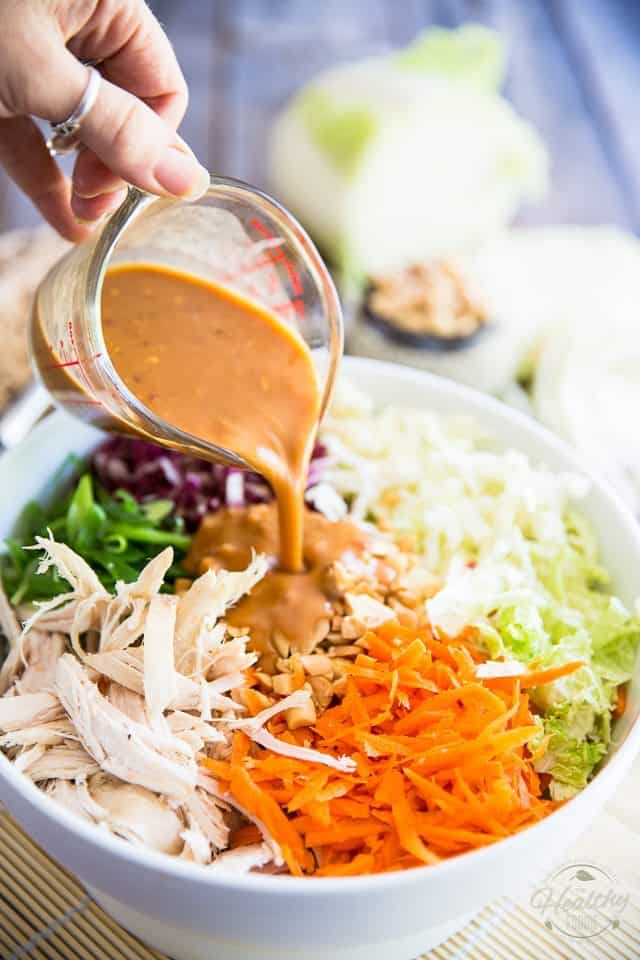 Next, you'll need to make the vinaigrette…
I chose to use powdered peanut butter to make my vinaigrette, mainly because of its INTENSE flavoring power. I mean seriously, have you ever tried this stuff? It's like peanut butter to the 10th power! I don't know how they do it, but it's totally insane; I'm guessing that the flavor overload is probably due to the fact that all the fat gets removed from the nuts, so all that's left behind is their flavor.
Honestly, I used to have my doubts and never quite could understand the hype around that strange product (I mean, why oh why would someone want to turn peanut butter into a powder?), but then I came across it at my local COSTCO and simply couldn't resist putting a jar in my basket. Curiosity took over…
And then all it took was a taste: now I'm TOTALLY hooked and want to use it in all kinds of recipes! WOW, that stuff tastes AH-MA-ZING!
That said, if you didn't have access to it, or if you weren't a fan of it, I suppose that you could very well use good ol' peanut butter, instead. Your vinaigrette may not have such a crazy intense peanut flavor though… but I have no doubt that it'll still be absolutely delicious.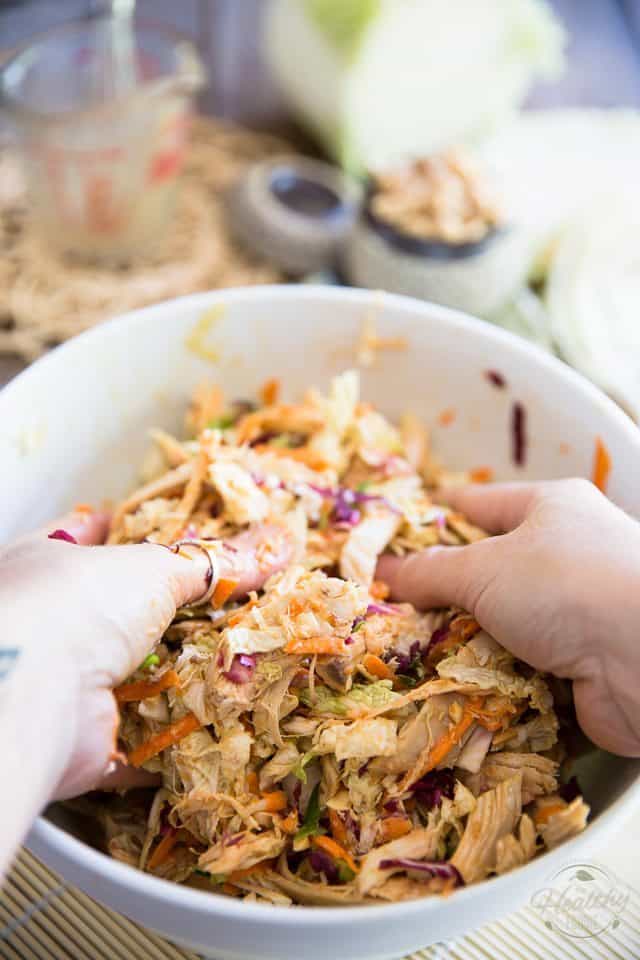 After the vinaigrette has been added to the salad, you'll need to mix it in. You could use a couple of spoons or forks to do that, but I find the best tool for the job is your hands.
While I'm really not a fan of having my hands dirty, I say this totally is the way to go: using your fingers here will allow you to really "massage" and bruise the cabbage and radicchio, rendering them even more supple and palatable, and will also kind of "force" the flavors of the vinaigrette directly into the vegetables.
Well, sort of, anyway. Just trust me on that one: your salad will taste better if you give it a nice massage!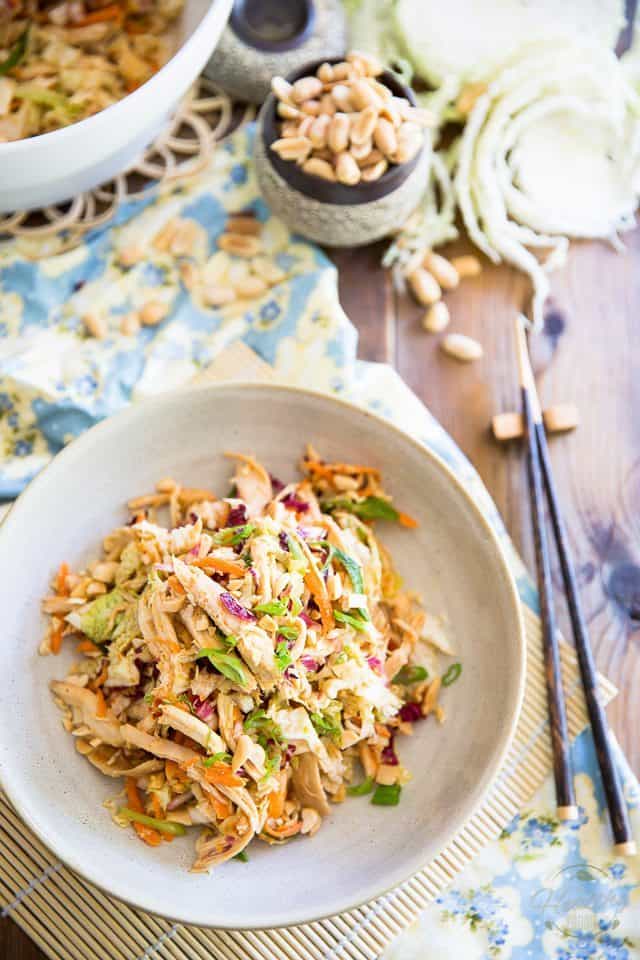 And now, all that's left to do is dig in and enjoy this beautiful (and delicious) salad! Although, you might want to wash your hands first…
This recipe will serve 2 people very generously, or 3 moderately hungry individuals.
Leftovers will keep well for up to a couple of days in the refrigerator. Think AWESOME lunch… the kind that'll totally have you look forward to lunchtime!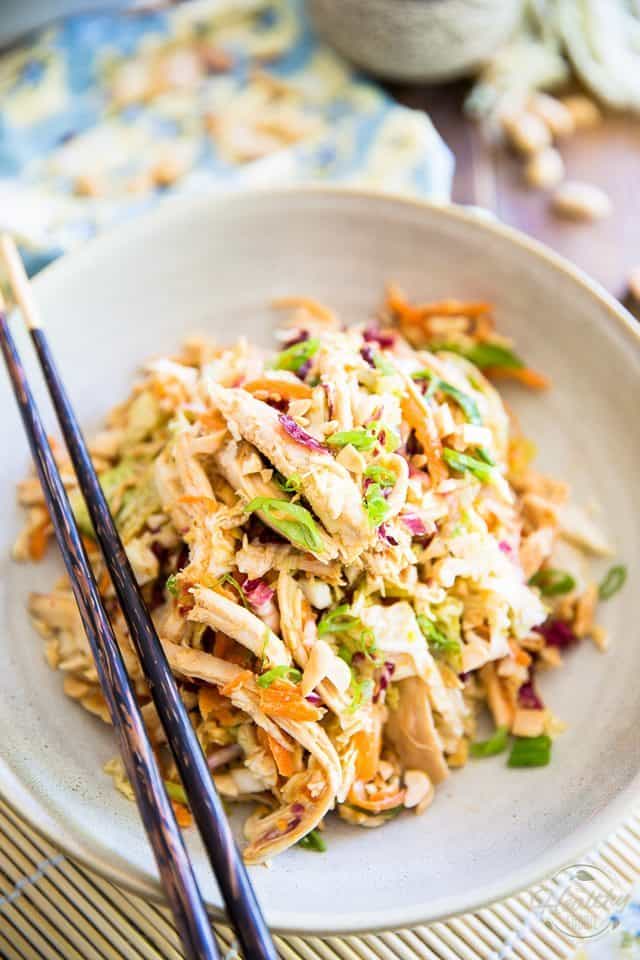 Asian Shredded Chicken Salad
Highly nutritious, filling and satisfying, this Shredded Chicken Salad has a delicious Asian flavor profile that'll have you coming back for more!
Servings: 2 generously
Ingredients
3 cups shredded cooked chicken breast meat
4 cups shredded Napa cabbage,
1 cup shredded radicchio
2 medium carrots, peeled and grated
2 green onions, sliced thinly
1/4 cup chopped roasted peanuts
Instructions
Place the shredded chicken meat, Napa cabbage, radicchio, grated carrots, sliced green onions and chopped peanuts in a large mixing bowl.

Combine all the ingredients for the vinaigrette in a separate bowl or measuring cup and whisk until well combined. Pour over the salad and then toss well, preferably with your hands, to gently massage and bruise the ingredients as you mix.

Serve immediately, or refrigerate for about an hour to allow flavors to meld.

Leftovers will keep well for up to a couple of days in the refrigerator.

Nutrition
Calories: 675kcal, Carbohydrates: 45g, Protein: 60g, Fat: 30g, Saturated Fat: 5g, Cholesterol: 128mg, Sodium: 732mg, Potassium: 1202mg, Fiber: 8g, Sugar: 25g, Vitamin A: 10875IU, Vitamin C: 51mg, Calcium: 203mg, Iron: 3mg
If you've tried this recipe, please take a minute to rate the recipe and let me know how things went for you in the comments below. It's always such a pleasure to hear from you!
You can also FOLLOW ME on PINTEREST, FACEBOOK, INSTAGRAM and TWITTER for more delicious, healthy recipes!