Brown and Wild Rice Turkey Stuffing with Chestnuts and Dried Fruits
I can't say that I was in much of a jolly happy Christmas Spirit when I created this Turkey Stuffing recipe…
I had just spent over 3 hours *trying* to get my car and that of my son out of our driveway so that we could get to work, to no avail. It had snowed so much that we both got stranded and no matter how much we shoveled, we still weren't going nowhere fast. We eventually were forced to abandon and come to the sad realization that we were going to be prisoners of our own home, at least for a little while.
To top it all off, as soon as we set foot in the house, frozen to the core and soaking wet from the snow and sweat, the power went off!
GREAT!
In our case, no power also means no water. And no water means no shower (and no toilet either, but *ahem* let's not go there…)
So there I was, stuck inside a house with no power and no running water, having a sad and miserable day, instead of the fun filled day I should've been having at work with my co-workers and finalizing all my Christmas shopping on the way home that night.
Hmpft.
Obviously, that happy day was not going to happen, especially since the snow seemed to insist on keeping on falling (for the record, we got close to 50cm total, over the course of 12 hours… and we had just gotten another 45cm 2 days prior… even for us Québécois, that's A LOT of snow!) so I decided to take a little bit of a head start with my Christmas cooking and get to work on my Turkey Stuffing.
Good thing I happen to have a gas range! Gotta thank heaven for that! 🙂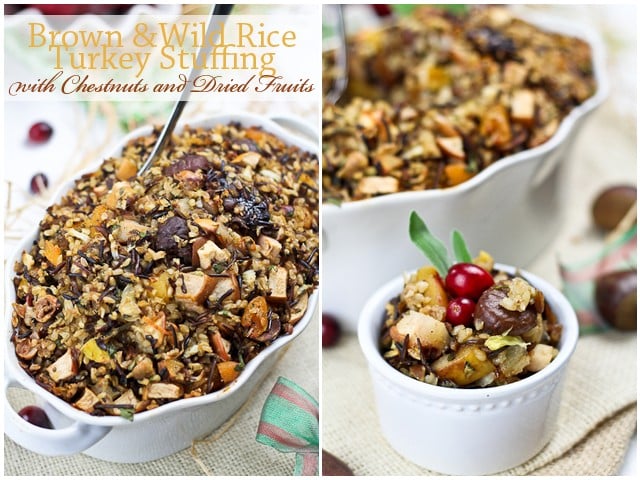 Still, with no running water and a fridge that needs to be opened as little as possible, cooking isn't the obvioustest of things. ESPECIALLY not when it also happens to be getting dark… By the time I got done with the first part of this stuffing, the kitchen had to be lit by candlelight.
Lucky for me, stuffing happens to be one of those dishes that preferably need to sit for a while before you either stuff it in your bird or bake it separately in the oven.
All that was left to do is put it in the garage (which is colder than my fridge at this time of year…) to chill and pray that the power would be back the next day.
AND IT WAS!  Oh, bliss! My heart really goes out to those in my area who are still without power and may not even get back until Christmas day. I thank heaven for getting back my "normal" life today. Yesterday was one of the most miserable days of my life, I swear…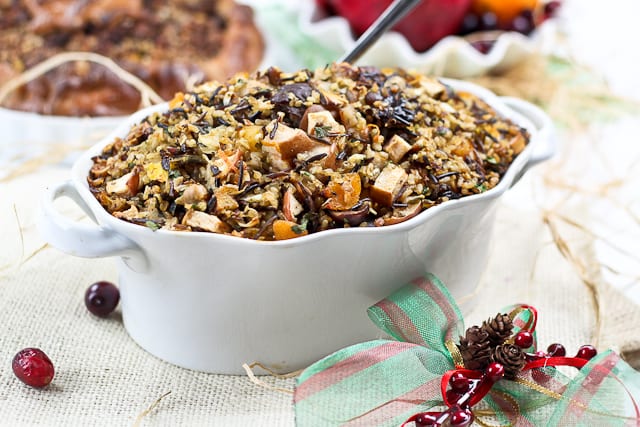 But it's all behind now and so I got to bake this today. I must say, it turned out absolutely wonderful!
The short grain rice makes it almost sort of creamy while the wild rice brings a nice chewy element to the dish. The overload of fruits works wonderfully well with the chestnuts and hazelnuts, and the delicate blend of slightly sweet spices just seems to subtly bind everything together…
It is definitely my ultimate favorite stuffing so far. To be honest, I liked it even before it went in the oven… I would've gladly eaten a bowlful in its "raw" state.
Now I probably should've waited until Christmas to bake this, but I really wanted to share it with you. Looks like I'll have to serve my guests reheated food…
Bah, no biggie. I'm sure they'll understand… I mean, they are my kids after all! 😉
Brown and Wild Rice Turkey Stuffing with Chestnuts and Dried Fruits
Servings: 16
Ingredients
½ cup wild rice
1 cup brown short grain brown rice
2 + 3 cups water
¼ + ½ tsp Himalayan or fine sea salt
1 small onion, finely diced
200 g roasted and peeled chestnuts, whole
½ cup 12 dried prunes, chopped
½ cup 15 dried apricots, chopped
1 navel orange, (zest, juice and supremes)
2 small red apples, diced
1 large Anjou pear, diced
¼ cup toasted hazelnuts, chopped
½ cup fresh parsley, chopped
¼ tsp ground cardamom
½ tsp ground cinnamon
½ tsp ground ginger
¼ tsp freshly grated nutmeg
few grinds star anise
½ tsp freshly cracked black pepper
Instructions
In a medium saucepan, add wild rice, 2 cups of water and ¼ tsp salt. Bring to a boil then reduce heat, cover and simmer until water is almost completely absorbed, about 20-25 minutes.

Add brown rice and an extra 3 cups of water and ½ tsp salt. Bring back to the boil and again, reduce heat and simmer until water is absorbed and both rices are tender, about 30-35 minutes.

Turn off the heat and allow rice to rest for 15-20 minutes.

When rice is done resting, add all the ingredients and mix well.

Let cool to room temperature then transfer to refrigerator until completely chilled, at least 4 hours, preferably overnight.

You can safely prepare this stuffing a couple of days in advance and keep it in the fridge until you are ready to use it.

You can either stuff your bird with this mixture or bake it seperately in a 375F oven for about 50 minutes.
If you've tried this recipe, please take a minute to rate the recipe and let me know how things went for you in the comments below. It's always such a pleasure to hear from you!
You can also FOLLOW ME on PINTEREST, FACEBOOK, INSTAGRAM and TWITTER for more delicious, healthy recipes!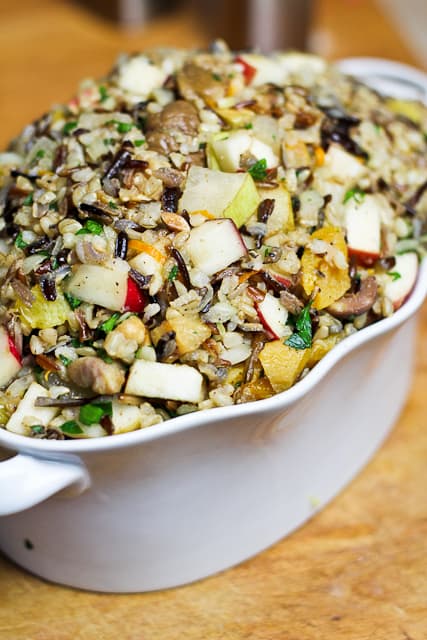 Of course, you can stuff this stuffing inside your bird, but I prefer to bake mine separately…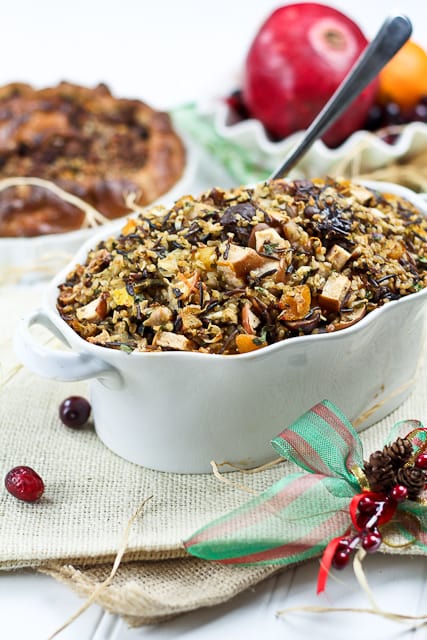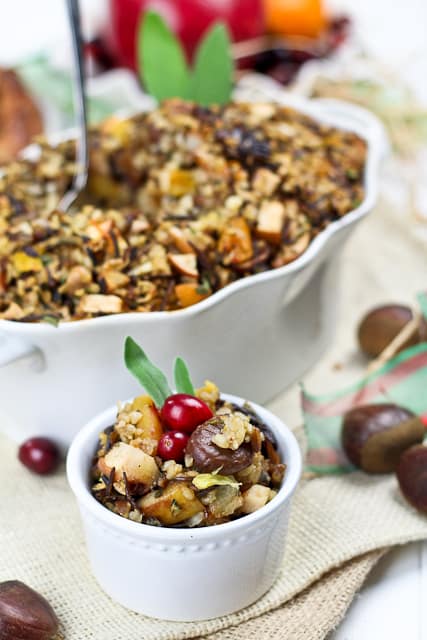 All pretty garnished with fresh cranberries and sage leaves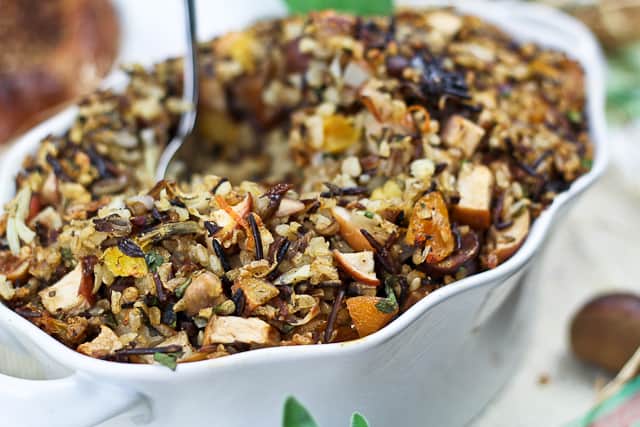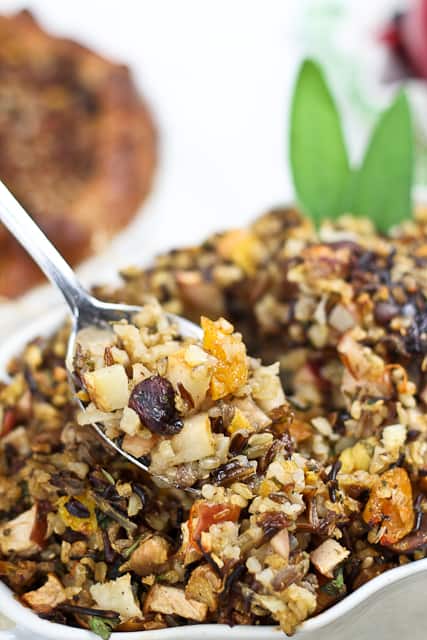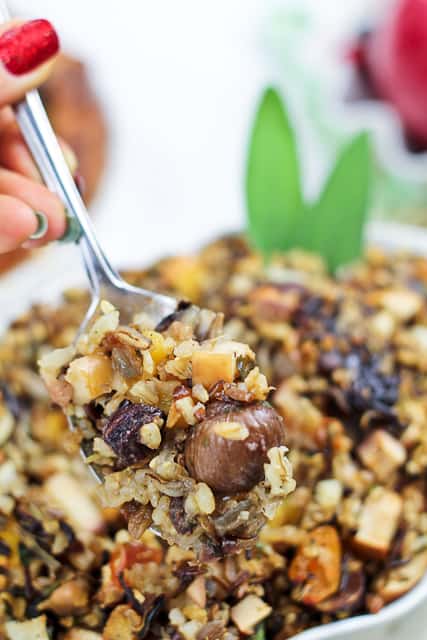 Look at all the gorgeous chunks of delicious fruits and whole chestnuts.
Did I mention this was my ultimate favorite stuffing ever?