Christmas Morning Breakfast – Healthy Eggnog French Toasts [with an optional kick!]
Christmas being the most special day of the year, it naturally calls for breakfast that's out of the ordinary…
You can't just go and have a plain old ordinary breakfast on the most extraordinary day of the year, now, can you?
I know I can't.
For me, Christmas breakfast just HAS to be special.
For years, in my opinion, this meant leftover Bûche de Noël,  Fruit Cake or Sugar Pie.
Or better yet, a combination of the above.
All that accompanied with a nice, tall glass of deliciously rich and CREAMY home made Eggnog. I mean creamy as in: it contained a CRAZY amount of heavy cream. Oh, and of course, an equally insane amount of booze! I remember getting a serious buzz from just one glass.
What a great way to start the day, isn't it? NOT! Especially a day that's usually destined to be a very long one! Rarely does one go to bed early on Christmas Day!
Thank goodness I have now learned to make my Christmas breakfasts a lot better for my health while still remaining fairly indulgent and extremely satisfying!
This year, I decided to go for something that would totally target all of my cravings: that for something super sweet and comforting, for a very traditional Christmas flavor, as well as my craving for a tall glass of rich and creamy Eggnog.
I even went as far as adding a little splash of booze to that one.
Hey, it's all in the name of authenticity, you know! It IS Christmas after all!
But you can do that IF and ONLY IF you're having this on actual Christmas morning, alright? Else the booze police might end up paying you a little visit! 😉
Alright, enough with the chatter. Let me share with you what my idea of a perfect Christmas morning looks like…
After I'm done working out, of course!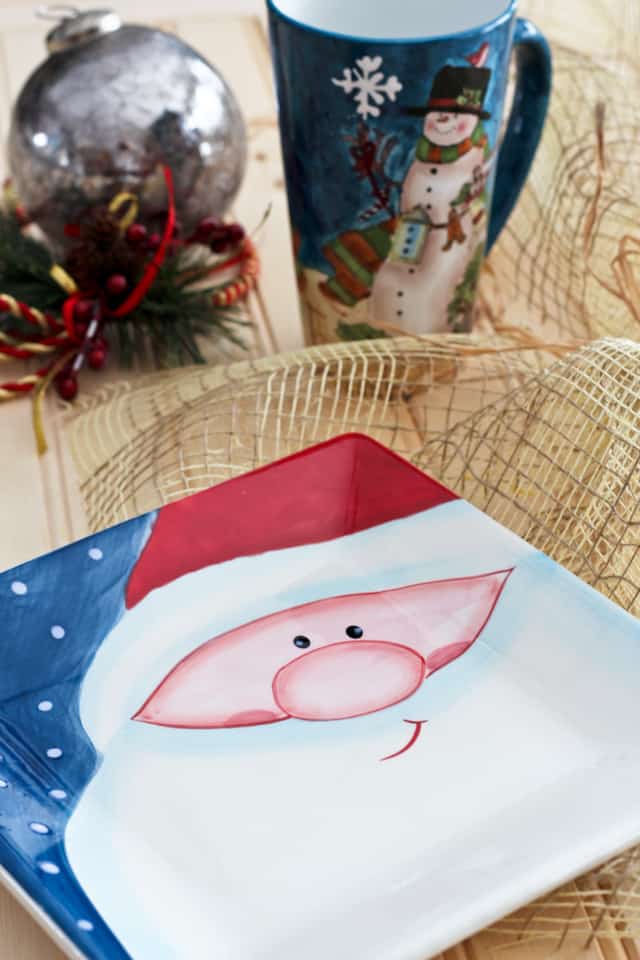 First, start by taking out your favorite Christmas dishes…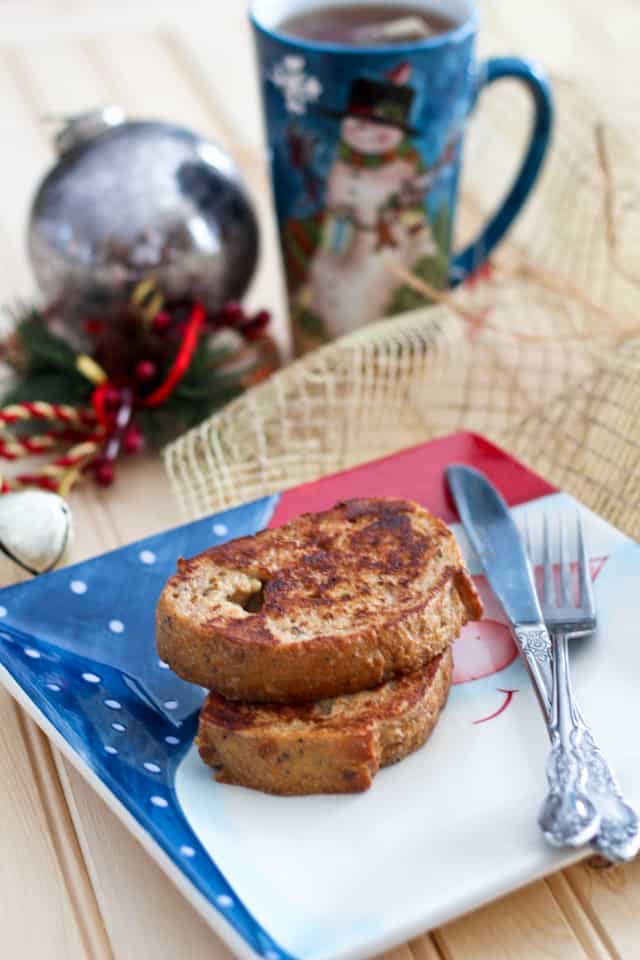 Add French Toasts to plate and fix yourself a nice cup of Vanilla Spice Chai Tea
(or whatever else tickles your fancy!)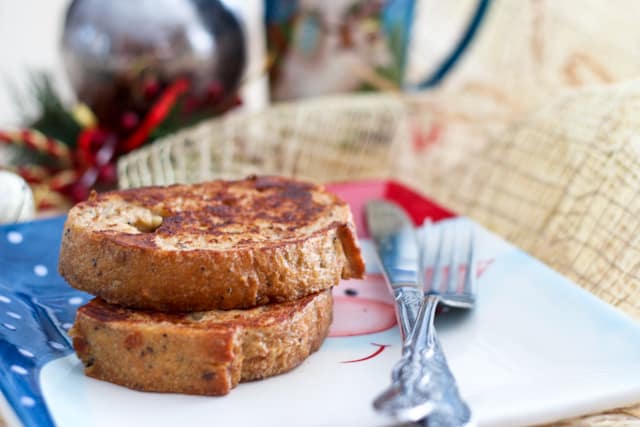 Looks like Santa has an eye on my French toasts… Sorry Santa, you get the cookies.
The toasts are mine!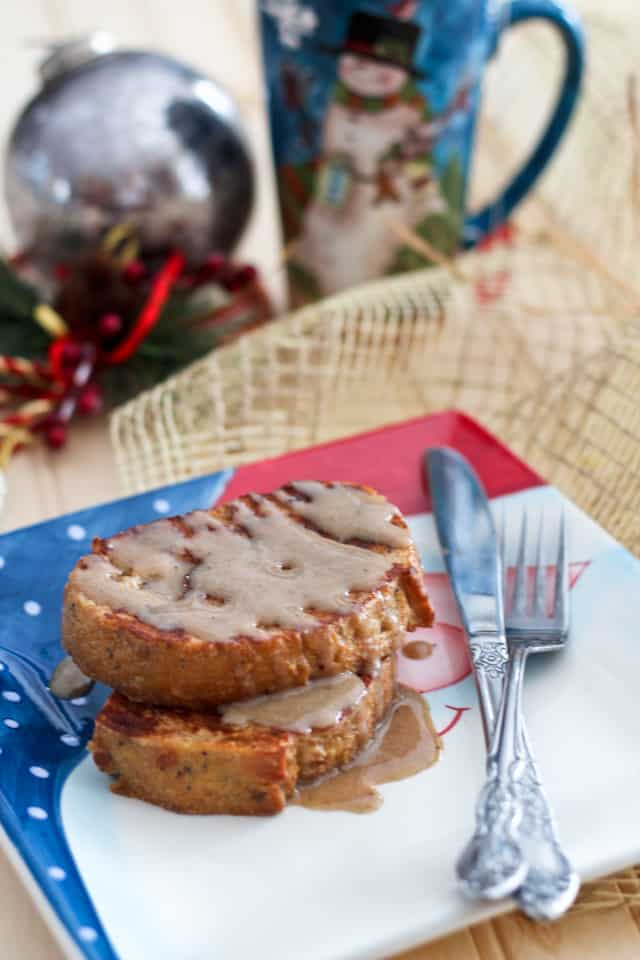 Drizzle some of that delicious Eggnog Sauce over the toasts…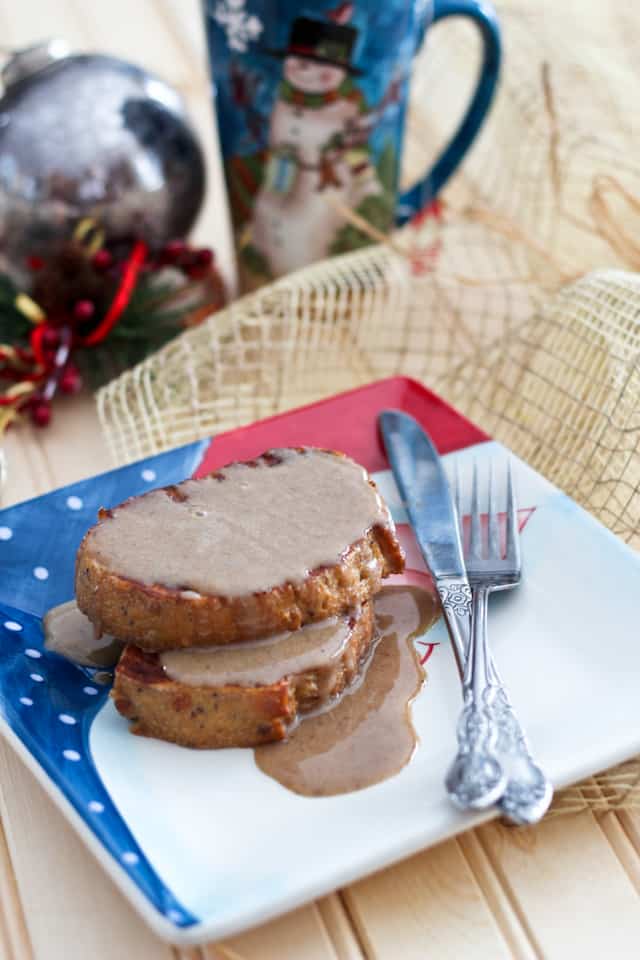 Hey, it's Christmas! Add some more, will you?
There, that's more like it!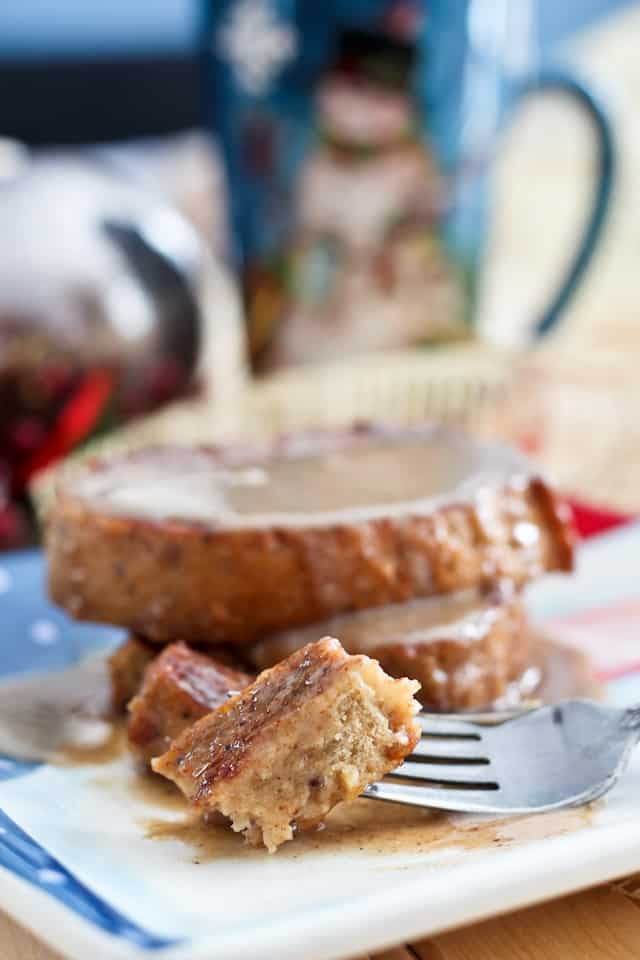 Now take a deep breath, savor the moment and get ready to attack the first bite.
So? How are they? Moist enough for you?
And how 'bout that taste? Did you add the rum? Aaaaah, thought you would! 😉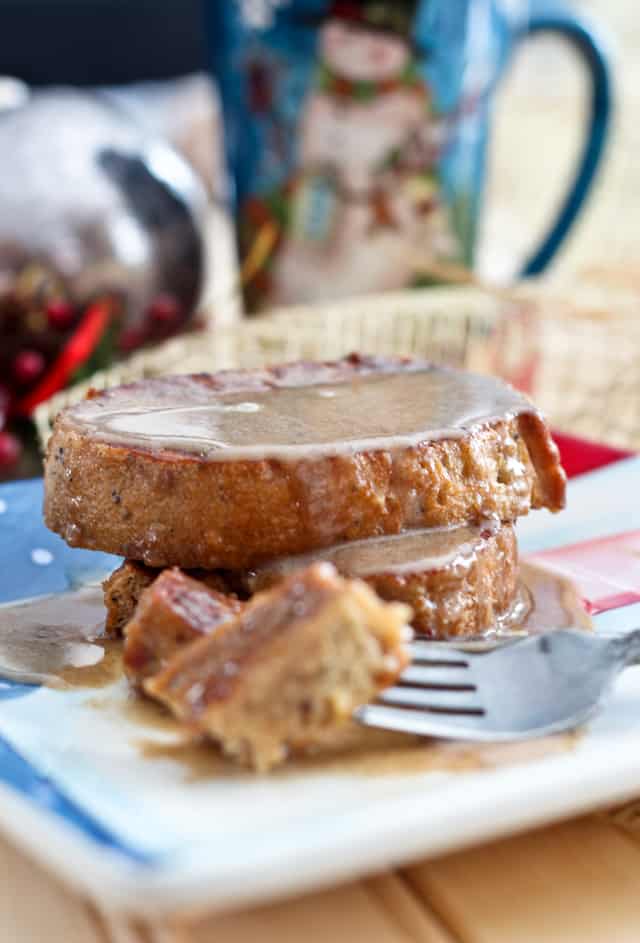 And will you look at that… there's still so many more bites to go.
The next 20 minutes or your existence will be pure bliss, my friend.
And a very Merry Christmas morning to you! 
 Of course, now that I showed you how I do it, I'll give you the recipe so that you can duplicate at home…
Healthy Eggnog French Toasts [with an optional kick!]
Servings: 2
Instructions
In the bowl of your small food processor, add milk, egg, date paste, applesauce, vanilla extract and spices and process until well blended, about 30 seconds.

Place your bread slices in a single layer in a shallow dish and pour egg mixture over the slices. Flip them over a few times to make sure they are completely covered and set them to rest for about 20-30 minutes. This will allow the bread to absorb a maximum of the egg mixture, making it extra moist and flavorful.

Preheat a large non stick pan coated with cooking spray over medium heat. When pan is hot enough, add the slices of bread one at a time and cook until nice and golden, about 2-3 minutes per side.

While toasts are cooking, bring about a cup of water to a simmer in a small saucepan.

Transfer the leftover egg mixture to a small stainless steel bowl and whisk in arrowroot. Set this bowl over the simmering water and beat continuously with a whisk until the mixture starts to thicken. This should take only a minute or so.

Remove from heat and whisk in protein powder.

IF and only IF it really is Christmas morning, throw in a little splash or good quality brown rum, why not? 😉

Serve immediately, while it's still warm... and take the time to enjoy this beautiful morning.
If you've tried this recipe, please take a minute to rate the recipe and let me know how things went for you in the comments below. It's always such a pleasure to hear from you!
You can also FOLLOW ME on PINTEREST, FACEBOOK, INSTAGRAM and TWITTER for more delicious, healthy recipes!
Now I want to take this opportunity to wish each and every one of you a very Happy and Healthy Christmas.
May this time of celebration bring much joy and happiness to your heart and to that of those you love and care for.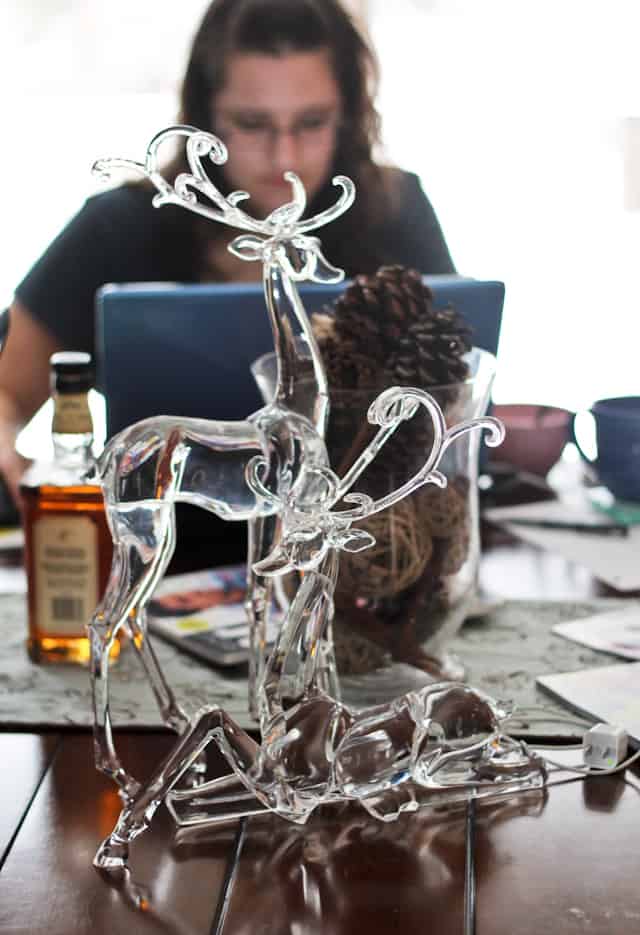 Speaking of which, this foodie will now be taking a little bit of well deserved time off to be with those she loves and cares for.
Don't worry though… I'll be back before you even had time to realize I've been gone!
You know I couldn't stay away from this place for too long. I love you all way too much for that.
Sending my very best Holiday Wishes to all of you!
xox