Roasted Turkey in Light Orange and Apple Brine
I know, I know, you're probably all "turkeyed" out and the last thing you need right about now is YET another turkey recipe.
In fact, chances are you're still stuck with a whole bunch of turkey leftovers and you don't QUITE know what to do with them…
I know… I'm in that same boat. I need to come up with a recipe tomorrow…
Ideas anyone? 😉
Anyway, I'm sorry if this comes a tad late… but I just can't not share this recipe.
After all, I gave you my entire Christmas menu, I couldn't just stop without giving you the "Pièce de résistance": the Christmas Bird.
For the longest time, it has been tradition here to brine the turkey before to roast it.
Well, in fact, it used to be smoked instead of roasted, but you see, that was the man's department and to be honest, I don't have the patience to go through all the trouble that smoking a bird in the middle of winter requires.
So in the oven it goes, now.
As for the brine, well, I'd also given it the boot for I considered it to be way too high in salt and sugar.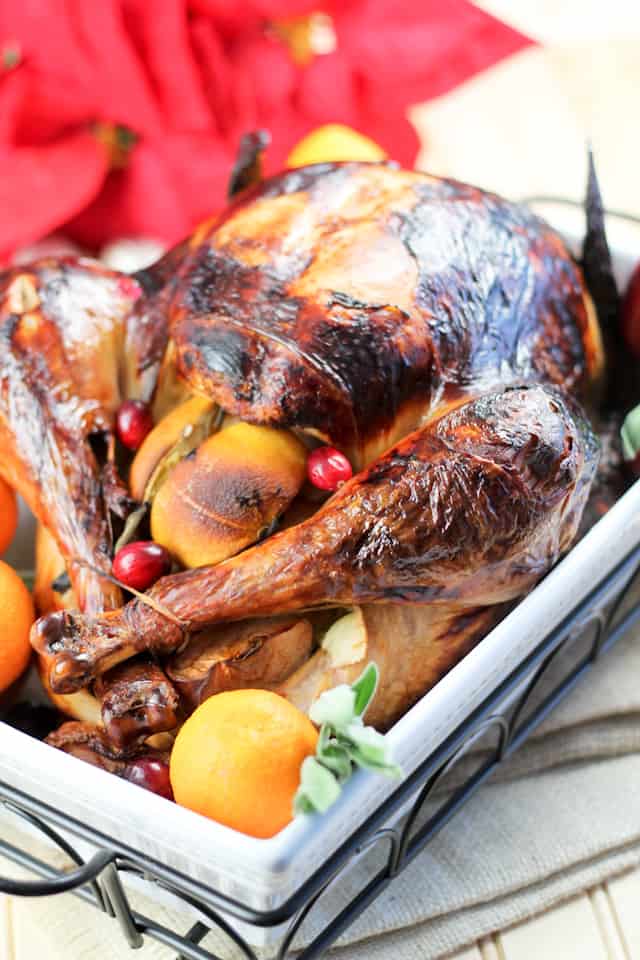 That was until I thought of a way to give it a "lightification" treatment. This year's brine contains almost no salt at all (well, for a brine, that is) and no refined sugar whatsoever.
I used mainly unsweetened apple juice, to which I added a decent amount of apple cider vinegar, a little bit of honey, a little bit of kosher salt and a whole bunch of spices.
I have to say that I was quite pleased with the result, as were all the members of my family, apparently.
I got nothing but compliments from each and every one of them.
They even voted that I be the one taking care of the turkey for the next 20 years!
Now don't be put off by how dark the skin looks. Brines do tend to do that, apparently. It's not a bad thing, trust me. It only helps make the skin that much easier to resist! To be honest, I didn't even taste it, so I can't tell whether it was good or not.
What I can tell you, though, is that the flesh was really nice and super tender and so very moist and juicy and oh so tasty!
I was afraid that the apples and orange would be too strong in flavor and would steal the show, but they were very well behaved and politely stayed in the shadow, leaving all the fame and glory to the bird while giving it a very light lift from afar.
This was a definite winner, and I can guarantee that it will be my new go-to Brined & Roasted Turkey Recipe.
Now for the leftovers… I'll have to sleep on that one! 😉
Roasted Turkey in Light Orange and Apple Brine
Ingredients
6 cups apple juice
1 cup apple cider
8 cups water
4 tbsp kosher salt
4 tbsp liquid honey
2 navel oranges, quartered
2 whole star anise
8-10 whole dried juniper berries
8-10 whole dried allspice
8-10 whole cloves
1 tsp whole coriander seeds
About ½ whole nutmeg, grated
2 cinnamon sticks
2 sprigs fresh sage
4-5 slices fresh ginger
A 10-15 pound whole turkey
plan on more apples, oranges and fresh sage to stuff in cavity
Instructions
In a large stockpot, add all the ingredients (except turkey, of course) and bring to a boil. Reduce heat and simmer for 5-10 minutes.

Turn off the heat and cool to room temperature.

Place turkey in brine (use a large plastic, stainless steel or other non reactive container, or extra large resealable plastic bags) and refrigerate for about 1 hour per pound.

Remove turkey from brine and rinse well under cold water; pat dry

Add quartered apples and oranges as well as a few sprigs of fresh sage in the cavity. Feel free to also throw in a few sticks of cinnamon and a whole cloves. Tie legs together.

Place turkey (breast side up!) on the rack of a roasting pan. Tent loosely with foil and roast in a 325F oven for about 20 minutes per pound or until a thermometer inserted into the thickest part of thighs registers 180F

Remove the foil for the last hour of roasting.

When turkey is done, take it out of the oven, place tent back over the bird and let it rest for 20-30 minutes before carving.
If you've tried this recipe, please take a minute to rate the recipe and let me know how things went for you in the comments below. It's always such a pleasure to hear from you!
You can also FOLLOW ME on PINTEREST, FACEBOOK, INSTAGRAM and TWITTER for more delicious, healthy recipes!
 Stuff the bird with quartered oranges and apples and fresh sage leaves.
Feel free to also throw in a few sticks of cinnamon and one or two wholes cloves…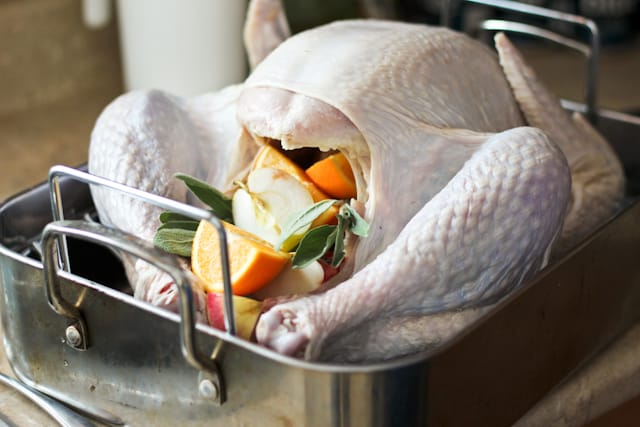 Tie the bird up nice and good, especially the legs!
Gotta keep all that flavor and moisture locked up!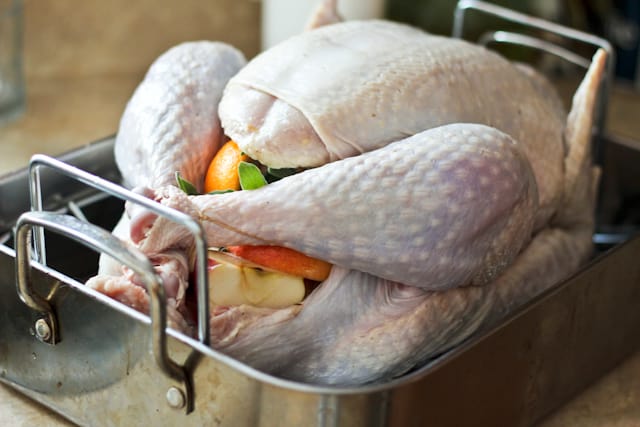 Take turkey out of the oven and take a few minutes to admire it
(or to let it cool some…)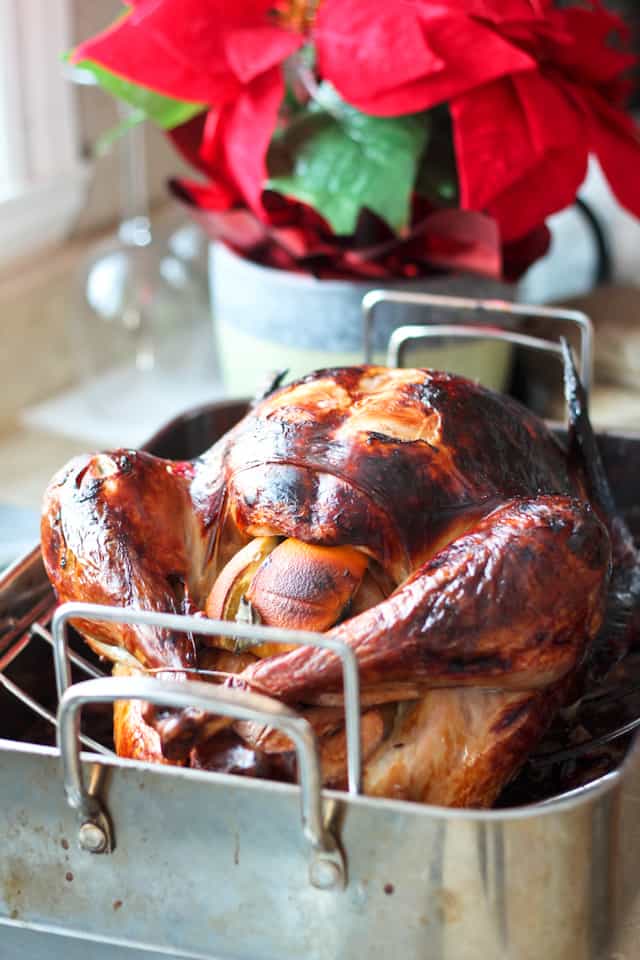 Transfer it to a serving dish and garnish with a few sprigs of fresh sage leaves, a handful of fresh cranberries, a few clementines, oranges and or / apples. 
Trust me, with this baby on the table, you will not be needing a centerpiece!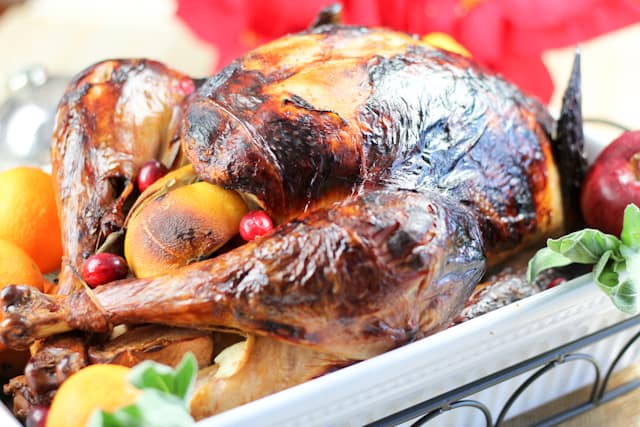 Now if you will excuse me, I think I need to get right back to what I've been doing those past few days:
Spend a little more time quality time with the loves of my life…