Cauliflower and Broccoli Casserole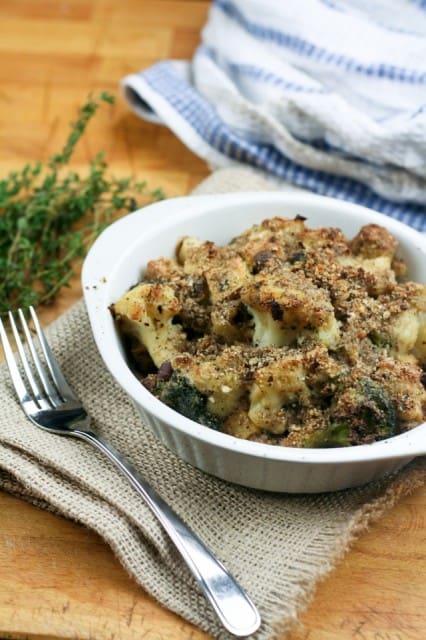 I've always had a thing for casseroles such as this one.
Not only are they super comforting, they also are a great go to dish when you don't quite know what to eat, or don't have much of anything left in the fridge…
Pretty often, when I find I'm not really inspired to cook, this is what I'll end up making.
So much so, I remember my kids being entirely fed up with it at one point…
I also remember, when I was a kid, my dad used to make this wicked "sauce aux oeufs" which was basically nothing more than sliced hard boiled eggs drenched in a generous amount of creamy Bechamel sauce. He would always serve this with French Fries, and sometimes, he would go all out and make said fries from scratch at home!
Did I ever tell you that my dad used to make the best French Fries in the whole wide world?
Well, he did! They were just to die for. And I never knew what his secret was.. .
Needless to say that this simple dish was always a success with me. It pretty much felt like cause for celebration whenever he'd announce that this was on the menu for the day.
Of course, as I grew older and eventually went out to live on my own, I kept making this dish… only I transformed it.
For starters, I'd often add vegetables to it, mainly spinach.
I liked the added touch of color!
Oh, and flavor, of course.
Call me weird, but I always LOVED spinach, even when I was but a little kid. My brother used to absolutely despise them, much to my satisfaction, as I would always end up getting his serving!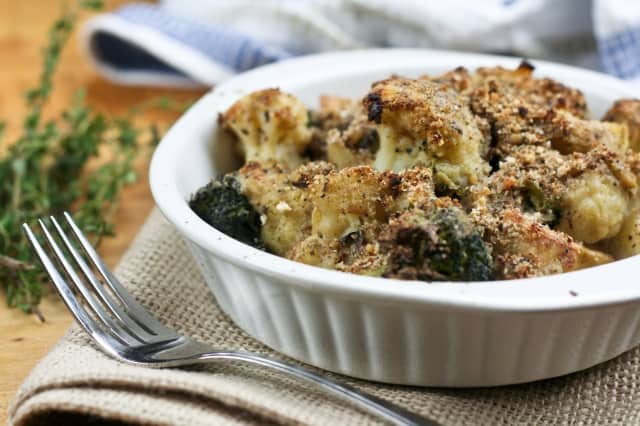 Eventually, I started making tons of variations on the subject, with eggs, without eggs, with spinach, or cauliflower, broccoli, bell peppers, mushrooms, courgettes, nuts, chicken…
You can basically add anything that tickles your fancy.
The principle always remains the same:
Bechamel type sauce + vegetable + protein + crumbs = awesome casserole. 😀
Simple, efficient, comforting.
Gotta love that!
Cauliflower and Broccoli Casserole
Servings: 4
Instructions
Preheat oven to 375F

Wrap tofu in paper towels and put some weight on it, such as a large can; leave that be while you attend to other things, 5 to 10 minutes.

Cook the broccoli and cauliflower florets in a steaming basket, until cooked about halfway through. Fill a large bowl with cold water and ice cubes and plunge your cauliflower and broccoli in that cold bath to stop the cooking process. Leave them in there for 2-3 minutes then drain.

Cut your tofu into ½ inch cubes. Drizzle a little bit of olive oil in large skillet and heat over medium high heat. When it's really hot throw in the tofu cubes and cook for 2-3 minutes per side, until nice, crispy and golden on all sides. Set aside.

Meanwhile, in a large saucepan, heat the oil over medium heat and sauté the onion until translucent. Add garlic, salt, pepper and flour, stir to cook the flour, 2-3 minutes.

Add milk, about ½ cup at at time, whisking until well incorporated with each addition. Bring to a boil, whisking constantly. Reduce heat and continue whisking for about 5 minutes. Remove from heat and whisk in Dijon mustard, white wine vinegar and tahini.

Gently fold in broccoli, cauliflower, tofu and 50g hazelnuts.

Transfer to a large oven safe baking dish, or 4 individual.

Grind remaining 25g toasted hazelnuts and buckwheat groats in a coffee grinder of mini food processor.

Sprinkle that mixture overtop your casserole. Place in the oven and bake for 20-25 minutes, until top starts to color.
Notes
*This is another dish that I did pre-Lent, but it could very easily be made grain free by using a non grain flour instead of whole wheat flour.
If you've tried this recipe, please take a minute to rate the recipe and let me know how things went for you in the comments below. It's always such a pleasure to hear from you!
You can also FOLLOW ME on PINTEREST, FACEBOOK, INSTAGRAM and TWITTER for more delicious, healthy recipes!