Seared Scallop with Grapefruit Supremes, Watercress and Balsamic Pearls
We're a little over 2 weeks into Lent now…
I've been eating out a lot this week. That can sometimes prove to be challenging for me on a regular day… do I need to tell you that this much holds even truer during Lent?
People around me keep teasing me and telling me that I'm just "nuts" and they feel I am torturing myself in vain. They think that I must be some kind of a masochist, or something…
Well, that's not the way it is at all!
You see, instead of looking at what I can't have, I prefer to look at what I can still enjoy.
And there is LOTS of that!
For instance, for lunch this week, I've been enjoying the follwing dishes: (not all on the same day, obviously… I did say that I got to eat out A LOT, didn't I?)
First, a small plate of smoked salmon, served on a bed of Boston lettuce with capers, half an avocado and a few slices of cooked beets.
Then, I had a grilled vegetable salad, that included a nice mix of greens, topped with kalamata olives, goat cheese, sun dried tomatoes, grilled bell peppers, courgettes and aubergines. Lovely!
The following day, I chose to have a beautiful piece of rare ahi tuna steak, with a side of steamed vegetables including carrots, broccoli, green beans and white potatoes which I chose not to eat because I was feeling particularly tired that day and felt they wouldn't have done me any good… Oh, and of course, I didn't touch that dressing either. Hey, grains could've been hiding in there, you know! 😉
Today, I had this gorgeous piece of grilled salmon, served with grilled vegetables, namely carrots, asparagus, broccoli, courgettes and bell peppers.
All delicious meals, which didn't leave me feeling deprived in the least!
The only real temptation, I would say, came from this plate of sweet potato french fries that one of my coworkers was having. They were calling my name really, really loud, but I just ignored them and they eventually got tired of yelling at the top of their lungs in vain… 😉
As for dinner, well, I revisited some of my "old" recipes, namely this incredibly satisfying Pumpkin Coconut Chowder with Shrimp, and this Haricots Verts, Green Olives and Goat Cheese Salad.
I also made this new, absolutely decadent, light scallop dish.
All there is to it is some lovely pan seared sea scallops sitting on a comfy cushion of grapefruit supremes, accompanied by a few sprigs of watercress and crowned with a spoonful of Balsamic Vinegar Pearls. Oh and of course, all of that has been generously dampened with a tangy grapefruit Dijon vinaigrette.
Super simple, yet super tasty and really, really satisfying!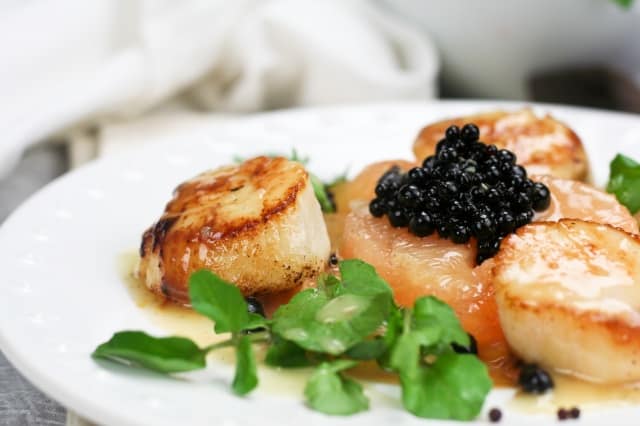 Hey, who said Lent had to be about sacrifices?
With all that food that I've been enjoying? I think I've come to see it as a time of sinful indulgence… Alright, maybe not that much, but I can guarantee you that I definitely do not feel deprived.
Oh, and if you follow me on facebook, you've probably already seen that this week-end, I am planning on having one or six of these babies… lentified, of course! !
I certainly hope I succeed at the challenge! If I do, we all win! 🙂
Wish me us luck, guys!
SEARED SCALLOP WITH GRAPEFRUIT SUPREMES, WATERCRESS AND BALSAMIC PEARLS
INGREDIENTS
(Serves 1)
Vinaigrette
Juice from your grapefruit
½ tsp ginger, chopped
1 tsp white balsamic vinegar
¼ tsp salt
¼ tsp black pepper
½ tsp Dijon mustard
1/8 tsp guar gum
INSTRUCTIONS
Working over a bowl so that you don't let any of the juice go to waste, arrange your pink grapefruits into supremes. Once all the supremes are out, squeeze all the remaining juice out of what's left of your grapefruits.
Add the rest of the ingredients for the dressing and whisk until smooth and starts to thicken. Set aside
Arrange your supremes in a nice round "cushion" in the middle of a small plate
Heat about a teaspoon of olive oil in a frying pan until the pan is really nice and hot. Add the scallops (make sure you pat them dry before you put them in the pan, else, they will boil in) and sear them for about 1 minute on each side. Make sure the scallops don't touch each other, for that would also prevent them from forming that nice brown crust.
Arrange the scallops around the grapefruit supreme.
Garnish with watercress sprigs and Balsamic Vinegar Pearls and drizzle generously with vinaigrette.