So last week-end, I went on a little bit of a shopping craze…
You see, my mom had given me a $50 gift card from HomeSense, which happens to be my ultimate favorite destination for kitchen gear and props.
However, I think I MIGHT have gotten a little carried away. Let's just say the card didn't quite cover…
Just look at all the bags that I came home with!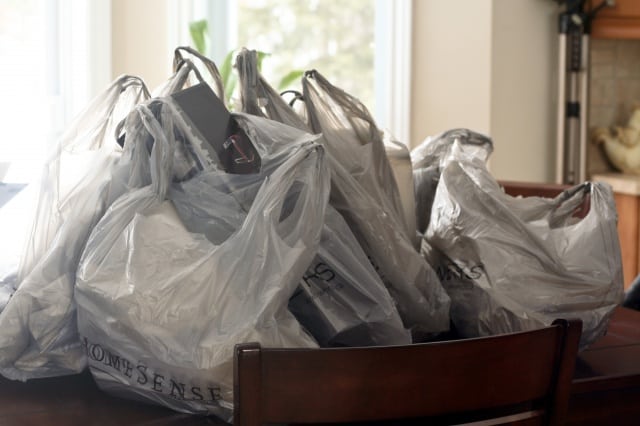 I always looooove bringing home new goodies! But, with this super awesomeness also come a few drawbacks that I could very well do without, namely unwrapping everything, removing all the labels (seriously, why do they have to put that many?) and finding room to store all the newcomers.
Yeah… I seem to be quickly running out of that… AGAIN!
First, let's unwrap everything, shall we? Now for some reason, the lady at the cash used TONS of paper. I think she was afraid that I was actually gonna take my bags on a roller coaster ride or something…
Just look at all that paper!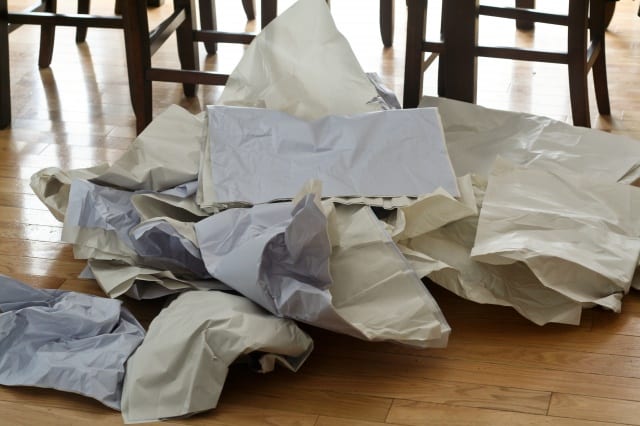 Phew… now that that's out of the way, let's inspect the goods, shall we?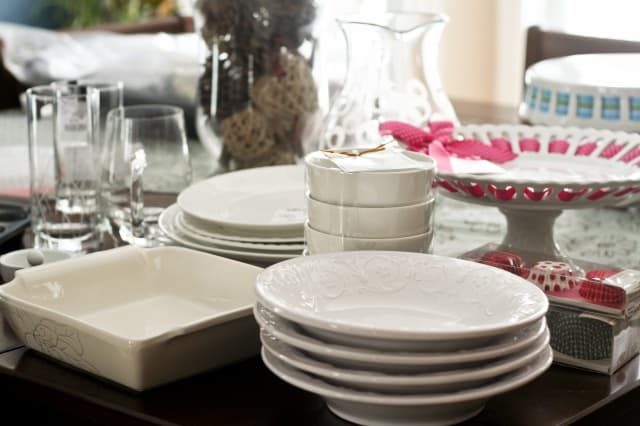 Wooo, now that's much prettier to look at than a whole bunch of bags and wrapping paper, isn't it?
Wait… there's more!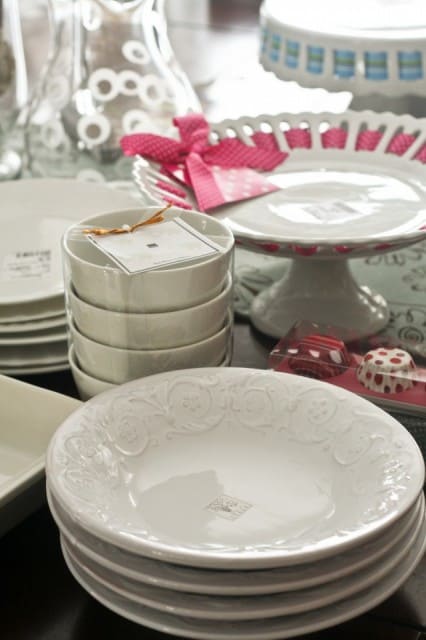 Oh my… just look at all those labels! Oh well… small price to pay, I guess!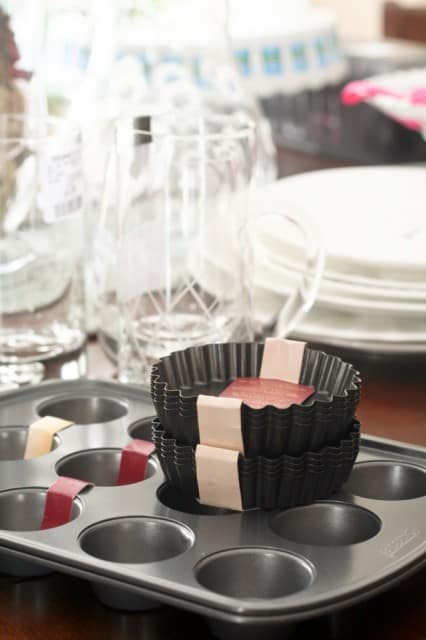 Oooooh, bakeware. Pie dishes… mini muffin pans… EXCITING STUFF!!!
But wait… let's move that camera over to the left a bit… what's that I see? There's a box, I can see a box. Can you see a box?
Alright, alright, I'll admit it: there IS a box…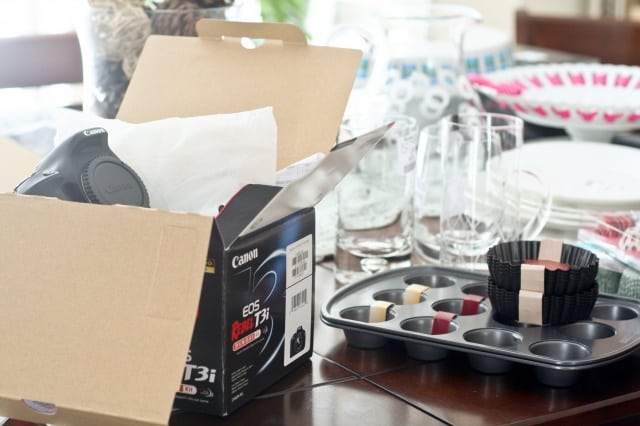 What's that you say? You want to take a closer look? Alright… you can look. But no touching, eh?
It's MY new baby!
Mine, mine, mine!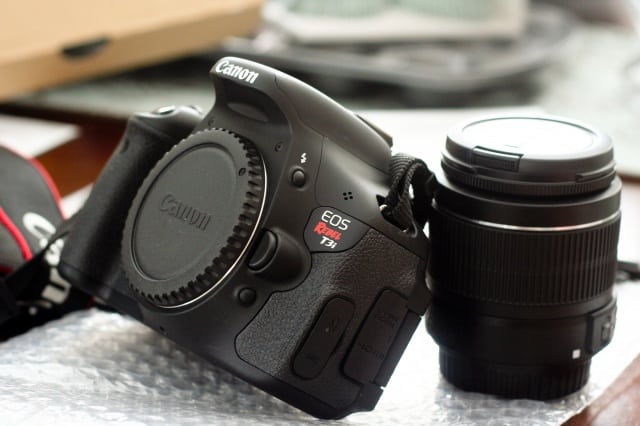 Oh yeah! It has been an exciting (and expensive!) week-end shopping for me!
But I get the feeling I'll be having LOADS of fun in the weeks (and months) to come.
And I'll let you in on a little secret… that one does movies, too! As in videos! Ooooh yeah!
I'm having a little bit of fun experimenting with that at the moment, but you see, the thing with me is I hate even having my picture taken, so imagine being filmed. I turn the thing on and then I run to hide, literally.
I think I haven't quite got the hang of it just yet.
But it SHOULD come, eventually! Just don't be holding your breath…  😉
Alright, enough about my shopping and spending experience. This is a food blog after all, isn't it?
You're all probably thinking something like:
So where's the food? Didn't you mention something about a grain free tabouleh?

And whoa… wait a minute. Grain free tabouleh? Now you're pulling our leg, aren't you? How could tabouleh be grain free? You remove the bulgur and you're basically left with a parsley, mint and tomato salad, right?

Now… how is that tabouleh?
Ah HA! The secret is to actually REPLACE the bulgur… but with what? What non grain food item could possibly resemble bulgur, enough to take its place in such a classic salad?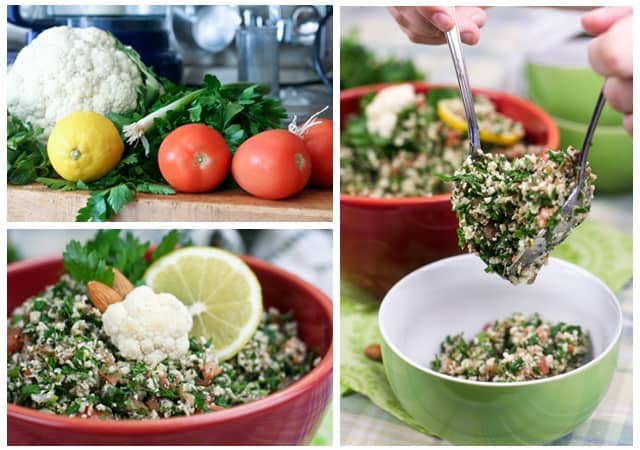 CAULIFLOWER! Just throw it in your food processor, give it a couple of spins, and you've got yourself a myriad of tiny little white specks that look pretty much like bulgur to me, at least when mixed with all the right ingredients!
And you know what?
I find it makes an even better tabouleh than bulgur does. It's way more flavorful AND it's crunchier. Plus, it adds even more contrast! Oh, and for a little bit of added protein and healthy fat, I also decided to throw in a few almonds, and they add this great extra little bite that makes you want to go back for more.
I'm TOTALLY sold. And so is my daughter, by the way!
From now on, THIS is how I will be enjoying tabouleh. Always!
Since it happens to be one of my favorite salads, there was no way I could ever have given up on it.
And now I won't have to!
I'm in heaven… 
Grain Free Tabouleh
Ingredients
1 small head cauliflower
½ cup raw almonds
1 large bunch fresh mint
1 large bunch fresh flat leaf parsley
2 green onions
3 tomatoes
1 clove garlic, minced
the juice and zest of one lemon
1 tbsp sumac
1 tbsp za'atar
1 tsp salt
½ tsp black pepper
Instructions
Cut cauliflower into little florets and add to the bowl of your food processor. Process on pulse until cauliflower has texture of large grains of cracked wheat. Transfer to a large mixing bowl.
Add your almonds to the food processor and again, process until grainy in texture. Add to cauliflower.
Chop your mint, parsley, green onions and tomatoes very, very finely. Add that to the cauliflower and toss to combine.
In a separate bowl, add garlic, lemon juice, sumac, za'atar, salt and pepper and give this a good whisk. Pour over reserved salad and toss gently to combine.
If you can, let your tabouleh sit in the refrigerator for a couple of hours to allow the flavors to fully develop (but there's no need to, really… you CAN have it right away if you want!)

Notes
Grain free, Gluten Free, Vegetarian, Vegan, Low fat, Paleo Friendly, Whole30 Compliant
Nutrition Information
Serving size:
Nutritional Information based on 1 of 4 servings