Mini Carrot Muffin Bites, and what to do with leftover pulp…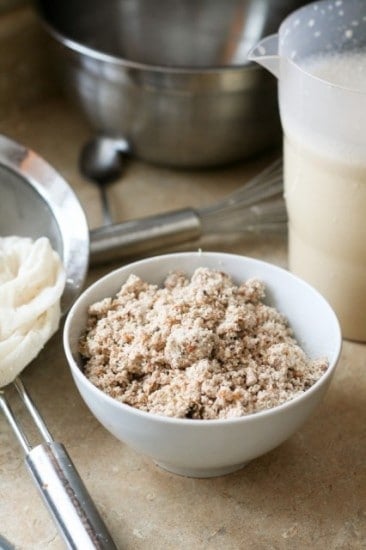 I recently started  making my own milk at home and I am totally, completely hooked.
I plan on doing that on a regular basis, from now on.
Listen to me go… I say that like I'm some sort of a pro, yet I've only done it twice so far; but really, it's so easy, one time is all it takes!
And you know what?
Home made milk tastes SOOOOO much better, is so much fresher, contains no added anything, and it's so much FUN to make!
So far I've made one batch of almond and one batch of hazelnut (that last one was was simply divine and sinfully delicious). Next week-end, I'll be making a batch of black soy bean milk!
I'm just so excited, I can barely wait.
Now, if you're anything like me, you're probably thinking "yeah, ok… that's nice. But nuts are so darn expensive, I don't want to spend a fortune on making JUST milk with them and then throw out all that precious pulp… I'd rather enjoy the ENTIRE nut, you know, not just part of it. If I'm gonna pay for a whole nut, might as well USE a whole nut…"
Well, that's exactly what I thought initially, but going through with the actual process proved me completely wrong.
In fact, it's a lot cheaper to make your own milk at home.
For less money than you would pay for a liter of the commercial stuff, you get an equal amount of home made milk PLUS you get to keep the meal that's left behind!
By all means, do not get rid of that! It's all good stuff, really! All you need to do is get creative and find ways to use it.
Why not try these cute little mini carrot muffin bites, for instance?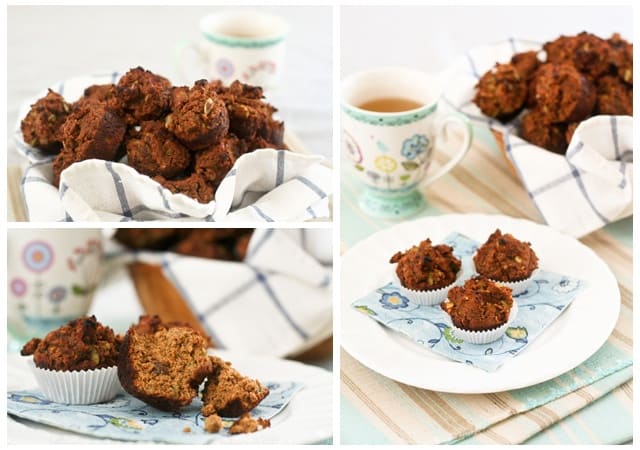 Oh, by the way, these little cuties contain no grains or added sugar whatsoever, and they are even paleo friendly! The addition of almond pulp and whey protein also really helps boost their protein content!
They make for an awesome snack, are a terrific portable breakfast and could even be served for dessert, why not? You'll be surprised at how soft, moist, sweet and spicy they are!
What else can you do with that pulp? 
Well, if you are patient, I also came up with a decadent Double Dark Chocolate Cranberry Cookie recipe, using the hazelnut meal this time. I shall post this one for you guys pretty soon…
I've used up a lot of mine in my morning smoothies, to boost the protein and healthy fat contents… just kept the meal in the fridge and threw a couple of teaspoonful in the mix when preparing my breakfast smoothies.
You're more the cereal type? That's fine, too! You could also throw a couple of teaspoonfuls in your morning cereal… it sure would add a nice little crunch and texture to them!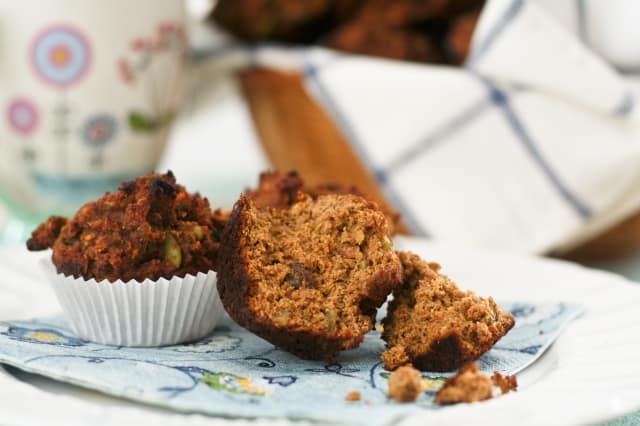 Oh, and it would be simply heavenly in oatmeal, I'm sure of that!
If you don't feel like using it right away, you can also spread it on a cookie sheet and bake it in a 175F oven for about an hour, or until it's really dry. You then sift it with a loose mesh sieve or give it a quick spin in your food processor to separate the particles. You can then keep this in the pantry like you would any nut meal or flour.
Now… what did I convince you to try here? The milk or the muffins?
Or was it the cookies? 😉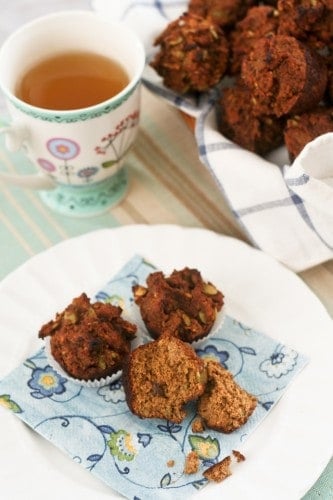 MINI CARROT MUFFIN BITES
[Grain free, Gluten free, No added sugar, High Protein, Paleo Friendly]
INGREDIENTS
(Makes 24 mini muffins)

225g grated carrots
300g fresh pineapple chunks
150g pitted dates, coarsely chopped
200g almond pulp, leftover from almond milk (I haven't tried this, but I'm pretty sure you could use regular almond meal)
¼ cup unsweetened shredded coconut
¼ cup coconut flour
½ cup flaxseed meal
2 scoops (75g) unflavored whey protein powder
2½ tsp baking powder *(see note)
2 tbsp ground cinnamon
1 tbsp fresh ginger, grated
½ tsp ground clove
½ tsp freshly grated nutmeg
½ cup egg whites
½ cup raisins (Sultana or Thompson)
½ cup pumpkin seeds
DIRECTIONS
Preheat your oven to 375F. Coat two 12 mini muffin pans with cooking spray.
Add all the ingredients, except for raisins and pumpkin seeds to the bowl of your food processor. Process until very well combined, about 1 or 2 minutes. Scrape the sides as needed.
Transfer to a large mixing bowl and add raisins and pumpkin seeds.
Fill each mini muffin cup all the way to the top as they won't be taking much expansion in the oven.
Bake for approximately 20-23 minutes, until the muffins start to color and a toothpick inserted in the middle comes out clean.
Cool completely on a cooling rack and keep refrigerated for up to a week.
*Storebought baking powder contains corn starch. To keep this completely grain free, you can make your own baking powder at home using one part baking soda, two parts cream of tartar and two parts non grain starch, such as tapioca, potato or arrowroot.