Pumpkin Coconut and Shrimp Chowder
How's about we all have a beautiful bowl of piping hot soup tonight?
That would be a nice change of pace, wouldn't it? It sure would feel much more like a good, comforting winter dish than all these cold, refreshing salads that I've been serving you lately, that's for sure!
I thought you'd appreciate the break… but don't get your hopes too high, though: I've got more salads coming this way. Quite a few more, in fact. And yes, of course, more "orange" things, and more Asian inspiration.
But hey, let's all forget about my little salad obsession of the late and appreciate this little break tonight, shall we?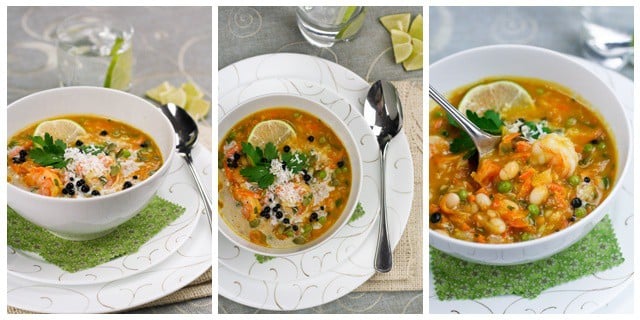 This soup I had seen on Natalie's site, Perry's Plate, quite a few months ago, when she had originally posted it, and I'd been obsessed with it since. The post stayed in my inbox for the longest time, because I just wanted to look at the picture every now and then, dreaming of the day when I'd finally be eating a full bowl of that gorgeous soup.
Now what took me so long to actually make it, I have no idea. I'm just weird like that, sometimes. But hey, you already know that, don't you?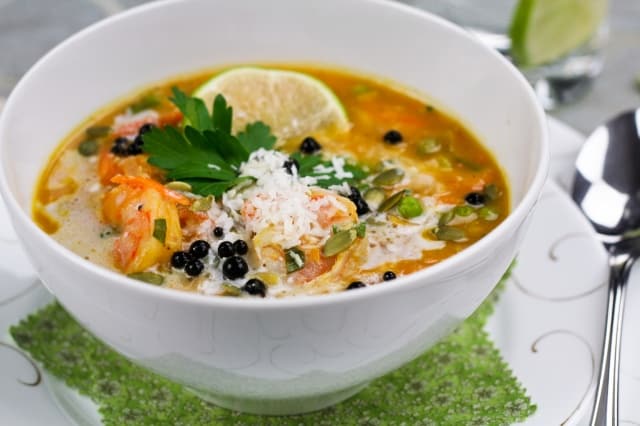 Now that I've made it though, I can guarantee you that I'll be making it on a regular basis. This is one seriously GOOD chowder. It's just exploding with TONS of different flavors and textures. It's got to be one of the best soups that I've ever had.
Although I have to admit that I truly wasn't convinced about the carrots at first and thought that I might want to give the soup a quick spin in the food processor to puree them next time I was going to make this, I finally came to the conclusion that they do add a lot of crunch to the soup, as well as a good touch of sweetness. So they will not be getting the processor treatment after all.
In fact, I would and will not change one thing about this soup. Everything just blends together nicely and it seems like every ingredient complements the next perfectly.
This, is an absolute winner.
I can't wait to make it again!
Pumpkin Coconut and Shrimp Chowder
Servings: 4
Ingredients
1 tsp olive oil
1 small onion, finely chopped
1 clove garlic, finely chopped
1 tbsp grated fresh ginger
½ tsp salt
¼ tsp black pepper
1½ cup shredded carrot, about 1 large
1 cup cooked navy beans
1 to mato, diced
2 cups coconut water
½ cup coconut milk
2 tbsp lime juice
1 cup pumpkin puree
½ cup frozen peas
20 uncooked shrimp, thawed, tails removed (size 31-40)
¼ cup chopped fresh parsley
Garnish Ideas
Slice of lime
Fresh parsley
Coconut milk
Balsamic Pearls
Instructions
Heat oil in a medium saucepan over medium-high heat. Add onion, garlic and ginger. Stir and cook for 3-4 minutes until the onions are tender.

Add the remaining ingredients (except for the shrimp, peas and parsley). Bring to a boil, then reduce heat and simmer for about 10 then add the shrimp and peas and cook until shrimp are pink and opaque; Stir in parsley.

Serve piping hot and garnish with a slice of lime, more fresh parsley, roasted pumpkin seeds, coconut milk, shredded coconut and balsamic vinegar pearls.
If you've tried this recipe, please take a minute to rate the recipe and let me know how things went for you in the comments below. It's always such a pleasure to hear from you!
You can also FOLLOW ME on PINTEREST, FACEBOOK, INSTAGRAM and TWITTER for more delicious, healthy recipes!