Heavenly Healthy Matcha Green Tea Cake
This is, I believe, my third official experiment using Matcha Green Powder.
Right, this is it. I have, thus far, come up with 3 recipes using this magical ingredient.
First, there were pancakes! Also known as breakfast bliss!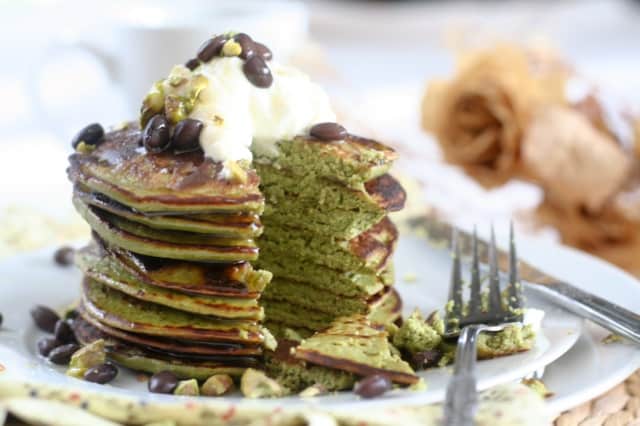 Then, this yummy parfait… Makes for a magnificent post work-out snack!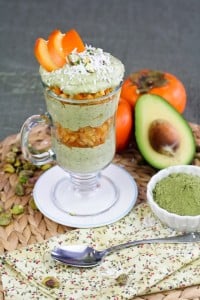 And now, this sublime, this divine, this purely heavenly cake.
Oh boy!
It's quite simply a decadent, marvelous, delicious and completely guilt free dessert.
I am really getting hooked on Matcha Green Tea.
It would seem that everything I use it into turns into something absolutely celestial, plain out of this world delicious.
Well, if you are a fan of green tea like I am, I guess.
Did I ever tell you that I drink A LOT of green tea? Well, I do. I must drink AT LEAST 6 to 8 cups per day. I am a total fan. I might even say I'm a total green tea junkie! I simply cannot be without my green tea.
When I first discovered it, it was like love at first sip, but had no idea at the time that it was actually good for me. I had to research it, because I was a bit concerned that I might have to somewhat restrict my intake, just like I do with coffee. One to two cups per day, max.
What a lovely surprise it was for me to find out that, not only I did not have to hold back on my green tea consumption, but I should in fact make it a habit to drink at least 4 to 5 cups a day. OH BLISS!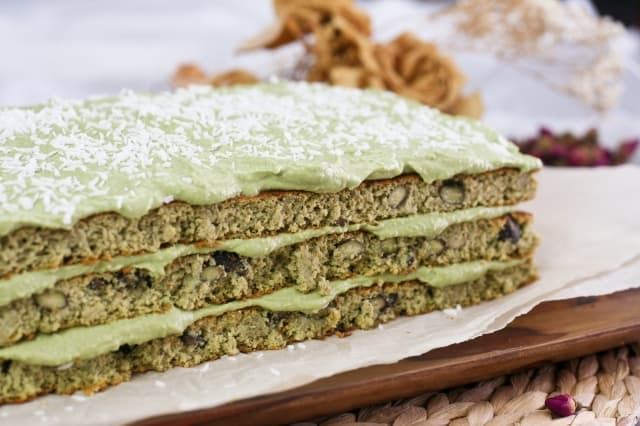 Gee, I wish it were like that for all those things that I love so much! Like, couldn't eating at least a pound of dark chocolate per day be good for me? And of course, consuming at the very minimum, a good cup and a half of nut butter?
Yeah, I know… I'm asking for A LOT here.
But hey, at least, I have my green tea.
And now, I have Matcha to cook with! I mean, this stuff is seriously good! It simply gives life to the most amazing food creations ever.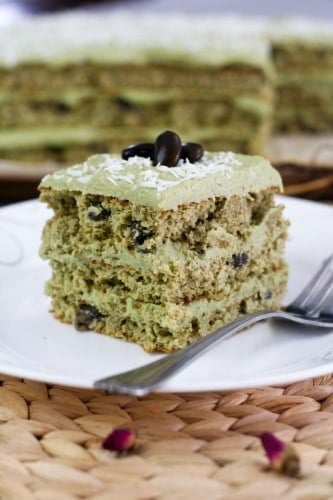 This cake, I have no words to describe it, other than "Oh-My-God!". So I guess you're gonna have to try it for yourself. 😉
While it may be a little heavy on the calorie side, it's actually so good for you that you can, and should, have it for breakfast. That way, it becomes a full meal, instead of an addition to an existing meal, and this allows you to eat a decent size piece (because trust me, you're gonna want a VERY DECENT size piece!) without feeling guilty about it in the least!
That's what I've been doing all week… and I've been loving it.
Hey, I'm making a habit out of eating cake for breakfast, aren't I?
Well, the good thing is I can honestly say "Hey, there's nothing wrong with that!"
Heavenly Healthy Matcha Green Tea Cake
Servings: 14
Ingredients
Part III
½ cup cooked black soy beans, you could also use canned
For the icing
300 g soft tofu, strained overnight
1 cup 0% fat plain Greek yogurt, strained overnight
1½ cup 1% fat cottage cheese, strained overnight
¼ cup unpasteurized honey
½ cup coconut butter, softened
2 scoops, 75g unflavored whey protein powder
2 tbsp coconut flour
1½ tsp matcha green tea powder
Instructions
The previous night
Add soft tofu, yogurt and cottage cheese to a fine mesh sieve or colander lined with cheesecloth. Top with paper towel or cheese cloth and weigh this down with a light weight, such as a small can.

Strain overnight, or at least 6 hours.
For the cake
Preheat the oven to 375F and spray a 12 x 18 baking sheet with cooking spray, then line with parchment paper. (The cooking spray will help the parchment paper adhere to the baking sheet, which is really important, so you don't want to skip this step. If you don't have cooking spray, brush very lightly with oil.)

Using a stand or electric mixer, beat the eggs and egg whites until very foamy, about 10 minutes.

Meanwhile, add the almond meal, coconut and oat flour, matcha green tea powder and salt to your food processor and process until well combined.

Transfer to a large mixing bowl and add applesauce, buttermilk and vanilla extract. Mix delicately with a rubber spatula until very well combined. Set aside.

Bring honey to a boil and slowly pour it into the egg mixture, without stopping the mixer. The best way to do this is to pour the honey as close as possible to the side of the bowl, so that it doesn't come in contact with the beater.

Continue whisking the eggs for another 3-4 minutes

Using a rubber spatula, delicately fold in this egg mixture into the previously reserved batter and mix until well incorporated. Very gingerly fold in the black beans.

Spread that cake batter as evenly as possible onto the prepared baking sheet and cook in a 375F oven for about 25 minutes, or until top is nice and golden brown.

Take out of the oven and allow to cool for 2-3 minutes, then flip sheet cake over a clean tea towel. Do not remove parchment paper at this point. Allow to cool completely.
For the icing
Add strained tofu, cottage cheese and yogurt to your food processor and process until smooth and creamy, about 2 minutes.

Pop coconut butter in the microwave for a few seconds just to soften it a little bit.

Add it to the cheese mixture, along with honey, matcha powder, whey protein powder, and coconut flour and process again for about a minute.

Transfer the icing to the refrigerator to firm up for at least 20-30 minutes
Assembly
Remove the parchment paper from the cake sheet and cut out the edges, then cut the sheet into three equal rectangles.

Lay one of the rectangles on a cake board or plate and spread about one third of the icing evenly over its entire surface. Make sure you go all the way to the edge.

Top with a second cake rectangle and spread another third of the icing. Repeat with the last layer of cake.

Sprinkle unsweetened shredded coconut over the cake.
If you've tried this recipe, please take a minute to rate the recipe and let me know how things went for you in the comments below. It's always such a pleasure to hear from you!
You can also FOLLOW ME on PINTEREST, FACEBOOK, INSTAGRAM and TWITTER for more delicious, healthy recipes!