Apple, Raisin and Goat Cheese Oatmeal
I had been a while since I'd had oatmeal.
But when I saw this post on Lauren's Cravings Gone Clean, I just got an INSTANT, uncontrollable craving.
I mean, wow. Seriously. Lauren had added goat cheese to her oatmeal!!!
Why oh why had I never thought of that??? It's like a match made in heaven, isn't it? I mean, they're just MEANT to be together.
Hooey, gooey, warm, sweet and creamy oatmeal mingle with soft, silky, smooth, salty and tangy goat cheese.
Of course, fruit HAD to be invited to join the party. It was only a matter of deciding who to invite. Or rather, who would be available to come. A quick look in the fridge and I could determine with certainty that Miss Apple was the only possible prospect. Well, she would make a very agreeable guest! And so she got an official invitation, which she gladly accepted.
Phew. I was relieved! 😉
Let me tell you I didn't waste any time and this party was thrown at the first possible occasion, which happened to be last Saturday. This was soooo good, I would've gladly had it for breakfast, morning snack, lunch, afternoon snack and dinner.
Oh, and I wouldn't have minded repeating the next day.
Really. It was THAT good. Heaven in a bowl.
Now I have to try all sorts of different combinations. 
Fresh figs, of course, pears, blackberries, peach, apricot…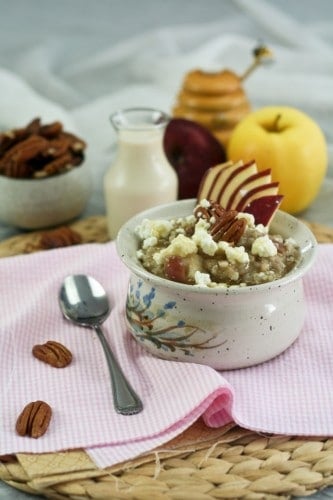 Who else could I send an invite to?
Any ideas?
APPLE, RAISIN, PECAN AND GOAT CHEESE OATMEAL
INGREDIENTS
(serves 1)
½ cup rolled oats
¼ cup buckwheat groats
2 tbsp amaranth
2½ cups water
¼ tsp salt
¼ cup unsweetened soy milk
½ Red Delicious apple, peel on, diced
1 tbsp raisins
1 tbsp pecans, chopped
15g soft goat cheese, crumbled
1 tsp unpasteurized honey
Instructions
Bring water to a boil. Add salt, rolled oats, buckwheat groats and amaranth. Cover, reduce heat and simmer for 15-20 minutes, stirring occasionally, until mixture is creamy and all water is absorbed.
Add diced apple, raisins, pecans and milk,cook for an additional minute, then turn off the heat, cover and let stand for 5 minutes.
Transfer to serving bowl and top with crumbled goat cheese and honey.
Add more cold milk if desired.