Cauliflower, Apple and Cashew Salad
I feel strangely out of place, giving you guys a cauliflower salad recipe when the Internet is literally  flooded with all sorts of recipes and pictures of Christmas sweets, treats and goodies.
Mind you, with less than a week to go before D-Day, I guess it's fairly normal.
But hey, since we're all going to be indulging and abusing soon, I figure it would be a good idea to go for nice light meals and go easy on our stomachs before we give it the bad treatment!
At least, that's what I've been trying to do for the past few weeks.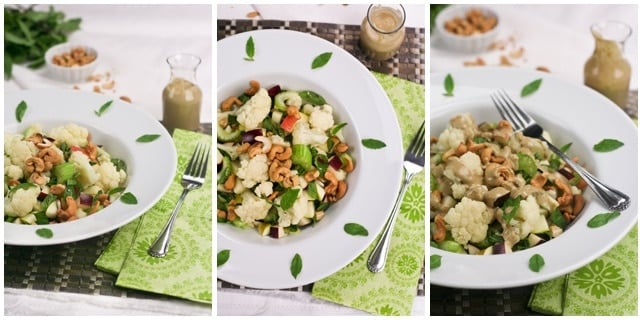 It's so hard not to start the festivities already, seeing as how we are being bombarded from all sides by so many yummy things.
Chocolates, candies, cookies and cakes, sweets are just everywhere!
I'm fairly suprised, and proud, to report that, the only thing I've indulged in so far is a small serving of gelato whilst at the mall shopping for Christmas presents yesterday. And to my defense, I had been dreaming about that gelato since Christmas of last year. (I don't go that that mall very often, see?)
But really, you want to know what the worst part is? I had dedicated my entire day of yesterday to go and buy all my Christmas presents, as I hadn't bought a single one yet (I plain despise shopping, especially in crowded malls while under pressure).
Well, I came back home with a couple of winter jackets as well as some winter boots, a bunch of underwear… but only one measly little Christmas present.
Guess what I'll be doing this week after work?
There won't be much cooking, let me tell you that…
I get the feeling there will be more quick and easy meals like this one in my immediate future.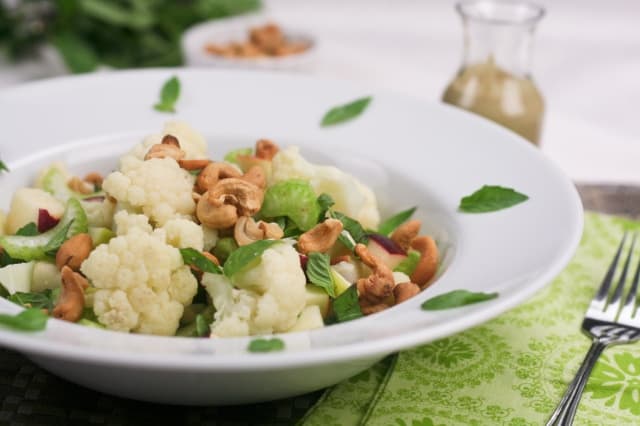 Not that I am complaining… The more salads I eat, the more I like them. And the more I like them, the more creative I get!
This one here you just have to try.
I know it might sound weird, but trust me, it works!
It really does!
Cauliflower, Apple and Cashew Salad
Servings: 2
Ingredients
For the salad
1 head cauliflower, cut into tiny florets, steamed and cooled*
1 Red Delicious apple, diced
1 Golden Delicious apple, diced
1 celery rib, chopped
75 g raw cashews
12-15 thai basil leaves, chopped (+ tiny little ones to garnish)
Instructions
In a small pan over medium-low, roast the cashew until fragrant and they start to color. Set aside when done.

Meanwhile, add all the ingredients of the vinaigrette to a mini blender or food processor and process until smooth and creamy. Set aside.

In a large mixing bowl, add the cold cauliflower florets, diced apples, chopped celery and chopped basil leaves. Toss very delicately until all the ingredients are well combined.

Transfer to serving plates and sprinkle cashews on top.

Garnish with tiny thai basil leaves.

Drizzle dressing all over the salad when ready to eat.
Notes
*I strongly recommend cooking the cauliflower the previous day, or at least 4 hours in advance so that it has time to completely cool.
If you've tried this recipe, please take a minute to rate the recipe and let me know how things went for you in the comments below. It's always such a pleasure to hear from you!
You can also FOLLOW ME on PINTEREST, FACEBOOK, INSTAGRAM and TWITTER for more delicious, healthy recipes!