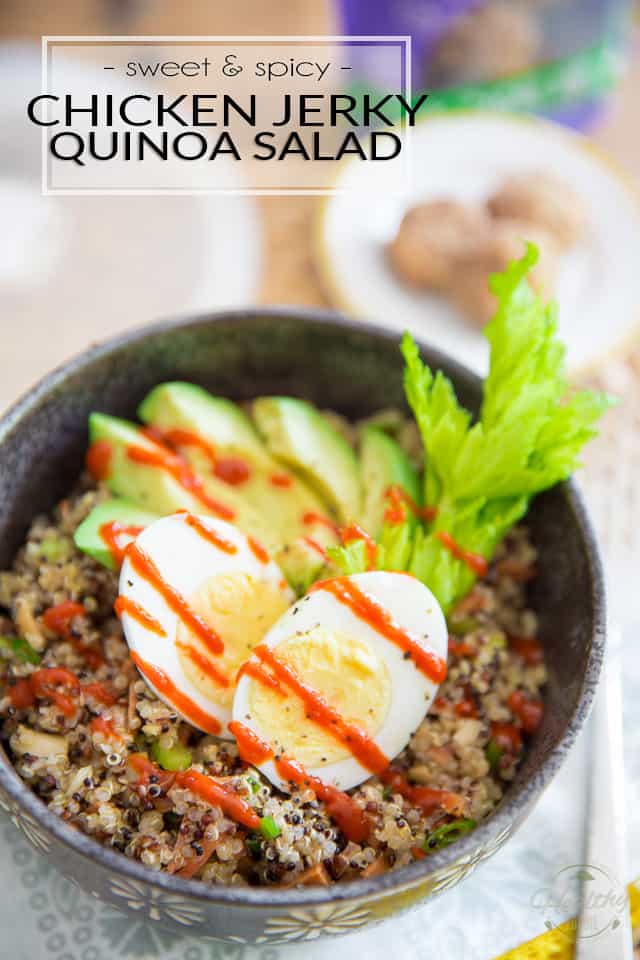 This blog post is in collaboration with iHerb
I'm thrilled to be collaborating with iHerb once again to bring you an easy school or work lunch recipe this time, inspired by a few of my favorite ingredients which can be found in their online store.
I said it before and I'll say it again: I love these guys; they're totally amazing!
As a Canadian, what I appreciate most is the fact that iHerb helps me source a lot of products that I couldn't otherwise get my hands on. Indeed, most online "supermarkets" won't ship to Canada, and when they do, they'll charge you an arm and a leg to do it. But iHerb, they sell over 35,000 different products and ship to over 160 countries, including Canada of course, for a very reasonable fee, which conveniently include all taxes, customs and import fees. If you've ever ordered stuff across borders, you know how painful (and expensive) those unexpected charges can be sometimes.
iHerb also happens to be a Google Trusted Store and their Customer Service team provides support in TEN different languages! HA! I say there's a very good chance they'll be able to serve you in your native tongue, should you ever need to talk to them. But ordering through them usually goes without a hitch, so chances are you'll never actually need to contact customer service…
Needless to say I've had nothing but extremely positive and satisfying shopping experiences with them. Ordering is super quick, efficient and easy, and they always make sure that your goods make it to you in one piece, and in a timely manner, too!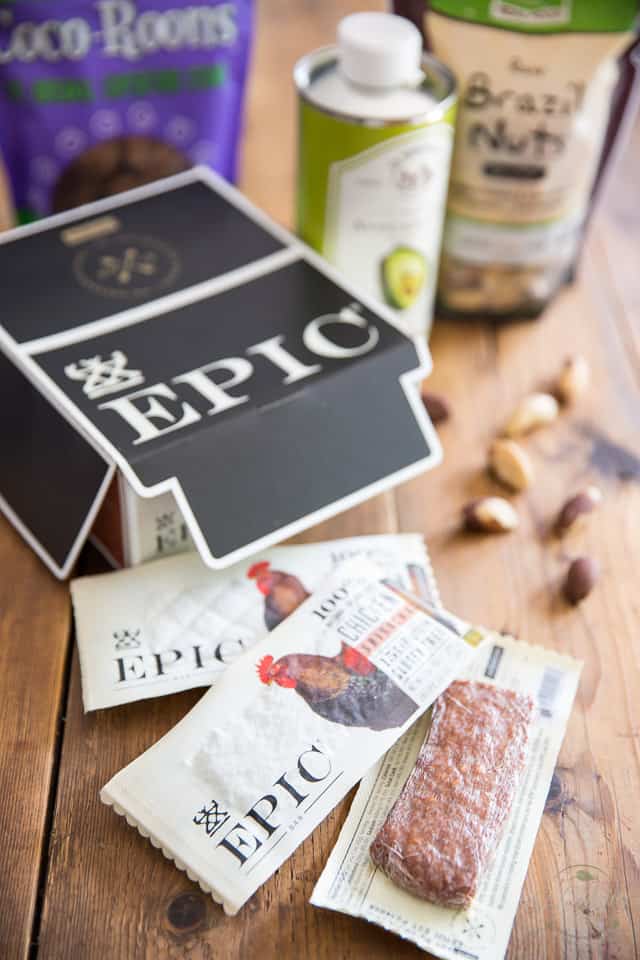 Here are a few of the products that I've recently ordered from iHerb this time:
These are some of the wholesome, awesome ingredients that I used as an inspiration to come up with a super yummy yet crazy quick and truly healthy school or work lunch menu.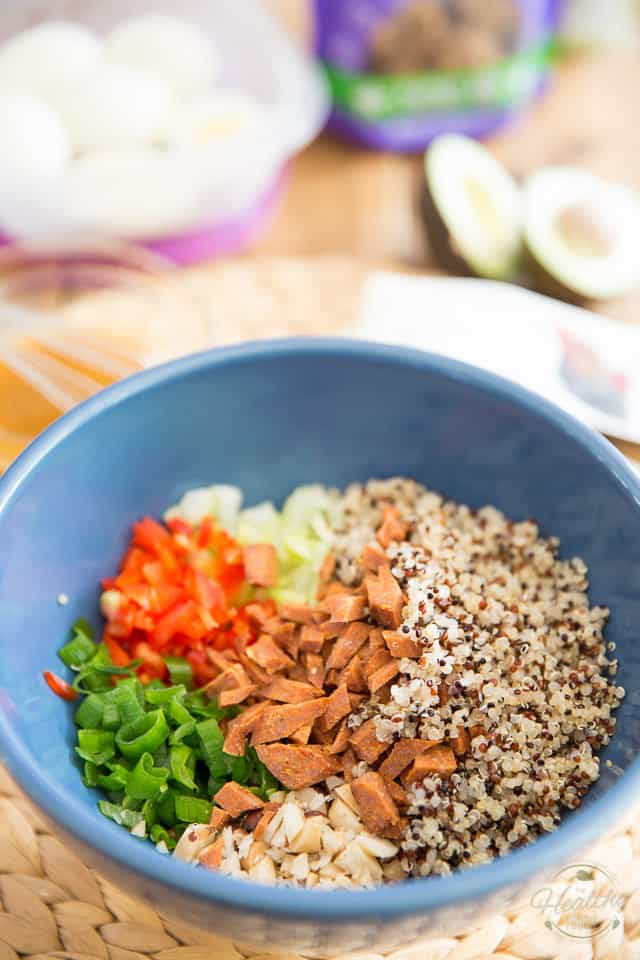 So let's say you were in a pinch and needed to fix yourself some lunch to bring to school or work the next day. Well, how about whipping up a quick salad with that leftover quinoa you have there, in the back of the fridge? And then, for added protein, why not grab one of them jerky bars, chop it all up and throw it right in there, along with a few chopped of veggies and a handful of nuts? Hey, who says you're only supposed to eat jerky straight up, as a snack? Who says you can't use it in recipes, right?
Seriously! Just try it this once and you'll want to do it all the time. Cuz no word of a lie, this Sweet and Spicy Chicken Jerky Quinoa Salad, it's bursting with so much wholesome flavors and textures, it'll totally brighten up your next work or school lunch hour! And it's so manly too, even guys will love it! Yes, even though it's salad. Eeeeesh, I said the S word, sorry… but hey, it's got JERKY in it, so it's all good, right? Right!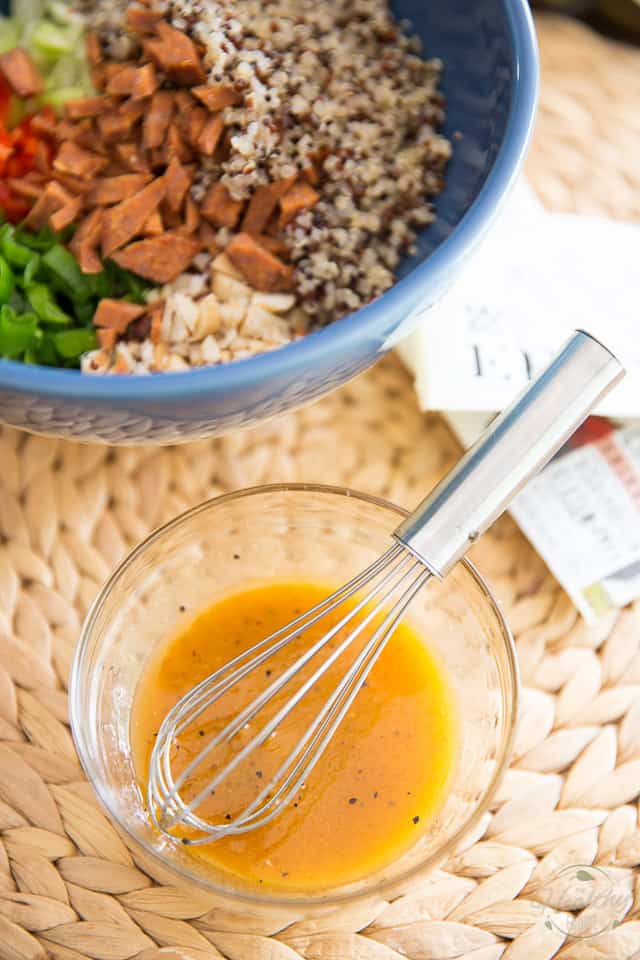 This salad comes together in mere minutes, really. Well, providing that you do have some leftover cooked quinoa in the fridge, and at least one hard boiled egg (easy for me to say, I pretty much always have hard boiled eggs in the fridge, I think they're such a convenient and healthy snack!) 
Just place that cooked quinoa in a bowl, along with some finely chopped celery, bell pepper, green onions, Brazil nuts and chopped jerky. Now about that jerky, I used Epic Bar Chicken Sriracha Jerky (cuz really, it's amaaaaazing!!!) but feel free to swap your own favorite if you don't have that one handy.
Then, in a smaller bowl, combine the avocado oil, apple cider vinegar, liquid honey, Dijon mustard, Sriracha, salt and pepper; mix vigorously with a whisk until well combined.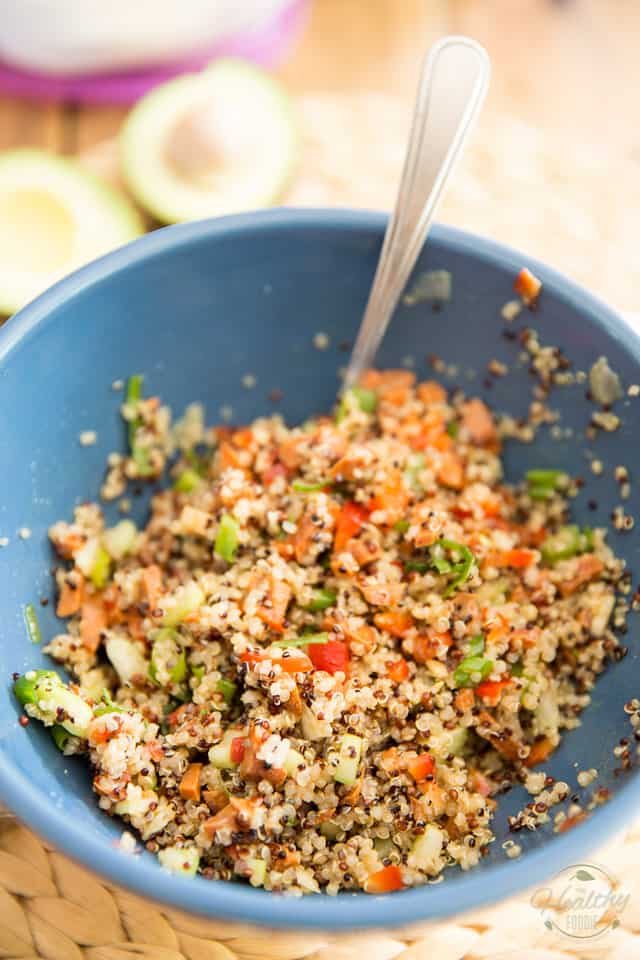 Pour that vinaigrette right over the salad and toss really well, then transfer the whole thing to your favorite lunch container (make sure that it comes equipped with a tight fitting lid!)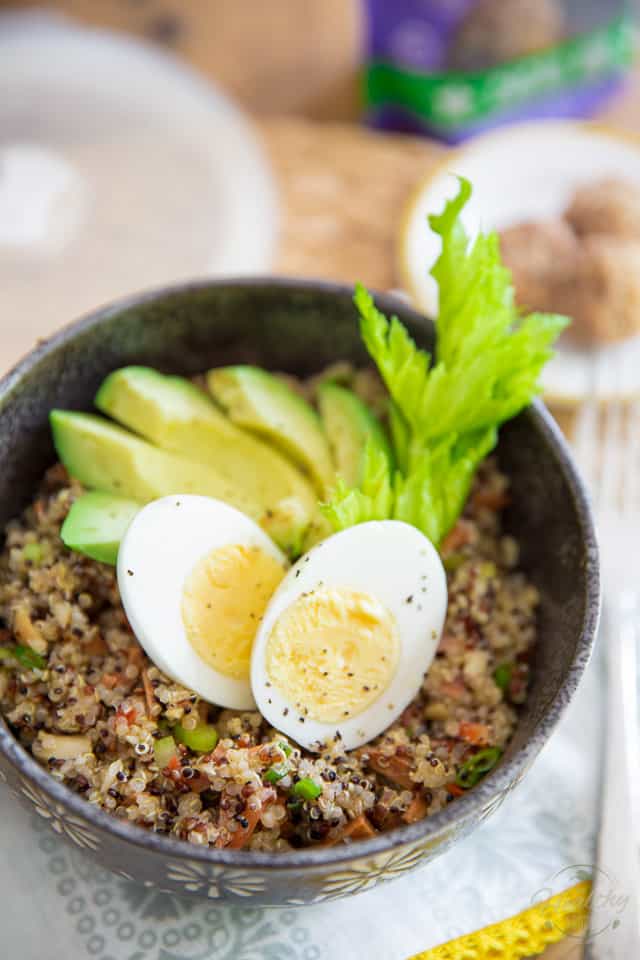 Top your salad with half a sliced avocado and a hard boiled egg. You could also, if you wanted to, chop those too and mix them right into the salad!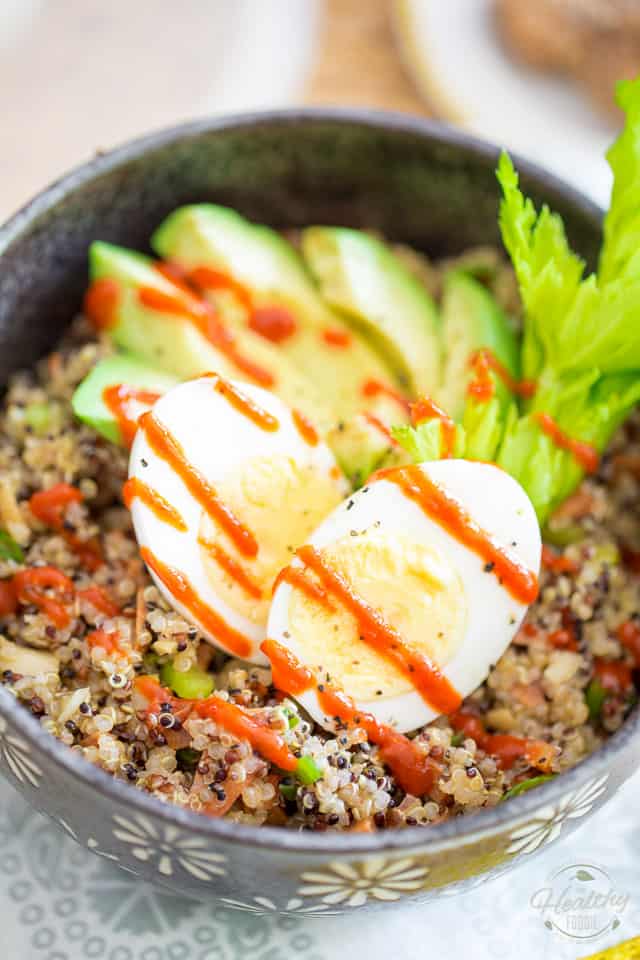 If you like it especially hot and spicy, and if you want to make your dish look extra pretty, hit your salad with a splash of Sriracha.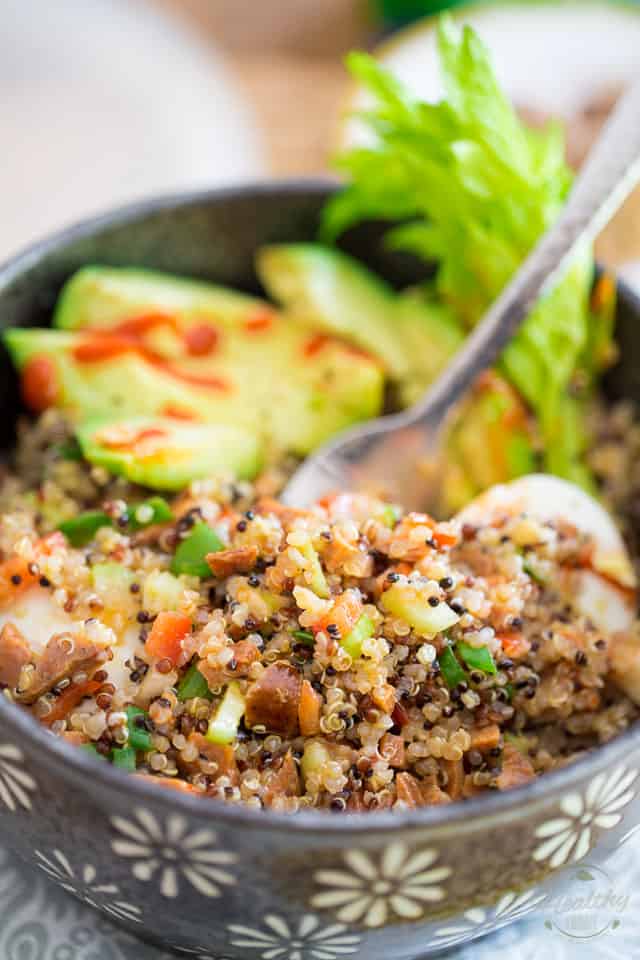 Store your finished salad in the refrigerator until ready to eat… Whatever you do, don't taste it now, else you won't have a lunch to bring to school or work tomorrow. And don't say I haven't warned you!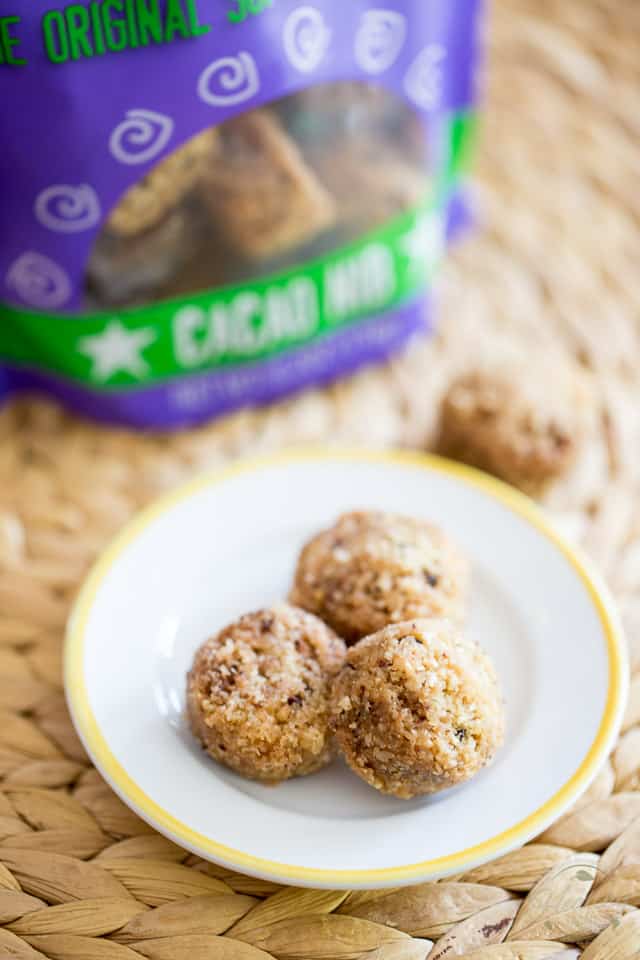 Oh, and for the final touch… If you're anything like me, no meal would ever be complete if it didn't end with a bit of a sweet bite; Not even lunch! If that's the case, be sure to pack 2 or 3 of these super delicious and decisively healthy Organic Coconut Cashew Coco-Roons.
You can definitely find them on iHerb, along with all of the ingredients that this Quinoa Salad recipe calls for. Plus, new iHerb customers will get $5 off their first order of $20 or more!!
FIVE BUCKS OFF!!! Whoa! Now that's an offer you won't wanna miss!

Sweet & Spicy Chicken Jerky Quinoa Salad
Ingredients
For the salad
For the vinaigrette
1 tbsp La Tourangelle avocado oil
1 tbsp apple cider vinegar
1 tbsp unpasteurized honey
1 tsp Dijon mustard
½ tsp Sriracha sauce
½ tsp salt (I use Himalayan salt)
¼ tsp ground black pepper
Instructions
Place the cooked quinoa, celery, bell pepper, green onions, Brazil nuts and jerky in a medium sized mixing bowl. Set aside.
In a smaller bowl, combine the avocado oil, apple cider vinegar, liquid honey, Dijon mustard, Sriracha, salt and pepper; mix vigorously with a whisk until well combined and pour over the reserved ingredients. Toss well and transfer to your favorite lunch container that has a tight fitting lid. Top with sliced avocado and hard boiled egg and hit with a splash of sriracha, if desired.
Store in refrigerator until ready to eat.
Notes
Or cook quinoa according to directions on package and let cool completely.