Chicken Pot Pie Made Easy, Healthy and Irresistibly Delicious!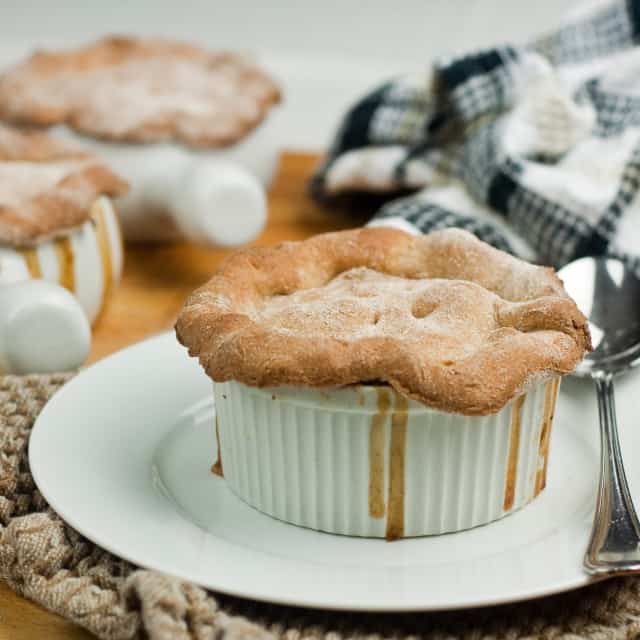 For many many years now, Christmas to me, well, as of the day after, that is, has been synonymous with total relaxation, with pulling the plug, with taking it way easy for days on end.
I've even made a pact with myself that I would always save at least one day during that period where I'd just stay in my pjs all day and do absolutely nothing, not even cook, on that day.
Traditionally, as in, in the past, I'd been feeding basically on tortilla chips, guacamole, hot tomato salsa and jalapeno, olive and cheese dip on that day. I haven't yet gotten to that one this year, and quite frankly, I doubt that it will happen. Well, at least the chips part I'll have to ditch… or somewhat modify.
But, like I said, I haven't yet gotten to that day this year. I have, however, been taking it easy and haven't been creating a single recipe in well over 5 days now! It feels weird.
You probably noticed that I haven't been posting that often, either.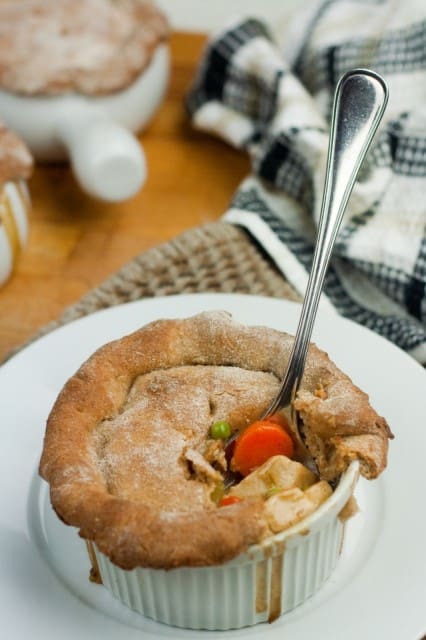 Don't you worry, this is a very temporary situation.
I shall get back to my good old self as soon as things return to normal, right after the Holidays are over.
Speaking of Holidays…
I'm sure many of you are STILL looking for ways to use up their turkey leftovers. Well, here is a brilliant one, for you! I created this gorgeous chicken pot pie using chicken breasts, but you could very well use some of your turkey leftovers instead, and it would be just as good, if not better!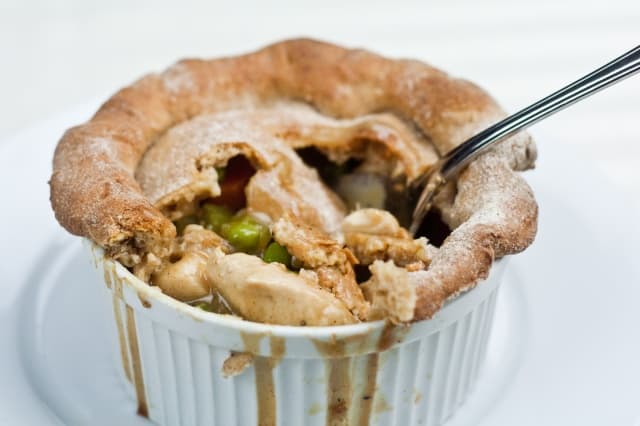 The crust on these is just soooo good, much better than the traditional "full fat" pie crust. It's like a cross between a pie crust and a yummy warm bread. It's crispy, but it's also moist and tender, as well as a tad chewy, just like a good bread, but it sort of wants to fall apart just like a pie crust.
Oh, and the best thing is, with the scraps that are left after you're done cutting out the circles, you can make these amazing "match sticks".
Check this out!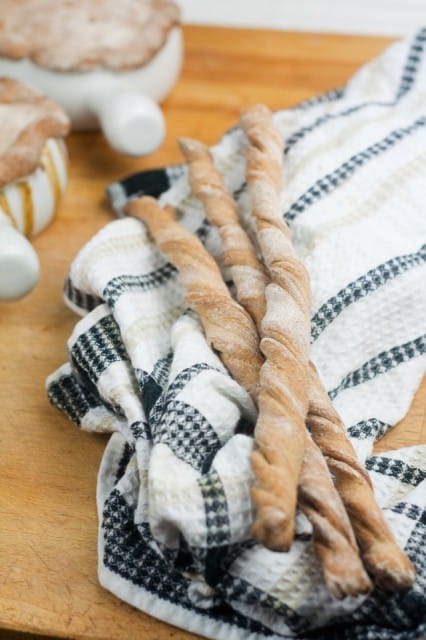 They're so good, you might even want to make a double batch of dough, just so you can make more.
I know I will, next time!
Chicken Pot Pie
Chicken Pot Pie Made Easy, Healthy and Irresistibly Delicious!
Servings: 4
Ingredients
Filling
450 g chicken breasts, cut into 1" cubes
1 small onion, chopped
2 carrots, peeled and sliced
2 celery ribs, sliced
½ tsp salt
¼ tsp black pepper
hint nutmeg
1½ cup chicken stock, I use home made
1 cup water
¼ cup whole wheat flour
2 tbsp cornstarch
1 cup frozen peas
Instructions
Crust
Whisk flour, baking powder and salt. Whisk oil, milk and egg; pour over flour. Stir lightly with your fingers until it just comes together to form fairly smooth dough. If dough is too soft, add extra flour until you reach the desired consistency. It has to be soft, slightly tacky, but not sticky.

Transfer dough onto a piece of plastic wrap. Form into a disc, wrap and refrigerate for at least 30 minutes.
Filling
Preheat oven to 425F

Coat a skillet with cooking spray or a little bit of olive oil and heat over medium-high heat. When pan is hot enough, add chicken pieces, sprinkle with salt and pepper and cook for 5 minutes, then turn each piece to cook the other side until nice and golden brown. (You could also use leftover chicken or turkey, in which case you wouldn't need to cook it for so long. You'd only need to worry about browning it slightly)

Add onions, celery, carrots, salt, pepper and nutmeg. Cook until fragrant and onions turn translucent, about 2-3 minutes.

Add chicken stock and water and bring to the boil. Lower heat to medium-low.

In a small mixing bowl, add whole wheat flour, cornstarch and whisk to combine. Add about ½ cup of the cooking liquid and whisk until smooth and well combined and has the consistency of thin pudding. Add more liquid if necessary.

Transfer this mixture back to your skillet and mix with a wooden spoon until well combined. Add peas, bring back to the boil and simmer for about 1 minute. Set aside.
Assembly
On floured surface, roll out dough to form a 13" inch square. Cut out four 6" inch disks.

Divide chicken mixture between four individual oven safe ramequins or soup bowls.

Top each bowl with a dough disc and pinch the dough around the perimeter to seal the mixture in.

Pierce 4 holes at the top of each pie to allow steam to escape.

Place in the oven and bake for 20 minute, until the crusts are nice and golden.
DON'T THROW AWAY THAT LEFTOVER DOUGH!
Of course, when you try and cut out rounds out of something square, you invariably end up with "scraps". By all means, don't throw them out.

Just roll out your dough to form a roughly 4" x 12" rectangle. Cut that into eight ½" strips.

Take 2 strips at a time and place them one on top of the other, then grab the ends and twist each end in 2 different directions, until you get a nice twisted "straw". Transfer to a non stick baking sheet.

Repeat the process with the remaining strips and bake in a 425F oven for about 12-15 minutes, until crispy and golden.

Take out of the oven and try resisting the urge to eat them all at once!
Nutrition
Calories: 613kcal, Carbohydrates: 65g, Protein: 40g, Fat: 21g, Saturated Fat: 4g, Cholesterol: 117mg, Sodium: 950mg, Potassium: 1107mg, Fiber: 11g, Sugar: 9g, Vitamin A: 5577IU, Vitamin C: 21mg, Calcium: 164mg, Iron: 4mg
If you've tried this recipe, please take a minute to rate the recipe and let me know how things went for you in the comments below. It's always such a pleasure to hear from you!
You can also FOLLOW ME on PINTEREST, FACEBOOK, INSTAGRAM and TWITTER for more delicious, healthy recipes!