Chili Lime Corn Salad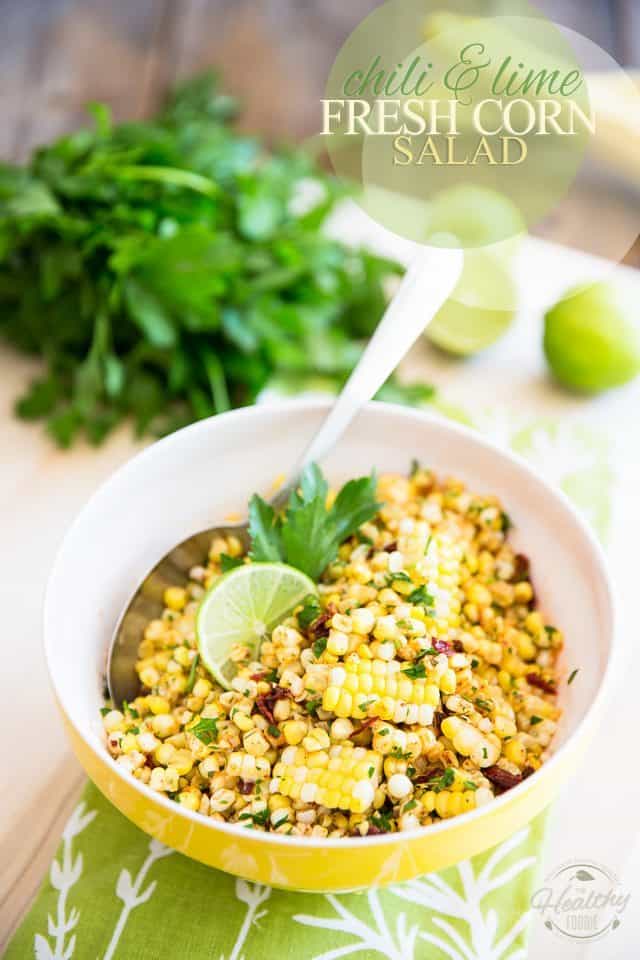 It's corn season once again! YES! God I love corn. It's definitely one of the things I've missed the most during my strict paleo years.
When I was a kid, corn was my mostest favoritest "vegetable" in the whole wide worlds and as such, corn season was, without the shadow of a doubt, the true highlight of my summer. Well, that and the day when my dad would proudly announce that the pool was officially open and fit for swimming! If I'd had my way, I'd have spent the entire summer in the swimming pool, an ear of corn in each hand!
From the very moment that corn made its first appearance at the local farmers' stands, I would constantly bug the hell out of my parents, asking if we could please please please buy some and have corn for dinner that day… I usually did that every single day of the season, which usually lasted through the entire month of August… I could eat TONS of it, too! On a good day, you could easily put me down for 6 ears.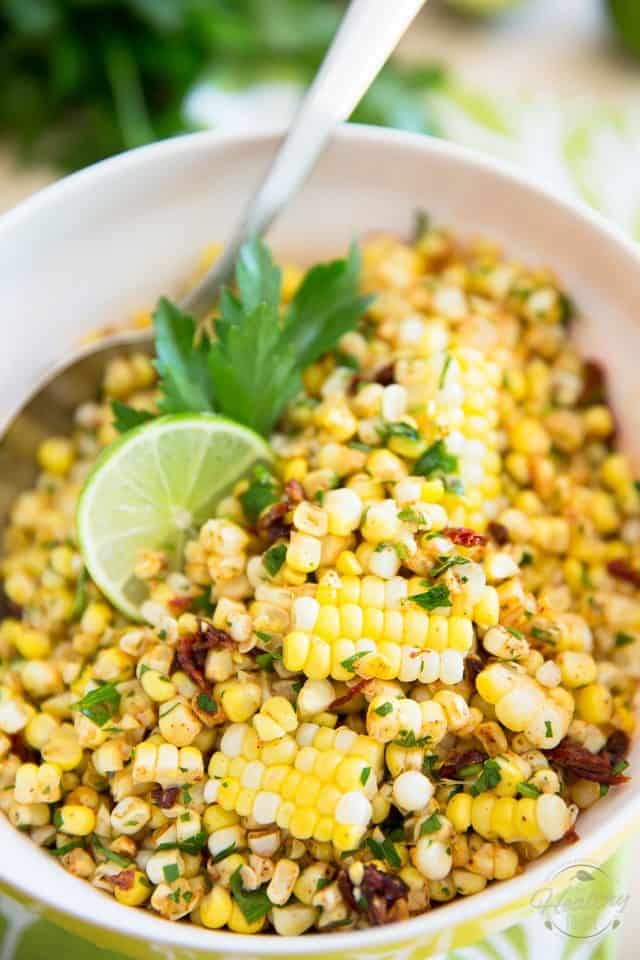 Good thing corn never was all that expensive… even today, you can buy a whole dozen for just a couple of bucks! And since corn sells by the dozen, I just can't seem to bring myself to buying it any other way than in multiples of 12… Needless to say, I always end up buying way too much and get TONS of leftovers. Lucky for me, I happen to enjoy corn just as much OFF the cob as I do ON the cob. In fact, now that I'm getting older, I think that I even prefer it off. At least this way, it doesn't get stuck between every single one of my teeth…
I find salads to be the best way of dealing with leftovers and, as you can very well imagine, I've made many, many different varieties in my life.
This Chili Lime Corn Salad has to be one of my favorites so far. The hint of chili and zesty lime complement the sweetness of the corn to the absolute perfection, while the cayenne pepper gives the salad just what it takes of a kick.
Seriously, this salad tastes like some kind of Mexican fiesta is happening right in your kitchen!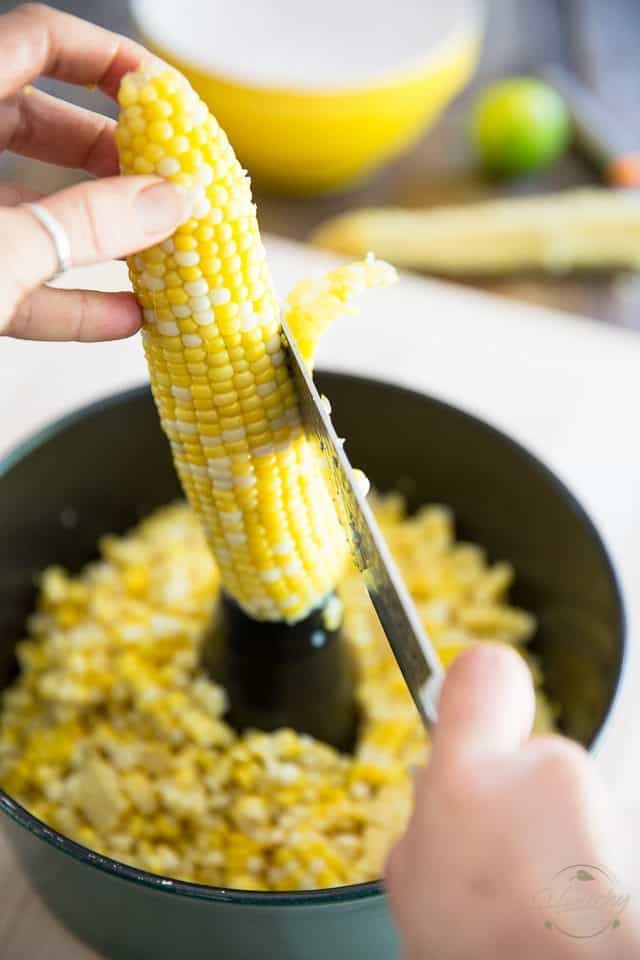 To make this salad, you'll need about 8 ears of corn, cooked according to your favorite method and then cooled sufficiently so that you can comfortably handle them with your bare hands. Then, of course, you'll need to cut the kernels off said cobs…
Here's a neat little trick for you to get the job done quickly, efficiently, and most of all, without sending corn kernels flying all over your kitchen! All you need is a bundt or tube pan.
Place the ear of corn straight up in the pan's chimney (the hole will hold it securely in place), and then, with a sharp knife, cut the kernels off from top to bottom: they will fall right into the pan!
Brilliant, isn't it? Life changing, even!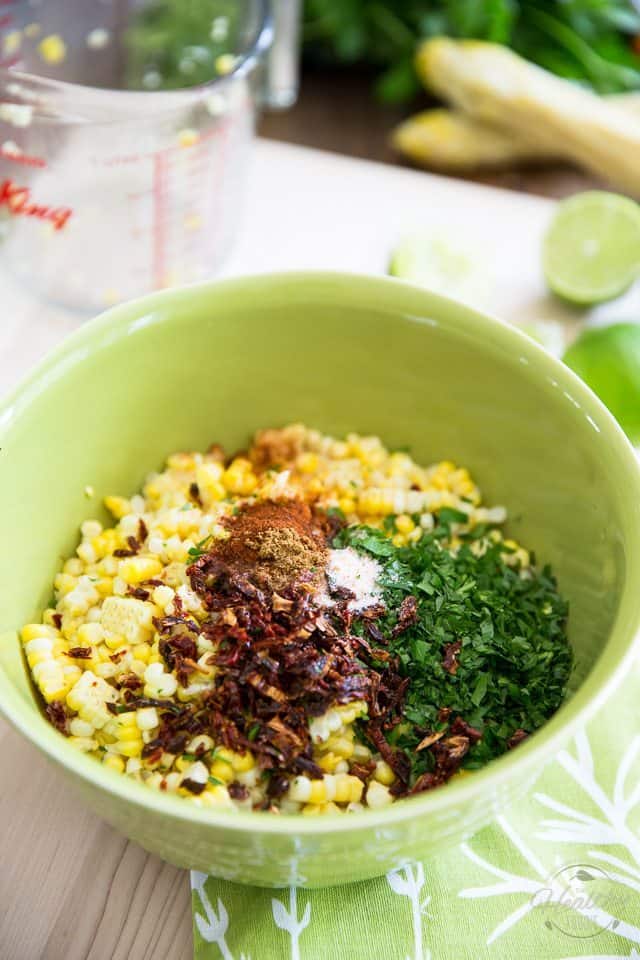 Once you've got all your corn kernels off the cobs (you should be getting about 4 cups total), place them in a large bowl and then throw in the rest of the ingredients, i.e. the chopped parsley, chopped dried tomatoes, evoo, lime juice and zest, salt, chili powder, ground cumin and cayenne pepper.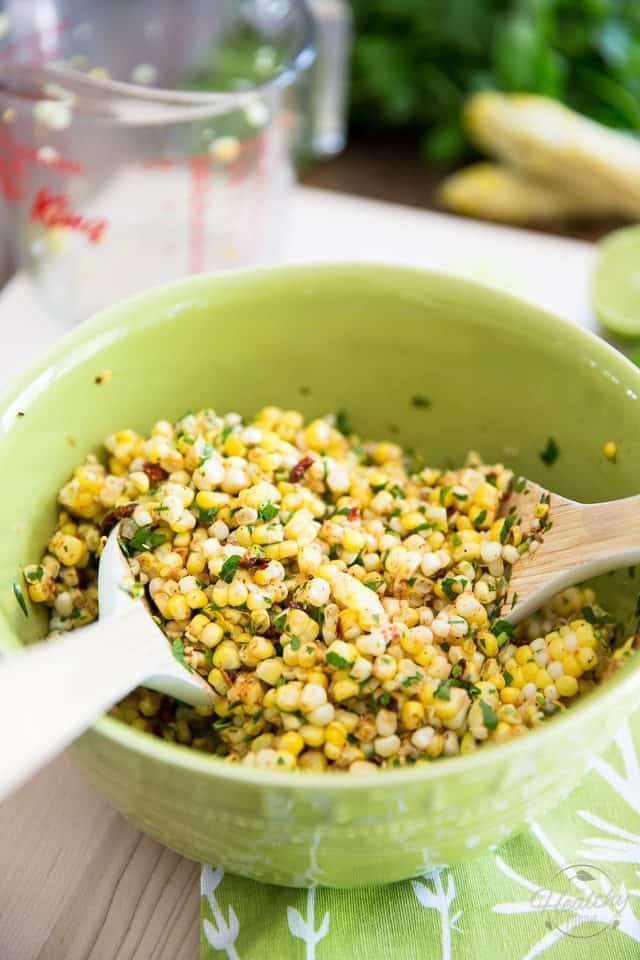 Give everything a gentle toss to combine… You can serve your salad immediately, but I strongly recommend that you place it in the fridge for about an hour to allow flavors to meld.
Leftovers will keep very well for 2 to 3 days in the refrigerator. That's if you don't end up eating the entire bowl to yourself on the first day…
Who, me? I most certainly did not!
Or wait… did I?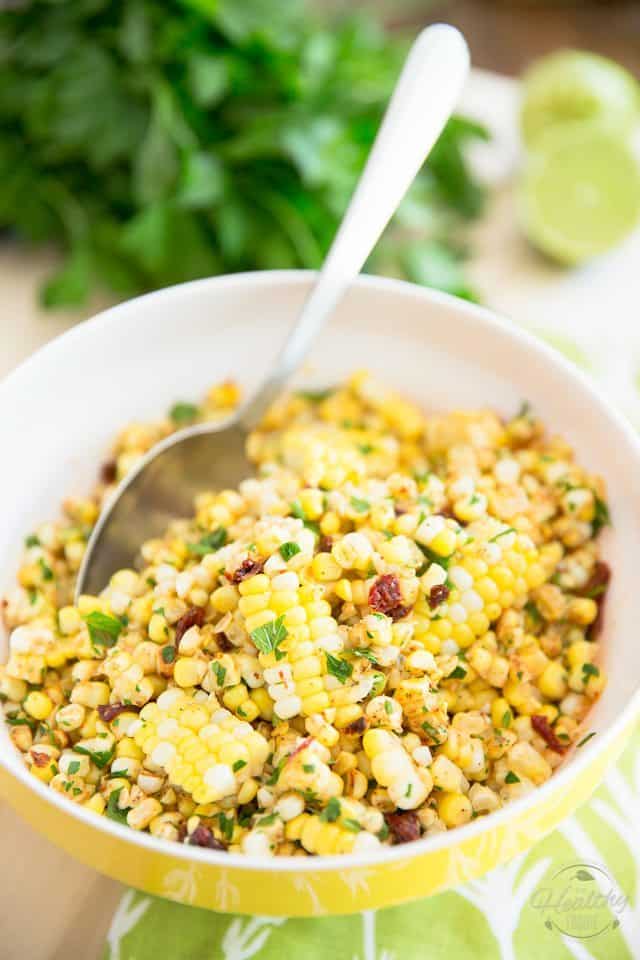 Chili Lime Corn Salad
Refreshingly delicious and spicy, this Chili Lime Corn Salad is so crazy good and tasty, you'll never again wonder what to do with your leftover corn.
Servings: 4
Instructions
Cut kernels off the cobs (you should get about 4 cups) and place them into a large bowl.

Throw in the rest of the ingredients and toss to combine.

Serve immediately or place in the fridge for about an hour to allow flavors to meld.

This salad will keep well for 2 to 3 days in the refrigerator.
Notes
*prep time does not include cooking/cooling the corn
Nutrition
Calories: 259kcal, Carbohydrates: 43g, Protein: 7g, Fat: 10g, Saturated Fat: 1g, Sodium: 310mg, Potassium: 569mg, Fiber: 5g, Sugar: 10g, Vitamin A: 1002IU, Vitamin C: 17mg, Calcium: 15mg, Iron: 1mg
If you've tried this recipe, please take a minute to rate the recipe and let me know how things went for you in the comments below. It's always such a pleasure to hear from you!
You can also FOLLOW ME on PINTEREST, FACEBOOK, INSTAGRAM and TWITTER for more delicious, healthy recipes!