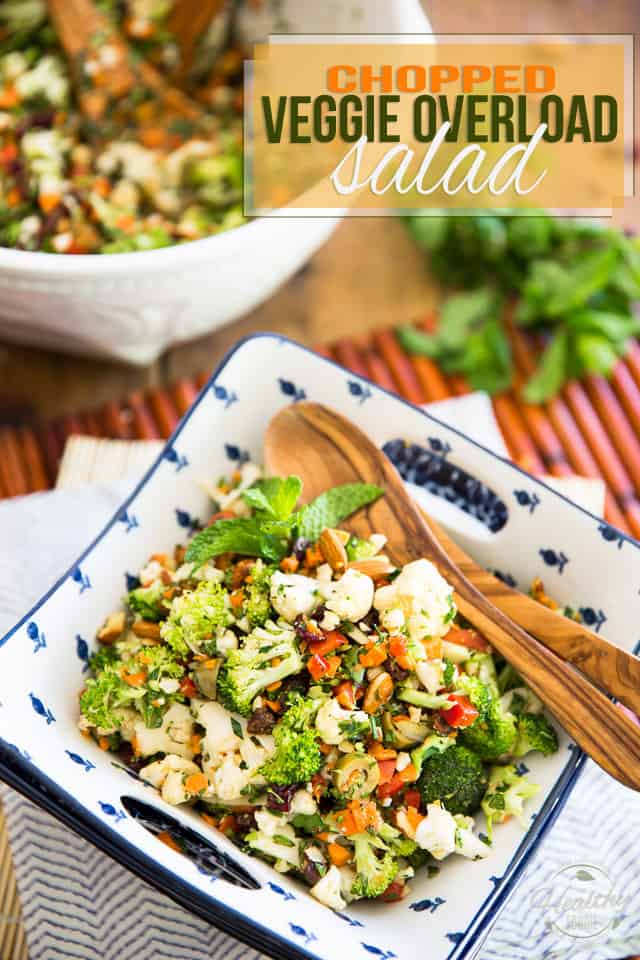 I'm not a fan of raw broccoli… never have been, never will be. Not sure if I ever told you, but I often use raw broccoli as a gauge to determine whether I'm really hungry or if I just feel like eating. Oftentimes, when I find myself staring at the content of my fridge, looking for something to munch on, I'll ask myself "Say there, are you really hungry? Hungry enough that you would actually munch on a bunch of raw broccoli florets?" 
Truth be told, more often than not, the answer is no…
Oddly enough, though, whenever a platter of crudité is placed in front of me, raw broccoli is one of the first things I'll actually reach for. Must be a dip thing…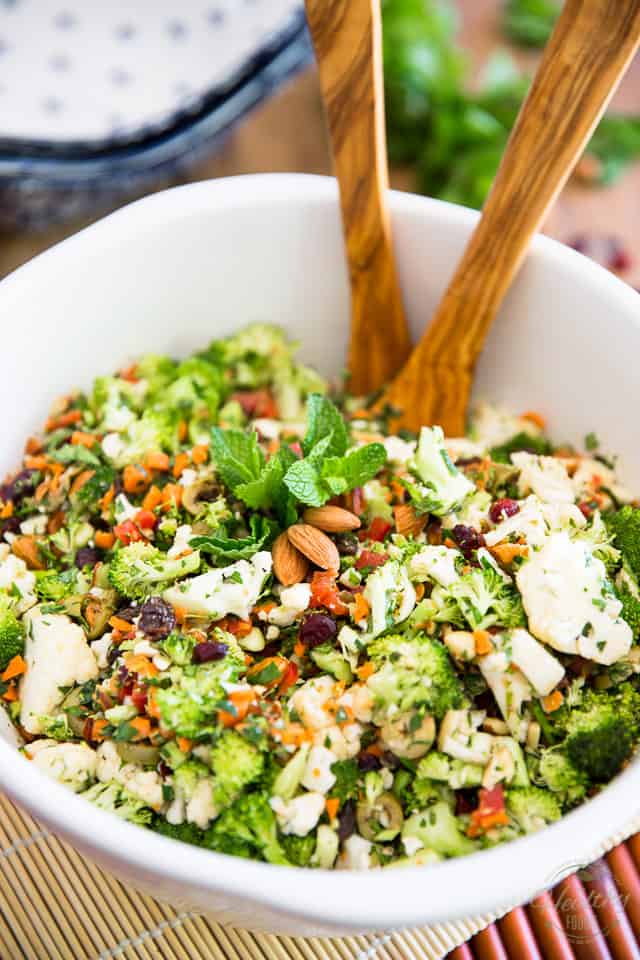 Salads such as this Chopped Veggie Overload Salad are another very good way to get me to eat raw broccoli! In fact, this salad is so full of crunch and flavor, even the pickiest of veggie eaters will love it!
Just take a look at the picture below to get a glimpse of all the different flavors and textures that get in the making of this extremely sturdy, nutritious and hearty salad.
We're talking broccoli and cauliflower, of course, but then you get carrots, bell peppers, toasted almonds, green olives, fresh parsley, fresh mint, raisins and cranberry, all brought together by a slightly sweet and tangy honey and Dijon vinaigrette.
Talk about a cornucopia of flavors and textures! I'm telling you, salads they don't get much better than this…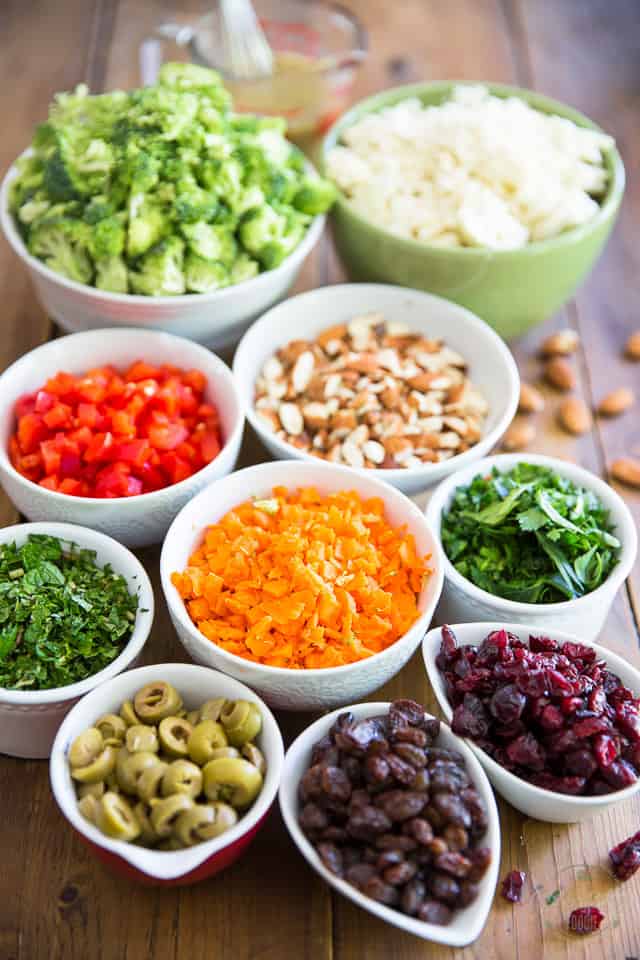 Get ready to spend a little bit of time chopping veggies and prepping / measuring / weighing ingredients, though… Mind you, this isn't really exact science, so you don't have to measure everything super precisely.
And if you wanted to save yourself a little bit of time, you could always buy your broccoli and cauliflower florets in a bag, already prepared. Then all you'd need to do is chop them a bit more finely. While I'm not usually a fan of "packaged food", I tend to have those pre-cut broccoli and cauliflower florets in the fridge all the time because I find that I tend to eat a lot more of 'em when they're that easy to grab and all good and ready to go!
But really, what will take you the longest, I think, is dicing the carrots. This task will seriously test your patience. No need to be all super precise about it, though… and if you wanted to save more time here too, you could very well grate the carrots as opposed to dice them.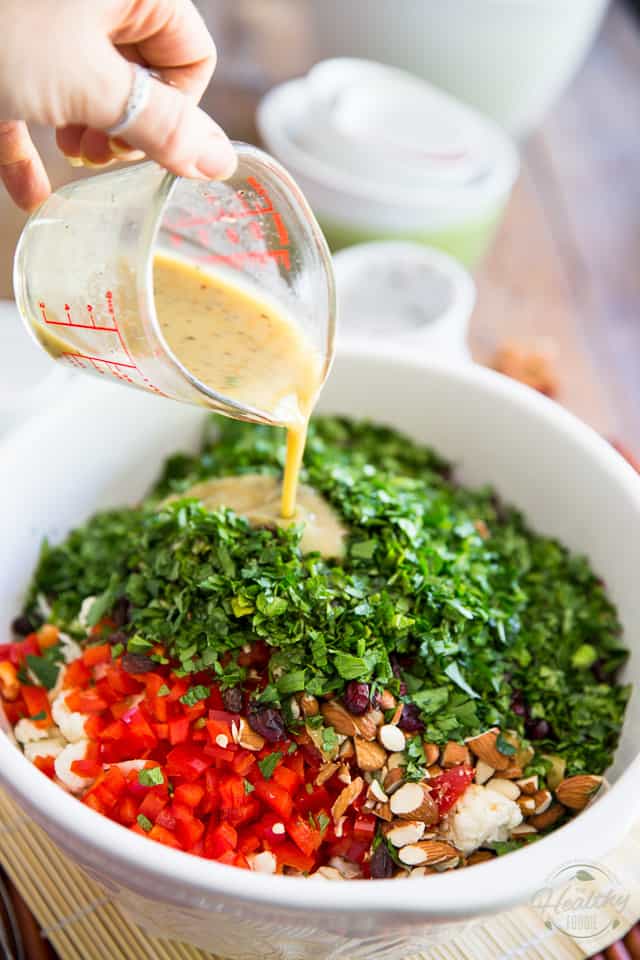 Once all your vegetables and other ingredients have been chopped, weighed and prepped, throw everything into a large, over-sized mixing bowl and get busy working on the dressing.
Ah! Now at least that part won't be too complicated: simply throw all the ingredients in a glass measuring cup, whisk well until combined and very slightly emulsified and throw your dressing right over the salad.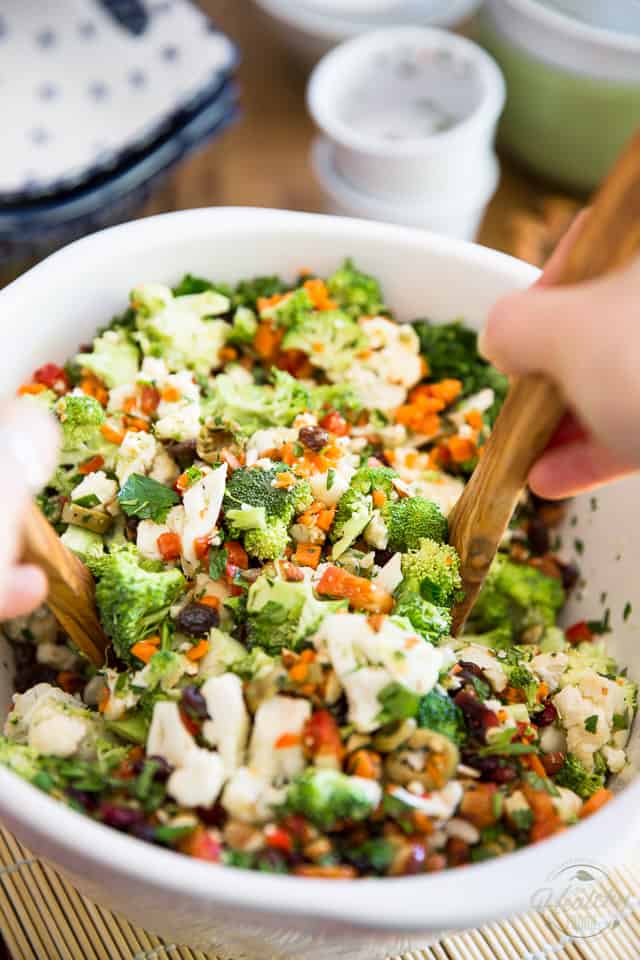 Give everything a good toss, until the ingredients are evenly distributed and well coated with the dressing.
Technically, your salad would be ready to serve right away. However, I strongly suggest that you let it rest in the fridge for a couple of hours if you can. Not only will this allow the flavors to meld, mingle and develop, but it will also give the broccoli and cauliflower a chance to soften up a little as they chill and relax in that tasty dressing.
As for the cranberries and raisins, they will take the opportunity to soak up some of the moisture from the other ingredients and will get all beautiful and nice and plump as a result.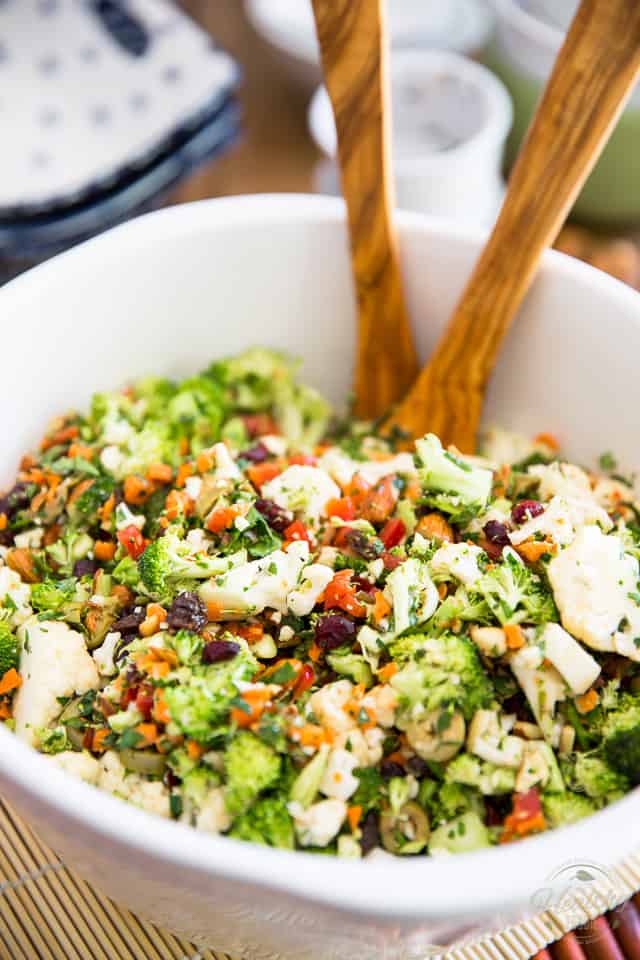 You could even make this salad way ahead of time, as it will keep in the fridge for at least a week. Of course, it won't look quite as presentable after a couple of days, but flavor-wise, it'll be just as good, if not better.
And while I agree that this makes A LOT of salad, but seeing as how it will keep in the fridge for well over a week, I'm sure you won't mind having such a big batch on hand.
After all, I say if you're gonna spend so much time and effort prepping and chopping veggies, you might as well make it worth your while and generate a decent amount of leftovers.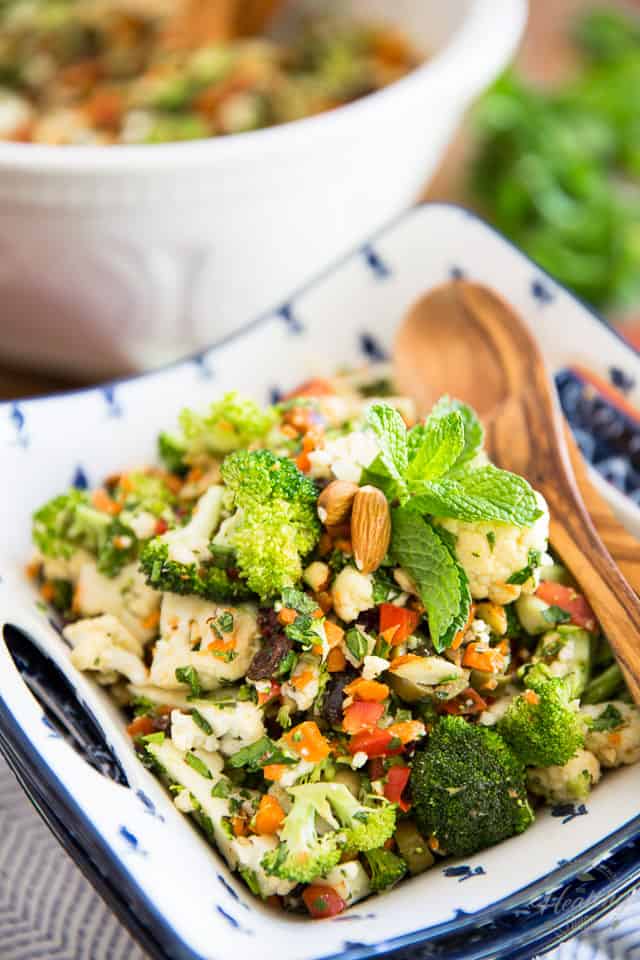 Chopped Veggie Overload Salad
Ingredients
For the salad
5 cups (454g | 1lb) broccoli florets, finely chopped
4 cups (454g | 1lb) cauliflower florets, finely chopped
2 large carrots, finely diced
1 red bell pepper, finely diced
1 cup (150g | 5.3oz) toasted almonds, chopped
½ cup (65g | 2.3oz) sliced green olives
½ cup 65g | 2.3oz) dried cranberries
½ cup 65g | 2.3oz) organic raisins
½ cup (30g | 1oz) finely chopped flat parsley
½ cup (30g | 1oz) finely chopped fresh mint
For the dressing
Instructions
Make the dressing: combine all the ingredients in a small bowl or glass measuring cup; whisk vigorously until well combined.
Combine all the ingredients for the salad in a large bowl. Add the dressing and toss until well combined.
Serve immediately or refrigerate for a few hours to allow flavors to meld and develop.
This salad will keep for up to a week in the refrigerator.