Coffee Break with Jura E8 Automatic Espresso Machine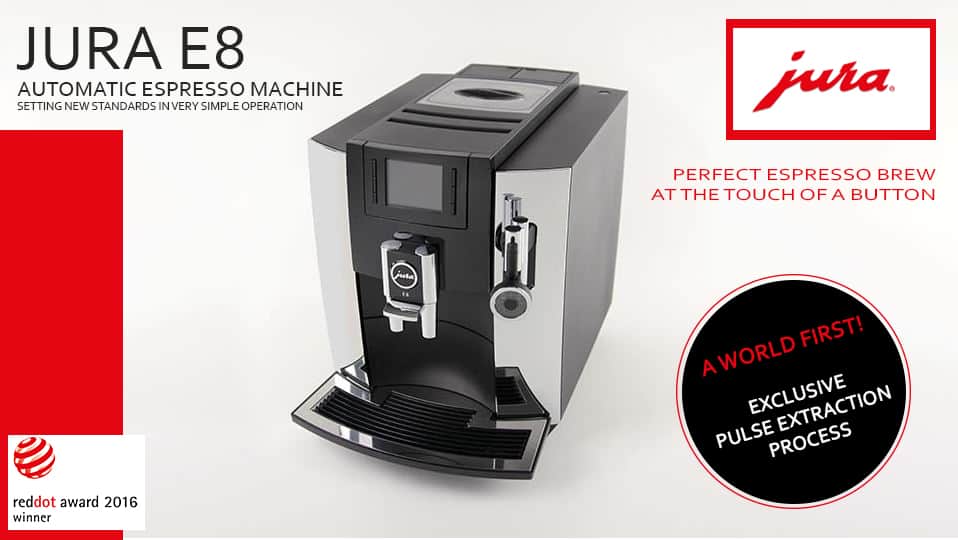 Reviewing products is not something that I usually do, but sometimes in life, you come across opportunities that are just too good to pass up!
Get this: my not-so-trusty cup-by-cup coffee maker was threatening to breathe its final breath any minute and so I knew I'd have to (yet again) find a replacement for it, and the sooner the better. Having grown tired of replacing that coffee machine every year or so, I'd been in the market for a higher end, fully automated coffee machine, and so I started researching my options. I never thought that I would ever be this spoiled, though. Not in my wildest dreams!
As luck would have it, the lovely people over at Jura contacted me and asked if I would be willing to try one of their Automatic Espresso Machines, the Jura E8. What? Really? I was much too happy to oblige!
WHOA guys, let me tell you! I'm so happy and excited about this new addition to my — I want to say family. Can I say family? — kitchen arsenal that I WANT to tell you ALL ABOUT IT!
Got an hour or two? Kidding… but seriously, if you too have been considering treating yourself to a REAL coffee machine, read on. This might be of very high interest to you! 
Seriously, this machine is total awesomeness! IT DOES IT ALL and it doesn't even need your help to do it. I swear, all I ever need to do to enjoy fresh, high-end-café-worthy quality coffee is press a single button.
You read that one right. I wake up in the morning, press a button and VOILÀ! In just a few seconds, I get served the most amazingly rich, creamy, hot and sharp cup of coffee.
This machine, it measures the right amount of coffee beans for my desired coffee, grinds those beans down, presses the coffee into a puck (no filters or eco-unfriendly pods needed with this baby), brews it to perfection and pours it into my cup.
And then? It even cleans itself up. No world of a lie… but more on that later!
Honestly, I feel like I'd been driving an old Pinto for years and have just been put behind the wheel of a brand new fully equipped Lexus.
Please, please, let me give you all the details…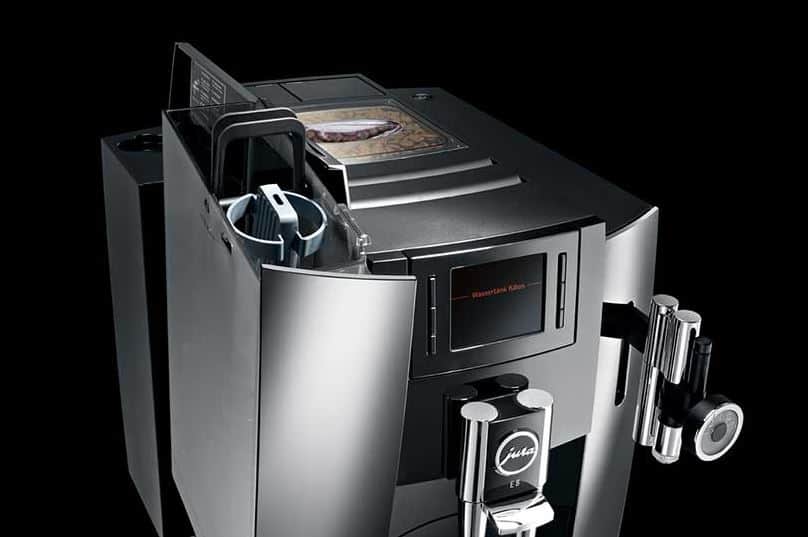 Fully automated – Even cleans itself up! 
Like I said, this machine is fully automated, from start to finish. When I get up in the morning, all I have to do is press a button and wait for my coffee to get brewed to perfection
No reusable filters or expensive eco-nfriendly pods are needed – you simply add the beans directly into the machine, fill up the water tank and let it do all the work for ya!
It features: 
Easy to use water tank, which holds close to 2 liters of water
Coffee beans receptacle with auto-level detection (tells you when it's time to add more)
Integrated and very easy to use milk frother – simply connect the milk container to the frother and push the button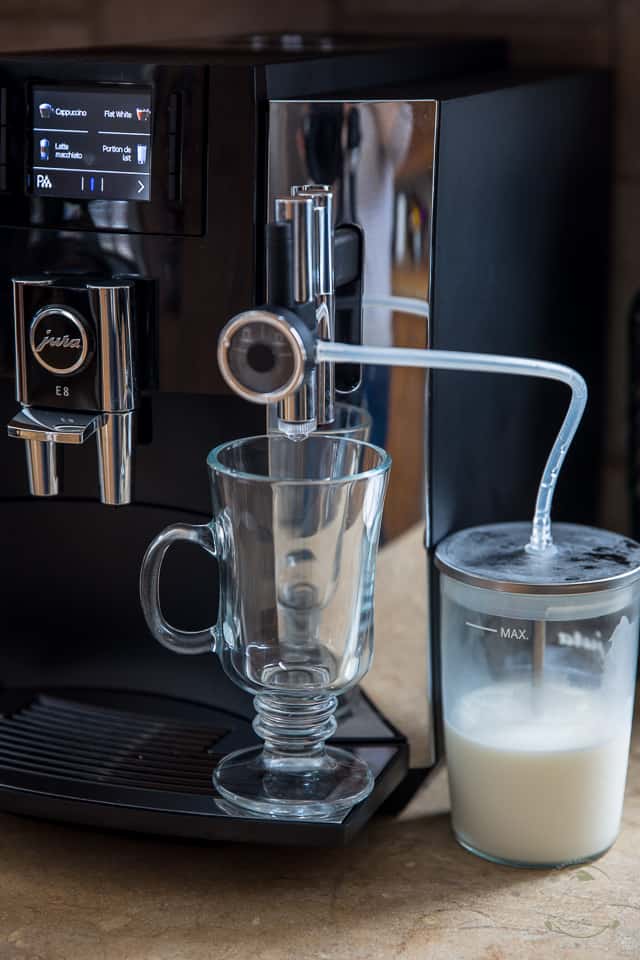 Every single function on the machine is intelligent and prompts you when action is required on your part – add more beans, fill water tank, empty coffee grinds, rinse milk system, rinse coffee machine, clean milk system, etc. And every rinsing / cleaning feature is fully automated. You press a button and it does it all automatically! The only thing it needs from you is to add the special soap, WHEN needed (which really isn't all that often…)

Makes 6 different kinds of coffee:

Whatever your jam is, this automatic coffee machine is guaranteed to have you covered!
Indeed, the Jura E8 can brew the following varieties of coffee for you, ALL of them at the touch of a single button:
Ristretto
Espresso
Coffee – up to 8oz
Cappucino
Flat White
Latte Machiatto
As if that wasn't enough, it also dispenses and froths milk independently, so you can make additional frothy milk on the side or add a touch more to your coffee.
And if like me you like to switch to tea in the afternoon, you'll be happy to know that the Jura E8 serves hot water, in 3 different heat levels.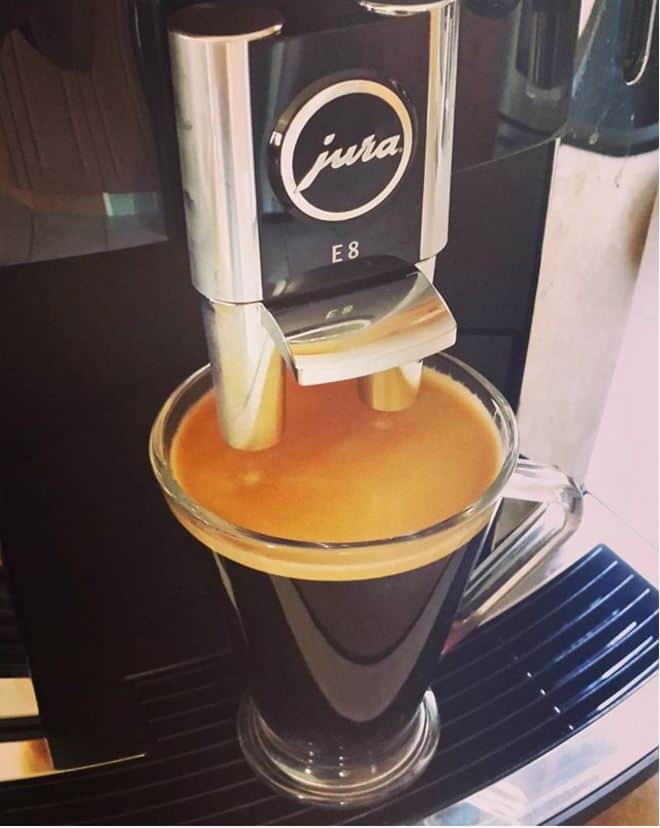 Entirely (and very easily) programmable
You can personalize each variety of coffee to YOUR very specific preferences. You get to decide how much coffee goes into your cup, how strong that coffee should be, and how much milk gets dispensed, too, for the types of coffee that use milk. And there's even a dial on the milk frother that lets you decide just how frothy you want that milk to be.
For instance, I programmed my cappuccino to pour as follows:
Milk – 8 seconds 
Coffee – 3oz
Strength – Intense (that's the strongest!)
But say I was to make a cappuccino for you and you wanted it to be a little milder and would also prefer a little bit more milk, well I could change all those specifications AS the coffee would get made, without affecting my pre-set preferences. Every single setting can be tweaked mid-use!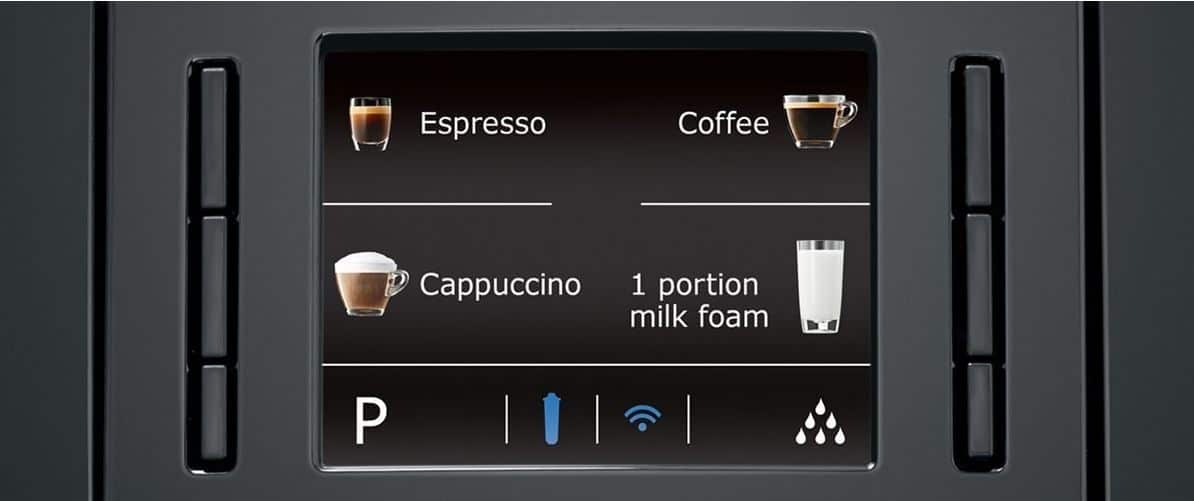 Seriously, with all the options that the Jura E8 has to offer, you'd think that it's super complicated to operate, but really it's so easy to use, even a kid could do it. All the settings and programs are easily accessible through a large and incredibly intuitive color LED display.
Trust me, you're not even gonna have to keep that instructions manual. You'll know your way around that menu by heart in no time.
And assembly is a breeze, too. After taking the machine out of the box, you'll have it up and running in under 10 minutes.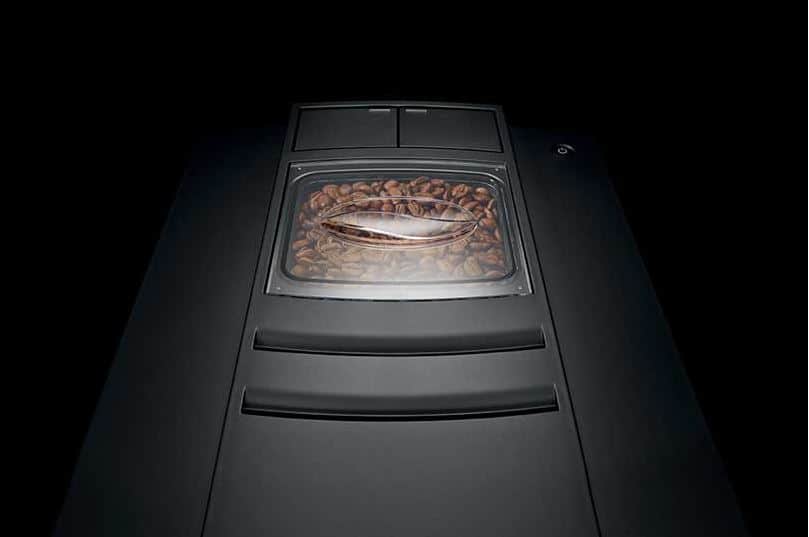 The Jura E8 is a veritable power house for true coffee aficionados. Granted, it might cost a little bit more than the average coffee machine, but you totally get what you pay for!
With every cup, you'll feel like you're having your favorite coffee at your local café, without ever having to set foot outside the house. In the long run, this baby will probably end up saving you money. Those 5 bucks you used to spend every day  at your favorite coffee shop? No more! That'll stay safely in your pockets.
Plus, unlike some of the other average machines, this one won't let you down for YEARS to come. You won't need to buy another coffee machine for a very, very, very long time… or even have it serviced, for that matter.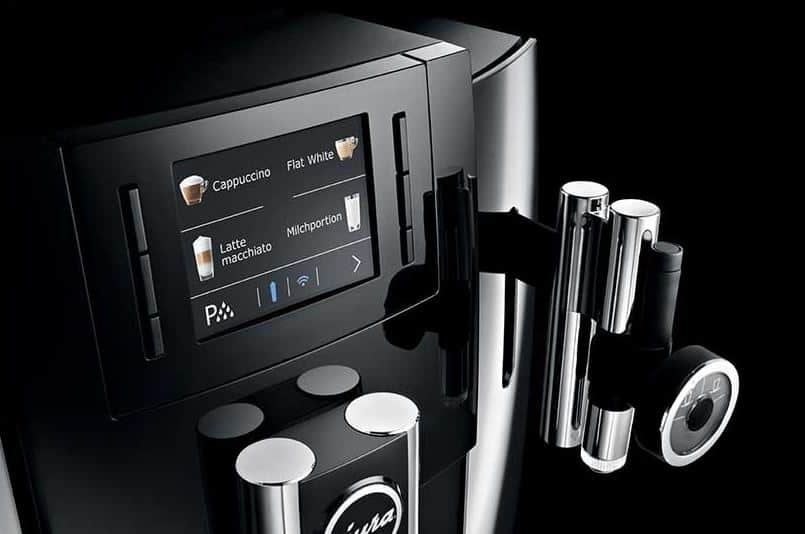 On top of it all, I have to say that this is a rather sexy looking coffee maker, and it's fairly compact for a machine of this quality too — it'll look totally slick on your kitchen counter!
Sexy looks, well built, flawless performance. Like I said, this machine, it does it all, it has it all: not only does it look good but it also brews an incredible cup of coffee…
It'll certainly give you a reason to look forward to getting up in the morning!