Deconstructed Cabbage Rolls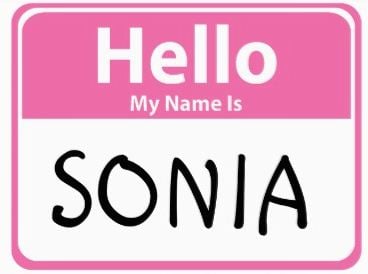 Hello, my name is Sonia and I'm a Sugar Junkie!
I might even say that I'm a real, hard core, Junk Food Addict.
Never in my life have I had such a hard time battling an addiction.
Oh, for the most part, I'm doing fine. It seems like my brain is very well trained in the sense that it knows that if/when something is off limits, it can cry and whine all it wants, it's never gonna get its way. We are to stay away from such and such food and that is that. Most of the time, it doesn't bother me all that much and it pretty much complies with my wishes.
But as soon as I let my guard down, no matter how little, all hell breaks loose.
And it seems that whenever I'm on vacation, I happen to let said guard down and eventually lose all sense of self-control.
In other words, I tend to make almost perfect food choices 95% of the time throughout the year, EXCEPT for the 4-5 weeks during which I'm on vacation.
During those weeks, I eat just about anything I want. And it gets ugly. Real ugly.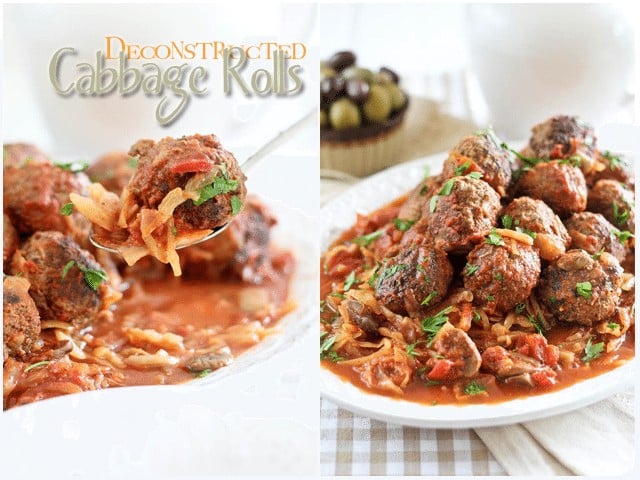 This past week, there has been A LOT of ice cream. As in almost every day, ice cream. Including, but not limited to, one of these. In "Gotta Have It". With extra brownies.
Also, there has been Szechuan/Thai food. Yes, it was all you can eat. And this happened not only once, but TWICE!
There's also been a couple of beers (read FOUR, all in the same day), a whole lot of handfuls of pretzels and chips, a generous serving of French Fries, some gummies and other candies, a whole chocolate bar, as well as a real hamburger, complete with olive bread and blue cheese.
Oh yeah, and a Beaver's Tail, too…
EVERY SINGLE DAY SAW A DIFFERENT TREAT!
Needless to say I now feel incredibly bloated and my body looks like it's gained 20 pounds of pure fat. I can't say I'm too proud of myself.
Good thing is, at least, my Whole30® started on my last official day of vacation and, as usual, I had no trouble whatsoever making the switch. In fact, I was almost relieved.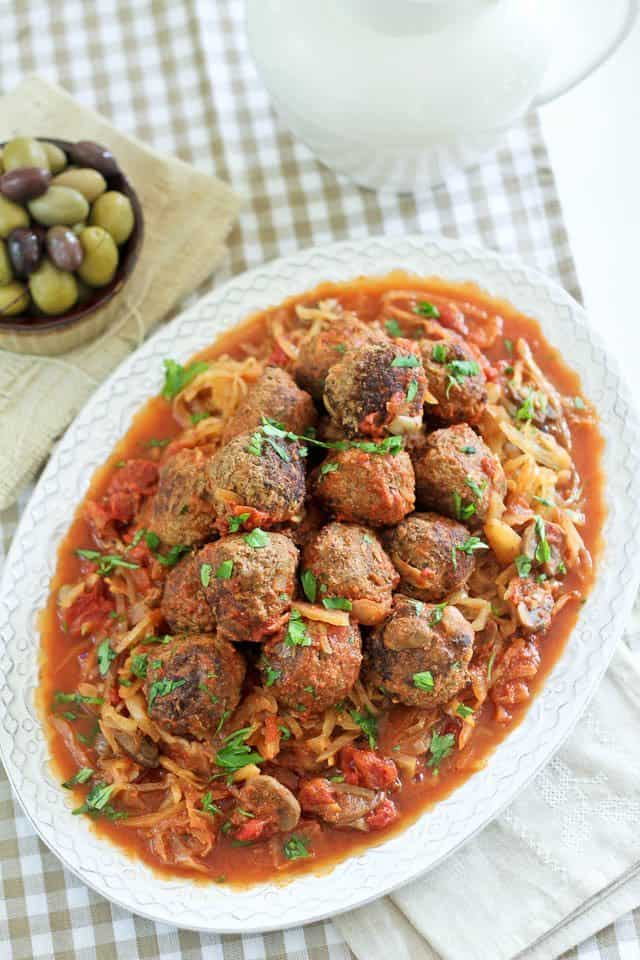 An entire week of really bad eating is pretty much all I can take… It's funny how I can snap in and out of it super easily, but just can't stop overindulging until the very end, even if I invariably start feeling bad both physically and mentally at some point.
Food definitely is a crazy strong addiction. And a real strange one at that!
I think that for the time being, I still have to accept that I'm not perfect… and maybe next time, I oughta plan doing a Whole30® while on vacation.
Hmpft! Not sure I'd be strong enough to pull that off, but it might be worth a try!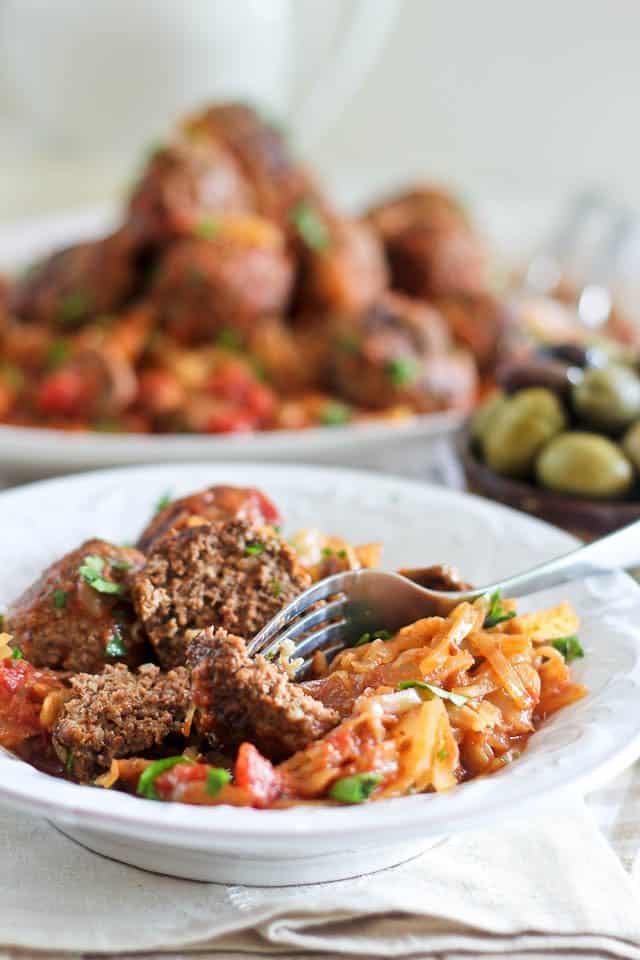 So anyway, enough about my junk food addiction and other weaknesses. Let's put the focus back where it should be now, shall we?
GOOD FOOD is what we should be talking about. And this tasty dish definitely qualifies!
Strangely enough, this was the dish that I chose to make to kick-off my summer vacation. Not that it's all that summery… but I was really in the mood for Cabbage Rolls, although I didn't feel like spending the time in the kitchen.
So I figured I would keep all of the components but go through almost none of the trouble. Instead of stuffing the meat in carefully rolled steamed cabbage leaves, I just made it into meatballs, which I slowly cooked in a tasty tomato sauce over a bed of shredded cabbage.
The resulting dish was so amazingly good that I doubt I will ever go through the trouble of making the actual rolls ever again!
And of course, this recipe is Whole30® compliant. In fact, I decided that for the entire month of July, which is the duration of my challenge this time, I would be posting nothing but Whole30® compliant recipes.
Fear not… they won't all take so long to make. In fact, I'm planning on posting a whole bunch of really easy ones, too!
For doing a Whole30® should be everything but complicated!
Deconstructed Cabbage Rolls
Servings: 8
Ingredients
For the tomato sauce
2 large onions, chopped
8 cloves garlic, minced
227 g mushrooms, sliced or cut in half
1 cup water
¼ cup cider vinegar
3 tbsp dried mustard
2 tbsp dried oregano
1 tsp salt
½ tsp crushed chili peppers
1 large can diced tomatoes
1 large can crushed tomatoes
½ medium green cabbage head, finely shredded
Instructions
Place all the ingredients for the meatballs in a large mixing bowl and knead well with your hands until uniformly blended. Form the meat mixture into 18-20 medium sized meatballs (an ice cream scoop really helps getting the job done!)

Heat some coconut oil in a large skillet over medium high heat. When pan is nice and hot, add the meatballs and cook until crispy and golden brown all around. You might have to work in 2 or 3 batches, depending on the size of your skillet. Don't worry about cooking the meatballs all the way through as they will finish cooking in the oven.

While the meatballs are cooking, shred the cabbage and lay it at the bottom of a large Dutch oven or oven safe dish with fitting lid.

Arrange the meatballs over the shredded cabbage.

Add mushrooms, onions, and garlic to the pan that you used to cook the meatballs and cook for one or two minutes, just enough for the vegetables to become fragrant and wilt a little bit. Put that in the Dutch oven right over the meatballs.

Add water, vinegar, mustard and spices to the cooking pan to finish deglazing it, bring to a quick boil then pour over the reserved meat and veggies.

Add the canned tomatoes put the lid on and place that in a 350F oven for about 3½ to 4 hours, until the cabbage is nice and tender.
If you've tried this recipe, please take a minute to rate the recipe and let me know how things went for you in the comments below. It's always such a pleasure to hear from you!
You can also FOLLOW ME on PINTEREST, FACEBOOK, INSTAGRAM and TWITTER for more delicious, healthy recipes!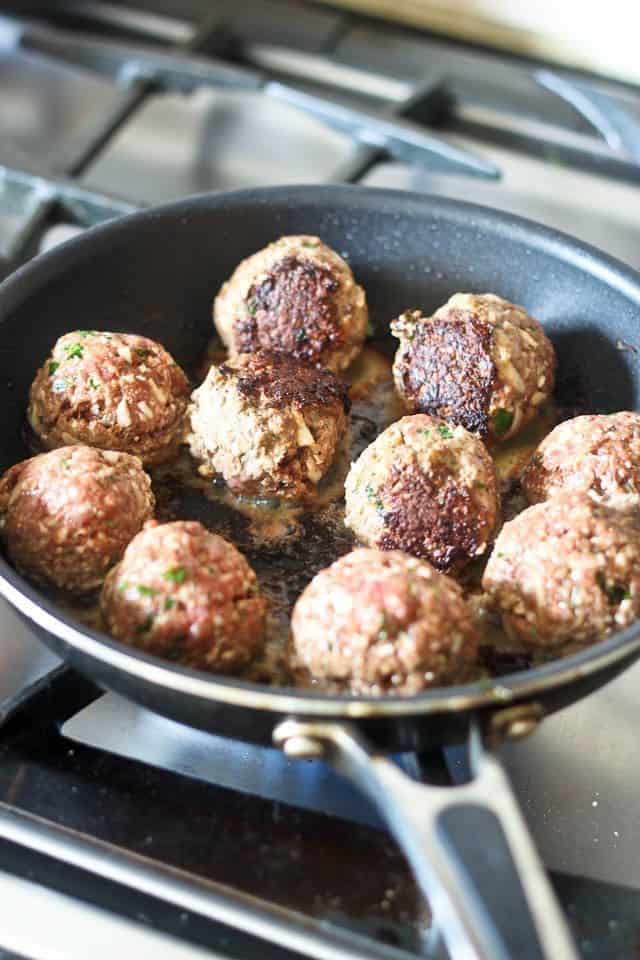 Sear the meatballs on all sides until they a nice golden crust forms. 
Arrange the meatballs on top of the shredded cabbage
 Top with cooked onions and mushrooms, followed with canned tomatoes.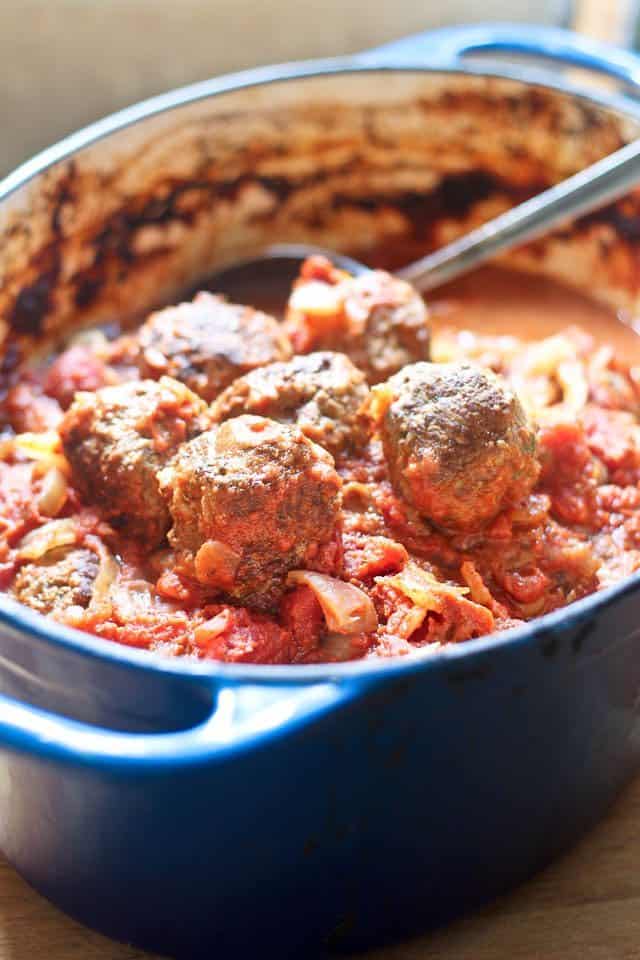 Cook in the oven for 3½ to 4 hours… 
Garnish with a little bit of fresh parsley and a drizzle of Extra Virgin Olive Oil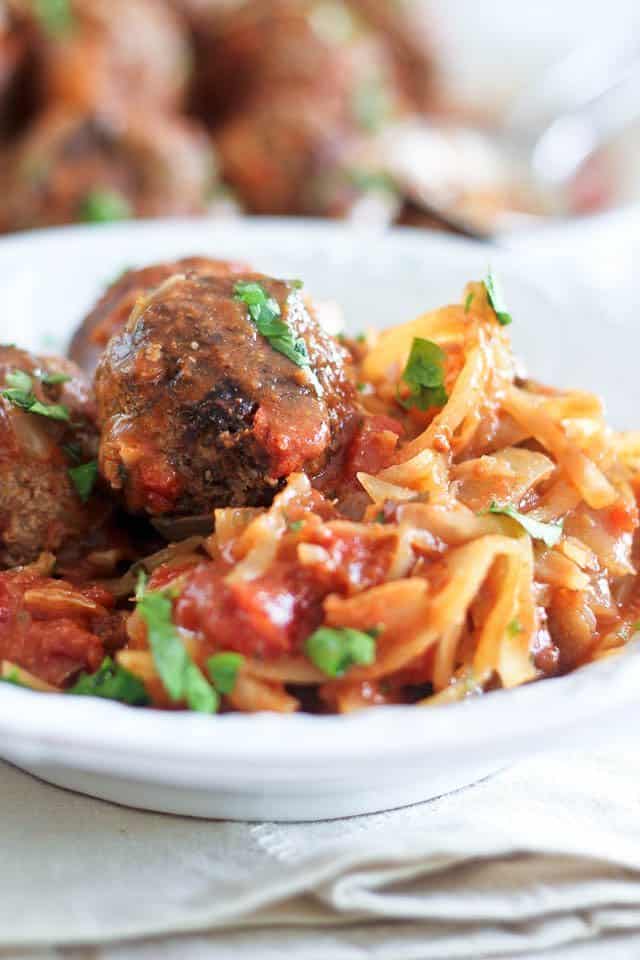 Look at all that beautiful cabbage!
You get so much more than with the rolls…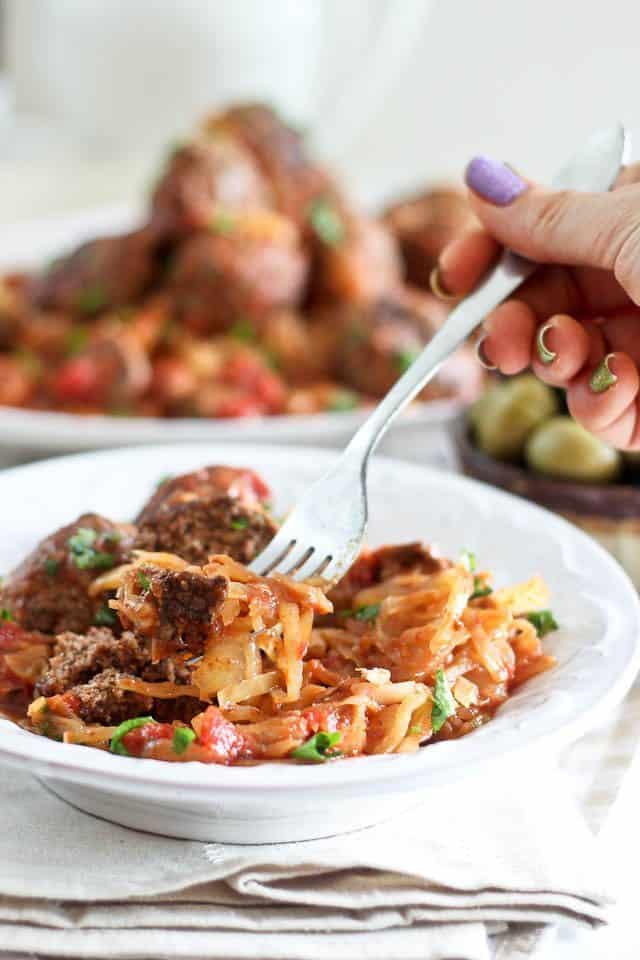 Time for me to dig in!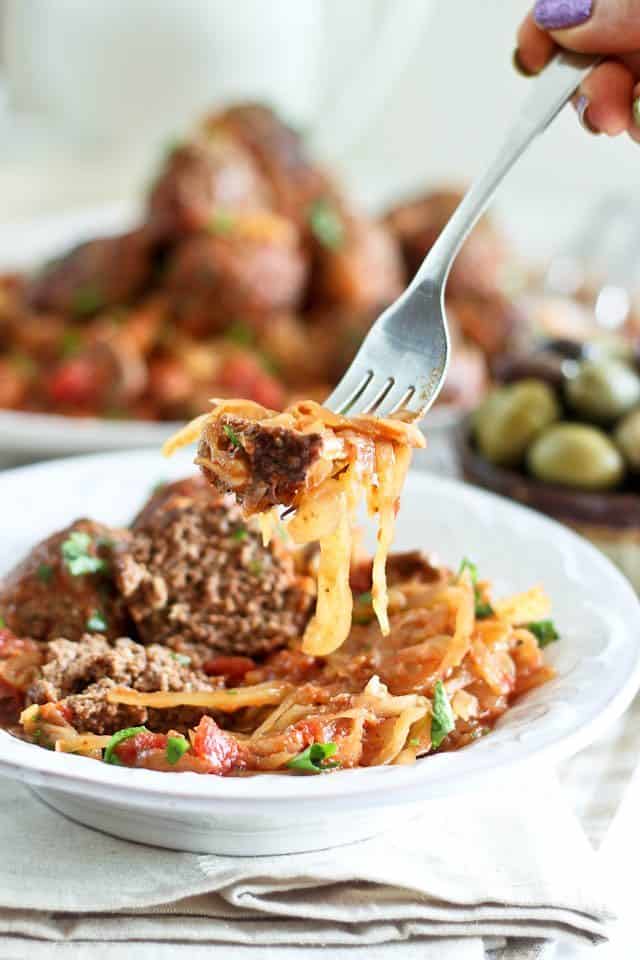 I really wish I could share!