Deliciously Warm & Creamy Smashed Potato Salad
Ever since I can remember, we've been having good ole' traditional mashed potatoes for Christmas.
After all, no Christmas meal can ever be complete without at least some form of potato on the table, now, can it?
Or olives, for that matter, but that's a whole 'nother story! (My daughter, son and I are real olive nuts and may or may not be responsible for said olives to mysteriously disappear before dinner has even been served, but hey, torture me all you might, I'll never admit to having said that!)
Since I seem to be on a role with breaking traditions this year, I decided to go all out and give the ole' potato mash the boot.
I thought I would experiment some and make room for another one of my favorite potato dishes: Potato Salad!
I chose to make it a warm, creamy, tangy and crunchy, smashed potato salad, made with beautiful red potatoes and fresh parsley for a little bit of added color.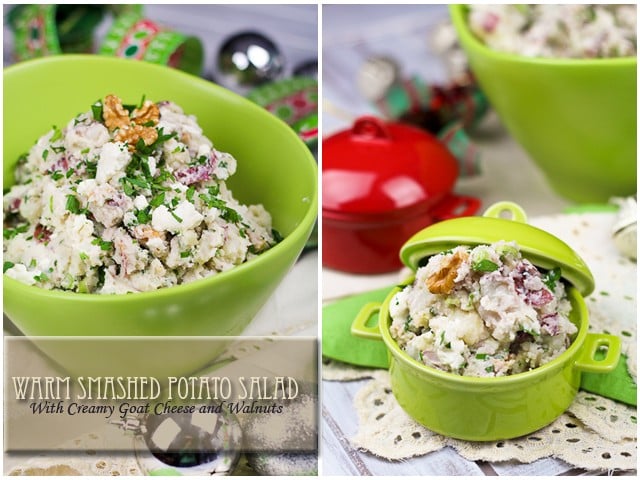 Now I know that my daughter will NOT approve of that one, but I think that she will adapt, just like she did with all the other items on the menu.
You see, mashed potatoes have always been a big favorite of hers and there was a time when we would have them quite regularly too. Then I started making them less and less often, and eventually, they got to make their appearance on our table pretty much only once a year, on Christmas Eve.
Of course, I would make them extra-super-duper good, adding a very liberal amount of heavy cream, as well as tons of butter, thus insuring that they would be extra rich and creamy and oh so heavenly delicious.
You know, ever since I was a kid, I've always been known for making the best mashed potatoes. I have to live up to that reputation! 😉
Only this year I'm hoping to make a brand new reputation for myself and become known for making the best darn "Smashed Potato Salad".
I did do a dry run, just to make sure that it would turn out and would actually be worthy of finding a spot on my Christmas table.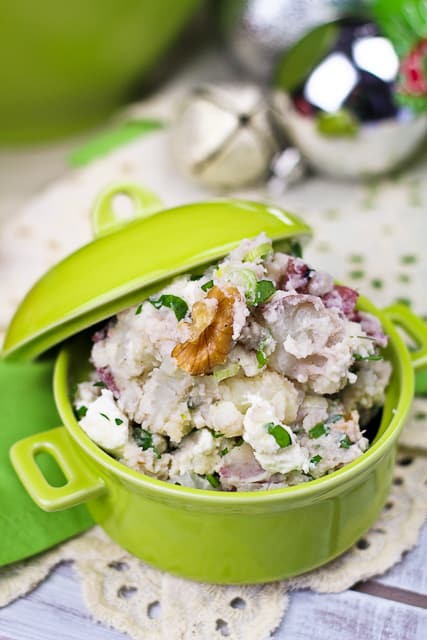 The verdict?
Ooooooh yeah! This one will DEFINITELY be on my table this Christmas Eve.
Seriously… even my son liked it!
So if you too are looking for a healthier option to put on your table this year, I think you should give this delicious mix between a potato salad and mashed potatoes a try. It's creamy, it's tangy, it's tasty, it's crunchy… and it's also very healthy!
I'm telling you, with a dish this good on the table, it'll be much easier for me to say farewell to my traditional and beloved fat-laden mashed potatoes.
Now I only need to convince my daughter… 😉
Warm Smashed Potato Salad
Ingredients
6 large red potatoes, cut into roughly 1½ inch pieces
½ cup fat free plain Greek yogurt
½ cup buttermilk
1 tbsp Dijon mustard
1 tbsp fresh rosemary, finely chopped
¼ tsp freshly grated nutmeg
¾ tsp Himalayan or fine sea salt
½ tsp freshly cracked black pepper
100g soft goat cheese, crumbled
50g walnuts, coarsely chopped
1 green onion, finely chopped
2 tbsp fresh parsley, finely chopped
Instructions
Boil the potatoes in salted water until fork tender. Drain and transfer to a large mixing bowl.
In a small mixing bowl (you can do this while the potatoes are cooking), mix yogurt, buttermilk, Dijon mustard, rosemary, nutmeg, salt and pepper.
Add that mixture to the cooked potatoes and mix with a potato masher until well incorporated and the potatoes are sort of half mashed (you need to have big chunks of potatoes remaining)
Gently stir in goat cheese, walnuts, green onion and parsley.
Serve warm. (Although this this salad is also excellent cold)

Nutrition Information
Serving size: Nutritional Information is for 1 of 8 servings