Ragoût de boulettes et de pattes de cochon – Or so it will have you believe…
As I said yesterday, this year I am breaking the tradition… BIG TIME!
And while we are on that subject, please allow me to open a parenthesis here.
For the last 16 years, I've been putting up natural trees. Well, here's another tradition that got broken this year.
I got fed up with the whole process of going out to pick up the tree, bargaining with the salesman like no tomorrow to get a decent looking tree for the amount of money that I was willing to pay for something that would end up in the "trash", then politely ask him to bring it to me on his way home, wait for said tree to be delivered, take tree in house, spread needles, water, snow and dirt all over the place, wait for tree to warm up and unfold its branches, THEN start to decorate it.
It would take forever, and there would be needles all over the place. FOR MONTHS!
Granted, I admit, I was never good at watering it, so it would dry out quite a lot… and quite rapidly too!
So anyway, this year, I finally solved that problem and bought a brand new…. artificial tree!
Here he is. Not bad, for a fake, is he?
I'm VERY happy with my decision.
As am I with my decision to give a healthfying treatment to our traditional Christmas menu.
Yesterday, I gave you the meat pies.
Tonight, I give you meatballs…
Here in Quebec, it is tradition to serve "Ragoût de boulettes et de pattes de cochons" (meatball stew with pork shanks) which is pretty much entirely made with extremely fatty pork meat.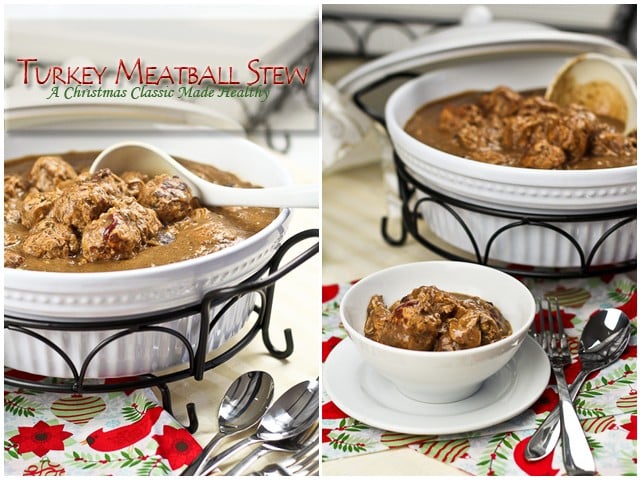 Well, I decided to make a healthy version of this using nothing but turkey meat.
I used the legs to replace the chunks of pork that I usually get from the pork shanks, and I used the breasts to make the ground meat that I used to make the meatballs.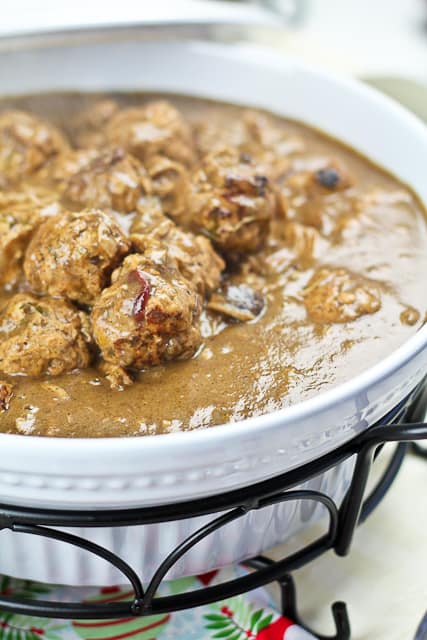 I am telling you, if you didn't know I'd changed the recipe, you wouldn't even be able to tell the difference.
Even my daughter, who was extremely reluctant (read completely horrified at the idea) to me modifying, even ever so slightly our habitual recipe, especially leaving the the pork shanks out, couldn't stop telling me just how impressed she was with the way it turned out… ESPECIALLY the turkey legs. They're so similar to the real thing, it's not even funny. You get huge chunks of tender, juicy meat that are super infused with what seems to be the very spirit of Christmas.
I could not be happier with the results.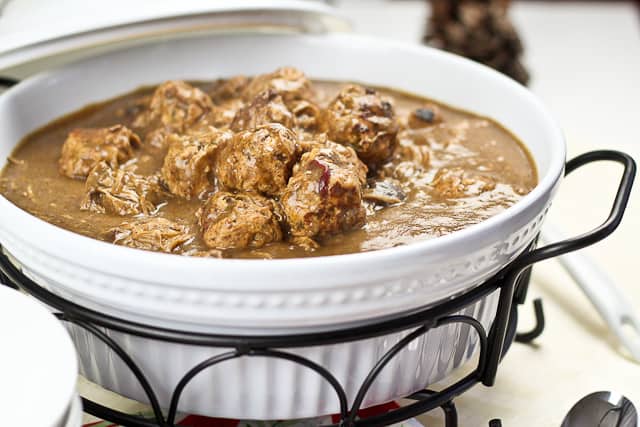 The meatballs are extremely moist and flavorful, there are tons of huge chunks of juicy, melt-in-your-mouth-tender meat that are totally infused with the very essence of Christmas, which you could totally swear were pieces of pork shanks, and the sauce is nice and super extra thick, just like it's supposed to be.

That sauce… you almost need a knife to cut through it! Just like my dad use to make it.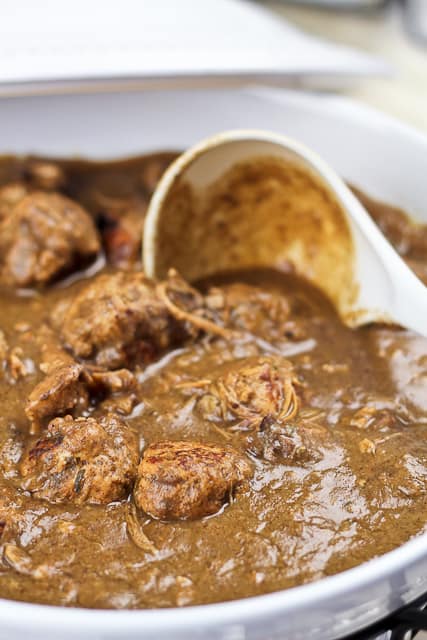 I think even he, if he was still around, would have approved of this one.
And Ragoût de boulettes was HIS territory, HIS specialty and by far, his favorite Christmas food. Trust me, it was NOT something to be messed with.
But I am 100% positive that this one would've gotten his seal of approval.
Dad, this one's for you. How I wish you could be here to taste it. I'll raise a "boulette" to you on Christmas night, how's that? 😉
And a glass too, of course!
Healthy Turkey Meatball Stew
Servings: 20
Ingredients
For the sauce and added chunks of meat
2 whole turkey legs, skin removed (mine weighed around 1350g total)
3 tsp ground cinnamon
1 tsp ground clove
1 tsp ground ginger
1 tsp Himalayan or fine sea salt
1 tsp freshly cracked black pepper
1 tsp freshly ground nutmeg
About 6-8 cups water
1 small onion, coarsely chopped
1 tbsp dried savory
1 tbsp dried coriander seeds, crushed
For the meatballs
200 g whole wheat bread
1½ cup buttermilk
1300 g turkey breast meat, ground (2 medium breasts, bones and skin removed)
1 small onion, finely chopped
2 tbsp dried mustard
2 tsp cinnamon
1 tsp nutmeg
1 tsp clove
1 tsp ginger
1 tsp Himalayan or fine sea salt
1 tsp black pepper
200 g chestnuts, roasted and peeled, slightly crushed
1 cup unsweetened dried cranberries, I used homemade, if you can't find unsweetened use naturally sweetened dried cranberries
Zest of one orange
½ cup fresh parsley
To thicken the sauce
1½ cup whole wheat flour – sifted and toasted
Instructions
For the sauce and added chunks of meat
Coat a large, heavy skillet generously with cooking spray or olive oil and heat over very high heat.

While this is happening, mix all the spices together in a large plate. Dredge the chicken legs in that spice mixture making sure that all sides are well coated.

Add the legs to the hot pan and sear them nice and good on both sides, until a nice crust forms, about 3-4 minutes per side.

Transfer the legs to a large stock pot, cover with water and add the leftover spices that didn't get used to coat the turkey legs, plus the onion, savory and coriander.

Bring that to a boil then lower heat, cover partly and simmer until meat falls loose from the bones, about 2½ to 3 hours.

Remove the legs from their cooking liquid (but do not discard it) and allow them to cool for a while, until you can safely handle them and remove all the meat from the bones. Discard bones; set meat aside. Return cooking liquid to the stock pot (you might want to strain it first). Add an extra 4 cups of liquid and bring it to the boil, then lower heat to keep in on a slow simmer.
For the meatballs
Cut the bread into small cubes and place it into a large mixing bowl. Add buttermilk and mix really well to coat evenly. Let the bread soak until the buttermilk is pretty much completely absorbed.

Meanwhile, cut the turkey breast into small cubes and grind it in 2-3 batches in your food processor, on pulse, until it has the consistency of ground meat.

Transfer to a large mixing bowl and add spices, onion, soaked bread, chestnuts, cranberries, orange zest and parsley and mix well with clean hands.

Form into approximately 70 meat balls (roughly the size of a ping pong ball).

Heat a large non-stick skillet over medium high heat and sear the meatballs (you will have to do that in several batches) until nice and golden all around, then transfer the balls to the stock pot that's holding the turkey leg cooking liquid.

Add water if necessary and adjust seasoning. Cook the meatballs for at least one hour on a slow simmer.

Add the reserved turkey leg meat and simmer for another 15 minutes.
To thicken the sauce
Meanwhile, sift the flour to remove the bran (unless you don't mind having bran in your sauce, I prefer mine to be smooth) and toast the flour over medium high heat in a dry skillet, constantly whisking until the flour takes a nice hazelnut brown color and starts to smell really good.

Turn off the heat and very slowly add a few ladles of the broth to the flour and whisk until smooth. Be careful as the flour might sort of "explode", so proceed very slowly. Add a few more ladles and again, whisk until smooth. Continue adding broth until you end up with a very thick sauce.

Transfer that sauce back to the stock pot and very carefully mix it in with the rest of the stew.

Simmer for another 5-10 minutes just to finish cooking the flour and serve.

This will keep in the fridge for up to 5 days, and can be frozen for several weeks. Just make sure you reheat it over very low heat and add a little bit of water to help loosen it up, as it will get very thick when cold.
If you've tried this recipe, please take a minute to rate the recipe and let me know how things went for you in the comments below. It's always such a pleasure to hear from you!
You can also FOLLOW ME on PINTEREST, FACEBOOK, INSTAGRAM and TWITTER for more delicious, healthy recipes!