Rustic Turkey Meat Pie – A Healthy Alternative this Christmas
In this household, as is probably the case in yours too, Christmas is all about tradition.
And tradition is something that is NOT to be messed with!
For as far as I can remember, the menu has always been the same, save for those few times where my mom tried to introduce something new by sneaking in some funky seitan or millet pie or other meat free alternatives… unfortunately, her efforts were never received with much enthusiasm!
Like I said, tradition is something that is not to be messed with!
Of course, we ALWAYS have turkey, although the bird does seem to have gone through *very* slight variations throughout the years.
My dad used to always remove all the meat from the bones and pre-slice the breasts. He would then put it all back to soak in the cooking liquid and throw that back in a very low temp oven to keep it warm while it was waiting to be devoured by a few handfuls of hungry guests. There were a few times though where it has been served whole and throned right in the middle of the table. There was also this very memorable occasion where it got cooked and served upside down, but hey, we won't spend too much time on the one, alright? Let's just say we had a very good laugh that night and that it has become sort of a classic since…  😉
There are two other key components to our menu, and these two have always been cooked in the exact same way, using the exact same recipe, even though there is no actual recipe. We I have done it so many times, I just know it by heart and feel.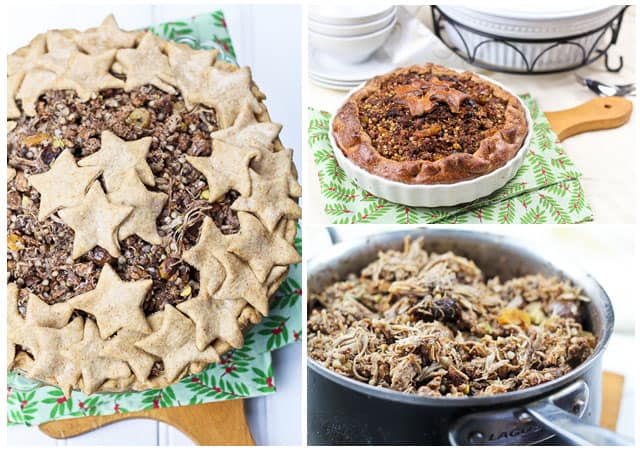 They are the traditional Christmas Meat Pie and what we call here "Ragoût de boulettes et de pattes de cochon". I guess in English, it would be known as Meatball and Pork Shank Stew.
I remember spending all day in the kitchen with my parents as a kid, every single year on December 23, making pie dough (that was MY specialty, and I was darn proud of it, too!), meat pie filling and hundreds of tiny little meat balls. We'd always end up working up a storm until the wee hours of the night.
Growing up, it's always been one of my favorite days of the year. So of course, as an adult, I kept the tradition going and started doing the same thing with my kids.
This year, however, I've decided to break the tradition. OMG! Sacrilege! But I'm afraid… it has to be done.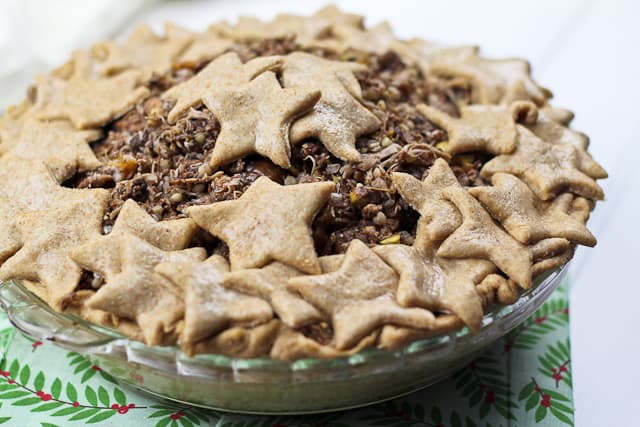 You see, both these recipes call for pork, and lots of it. Not the lean kind either. Nooooo. Regular ground pork, which is incredibly high in fat, as well as pork shanks, which are pretty much nothing BUT fat.
Since I have pretty much eliminated pork from my diet, I had to find an alternative.
I decided to use turkey. Nothing but turkey. No beef, no veal, and more importantly, no pork.
Still, I wanted the pies and stew to remain as true to the original as possible. Well, especially the stew.
The meat pies, I felt like adding a little twist to them.
More precisely, I added dried fruits and chestnuts. And I very glad I did! I love how they turned out although I haven't really tasted them yet.
I only got to taste the filling on its own. I haven't cut open a pie just yet, for you see, I only made two. One for Christmas Eve which I will celebrate here with my kids, and one for Christmas Dinner with the "extended family".
Yeah, you're probably thinking that I am pretty darn daring, presenting you with a recipe that I haven't tasted yet… Rest assured, I just KNOW it'll be very good. That filling did have the Christmas-y taste that I was after, with the very loud notes of cinnamon and clove, accompanied by lighter tones of ginger and nutmeg. The dried fruits and chestnuts add a very interesting depth and texture to the deal, while the buckwheat adds a little crunch and takes care of absorbing all possible traces of excess liquid.
SIMPLY LOVE IT!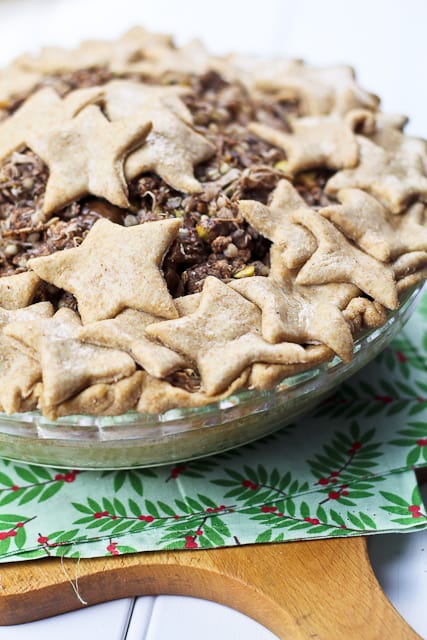 As for the dough, I'm already very familiar with it, so I just know it's gonna work.
Maybe I could've waited until AFTER Christmas to post this, but I thought some of you might be inspired to make a healthier meat pie this year too…
Now, contrary to what I usually make, this one requires time, and lots of it. I think Christmas food is a food of love and has to take forever to make. You can't expect to be in and out of the kitchen in a matter of hours. You have to be prepared to be in there all day.
But if you're anything like me, you'll enjoy every minute of it.
And tomorrow, I give you the meatballs…
Now THAT, I have tasted, and THAT is quite the success, too. I'm sure no one will ever be able to tell the difference between the traditional version and this new healthified one.
And look how gorgeous… You'll see that these two just go hand in hand.
They are simply meant to be together!
Rustic Turkey Meat Pie – My Healthy Christmas Alternative
Servings: 20 Makes 2 pies @ 10 servings each
Ingredients
Filling Part I
2 whole turkey legs, skin removed (mine weighed around 1350g total)
3 tsp ground cinnamon
1 tsp ground clove
1 tsp ground ginger
1 tsp fine sea salt or Himalayan salt
1 tsp freshly cracked black pepper
1 tsp freshly ground nutmeg
About 6-8 cups water
Filling Part II
750 g turkey breast meat, ground
1 medium onion
1 tsp fine sea salt or Himalayan salt
1 tsp freshly cracked black pepper
1 tsp ground cinnamon
½ tsp ground clove
½ tsp ground ginger
½ tsp freshly ground nutmeg
¼ cup dried parsley
1 tbsp fresh rosemary
1 tsp vanilla extract
The juice of one orange
2 cups cooking liquid from above turkey legs, or water
¾ cup raw buckwheat groats
200 grams chestnuts, coarsely chopped
½ cup dried apricots, coarsely chopped
½ cup dried prunes, coarsely chopped
½ cup unsalted pistachios, coarsely chopped
Instructions
For the crust
Whisk flour, baking powder and salt together in a large mixing bowl. Set aside;

In a separate bowl, whisk oil, buttermilk and egg; pour this over reserved flour mixture. Stir lightly with your fingers until the ingredients come together to form a fairly smooth dough. If your dough is too soft, add extra flour until you reach the desired consistency. Your dough should be soft, slightly tacky, but not sticky.

You will now have to divide that dough into 3 unequal pieces: one which will be approximately ¼ of the recipe; then divide the rest in half to get your other two pieces.

Form each piece into a thick disc and wrap individually with plastic wrap. Refrigerate while you work on the filling (or at least 30 minutes).
For the filling
Coat a large, heavy skillet generously with cooking spray or olive oil and heat over very high heat.

While this is happening, mix all the spices together in a large plate. Dredge the chicken legs in that spice mixture making sure that all sides are well coated.

Add the legs to the hot pan and sear them nice and good on both sides, until a nice crust forms, about 3-4 minutes per side.

Transfer the legs to a large stock pot, cover with water and add the leftover spices that didn't get used to coat the turkey legs.

Bring that to a boil then lower heat, cover partly and simmer until meat falls loose from the bones, about 2½ to 3 hours.

Remove the legs from their cooking liquid (but do not discard it) and allow them to cool for a while, until you can safely handle them and remove all the meat from the bones. Discard bones; set meat and cooking liquid aside in separate containers.

Cut the turkey breast into small cubes and grind it in 2-3 batches in your food processor, on pulse, until it has the consistency of ground meat.

In a large saucepan, cook the onion over medium high heat until it takes a slight golden coloration and becomes fragrant. Add spices (from salt to rosemary) and ground turkey meat and continue cooking until meat turns completely opaque. Add orange juice, vanilla extract and 1 cup of the cooking liquid.

Cover loosely and simmer over low heat, stirring from time to time, until the liquid is almost completely evaporated, about 30 minutes.

Add meat from turkey legs, another cup of cooking liquid (or water) and resume cooking, stirring from time to time, until meat starts to fall apart and once again, liquid is almost completely gone.

Add buckwheat groats, apricots, prunes and chestnuts, as well as another cup and a half of cooking liquid (or water). Resume cooking until all water is absorbed and groats are fully cooked. Stir in pistachios and set aside to cool.
Assembly
Preheat oven to 400F

On a floured surface, roll out the 2 larger dough balls to form a 10-11 inch disc. Fit into two 9" deep pie dishes and let excess hang to the sides.

Divide meat filling between the two pies and fold excess dough back over the meat.

Roll final piece of dough on a floured surface and cut out shapes with a cookie cutter of your choice. Arrange cookie cut-outs in a pretty fashion around the crust and/or in the middle of the pie. To insure proper sticking, you may brush the back of your cut-outs with a tiny bit of water or milk.

Place in the oven and bake for about 25 minutes, until the crust gets really nice and golden brown.

Serve immediately… or on Christmas night!
If you've tried this recipe, please take a minute to rate the recipe and let me know how things went for you in the comments below. It's always such a pleasure to hear from you!
You can also FOLLOW ME on PINTEREST, FACEBOOK, INSTAGRAM and TWITTER for more delicious, healthy recipes!
The filling ready to go into the pie shells… 
Really pile it up sky high!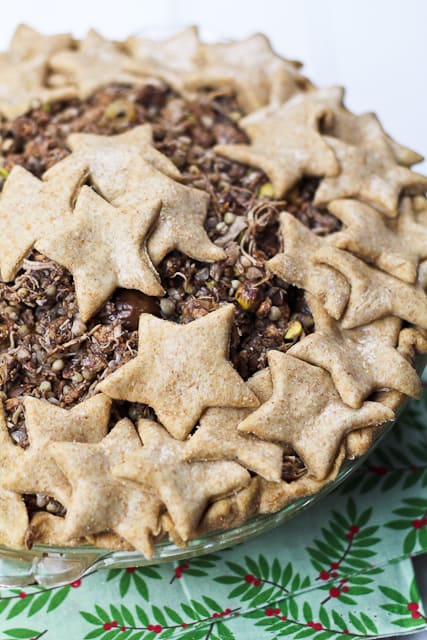 Can't wait to see this one all nice and cooked and golden brown…
And I can't wait to cut into this one!