Fluffy Apple Cinnamon Egg White Oatmeal
A couple of weeks ago, I shared a picture of a gorgeous bowl of oatmeal on my Facebook page, above which the original poster had asked their readers to share what their favorite ingredient to add to their oatmeal was.
Little did I know that reading the answers to that question would lead me to meet the new love of my life: Egg White Oatmeal.
I mean, seriously. This stuff is so good, I think I want to marry it.
There's this one major problem, though… how does one put a ring around a bowl of oatmeal?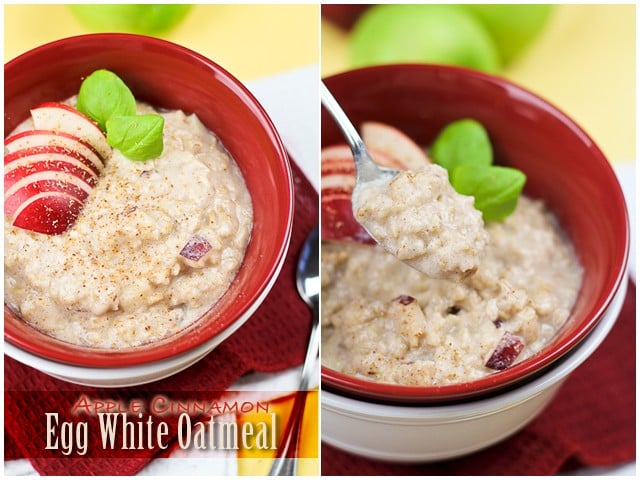 Alright, alright… enough with the silly comments. I'm done now, promise. You can keep on reading.
Honestly before that day, I had never heard of adding egg whites to oatmeal, and oddly enough, the thought had never even occurred to me!
Considering the fact that I eat a great deal of protein every day and that my three main sources of protein are whey protein powder, Greek yogurt and egg whites, I'm really surprised that I had never ever thought of it.
After all, both the whey and yogurt had already found their way to my bowl of warm cereal…
Guess it was only a matter of time before the egg whites got there too.
Frankly, they are by far the better of the 3.
There's just something about them that changes the entire structure of the dish. They really turn ordinary oatmeal into a bowl of dreamy, fluffy, airy, creamy and chewy cereal.
Plus, they take a lot of expansion, so you suddenly feel like you have four times as much oatmeal in your pot.
But don't take my word for it… give it a try!
Chances are, you'll never want to have another bowl of plain oatmeal again.
You'll always be reaching for that carton of egg whites!
Fluffy Apple Cinnamon Oatmeal
Servings: 1
Ingredients
1½ cup water
½ cup egg whites
1 small apple, peel on, cored and cut into bite size chunks
Ground cinnamon to taste
Instructions
Bring water to the boil and add oats. If you want your apple cooked, add it now.

Lower heat and simmer until about three quarters of the water is absorbed, about 5 minutes.

Slowly pour in egg whites while whisking constantly so the whites don't cook but rather turn into a nice, thick consistency.

Continue cooking / whisking over low heat for about one minute until mixture becomes thick and fluffy and airy.

Turn off the heat and stir in cinnamon, as well as your apple if you prefer to keep it raw and haven't added it at the beginning.

You can also add half your apple at the beginning and save the other half for the end. You could even save a few chunks to garnish your oatmeal.

Transfer to serving bowl and enjoy immediately.
If you've tried this recipe, please take a minute to rate the recipe and let me know how things went for you in the comments below. It's always such a pleasure to hear from you!
You can also FOLLOW ME on PINTEREST, FACEBOOK, INSTAGRAM and TWITTER for more delicious, healthy recipes!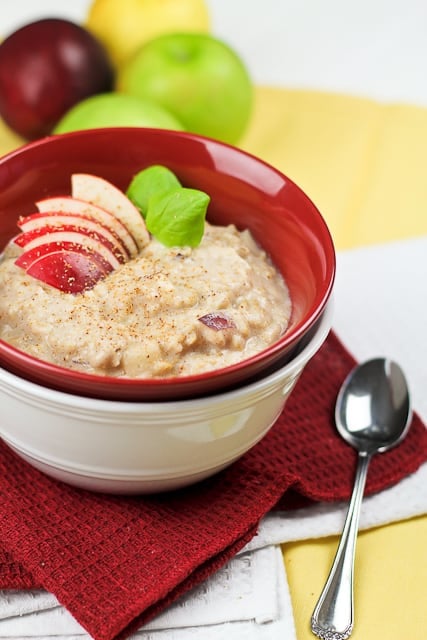 Ready…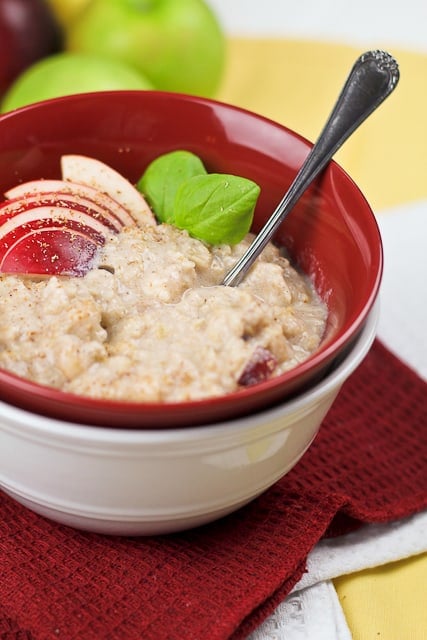 Set…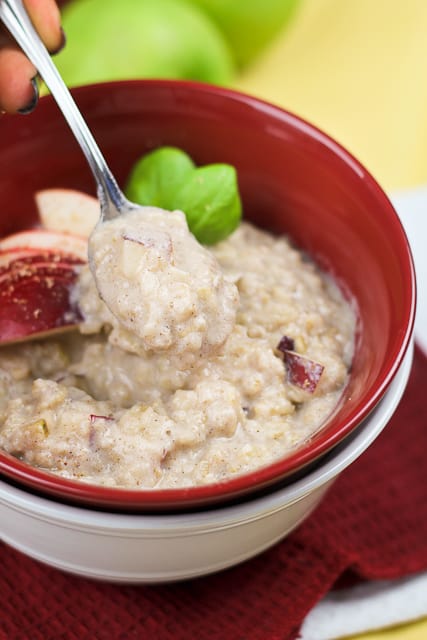 GO!
Oh, how I wish you could taste this…