Healthy Apple Pie – Rougemont Style [or wait… is it really a cake?]
If this pie was a story, it would be the ugly duckling!
Why?
Well, for starters, I was supposed to post this yesterday, but life got in the way… I ended up going to the movies with my kids to see "Life of Pi"… Ironic, isn't it? Pi got in the way of pie… get it?
Alright, I know, my humor ain't always the best. I think I need to work on this one!
So anyway, on top of getting tossed aside in favor of a movie night out, this poor pie came this close to never even getting an entry at all.
For real! I came *this* close to scrapping the entire recipe.
Photos and all.
Why, you ask?
Well, if you look closely, you'll see that this cake, oh, sorry, PIE, was pretty much what I call a disaster.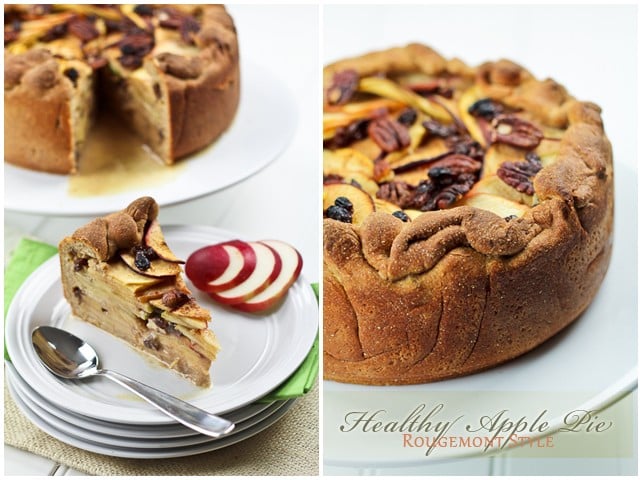 For real… look very closely…
See all that liquid that's escaping from it after I cut out a slice?
Hmpft! Not what I call desirable.
But you see, silly me forgot to add one key ingredient, and didn't realize until it was too late. WAY too late.
However, after tasting said pie, I decided that it was way too good not to get logged anyway and that even if all that liquid were to remain, it was still very worthy of being made again.
Only, of course, if I was to make it again, I wouldn't forget to add the arrowroot flour this time, so technically, all that liquid would disappear.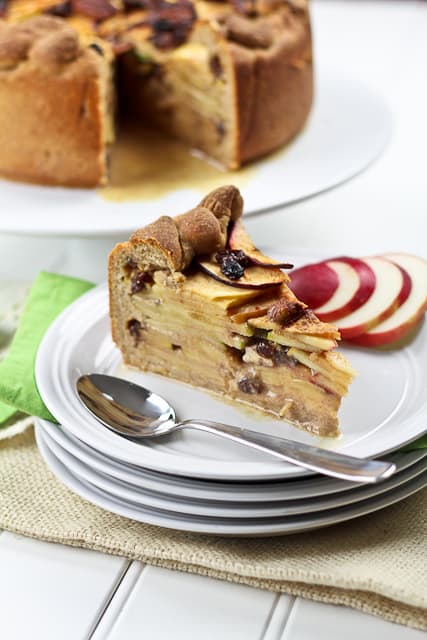 But like I said, even with all the liquid, this pie was absolutely delicious!
Just look at all those apple slices! It's like a mile high.
And talk about flavor overload!
The raisins and pecans add just what it takes of extra sweetness as well as a little bit of crunch and a little bit of contrast in flavor and texture, too!
Plus, the dough that I chose to use is almost like a cross between crust and bread… Although it's not sweet at all, I found it went perfectly well with this particular pie.
And you know what? Even with all that liquid, that crust never really got all super soaked and soggy. I, for one, absolutely can't stand wet bread, yet, with every single piece that I ate, I kept a piece of crust for last.
I'm telling you, it really is becoming my favorite go-to crust recipe.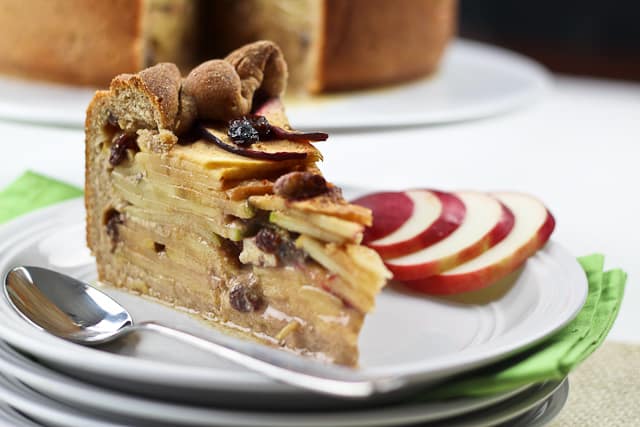 Oh, and another option that I would like to try if I make this one again would be to reduce the coconut water by half and add 3 or 4 more eggs, to make that milk mixture more like a flan.
That would bring this cake to a whole new dimension, I think.
But either way, this pie proved to be an excellent breakfast for me all week… topped with a little bit of protein powder mixed in plain yogurt, of course.
You know me and my protein powder!
I put that s@?$ stuff on everything! 😉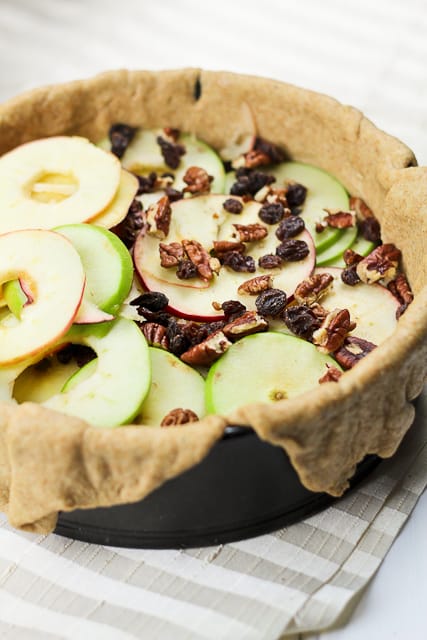 Arrange apples slices in layers
When you get halfway to the top, add half the raisins and pecans then resume layering the apples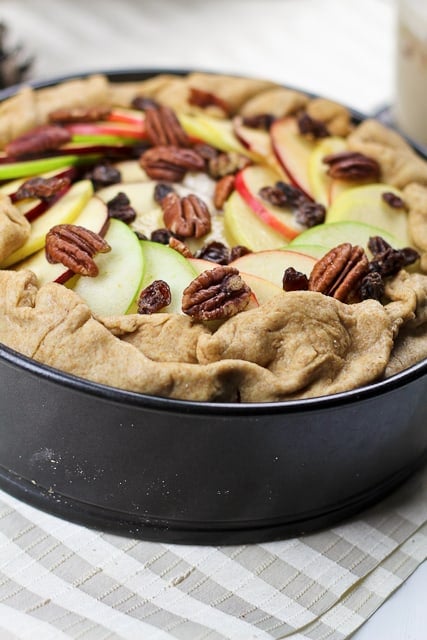 Fold excess dough over the apples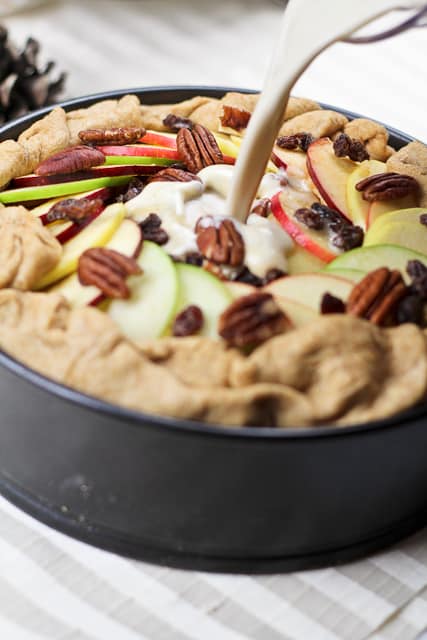 Slowly pour milk mixture right in the middle of your cake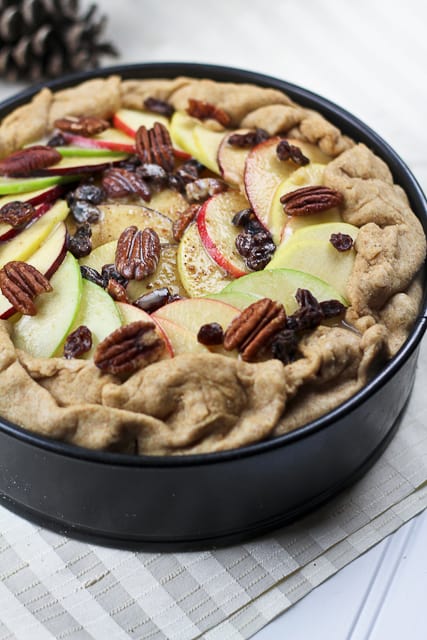 All good and ready to hit the oven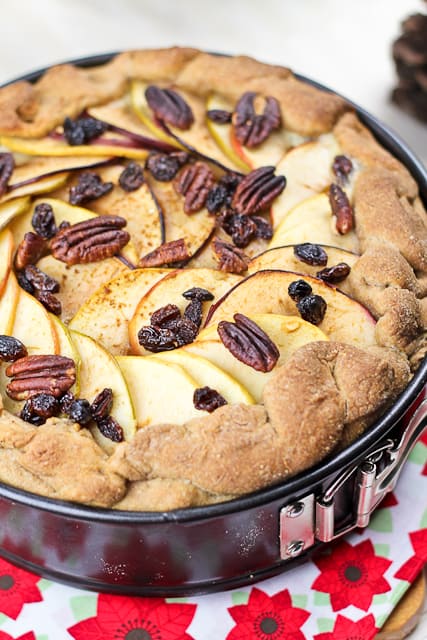 Fresh out of the oven… time to chill in the fridge for a while!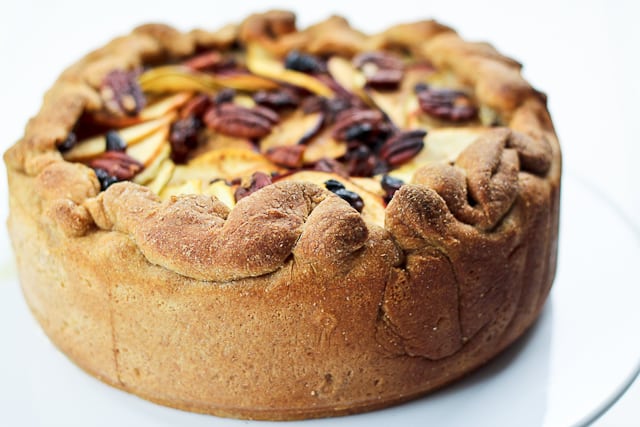 Free from the pan… how very pretty!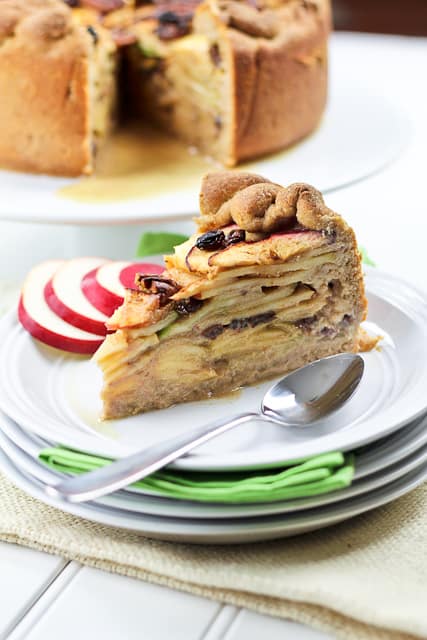 Look at all those layers!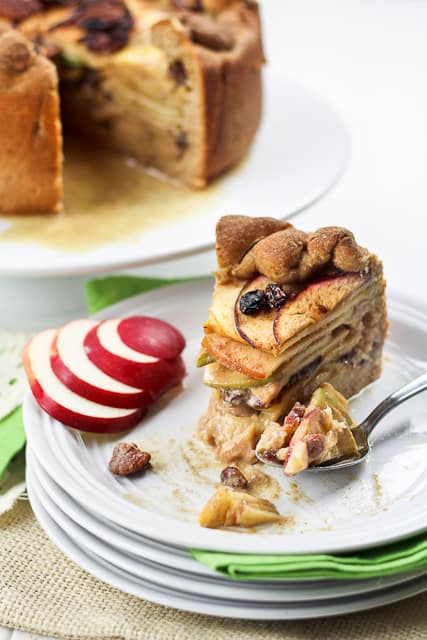 Alright now, if you will excuse me… it's time to dig in!
Oh man is that cake pie ever good!
Healthy Apple Pie – Rougemont Style
Servings: 12
Ingredients
Filling
1 cup buttermilk
1 cup coconut water
½ cup egg whites
2 eggs
¼ cup date paste
3 tbsp arrowroot flour
1 tsp cinnamon
Freshly grated nutmeg to taste
The seeds from one vanilla bean, or one tsp pure vanilla extract
8 large apples, I used an assortment including Gala, Red Delicious and Golden Delicious
½ cup raisins
½ cup pecans, coarsely chopped
Instructions
For the crust
Whisk flour, baking powder and salt together in a large mixing bowl. Set aside;

In a separate bowl, whisk oil, buttermilk and egg; pour this over reserved flour mixture. Stir lightly with your fingers until the ingredients come together to form a fairly smooth dough. If your dough is too soft, add extra flour until you reach the desired consistency. Your dough should be soft, slightly tacky, but not sticky.

Transfer dough onto a piece of plastic wrap. Press down to form into a thick disc, wrap and refrigerate for at least 30 minutes.
For the filling
Preheat oven to 375F.

On floured surface, roll out dough to form a 12-13 inch disc. Fit into 9 inch spring form pan, letting excess hang over edge; Set aside.

Cut the apples in half and remove their core with a melon baller. Slice the apples as thinly and uniformly as you can; the use of a mandolin is strongly recommended. Reserve the prettiest slices for the top layer (the equivalent of about 2 apples).

Arrange your apple slices in layers, working your way up in a somewhat circular pattern. No need to be super fancy until you get to the very last layer, but still, you want to keep your layers as level as possible.

When you get about halfway up, sprinkle half the raisins and half the pecans, and then resume piling slices of apples. Make sure to make the final layer super pretty and sprinkle the rest of the raisins and pecans; Fold excess dough back over the apples and set aside.

In a large mixing bowl, delicately mix the date paste, arrowroot and eggs with a whisk until smooth and well combined. Whisk in egg whites, followed by buttermilk, coconut water, cinnamon, nutmeg and vanilla. Whisk until all the ingredients are fully incorporated then slowly pour that mixture right in the center of your cake. Don't pour too quickly: you want the mixture to get between all the apple slices while avoiding getting too much of it on top of your cake.

Place in the oven immediately and bake for 40-45 minutes, until the crust turns nice and golden brown and the cake is set.

Turn the oven off and crack the door open. Let the cake cool in the oven for a couple of hours, then chill completely in the refrigerator for at least 6 hours, preferably overnight before very delicately removing from pan.
Nutrition
Calories: 272kcal, Carbohydrates: 42g, Protein: 7g, Fat: 10g, Saturated Fat: 2g, Cholesterol: 42mg, Sodium: 191mg, Potassium: 422mg, Fiber: 6g, Sugar: 17g, Vitamin A: 146IU, Vitamin C: 7mg, Calcium: 88mg, Iron: 2mg
If you've tried this recipe, please take a minute to rate the recipe and let me know how things went for you in the comments below. It's always such a pleasure to hear from you!
You can also FOLLOW ME on PINTEREST, FACEBOOK, INSTAGRAM and TWITTER for more delicious, healthy recipes!