Cream of Cauliflower with Roasted Garlic & Apple
Got the inspiration for this one from Leanne again.
I dunno… it seems like everything she does truly inspires me lately. Maybe I should get a subscription to her blog or something…
Oh, wait. I already do! 😉
Seriously, though, for some reason, it almost feels like she is connected directly into my mind, lately. If she was a restaurant, I'd order from her every day.
So don't be surprised if you see a few more of her recipes (with a "Healthy Foodie" twist) make an appearance on here in the upcoming weeks or months.
You know what else?
I think she also had a profound effect on my utilization of color! I don't think I've ever used dared use so much color in my photos before.
But lately, it feels like I NEED to add splashes of vibrant colors to all my settings. Like they're calling me.
Hey, I can't say I'm hating it.
Like I can't say I'm hating this cauliflower soup.
Not even close.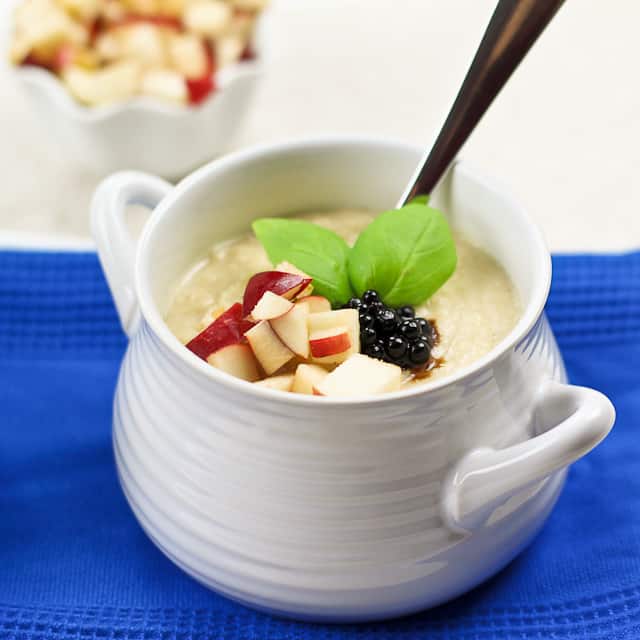 This is one unbelievably THICK soup, although you could very well make it a little bit looser by adding more liquid if you wanted to. I chose to add very little to mine because I wanted it to have that very thick, almost puree like consistency.
I think it makes a soup that much more filling and satisfying when it's really nice and thick.
And filling and satisfying would be the very definition of this luxurious soup.
Both times I had it, I could not believe how full I was after having eaten "just a tiny little bowl of soup"
Well, after all, there IS half a head of cauliflower, one entire head of garlic and a little bit over half an apple in every bowl.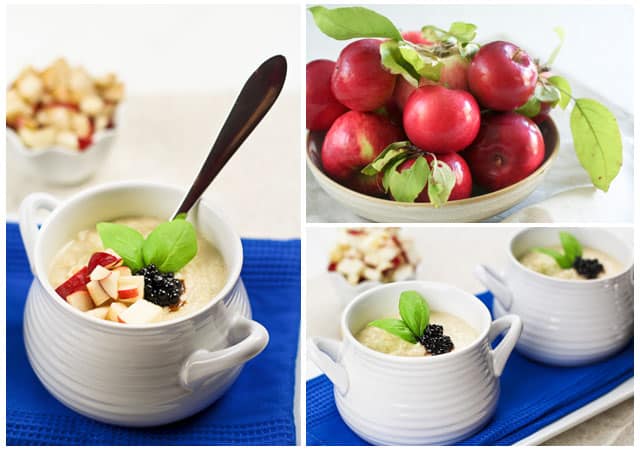 Yet, this soup contains virtually no fat, is super low in calories, is loaded with proteins and has TONS of flavor!
The combination of roasted cauliflower, roasted garlic and apple, topped with a touch of vinegar really is outstanding.
And talk about elegant! Oh, how I love it when my food looks all sophisticated like that.
One word of warning though. The addition of Greek yogurt and egg whites makes this soup extremely delicate. You can never allow it to boil after these ingredients have been added, else the yogurt would curdle and the egg whites would scramble.
Not what I would call very pleasing to the eye, or the palate for that matter.
So if you were to reheat it, do so over very low heat, ever so patiently and with plenty of TLC.
But chances are, there will be no leftovers for you to reheat, so you shouldn't have to worry about that!
Cream of Cauliflower with Roasted Garlic & Apple
Servings: 2
Ingredients
2 whole heads of garlic
1 head cauliflower
1 small onion, chopped
1 Golden Delicious apple, peel on, diced
1 + 1 or 2 cups of water
½ tsp salt
½ tsp black pepper
hint freshly grated nutmeg
2 tbsp apple cider vinegar
1 cup egg whites
1 cup fat free plain Greek yogurt
Garnish
Balsamic Pearls
Spartan Apple, diced
Basil leaves
Instructions
Preheat oven to 400F

Remove as much peel from the garlic as you possibly can by simply rubbing it with your fingers and cut off the very top to expose a small portion of the cloves. Place each head of garlic on a square of aluminum foil, sprinkle a little bit of salt and pepper and close the foil to seal the garlic in.

Cut cauliflower into florets and lay it in a single layer on baking sheet lined with parchment paper.

Place cauliflower and garlic in the oven and roast for 30-35 minutes, until cauliflower is fragrant, tender, and has taken a nice golden coloration. You'll want to flip the pieces once halfway through cooking.

In a large sauce pan, cook onion over medium heat until fragrant, about 3-4 minutes. Squeeze the heads of garlic to get the cloves out and add that to the pot, along with apples, cauliflower, salt, pepper, nutmeg, cider vinegar and one cup of water. Bring to the boil and simmer for about 10 minutes.

Remove from heat and allow to cool for a few minutes before transferring to the bowl of your food processor.

Process on high speed and while the motor is running, add Greek yogurt by the spoonful and slowly pour in egg whites. You want to pour them slowly and in a continuous stream so the eggs don't cook.

Transfer the soup back to the stock pot, add one or two cups of water, depending on desired consistency and bring this up in temperature, almost to a simmer. However, it is very important that you do now allow the soup to boil at this point, again, to avoid cooking the eggs.

For a smoother consistency, strain the soup through a fine mesh sieve before returning it to the stockpot.

Serve warm and garnish with balsamic pearls, dices of apple and fresh basil leaves, if desired.
If you've tried this recipe, please take a minute to rate the recipe and let me know how things went for you in the comments below. It's always such a pleasure to hear from you!
You can also FOLLOW ME on PINTEREST, FACEBOOK, INSTAGRAM and TWITTER for more delicious, healthy recipes!