Healthy Chocolate Raspberry Soft Serve with High Protein Chocolate Syrup
Sometimes, you just want your food to taste good.
You just don't care about the nutrition factor.
You just want something to make you feel better, to comfort you or to just flat out give you pleasure…
Well, what if I told you you can totally get your cake AND eat it too?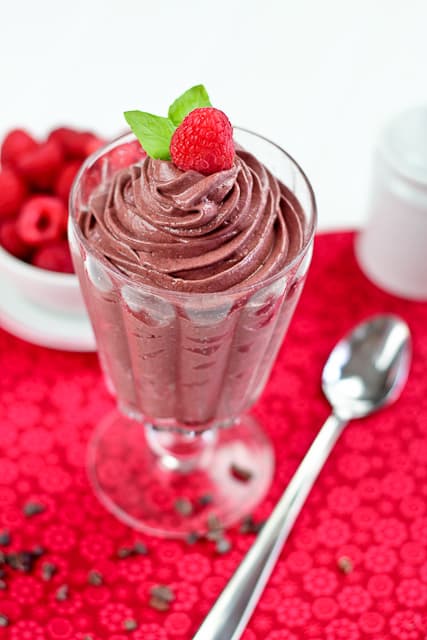 I have many recipes that fit that bill already, but I think this one here just takes the cake (hmmm, cake, again? Could it be that I've had sweets on my mind lately?).
For one, it's SUPER easy to make. It'll only take you a few minutes at most, I swear!
Second, it tastes really awesome! Probably even better than most of the soft serves you can get at the ice cream parlor.
It's just BURSTING with flavor.
Raspberries and chocolate overload just explodes in your mouth.
As for the banana… wait, what banana? Is there really banana in there? Noooo, you must be mistaken. There can't be banana in there.
Are you sure? 'cuz I can't taste it at all!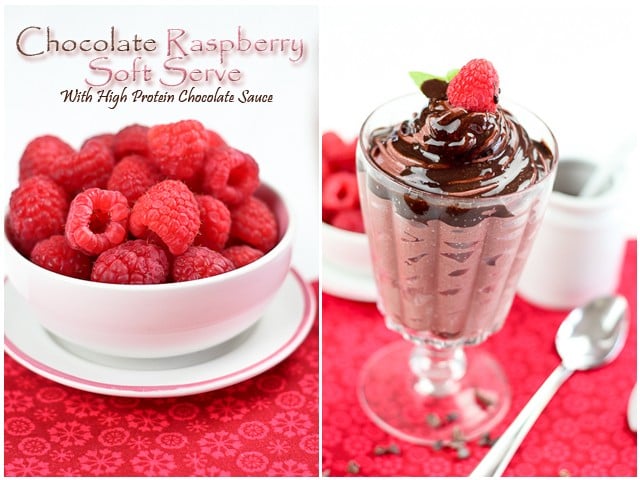 Oh, and the texture.
THE TEXTURE!!!
Smooth, creamy, SILKY!
Dreeeaaaaaamy…
What, you're still reading? You're STILL not convinced? Alright, let me go on, then…
The syrup? Surely the syrup can't be healthy?
Well… you better believe it! Even that super chocolatey, super sweet and crazy delicious syrup is good for ya!
GOOD FOR YOU, I TELL YA! So pour it on and pour it on thick! You don't even need to feel one single iota of guilt.
Go on… trust me. POUR!!!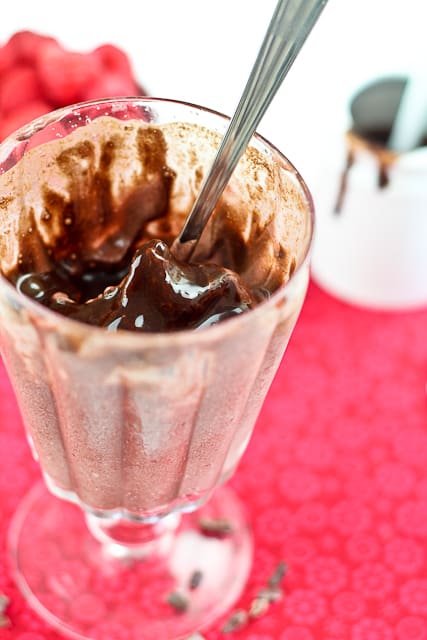 What's that you ask?
Nutrition Facts? Nutri… what?
Oh, yeah. It's got some of that too… but I won't ruin it for you. Not now…
Just enjoy the moment. Do your mind AND body good and lose yourself in one of these babies.
You can check out the stats later…
Healthy Chocolate Raspberry Soft Serve with High Protein Chocolate Syrup
Servings: 1
Ingredients
1 cup frozen raspberries
½ frozen banana
2 tbsp dark cocoa powder
1 scoop vanilla whey Protein Powder
¼ cup fat free plain greek yogurt
pinch cinnamon
Syrup
2 tbsp cocoa powder
1 tsp honey
4 tbsp pasteurized egg whites
Instructions
Start by making the syrup by mixing egg whites, honey and dark cocoa powder until smooth and silky. Reserve.

Add all ingredients for the soft serve to your mini blender or food processor and process on pulse until all the ingredients blend together to form this creamy, dreamy, smooth semi-frozen concoction.

You might have to stop a few times and scrape the sides a little and push everything back down to get the action going again.

Once desired consistency is achieved, transfer to serving glass or bowl and garnish with fresh raspberries, basil leaves, unsweetened grated coconut, plain Greek yogurt, or whatever else tickles your fancy.

Pour half the chocolate sauce over your "ice cream" and enjoy!
Nutrition
Calories: 340kcal, Carbohydrates: 44g, Protein: 44g, Fat: 5g, Saturated Fat: 3g, Cholesterol: 65mg, Sodium: 205mg, Potassium: 941mg, Fiber: 15g, Sugar: 17g, Vitamin C: 37mg, Calcium: 278mg, Iron: 4mg
If you've tried this recipe, please take a minute to rate the recipe and let me know how things went for you in the comments below. It's always such a pleasure to hear from you!
You can also FOLLOW ME on PINTEREST, FACEBOOK, INSTAGRAM and TWITTER for more delicious, healthy recipes!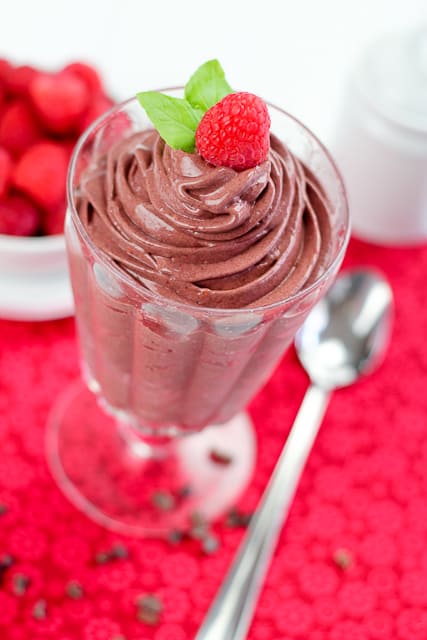 Swirl of deliciousness…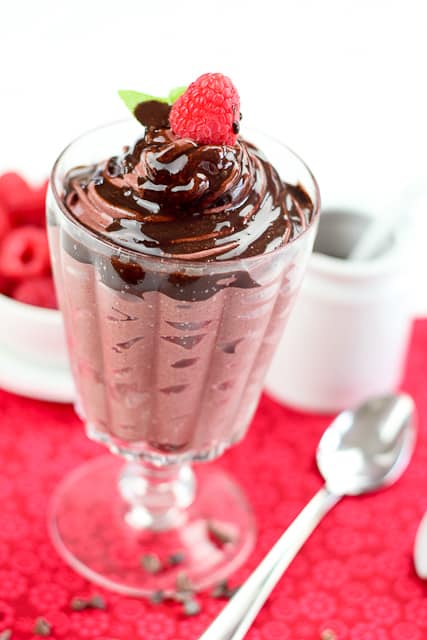 Only 340 calories… 3 measly grams of fat…
Just a little shy of 44 grams of carbs, close to 15 grams of fiber and not even 18 grams of sugar…
And to beef it up… this baby has a whopping 44 grams of protein!
WHOA! Who would have thunk? 😉