Citrus, Chicken and Goat Cheese Pizza
Wait. Hold the phone!
Oranges and grapefruit? On a pizza?
I know, it probably sounds weird, but trust me on that one.
It works!
Even my daughter said so.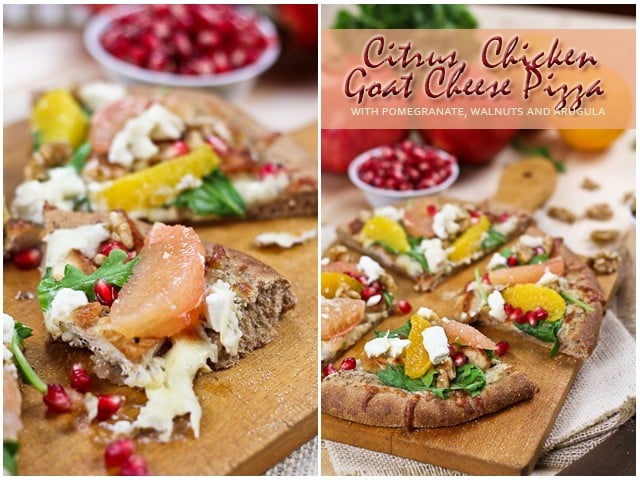 Normally, when we do pizza night, she makes her own flavor combination, which usually involves her timeless classics: chicken, olives and broccoli.
This time, however, she said she was in the mood for something different so she asked me to make her a pizza exactly like mine.
I thought she was probably out of her mind, for this was indubitably my wackiest pizza combo ever.
But hey! She's the boss of her own pizza. She wants to live dangerously and have one like mine, she gets one like mine. Complete with orange zest in the crust.
Oh yeah! You read that one right. I actually added orange zest to my pizza dough.
And you know what? I think it simply made the pizza.
It added so much depth to the overall flavor and sort of linked everything together in a bizarre way.
You see, this was not "only" pizza. This was an experience!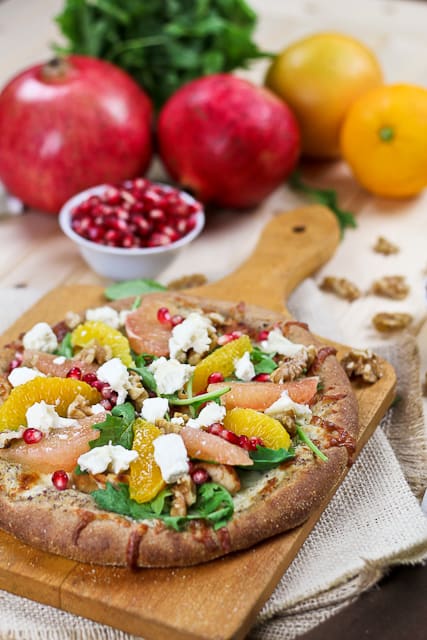 And I really think that this is something you are going to have to try for yourself.
The only thing that I wasn't too sure about was whether or not I wanted to add mozzarella to the equation.
I finally opted to add a little bit. Great call. I really loved the hint of warm, creamy and salty gooeyness that it brought to the deal.
Yet, this pizza remained surprisingly fresh and tasty; sometimes sweet, sometimes a tad sour, sometimes tangy, but always so yummy. Every bite was better than the last.
Let just say it was very moreish.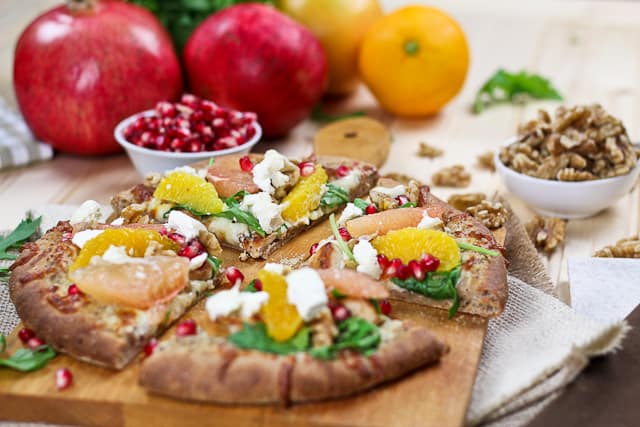 You could almost say it looks like some sort of a Christmas Pizza, doesn't it?
Hmmm… that gives me an idea!
Christmas Pizza!
Ooooh yeah! You better believe it! I am so making this…
Help me out here, will you?
Tell me, what would YOU put on your Christmas pizza, if you were to make one?
Citrus, Chicken and Goat Cheese Pizza
Servings: 2
Ingredients
DOUGH
¼ Whole wheat pizza crust recipe
The zest of one orange*
SAUCE
¼ cup fat free plain Greek yogurt
1 tbsp Pommery Meaux Mustard
Pinch freshly cracked pepper
TOPPINGS
100 g cooked chicken breast meat
60 g light mozzarella cheese, grated
15 g walnuts, coarsely chopped
handful fresh arugula leaves
30 g Unripened Goat Cheese, I used "Monsieur Émile"
½ orange, cut into supremes
½ grapefruit, cut into supremes
the seeds from ¼ pomegranate
Instructions
Preheat oven to 500F.

*If you are making pizza dough specifically for this recipe, knead the orange zest into the dough while making it. Otherwise, just sprinkle the zest over the dough after it's been rolled and gently press it into the dough.

Roll dough into 10-12 inch disc and lay on a baking sheet.

In a small mixing bowl, add yogurt, mustard and black pepper and mix with a spoon until well combined. Spread over dough.

Cover with mozzarella cheese and cooked chicken.

Bake in the oven for about 10 minutes, until cheese is melted and starts to colour on the edge.

Once your pizza is out of the oven, top with arugula leaves, orange and grapefruits supremes, goat cheese, walnuts and pomegranate seeds.

Cut into slices and enjoy!
If you've tried this recipe, please take a minute to rate the recipe and let me know how things went for you in the comments below. It's always such a pleasure to hear from you!
You can also FOLLOW ME on PINTEREST, FACEBOOK, INSTAGRAM and TWITTER for more delicious, healthy recipes!