Acorn Squash and Rutabaga Salad with Creamy Orange Rosemary High Protein Dressing
If you're looking for a little bit of a change of pace or some kind of an unusual combination for your next salad, this one right here should be a serious contender.
I came up with this one almost by mistake…
Let me explain.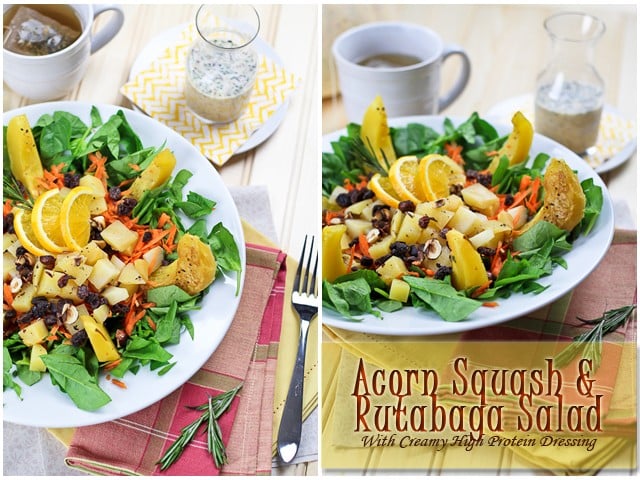 I have sort of gotten into the habit of roasting squash and other such "winter" vegetables on the week-ends so that I have them ready to use on week nights when I come back from work.
One such night, I opened the fridge door and started staring at this lovely acorn squash. It had been baked like I always do, which is cut them in half, sprinkle with salt and pepper and place them face down on a baking sheet with a little bit of water to produce just what's needed of steam and prevent the squash from sticking to the pan.
So what I had in front of me were actually two baked acorn squash halves.
I had also roasted a HUGE, but I mean HUGE rutabaga! This one I had cut into little cubes which I'd then placed in the oven on a baking sheet with, again, a little bit of water, salt and pepper, and gently roasted uncovered until just tender.
So I had LOADS of roasted rutabaga.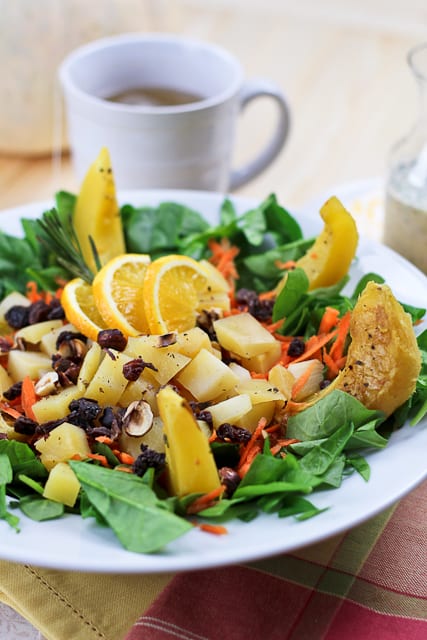 I immediately thought that I wanted to turn these two into some sort of a salad, but wasn't quite sure as to how I was going to handle the acorn squash in a way that would preserve it's prettiness. Scooping the flesh out like I usually do just wouldn't cut it. I figured I had to try and peel it. I had never tried peeling a cooked squash before!
Well, let me tell you, it works WONDERS!
All I did is cut the half in half, then I cut each half into 3 wedges. I pretty much followed the natural "ridges" of the acorn squash. I then delicately removed the peel from each wedge with a paring knife. It came off super easily.
I was left with 6 beautiful slices that I could now use in my salad. They were so pretty, I was NOT about to cut them into smaller pieces. I decided that they would remain whole and made them the centerpiece of this creation.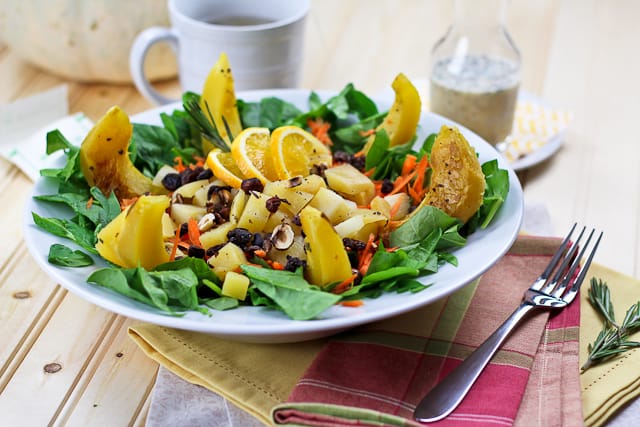 Once this had been accomplished, building the rest of the flavors just came naturally.
I went for very seasonal ingredients: grated carrots, a little bit of orange, rosemary, hazelnuts and raisins. What a brilliant combination this was.
Success, all the way, is what it was!
So much so, I repeated the experience the very next day, and this time, I logged it!
And as an added bonus, I now know how to very easily peel Acorn Squash!
If that isn't a win, I don't know what is! 🙂
Acorn Squash and Rutabaga Salad
Servings: 1
Ingredients
For the dressing
1 scoop plain whey protein powder
¼ cup fat free plain Greek yogurt
¼ cup unswseetened applesauce
1 tsp Meaux mustard
1 tsp cidar vinegar
1 tsp orange zest
1 tbsp orange juice
½ tsp fresh rosemary
pinch salt and pepper
Instructions
Start by making the vinaigrette by placing all the required ingredients to your small blender or food processor. Process until smooth and creamy. Set aside.

Arrange the spinach, grated carrot, rutabaga and acorn squash wedges nicely on a serving plate. Top with toasted hazelnuts and raisins. Garnish with a few slices of oranges, if desired.

Drizzle vinaigrette over the salad at the time of serving.
If you've tried this recipe, please take a minute to rate the recipe and let me know how things went for you in the comments below. It's always such a pleasure to hear from you!
You can also FOLLOW ME on PINTEREST, FACEBOOK, INSTAGRAM and TWITTER for more delicious, healthy recipes!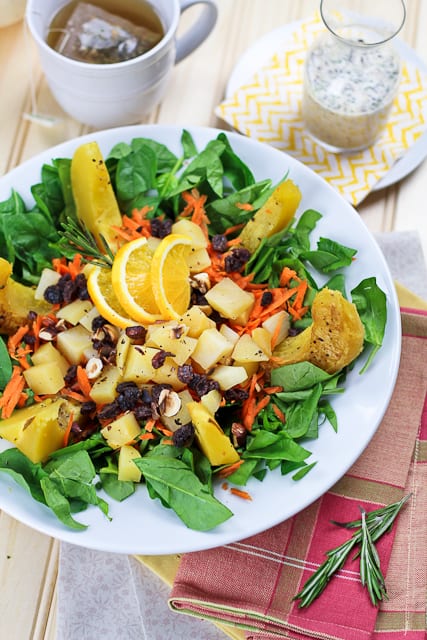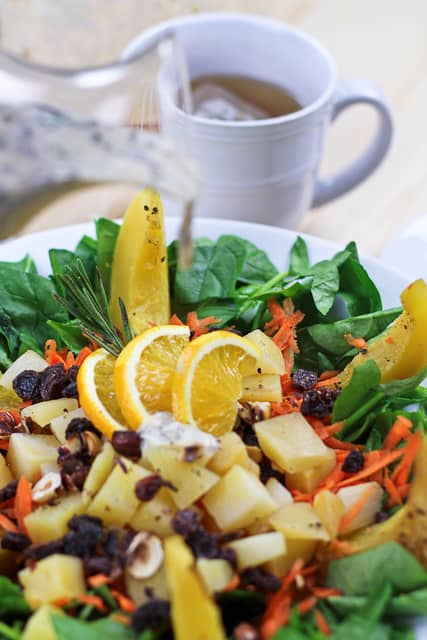 Is it just me, or does that wedge there looks like it's actually smiling?
I think it's because it just saw the dressing!