Cheesy Chicken and Artichoke Lasagna
It seems like I've been having lasagna on my mind lately.
It's probably only normal at this time of year, but still, I think this year it's a lot more than usual.
If I had my way, I'd eat a different lasagna every day…
When I saw this picture on Pinterest, it was an instant trigger to make one.
Of course, I wouldn't dare use that much cheese, but still.
I HAD to take a shot at it.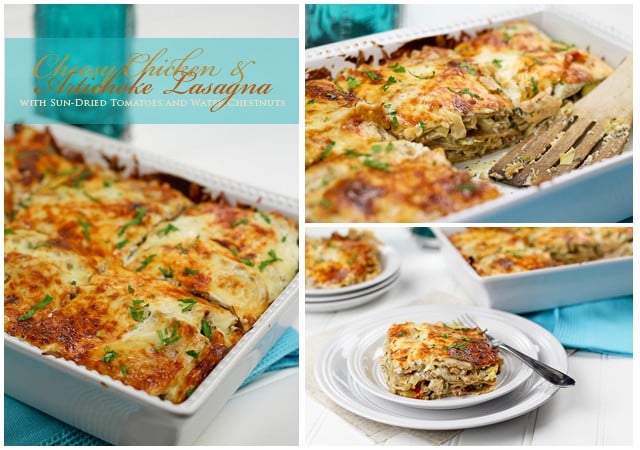 I mean chicken and artichokes! How can you go wrong with such a winning combination?
I kept the recipe as true to the original as I possibly could because it looked insanely delicious as it was, but you know me, right? I still had to add a few little twists of my own…
For starters, I added water chestnuts. I think they go beautifully well with artichokes and add that very agreeable little crunch.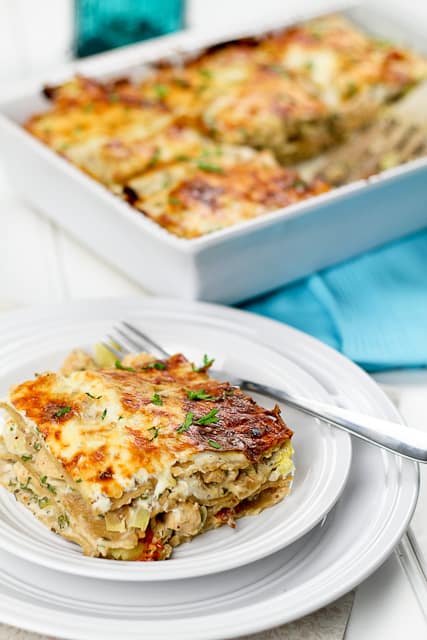 I subbed some of the cheese for cottage and buttermilk in an effort to save on fat and calories while preserving as much of the "cheesiness" factor as possible.
I also used "dried" sun-dried tomatoes as opposed to the ones that are kept in oil. If I was to redo this, however, I would totally leave them out and use spinach instead.
Then of course, I used whole wheat noodles. But that, I didn't really need to specify, did I?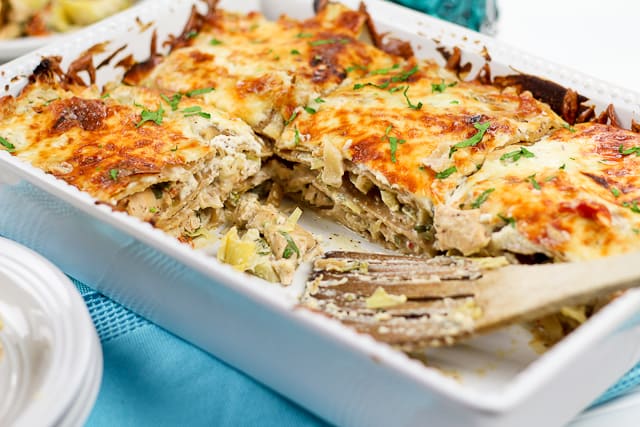 All in all, this was a VERY satisfying lasagna, although I would've liked maybe a little bit more of that "creamy cheezy" sauce…
After the first few bites, I thought I wanted to completely redo it, but soon changed my mind and decided that it was very good as is and completely worthy of getting its very own entry.
I even went for seconds (but shhhh, don't tell anyone!)
Now I need to start working on a seafood version of this…
And I get the feeling that it will be happening soon.
This lasagna craving just doesn't seem to want to subside; not even after having this one for 3 nights in a row.
But you don't mind that, do you?
Cheesy Chicken and Artichoke Lasagna
Servings: 6
Ingredients
12 Whole Wheat Lasagna Noodles
500 g chicken meat from boneless, skinless breasts, cut into 1" cubes
½ tsp Himalayan or fine sea salt
½ tsp freshly cracked black pepper
1 small onion, chopped
3 cloves garlic, finely chopped
350 g 1% fat cottage cheese
150 g light cream cheese
75 g parmesan cheese, grated
1 cup buttermilk
1 tbsp grain mustard
2 tbsp fresh basil, chopped
¼ cup fresh parsley, chopped
1 can artichoke hearts, drained and cut into bite size pieces
1 can sliced water chestnuts, drained and coarsely chopped
75 g cup sun-dried tomatoes, chopped
225 g Light Mozzarella, grated
Instructions
Preheat your oven to 350°F.

Cook the lasagnas according to the instructions on the package.

Meanwhile, coat a large non-stick pan with cooking spray or a tiny little bit of olive oil and heat over medium high heat. When pan is hot enough, add the pieces of chicken and cook until nice and golden brown on all sides. Add onions, garlic, salt and pepper and continue cooking until the onions become translucent and take a slight golden coloration. Kill the heat and set aside to cool.

In the bowl of your food processor, combine cottage cheese, cream cheese, parmesan cheese, buttermilk and mustard and process until well combined and super creamy. Add basil and parsley and pulse a few times just to incorporate.

Transfer half of this cheese mixture to a large mixing bowl. Stir in artichokes, chestnuts, sun-dried tomatoes, reserved chicken mixture and 100 grams of the grated mozzarella. Mix delicately until well combined.

Spread half the plain cheese mixture at the bottom of a 12 x 9 baking dish. Cover with 3 lasagna noodles. Top that with one third of the cheesy chicken mixture and add another 3 noodles. Repeat chicken mixture then 3 more noodles followed by last of the chicken mixture and last 3 noodles; finally, spread remaining plain cheese mixture and sprinkle remaining 125g mozzarella on top.

Bake in the oven for 25-30 minutes, until top gets all golden and bubbly.

Let cool for at least 5 minutes before serving.
If you've tried this recipe, please take a minute to rate the recipe and let me know how things went for you in the comments below. It's always such a pleasure to hear from you!
You can also FOLLOW ME on PINTEREST, FACEBOOK, INSTAGRAM and TWITTER for more delicious, healthy recipes!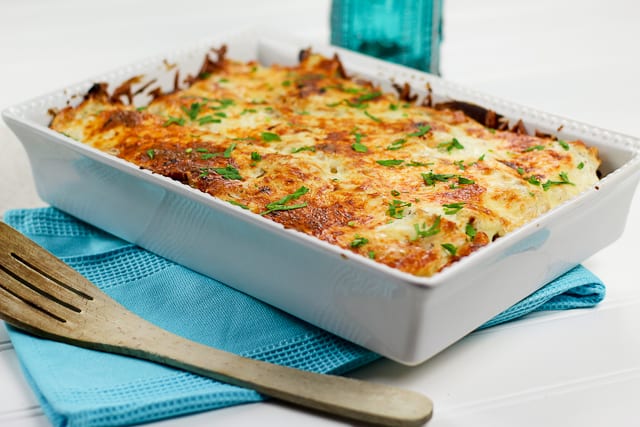 Now for the hardest part: set to cool for at least 5 minutes before serving…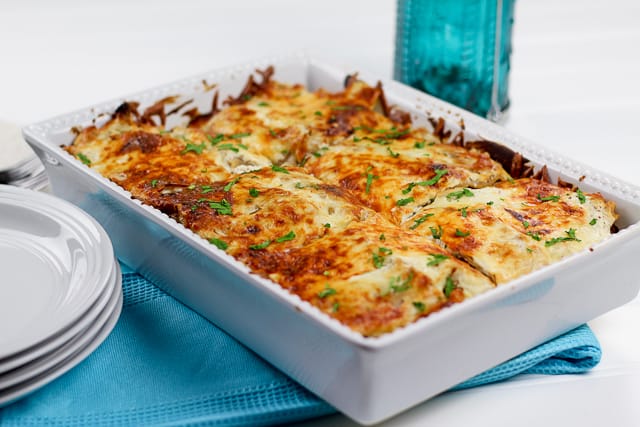 FINALLY! Cut into 6 pieces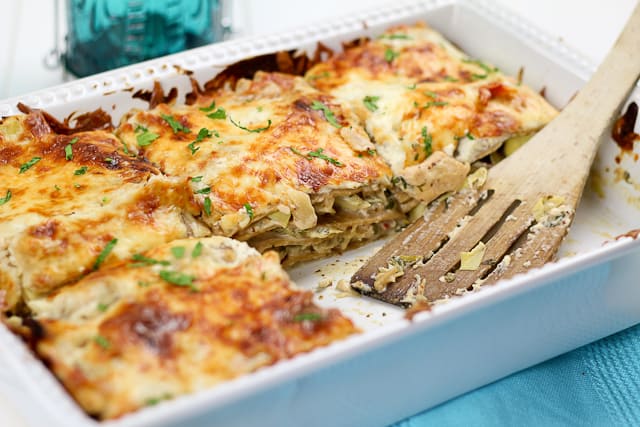 You might want to put away the leftover pieces right away, lest you'll be tempted to come back for seconds! 
Who? Me? Noooooo… I didn't!
OK, maybe I did… but just a little bit, I swear!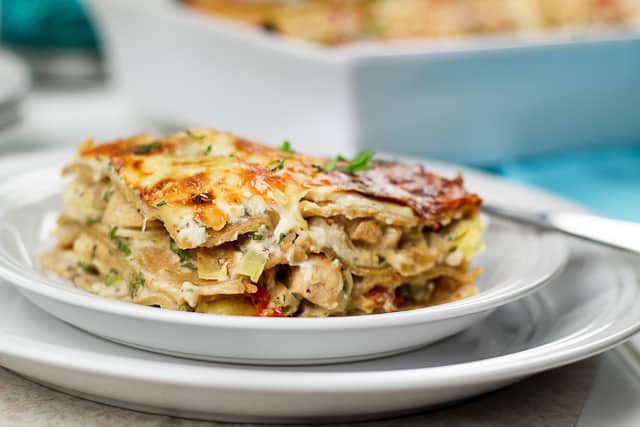 Check out all the yummy chunks of goodness! Can you blame me?