Chewy Vanilla Spice Fruit Squares
The minute I saw these on Leanne's site, I just knew I had to stop everything and make them.
LIKE NOW! IMMEDIATELY! AT THAT VERY MOMENT!
There was only one slight problem: I was at work.
Gah!
Maybe I could tell my boss that I jut got hit by a very sudden and violent case of man flu and had to run back home immediately. Or that I just remembered that I'd forgotten to turn off the stove before to leave. The GAS stove…
Nah. I could never do such a thing. It would just have to wait until I got back home.
That day felt like it was never gonna end.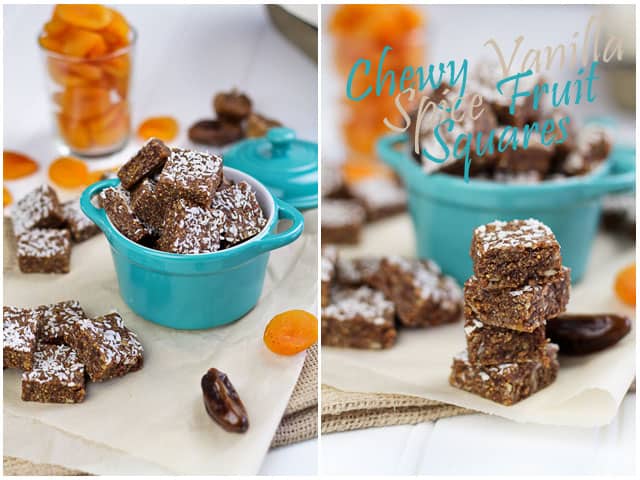 But I eventually made it home and immediately went through all the cupboards to gather the ingredients that I would need to make the chews come to life. I was greeted with a very unpleasant surprise: there were only 5 poor little pieces of dried apricots left at the bottom of my very big bag.
Hmpft.
What a disappointment! I wanted one of these so bad, I could almost taste it! And what I happened to crave the most was precisely the apricot!
To say that I was not a happy camper would be an understatement.
I think it's the gorgeous colors in Leanne's pictures that did it. The apricots really imprinted in my mind (so did her pictures, judging by my very sudden and unusual use of very colorful props! Talk about getting doubly inspired…). But there was no way I was gonna drive 25km just to get some. I had to find a suitable last minute replacement.
A quick glance in the cupboards and I found just the perfect thing: FIGS!
They would work superbly well and would add so much texture with their hundreds of tiny little crunchy seeds.
Brilliant!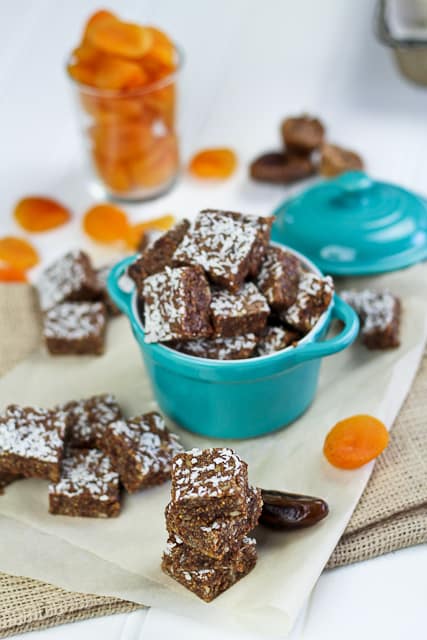 Now you're probably wondering how come there's like an avalanche of apricots in my pictures if I was all out?
Well, you see, life got in the way and I had to wait not one, but TWO FULL DAYS before I finally got to cut my little squares out. By that time, I HAD gone to the store and bought a brand new HUGE bag of dried apricots.
And yes, I did eat at least half a dozen, right out of the bag.
Oh, and one or two squares. Or five…
Gosh these are good!
So chewy, so sweet… so tasty and deliciously spicy.
And the millions of seeds are just poppin' all over your mouth. It's a seed crunch overload!
Plain and simple? Loved 'em!
Chewy Vanilla Spice Fruit Squares
Servings: 36 bites
Ingredients
3 tbsp black chia seeds
the juice of one lime
½ cup raw walnuts
3 tbsp raw sunflower seeds
2 tbsp hemp seeds
4 scoops plain whey protein
½ tsp ground cinnamon
½ tsp cardamom
200 g dates, coarsely chopped
30 g dried apricots, coarsely chopped
70 g dried figs, coarsely chopped
1 tbsp fresh ginger, peel on, coarsely chopped
1 tsp vanilla, I used powder, but feel free to use fresh seeds or pure vanilla extract
¼ cup pasteurized egg whites
2 tbsp unsweetened dried coconut to garnish
Instructions
Combine chia seed and lemon juice in a small bowl. Stir to combine and leave to sit for 5 minutes.

Add walnuts, sunflower seeds and hemp seeds to the bowl of your food processor. Process on pulse until broken down and transfer to a medium size bowl. Add ground cinnamon, cardamom and protein powder and mix with a fork until well incorporated. Set aside.

Place dates, apricots and figs in the bowl of your processor and process until smooth and well combined, about 2 minutes. Add soaked chia seeds (it will be a hard mass at this point, just scoop out with a spoon) egg whites, vanilla and ginger and process for another minute or two, until smooth.

Throw in nut mixture and process on pulse until just incorporated, no more.

Transfer the mixture to an 8×8 pan lined with parchment paper draping over both sides for easy lifting. Press and smooth out with a large flat spoon or rubber spatula.

Sprinkle dried coconut all over and press it down with your fingers so it really adheres to the surface.

Place in the fridge or freezer to harden before cutting into 36 squares.

You can keep these at room temperature for a couple of days if you like a really soft texture. For a stickier, chewier texture, keep them in the refrigerator, for up to a week. And for an even chewier, almost leathery texture, store them in the freezer. Now TRY to keep them for longer than 5 days!
If you've tried this recipe, please take a minute to rate the recipe and let me know how things went for you in the comments below. It's always such a pleasure to hear from you!
You can also FOLLOW ME on PINTEREST, FACEBOOK, INSTAGRAM and TWITTER for more delicious, healthy recipes!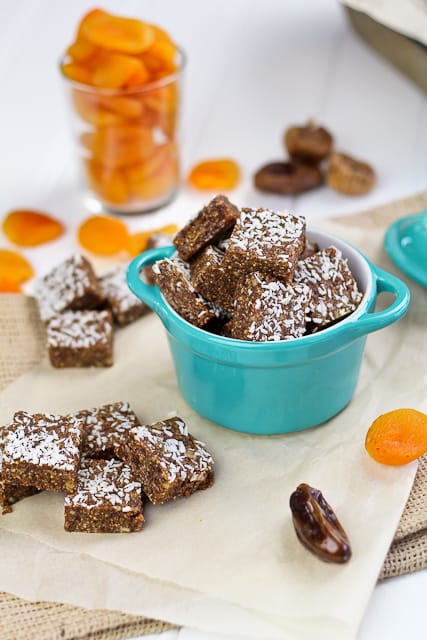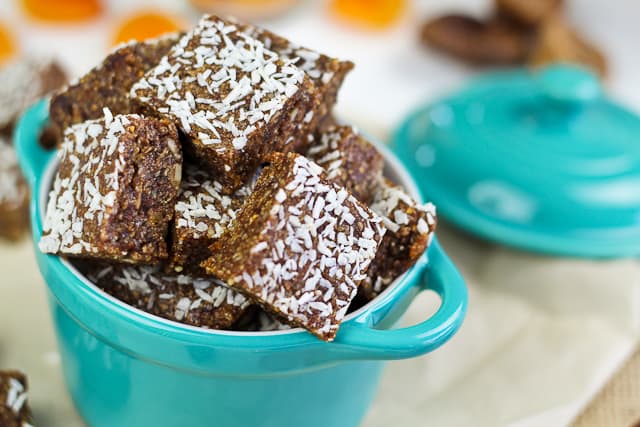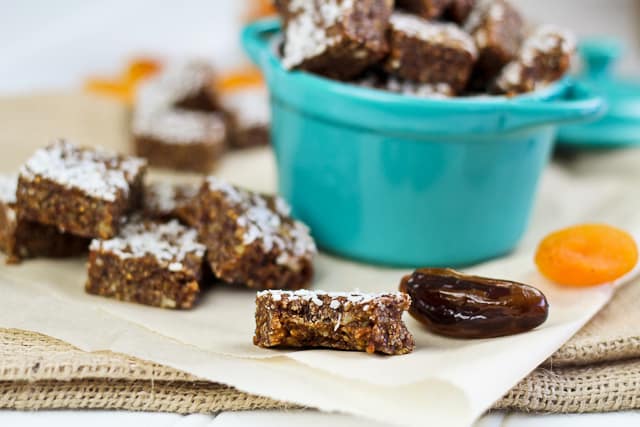 CHEEEEEWY!