Quick & Easy Pineapple Shrimp Stirfry
Did I ever tell you how much I love Asian food?
I LOOOOOVE Asian food.
It would be one of my ultimate weaknesses. I simply cannot resist it.
I have not one iota of control over it. For real.
So if I can make it at home and keep it healthy, I'm all crazy happy! 🙂
Now, I feel like I've given you a million different variations on this subject already.
Sorry, I just can't help it.
This, to me, would be the ultimate quick and easy, ready in an instant,  incredibly versatile and super healthy meal.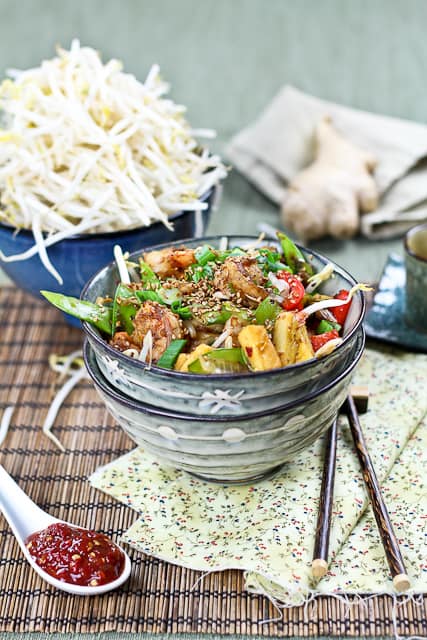 Plus, whenever I have fresh pineapple in the fridge, I just HAVE to whip up some kind of Asian inspired dish.
Although I usually go with chicken for protein…
But, I felt like doing things a little bit differently this time and figured shrimp would work really well with the natural sweet and sour taste of the pineapple.
All that needed to be done once that had been settled is throw in a couple of additional vegetables, add a few carefully selected "spices" (read, add same old classic ginger, soy sauce, sambal oelek and sesame seeds mix)  and I was all good to go.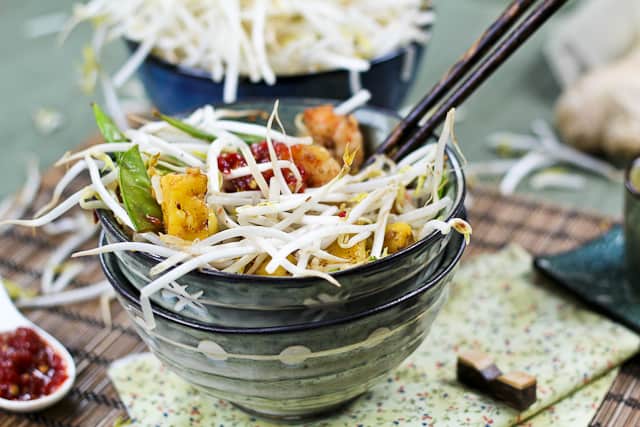 Oh, and serve with TONS of raw bean sprouts!
Ooops, I think I made a little bit of a mess on the dining room table, here. 
Of course, if you don't care for raw sprouts, you can throw them in the pan to cook them some. Or, you could even choose to serve this with soba noodles, or sticky rice, why not?
As for me, I'll stick with the beans sprouts… I love the things, what can I say?
I sometimes eat them by the handful, just like potato chips…
Am I crazy, doc? Anyone else out there like 'em that much?
Quick and Easy Pineapple Shrimp Stirfry
Servings: 1
Ingredients
14 large raw tiger or white shrimps, shelled and patted dry
½ small onion, coarsely chopped
½ red bell pepper, seeded and cut into bite size pieces
175 g pineapple, cut into bite size pieces
85 g snowpeas, cut in half
2 green onions, chopped
2 tbsp fresh ginger, grated
1 tsp sambal oelek
1 tbsp soy sauce
1 tsp sesame seeds
250 g bean sprouts
Instructions
Coat a non-stick skillet with cooking spray or a little bit of olive oil and heat over medium-high heat. When pan is hot enough, add onions and bell pepper and saute for about 30 seconds to a minute, just to soften them up a bit.

Add shrimp and saute until they start to turn pink but remain slightly translucent. Throw in pineapple, snow peas and green onions and continue cooking for about one minute.

Add ginger, sambal oelek and soy sauce and continue cooking for another minute or two to allow the flavors to combine.

Transfer to serving plate and garnish with sesame seeds.

Serve with raw bean sprouts. (if you prefer to cook your sprouts, stir them in at the very end and and cook for a few seconds only, so that they retain a little bit of a crunch)
If you've tried this recipe, please take a minute to rate the recipe and let me know how things went for you in the comments below. It's always such a pleasure to hear from you!
You can also FOLLOW ME on PINTEREST, FACEBOOK, INSTAGRAM and TWITTER for more delicious, healthy recipes!
Striking the pose, patiently waiting for action… 
See that pile of bean sprouts?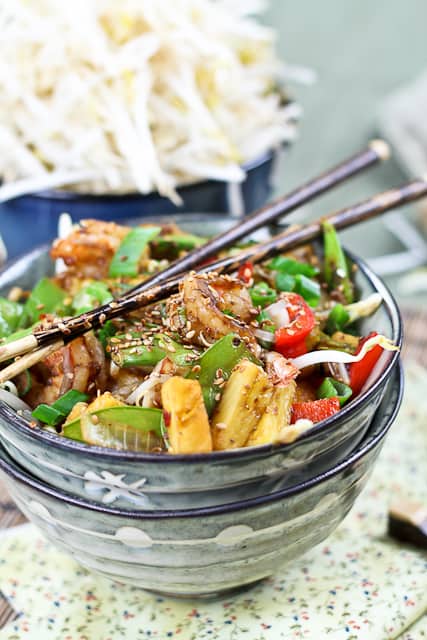 Getting ready to dig in… God this smells good!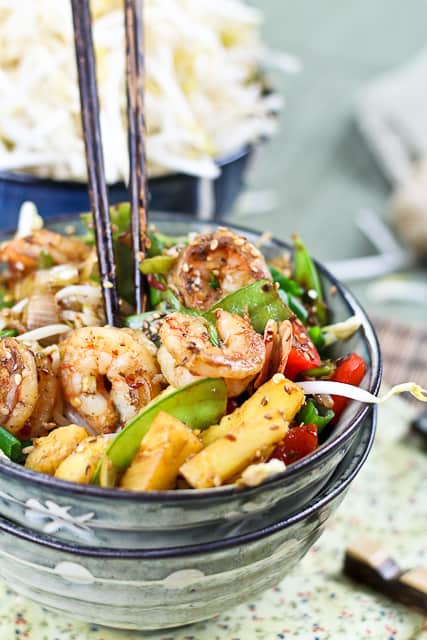 Trying to stir without making a mess…
Check out those yummy shrimps!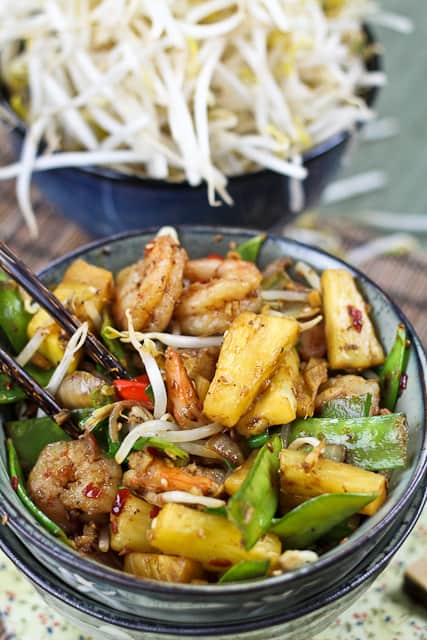 And all those gorgeous chunks of golden pineapple!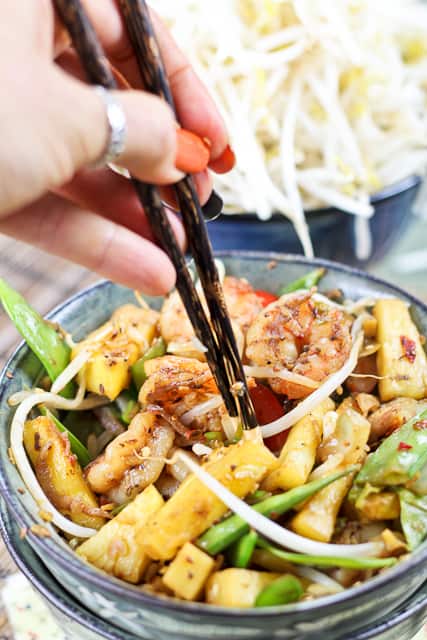 Having a hard time handling those chopsticks with my left hand! 
I'll get this…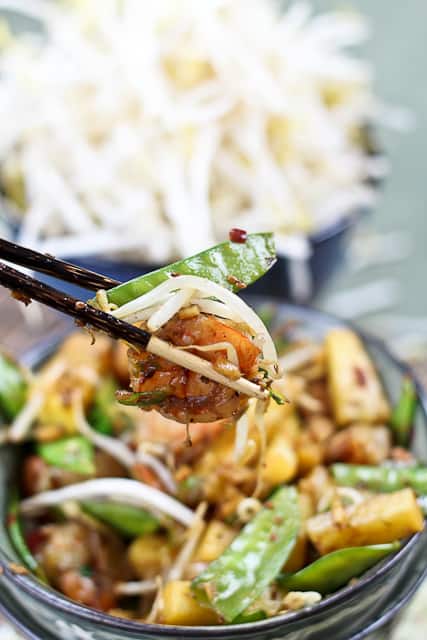 HA!HA! GOTCHA!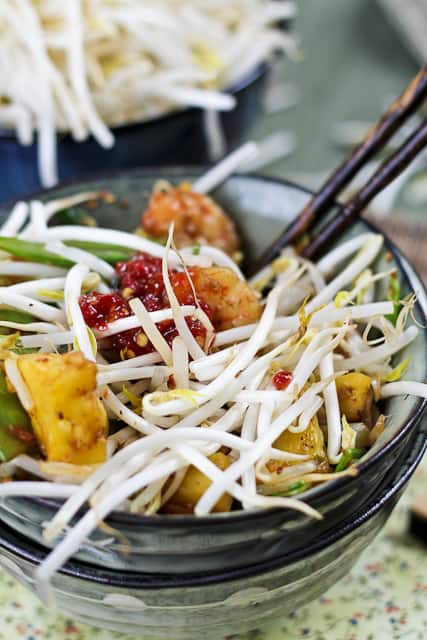 Adding some sprouts…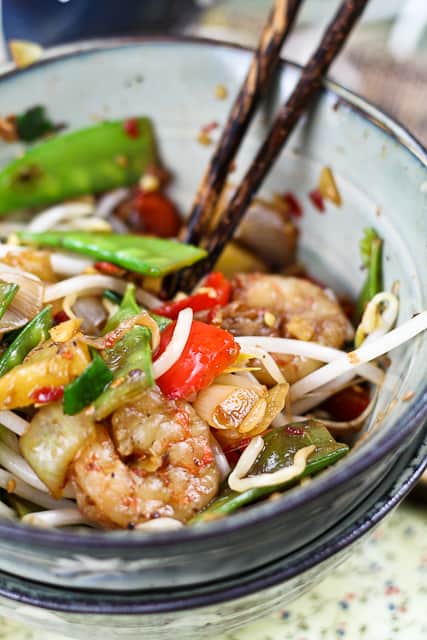 I wish this bowl of goodness would never end…