Beet, Strawberry and Orange Salad
I'll be very brief tonight guys.
To be honest, I'd much rather be in bed right now, and this is so not like me. But you see, I had a gum transplant earlier this week and it seems that my body isn't all that appreciative… I feel drained and have no energy whatsoever.
I think it's the antibiotics.
My hairdresser suggested that my feeling so poorly might be due to the fact that I am living such a healthy lifestyle now, my body isn't used to that kind of crap anymore and reacts in a bad way. Could be… but let me tell you, I am not a happy camper now and I can't wait for it to pass!
Oh, and also, expect a few soups and other soft food recipes coming up soon… 😉
Starting with this colorful salad!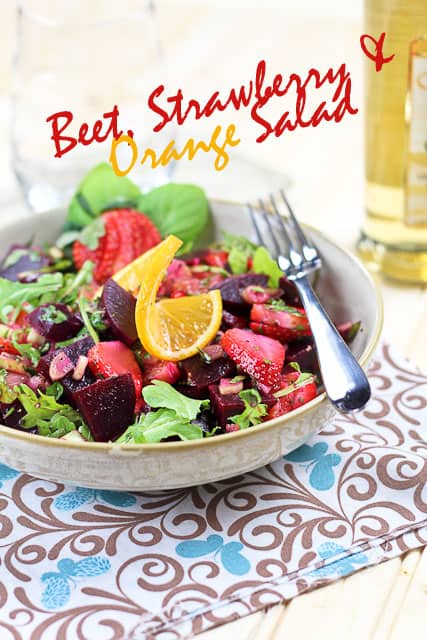 I'd recently read an article in a magazine in which it was mentioned that beets and strawberries formed a winning pair and that the two of them were delicious in a salad, with a little bit of vinegar, a dash of salt and a sprinkle of black pepper.
I really liked the idea and thought I really oughta put it to the test.
However, I felt the need to build around it a little bit more, without messing too much with the foundation. The beets and strawberries HAD to remain the stars, but I thought they needed some sort of a key ingredient to bring out their flavor and sort of bind everything together.
Something tangy and sweet…
Something citrusy…
Oranges! They would fit the bill perfectly. Good thing I always keep a few on hand!
Not only would they contribute their flavor, but they would also bring a beautiful touch of color to the salad.
And that, it did. Adding the orange was a great call!  It played its role to the perfection.
Now if only it hadn't decided to hide for the pictures…
I think I hired a shy guy!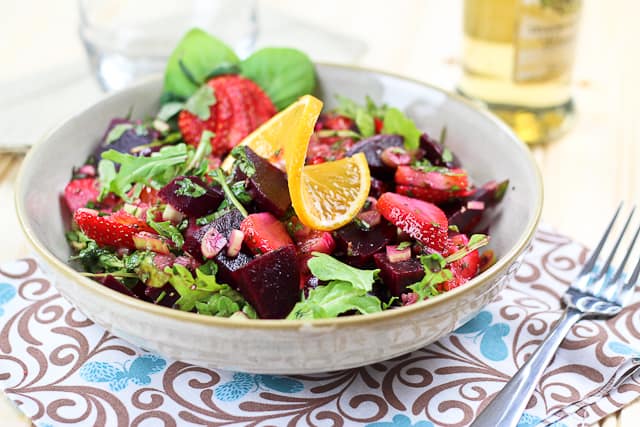 All in all, this was a great combination and I completely agree that strawberries and beets totally go hand in hand. They partner up really well with oranges too!
This was one really good, light and refreshing salad.
If I was to redo it again, though, I would probably add some kind of a nut in there…
Walnuts, maybe…
Or Brazil nuts!
That sure would add a nice, welcomed crunch.
Bah, I will get to experiment with that, 'cuz I will be revisiting that salad regularly for sure, either on its own or as a side dish!
Very regularly!
Now if you'll excuse me, I think I'll go and examine the inside of my eyelids for an hour or two…
Beet, Strawberry and Orange Salad
Servings: 1
Ingredients
1 cup baby arugula leaves
1 celery stalk, finely chopped
2 medium beets, cooked, peeled and cooled, cut into bite size pieces
10 strawberries, sliced
1 navel orange, cut into supremes
1 green onion, finely chopped
2 tbsp fresh parsley, chopped
1 tbsp fresh basil, chopped
1 tsp fresh rosemary, chopped
2 tbsp white wine vinegar
1 tsp Dijon mustard
¼ tsp Himalayan or fine sea salt
¼ tsp freshly cracked black pepper
The juice and zest of the orange
Instructions
Start by collecting the zest of your orange and throw that into a small mixing bowl.

Add the vinegar, mustard, salt and pepper and mix well.

Over that same bowl, cut your orange

into supremes

, in order to collect the juice but throw the supremes into a larger, separate bowl. When you've got all your supremes done, make sure to squeeze all the remaining juice out of the membrane that's left behind.

Throw the rest of the ingredients in with the orange supremes. Pour reserved "vinaigrette" and mix well.

Transfer to serving plate and garnish with a slice of orange, if desired.
If you've tried this recipe, please take a minute to rate the recipe and let me know how things went for you in the comments below. It's always such a pleasure to hear from you!
You can also FOLLOW ME on PINTEREST, FACEBOOK, INSTAGRAM and TWITTER for more delicious, healthy recipes!