Healthy Spicy Pumpkin and Apple Crumble Squares
You guys probably have it up to here with pumpkin by now…
I hope you won't resent me for posting yet ANOTHER pumpkin recipe! I'm sorry, I just can't help it. If I had my way, I'd keep this theme going for another 2-3 months, minimum!
I just ADORE pumpkin, what can I say?
When Heidi at Food Doodles recently posted this gorgeous recipe  for Apple Crumble Bars, it immediately inspired me to make a pumpkin apple crumble of some sort, or squares maybe… or a mix of both, why not?
After all, I still had a quarter of a fresh pumpkin in the fridge that needed to be used up in some way…
This was just the perfect thing!
I know I said that before, but I absolutely adore cooking with fresh pumpkin. This was my first time ever tackling a whole pumpkin and I totally loved the experience. I can barely wait for that amazing fruit to be in season again so I can experiment with it even more.
Did you know that even the leaves are edible? Now I HAVE to try THAT!
To think of the amount of pumpkins that end up in the trash after Halloween is over…
SHAME!
So much goodness… gone to waste.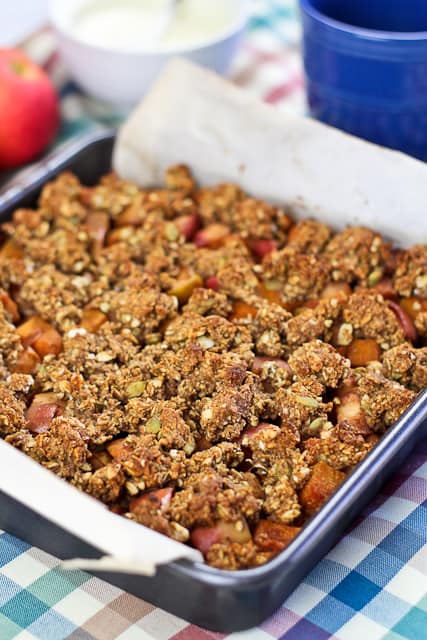 The thing is though, I think most people, in my part of the world anyway, think of pumpkin mostly as a Halloween decoration. You couldn't pay them enough money to actually eat some.
Well, let me tell you, even if you think you're not really big on pumpkin "things", I say you should give these babies a try.
I bet you're gonna love them!
Just one bite and you're gonna be hooked. That's pretty much what happened to my daughter!
She doesn't care for anything pumpkin, you see. But she LOVED these, as she did my Spicy Pumpkin and Apple Bundt Cake!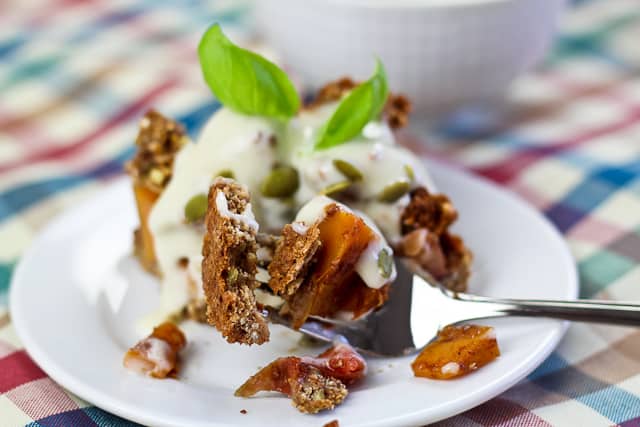 Honestly, I couldn't have been more pleased with the way these squares (or is it a crumble) turned out.
The pumpkin retained a little bit of a crunch while the apple took a soft and creamy texture. The spice blend was really pleasant but not overpowering. And of course, the  level of sweetness was kept well under control, although I did choose to add a little bit of honey to the fruit mixture. I figured it would really benefit from this little extra touch of dulcitude.
Oh! and that crust. THAT CRUST!
Don't get me started on the crust. It's simply perfect! It has just the right amount of crunch, holds together beautifully yet still sort of falls apart and melts in your mouth. Do I really need to mention that it tastes plain fantastic?
This right here is the perfect start to a beautiful day, if you ask me. Loaded with nothing but good things like whole grains, seeds and fresh fruit.
Top that with the yogurt and whey protein and you've got yourself a perfectly well balanced breakfast that will leave you feeling ample full and satisfied for a long time!
No doubt it will support you and see that you make it to your next meal without crashing or feeling hungry in the least.
Plus, I'm absolutely positive that it'll put a huge smile on your face…
Healthy Pumpkin and Apple Crumble Squares
Servings: 9
Ingredients
Instructions
Preheat oven to 375F. Line a 9" square baking pan with parchment paper. To help keep the paper in place, coat your pan first with cooking spray.

Coat a large skillet with cooking spray or olive oil and place over medium heat. Add pumpkin cubes and cook for 3-4 minutes to soften them up a bit.

Meanwhile, in a mixing bowl, add water, honey, vanilla, salt and spices and mix with a whisk until well combined.

Throw apple cubes in with the pumpkin, followed by honey mixture and continue cooking until almost all liquid is evaporated, about 3-4 minutes. Turn off the heat and reserve.

In the bowl of your food processor, mix wet ingredients for the crust/crumble. Process until smooth and creamy.

Meanwhile, in a large mixing bowl, mix all the dry ingredients with a whisk or fork to insure even distribution. Add that to the wet ingredients and process on pulse until just incorporated, no more.

Drop a little bit more than half this mixture in the prepared pan and press evenly all the way to the sides to form a crust.

Add fruit mixture over this crust and distribute evenly.

Drop the rest of the crumble by the spoonful over the fruit mixture. Again, try to distribute it as evenly as possible, spreading it lightly with your fingers if necessary.

Bake in the oven for about 35-40 minutes or until the top gets nice and golden and all crispy looking.

Cool completely on a cooling rack and finish cooling in the refrigerator.

Serve cold and garnish with a dollop of

Vanilla "Custard"

and a few pumpkin seeds if desired.

Keep leftovers in the refrigerator for up to 7 days.
If you've tried this recipe, please take a minute to rate the recipe and let me know how things went for you in the comments below. It's always such a pleasure to hear from you!
You can also FOLLOW ME on PINTEREST, FACEBOOK, INSTAGRAM and TWITTER for more delicious, healthy recipes!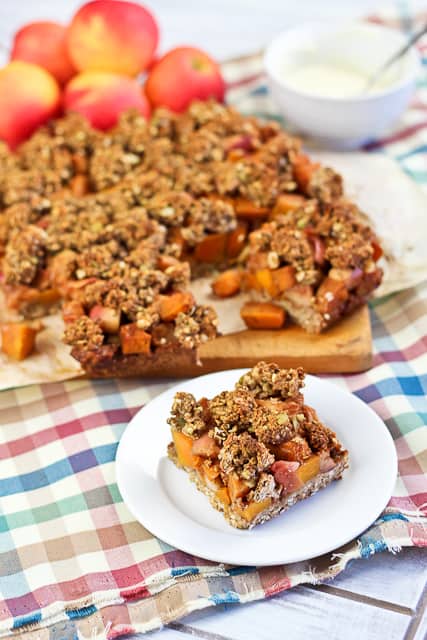 Looks a little sad and naked without that garnish, doesn't it?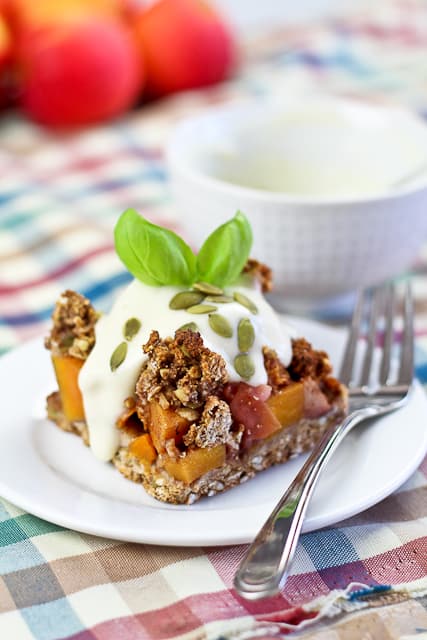 Ahhh! Now that's much better! It almost looks like it's smiling now!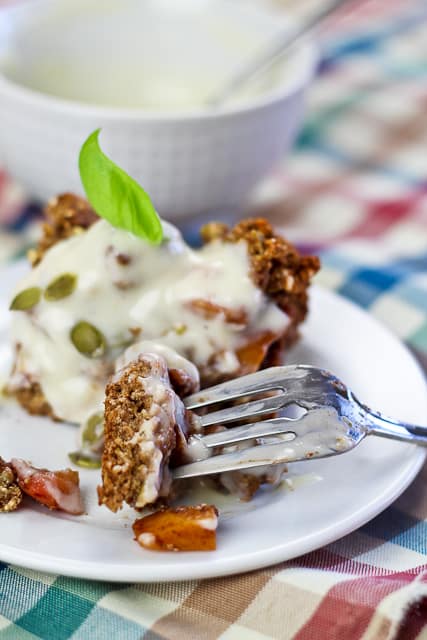 Oh, that crust! THAT CRUST! It turned out simply AH-MA-ZING! 
Pure perfection, I would even dare say…